These Fudgy Dark Chocolate Zucchini Brownies are so rich, delicious, and full of chocolate goodness. You will never know there is a green veggie hiding inside this homemade brownie recipe.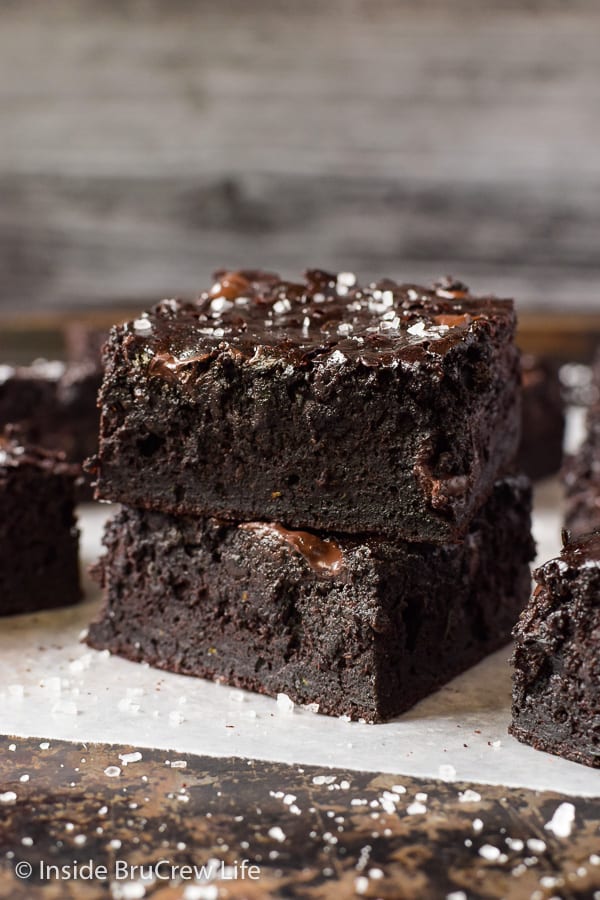 I really do love all things zucchini. We eat it all the time in different dinners. Everyone in our family loved these Bacon Cheeseburger Stuffed Zucchini, even our youngest who is quite picky.
Although, I think he mostly ate the filling...so, we might need to make more until I can convince him that he really does love zucchini.
Even though, we use zucchini 90% of the time in healthy dinner recipe, my absolute favorite way to enjoy zucchini is covered in chocolate.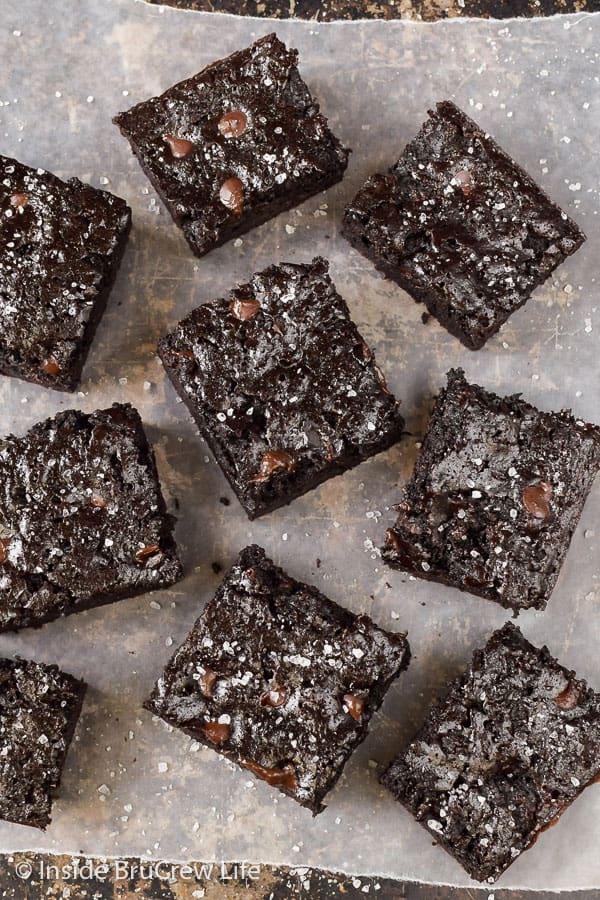 Last week I shared these Frosted Zucchini Brownies with you and told you I was testing a fudgy zucchini brownie recipe too.
Well, today is the day I am sharing it with you. Trust me, you won't even know there is a veggie in these rich and gooey brownies. They are that good!
Baking with Zucchini
Zucchini is quite the magical ingredient when it comes to baked goods. The moisture from the green veggie makes baked goods so rich, gooey, and delicious.
This Moist Chocolate Zucchini Cake is another one that always amazes me because of how the zucchini bakes!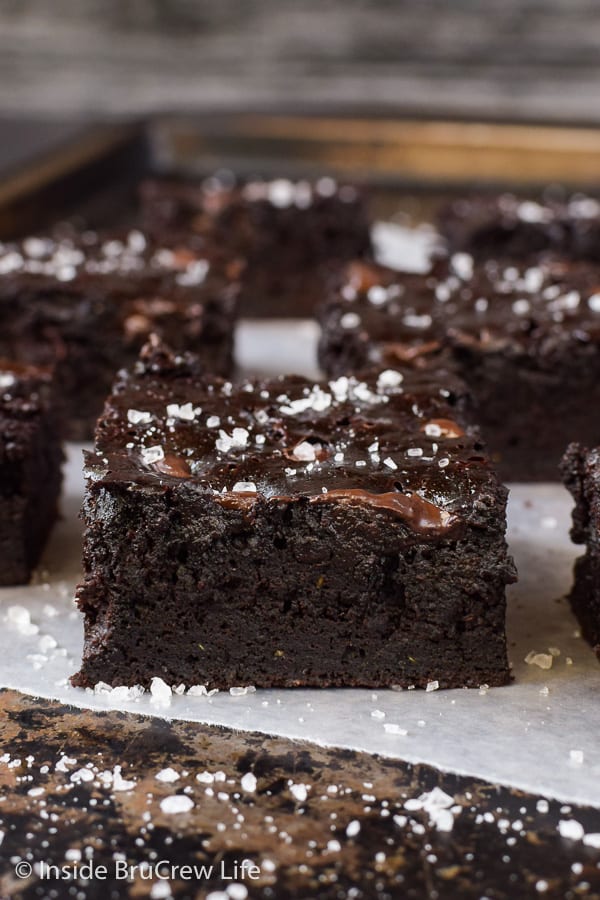 Ingredients for Zucchini Brownies
Zucchini - Shred your zucchini on the smallest side of your grater. You want the zucchini to be tiny and blend into the brownies, so that it is hidden. Do not squeeze out the moisture from the shredded zucchini. You need it to be moist in order for the brownies to bake up nice and fudgy. If your zucchini is extremely wet, you can squeeze a little out with a paper towel.
Coconut Oil - You can use melted butter in this recipe too. Either one works and tastes great.
Dark Cocoa Powder - gives the brownies the darkest and richest color and taste. Regular cocoa powder works too, just know your brownies will be a little lighter.
Cinnamon - adds that extra little bit of spice and flavor. Feel free to use all-spice if you want to add a little bit more to it.
Dark Chocolate Chips - Sprinkle the top of the brownie batter with chocolate before baking. Some of them will sink into the brownies and some will stay on top. The hidden ones are a fun surprise to bite into.
Sea Salt - adds a delicious sweet and salty flavor to the dark chocolate brownies.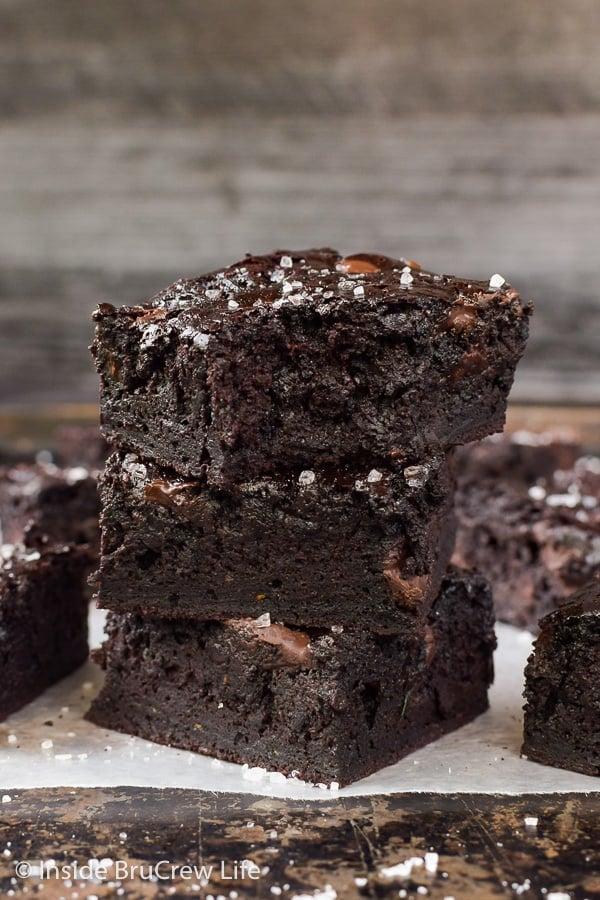 How to make Dark Chocolate Zucchini Brownies
When the warm pan of dark chocolate zucchini brownies come out of the oven, you will be shocked at how amazing they look. I know I was blown away at how good they were.
Of course, the sprinkle of coarse sea salt on top is an absolute must. It just adds a little something extra to the dark chocolate goodness.
Mix together the coconut oil (or butter) and sugar in a mixing bowl until it looks like wet sand.
Add the eggs, vanilla, and shredded zucchini and mix again.
Slowly add the flour, cocoa, baking powder, salt, and cinnamon and mix until it looks like brownie batter.
Pour the mixture into a greased baking pan.
Sprinkle the top of the brownies with some dark chocolate chips. Feel free to add more or less depending on your mood or taste.
Bake and cool.
Cut the zucchini brownies into small squares and add a pinch of sea salt to the top.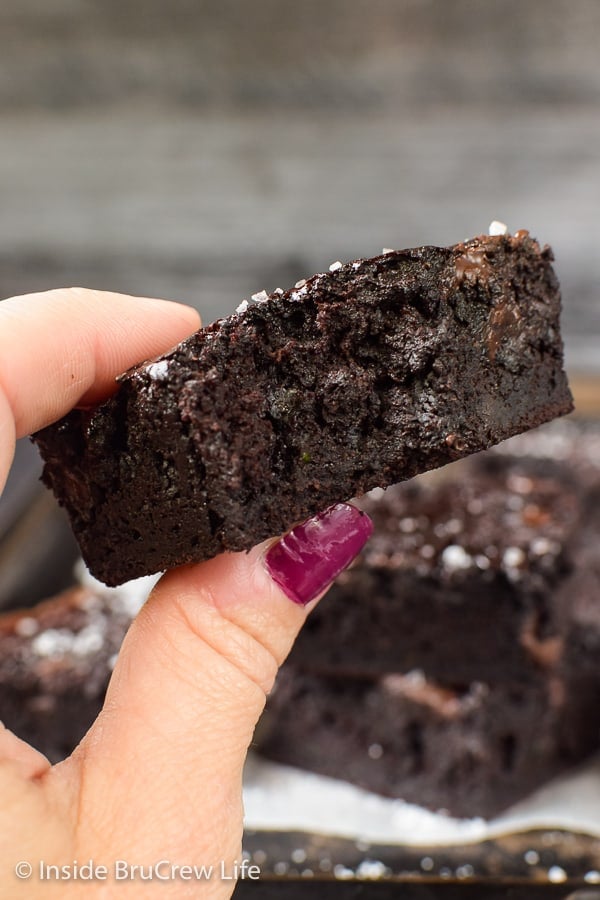 More easy zucchini dessert recipes
Three times the chocolate makes this Zucchini Bundt Cake a decadent and fun way to eat your greens. It's such a great summer dessert!
This Banana Zucchini Cake is loaded with fruits and veggies. A layer of caramel frosting makes it an awesome way to eat green veggies.
These Zucchini Cookies are so soft and delicious. Such a great way to sneak some fruits and veggies into your dessert.
Pineapple and coconut add a fun tropical flair to this delicious Pineapple Zucchini Cake. This is a fun way to use up zucchini.
Grab a few of these No Bake Zucchini Cookies as you are running out the door on busy mornings. Little no bake snacks loaded with flavor and nutrition make them perfect for breakfast or snacking.