Shredded zucchini and cocoa powder make this Dark Chocolate Zucchini Cake a decadent and delicious cake. It's perfect for all those veggies you have growing in your garden.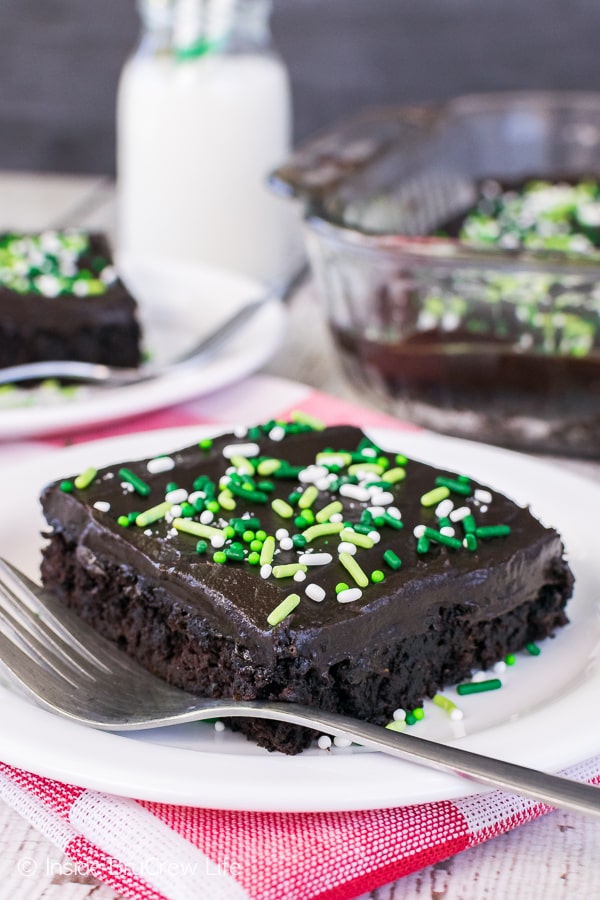 (photos updated July 2017)
CLICK HERE TO PIN THIS RECIPE FOR LATER!
This week has been rough. We added getting up early, working out, AND doing a cleanse to our life.
I am so not a morning person. There is no bouncing or happy, happy, joy, joy going on in my heart as I crawl out of my bed. Usually I need to be awake for a few hours and have Spark or coffee in me before I feel like doing anything or even speaking to people.
So, heading to the gym to do dreadful things like squats, cleans, and sled pushes with other people is a stretch for me.
Then to rub salt into that wound, we are also doing a sugar and carb free cleanse for 24 days. Veggies and protein. I usually like to eat my veggies in things like these Chocolate Zucchini Donuts.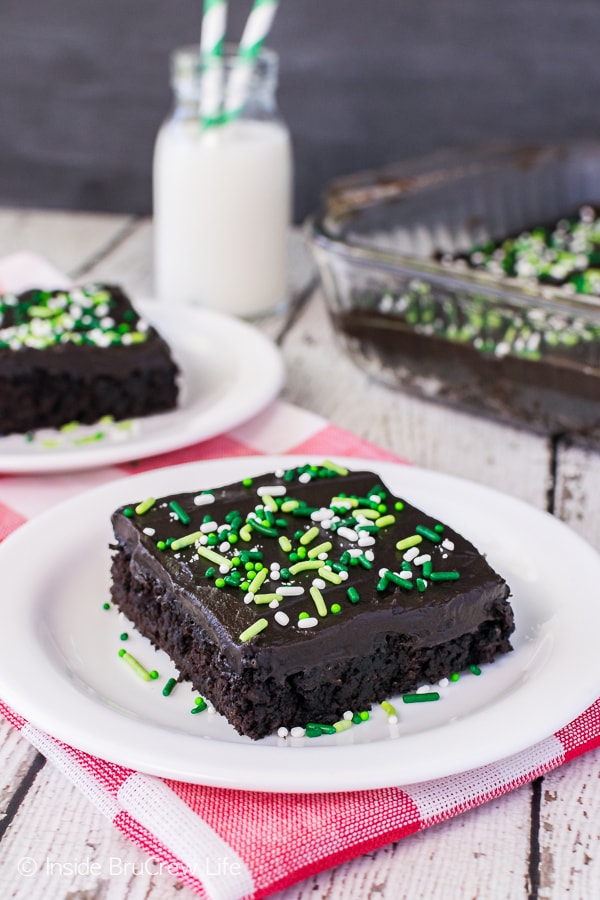 I'm on day 4.
Last night I dreamed about eating spoonfuls of Cool Whip. There must really be issues if I wake up and vividly remember downing spoonfuls of that creamy white stuff.
Let's just say I can definitely tell how much I love my sugar. The past few days I have been slightly not myself each afternoon while I go through withdrawals.
Ok, fine. I have been a grumpy ogre!!!! Haha! Don't you want to join me in my fun life?
Let's talk chocolate and cake. I mean, that's a perfectly logical thing to do when all you want is a big fat slice of anything sweet, but you can't. LOL!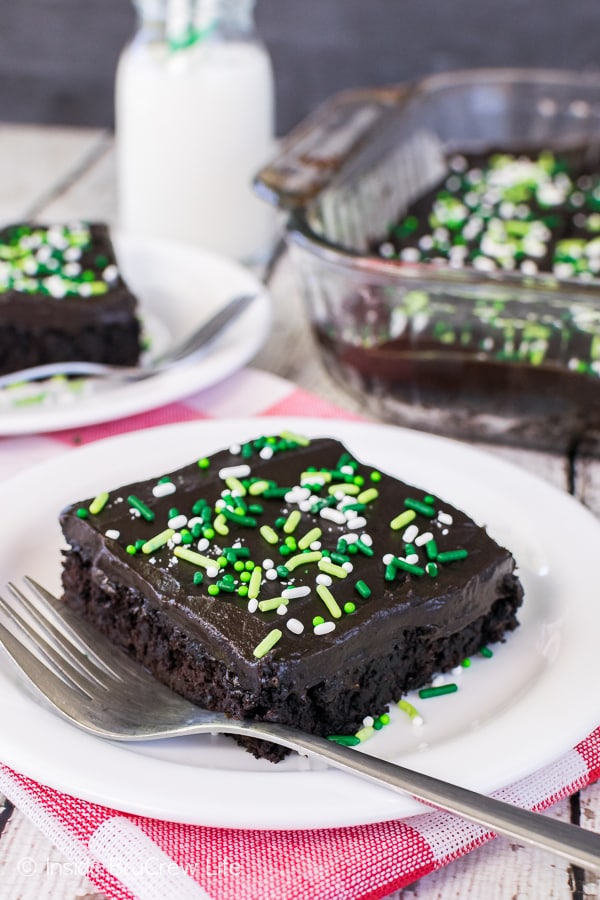 This is seriously the best chocolate zucchini cake I have ever had. Let's just say I made 3 of them last week. In 3 days.
Seriously, it is that good! I found this recipe online and knew it would be the perfect way to use up the rest of the zucchini I had still on the counter.
Of course, I could have grilled them or made a Cranberry Zucchini Slaw, but since it was my last hurrah for sugar for a while, I opted for chocolate and cake. Best way to eat your greens if you ask me.
I did adapt the recipe slightly from the original. It called for 1 1/2 cups of sugar in the batter, but I had a feeling I could reduce that to 1 cup.
Plus, I prefer using more brown sugar in my baking, so I changed that up too. I also used coconut oil and dark cocoa powder. For the health benefits, of course.
All those changes mean that this is now a healthy chocolate zucchini cake, right???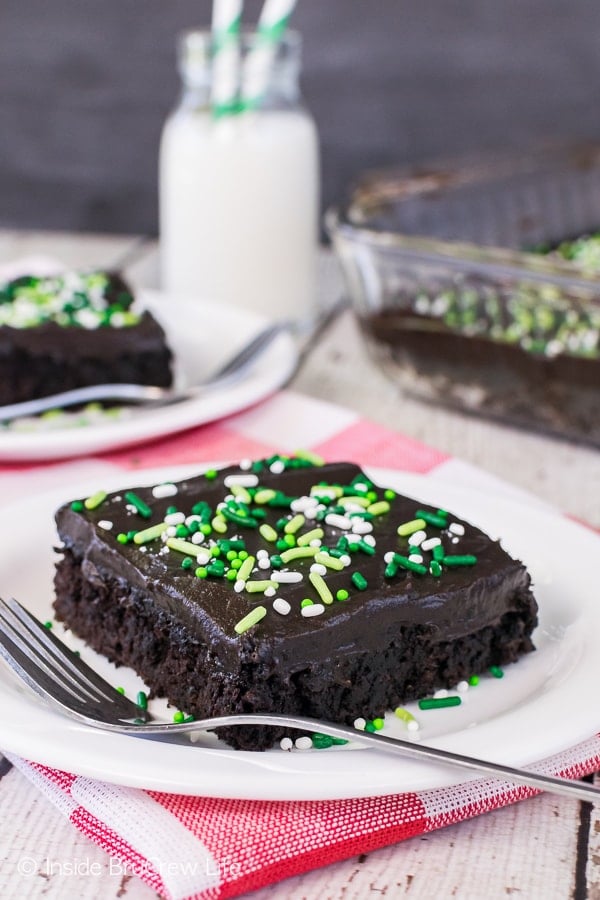 Tips for making a Dark Chocolate Zucchini Cake:
Mix all the ingredients together until it forms a dry powder. You may start to wonder how this will turn into a cake, but trust me on this one.
Then dump in a whole shredded zucchini. Do not squeeze out any of the extra water. The moisture from the zucchini will create a thick dough.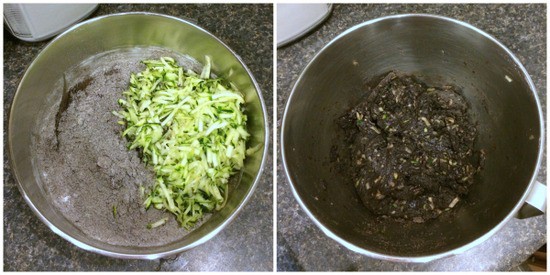 Spread that in a pan and bake it. Then watch in wonder as you pull it out and there is a fluffy cake staring back at you.
The original recipe called these chocolate zucchini brownies, but my husband and I both thought it tasted more like a Texas sheet cake. So cake it is.
The last thing to go on is a fluffy dark chocolate frosting. You could eat the cake plain with some powdered sugar sprinkled on top if you want.
But really just make the frosting and spread it on top. It's only a thin layer, but it totally makes this Dark Chocolate Zucchini Cake taste even more amazing.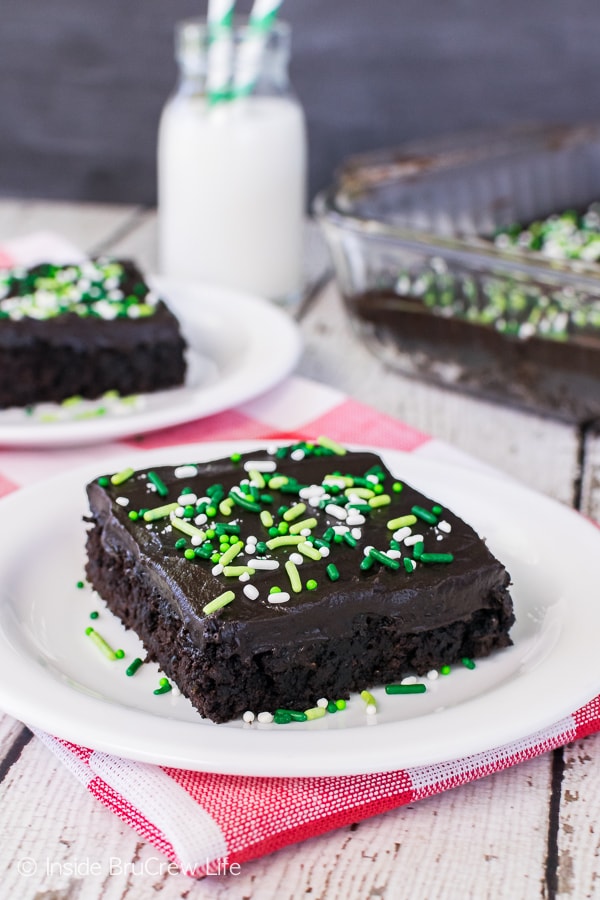 More awesome zucchini recipes to make this summer:
Connect with Inside BruCrew Life! Follow us on social media, so you never miss a post.
Email Subscription | Facebook | Pinterest | Twitter | Instagram | Bloglovin
I also created a fun new Facebook group, and I would love for you to join. It's a group where you can share your favorite recipes, ask questions, share photos, and see what's new with the BruCrew. If you would like to check it out, you can request to join HERE.
Dark Chocolate Zucchini Cake Video and Recipe: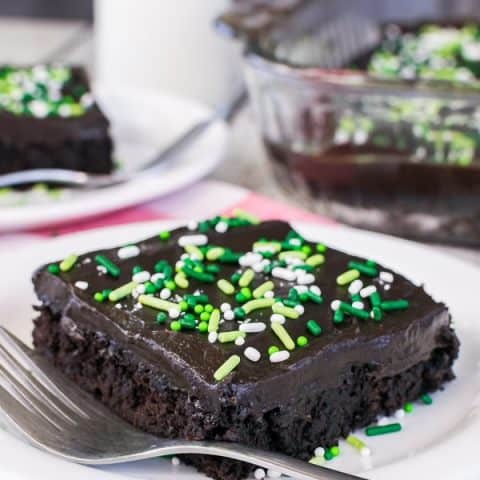 Dark Chocolate Zucchini Cake
Total Time:
1 hour
12 minutes
Shredded zucchini and cocoa powder make this Dark Chocolate Zucchini Cake a decadent and delicious cake. It's perfect for all those veggies you have growing in your garden.
Ingredients
For the Cake
1/2 cup coconut oil
3/4 cup brown sugar
1/4 cup sugar
2 teaspoons vanilla extract
2 cups flour
1/2 cup dark cocoa powder
1/2 teaspoon salt
1 teaspoon baking soda
2 cups shredded zucchini
For the Frosting
1/4 cup butter
1/4 cup dark cocoa powder
2 cups powdered sugar
8 Tablespoons heavy whipping cream
1/2 teaspoon vanilla
Instructions
Preheat the oven to 350 degrees. Spray a 9x13 pan with nonstick spray.
Cream the coconut oil, sugars, and vanilla until it looks like wet sand.
Add the flour, cocoa powder, salt, and baking soda and mix again. The mixture will be very dry.
Add the zucchini and mix until it forms a thick batter.
Press the batter in the prepared pan. Bake for 24 minutes. Remove and let cool.
Beat the butter, cocoa powder, and sugar until it looks like a dry powder.
Slowly add the whipping cream and vanilla. Beat until creamy.
Spread on the top of the cooled cake. Store in a covered container.
Nutrition Information:
Yield:

24
Serving Size:

1
Amount Per Serving:
Calories:

192
Total Fat:

9g
Saturated Fat:

6g
Trans Fat:

0g
Unsaturated Fat:

2g
Cholesterol:

11mg
Sodium:

116mg
Carbohydrates:

27g
Fiber:

1g
Sugar:

17g
Protein:

2g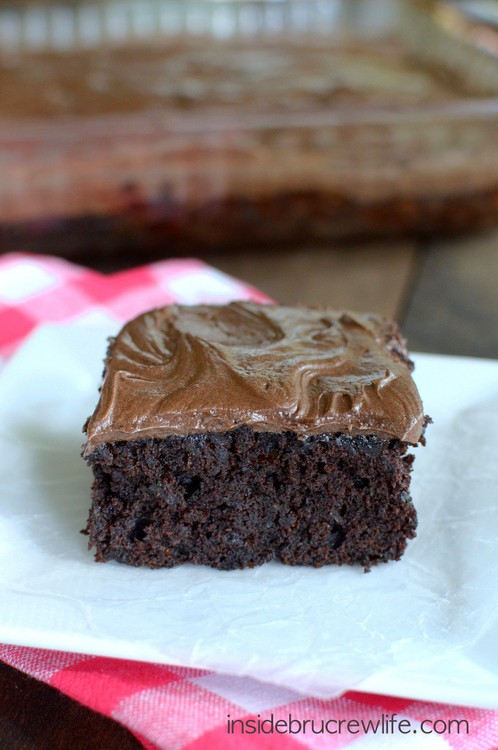 (original photo from August 2014)
*This is a repost of a recipe that was originally posted August 2014.
**This post does contain an affiliate link. Inside BruCrew Life may receive a percentage from sales made through these free referral links. Thank you for letting us share products we love this way.