These soft fluffy Frosted Zucchini Brownies are a sweet way to use up the extra green veggies from your garden. The cake-like texture of these homemade chocolate brownies is so delicious.
No one will ever know they are getting a dose of veggies under all that chocolate. Wink, wink.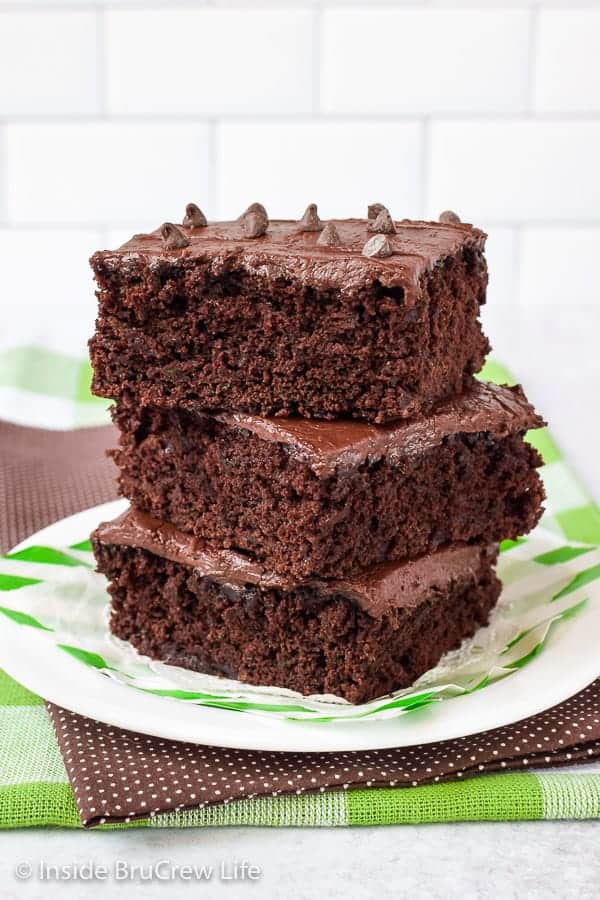 Zucchini Brownies
I had a few extra zucchinis on our counter after making dinner. So, I decided to make a chocolate zucchini dessert. Let's face it. If our kids can see the green, they are going to run the other way.
I have no idea why they run from zucchini because they eat salads all the time. Those kids are crazy some days!
My plan was to give this Chocolate Zucchini Cake a fun make over. So, I started adjusting the flour and baking soda ratios. I even tried adding an egg and some sour cream to the batter, but it kept ending up really fluffy or gummy.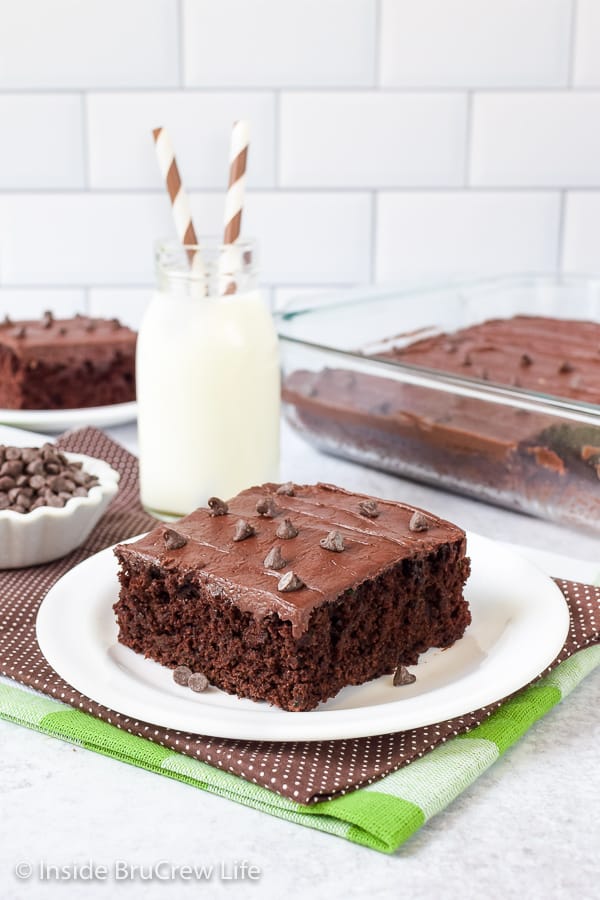 It turns out that some baking soda is necessary when you add sour cream to your batter. I left it out in the second round of zucchini brownies, and those brownies turned out kind of fudgy but also very gummy too.
That was definitely not the brownie texture I was looking for, so I made a third batch of chocolate zucchini brownies with the last zucchini I had.
This third batch of zucchini brownies ended up being my favorite for flavor and texture.
If you are looking for rich, fudgy zucchini brownies, make sure you check out this Zucchini Brownie recipe.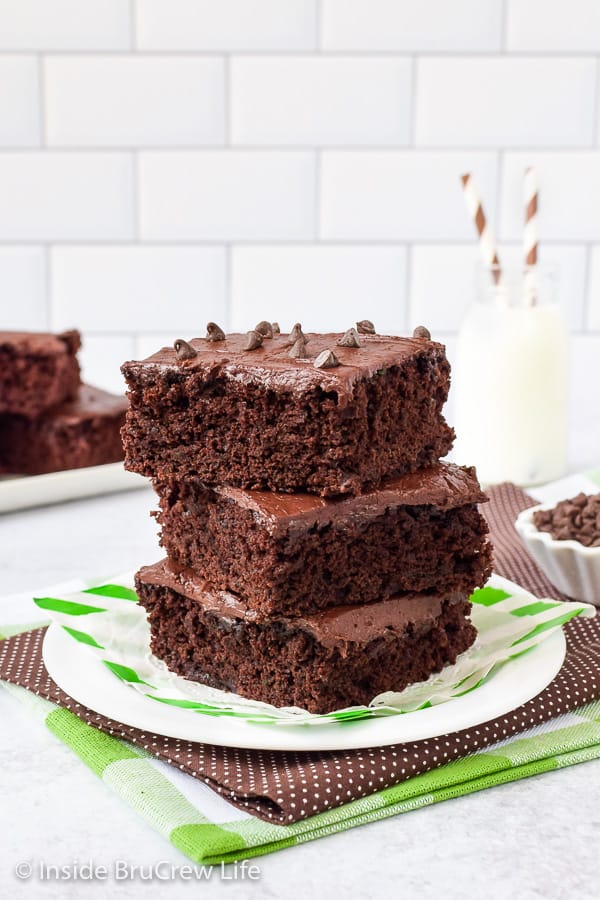 Ingredients for Zucchini Brownies
The baking soda and sour cream makes these zucchini brownies light and fluffy, and with a cake-like texture.
Butter: Make sure to use real unsalted butter for these brownies. Actually, I use real butter in all my baking. It tastes better and bakes better. Margarine has extra water added to it, so it can affect the baking time and outcome of your recipes.
Sugar: These brownies use a mixture of brown sugar and granulated sugar. I like to mix the two sugars because it can add a little bit more moisture to a recipe when using brown sugar.
Sour Cream: A little bit of sour cream will add some moisture to these brownies giving them a little bit more of a cake-like texture.
Baking Soda: Mixing this with sour cream provides a chemical reaction in your brownies causing a little bit of a lift and fluffy texture to happen as the brownies bake.
Extracts: I like to use a mixture of vanilla and almond extract when I'm baking chocolate desserts. It's a personal preference. I happen to love the smell and taste of almond extract. Feel free to use all vanilla if you prefer that better.
Zucchini: Make sure to shred your fresh zucchini using the smallest side of your grater. You want the shreds to be tiny and small. They will release more moisture in the batter this way, and it will be hard to see them once it is baked. Do not squeeze out any of the extra moisture that is in the zucchini pieces.
Dark Cocoa Powder: I use dark cocoa powder in almost every chocolate dessert I make. I love the dark rich taste it gives baked goods. You can use a regular cocoa powder or cacao powder if that is what you have on hand. Just realize your zucchini brownies will not be as dark after they bake.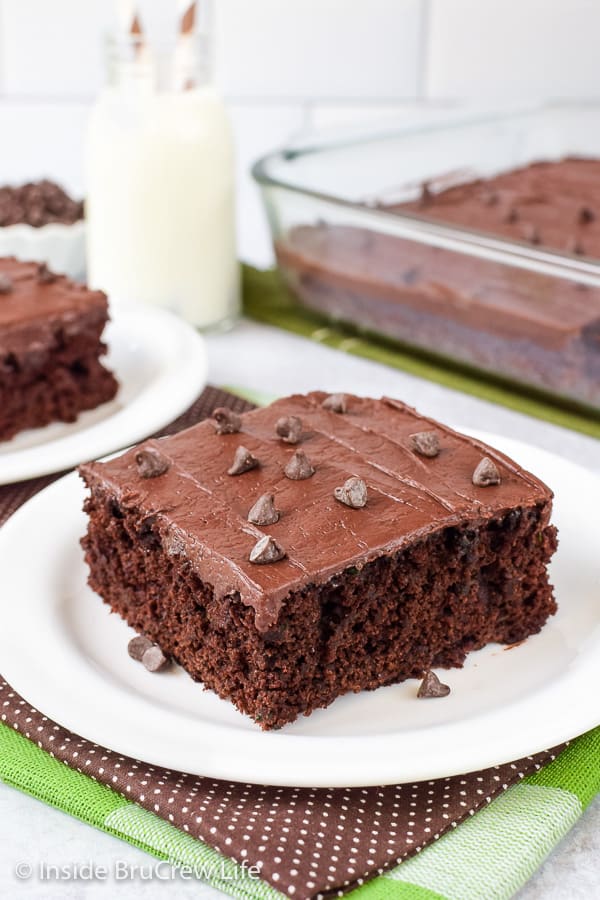 How to make Frosted Zucchini Brownies
These sweet chocolate zucchini brownies come together very easily with just one bowl.
Mix the melted butter and sugars in a large bowl until it looks kind of like wet sand.
Add the sour cream and extracts and mix again.
Stir together all the dry ingredients and slowly add them to the wet ingredients. The batter will be very thick.
Add the shredded zucchini and stir it in gently until it is mixed in completely.
Spread the brownie batter in a prepared pan and bake.
Let the zucchini brownies cool completely and then spread chocolate frosting on the top. If you do not want to make frosting, go ahead and sprinkle the top with powdered sugar before serving.
BRUCREW Tip: Heat a zucchini brownie up in the microwave for 10-15 seconds. Trust me, you will love how rich and fudgy they are when warm.
CLICK HERE TO PIN THIS RECIPE FOR LATER!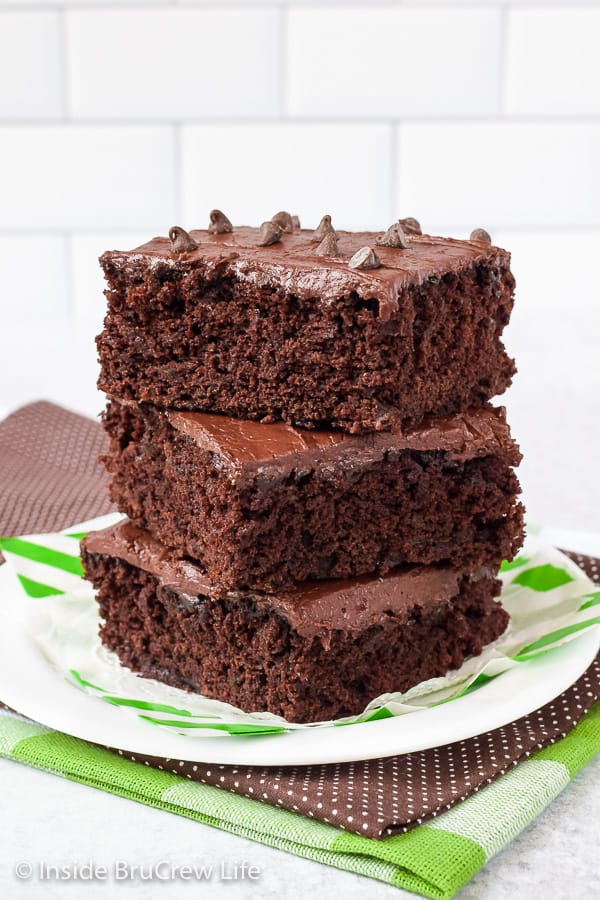 More Chocolate Zucchini Desserts
Connect with Inside BruCrew Life! Follow us on social media, so you never miss a post.
Facebook | Pinterest | Twitter | Instagram
I also have a fun Facebook group, and I would love for you to join. It's a group where you can share your favorite recipes, ask questions, share photos, and see what's new with the BruCrew. If you would like to check it out, you can request to join HERE.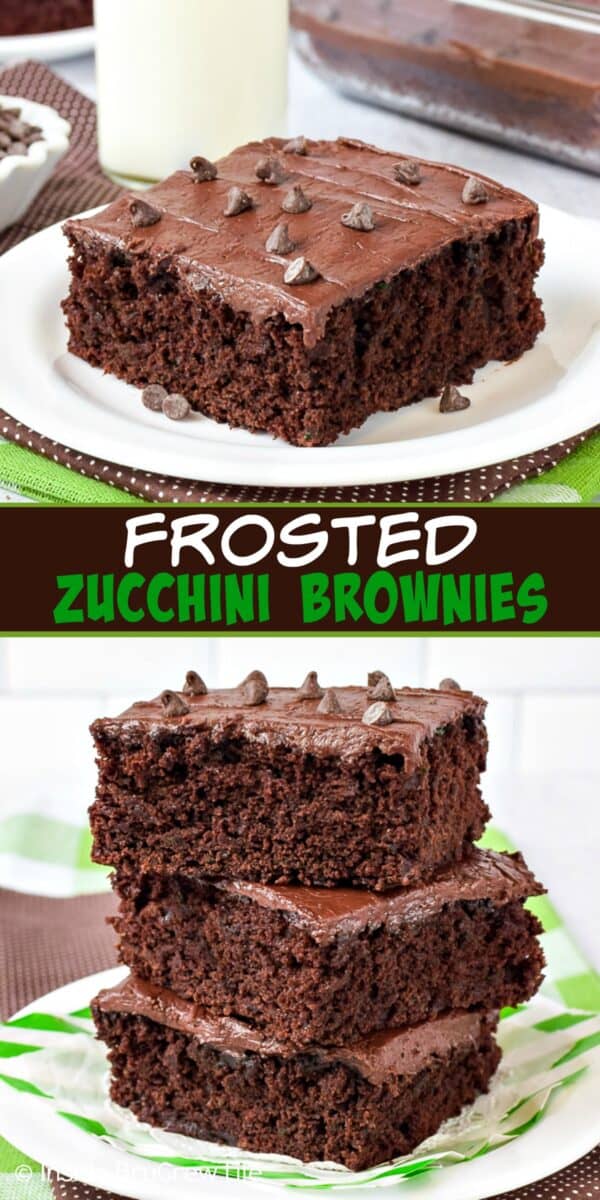 *The recipe for Frosted Zucchini Brownies was first published on July 31, 2015. The photos have been updated, and it was republished on August 21, 2019.