You will not believe how easy it is to make the best Apple Pie Filling recipe. With just a few simple ingredients this stovetop apple pie filling can be made in minutes. I will walk you through this step by step, so kick the canned pie filling to the curb!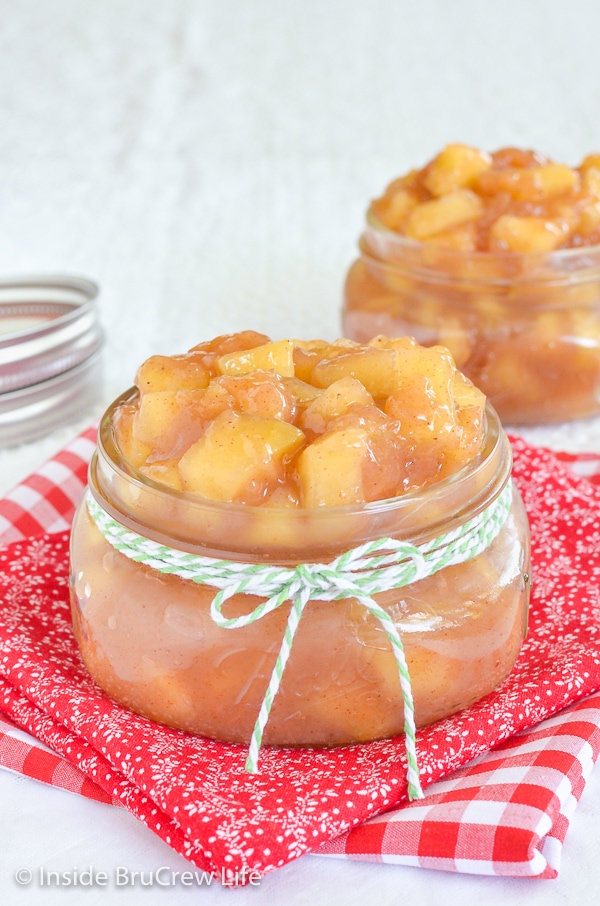 Stove Top Apple Pie Filling
Last summer we had quite a few bags of apples that I wanted to use before they went bad, so I decided to make my own stovetop apple pie filling.
There are times that I do still use canned pie fillings sometimes because sometimes it is just more convenient. But if you have the extra time, I recommend giving this homemade apple pie filling from scratch a try.
I love that the best apple pie filling does not have any of the preservatives or extra ingredients in it. It is very easy and only takes about 20 minutes from start to finish. It is perfect to stuff into a lattice pie crust.
Trust me, fresh apple fruit filling will make your desserts taste amazing. Try using this apple pie filling recipe in this Apple Crisp Pie, this Cinnamon Apple Icebox Cake, or these amazing Apple Cinnamon Cream Cheese Bars.
Apple Pie Filling Ingredients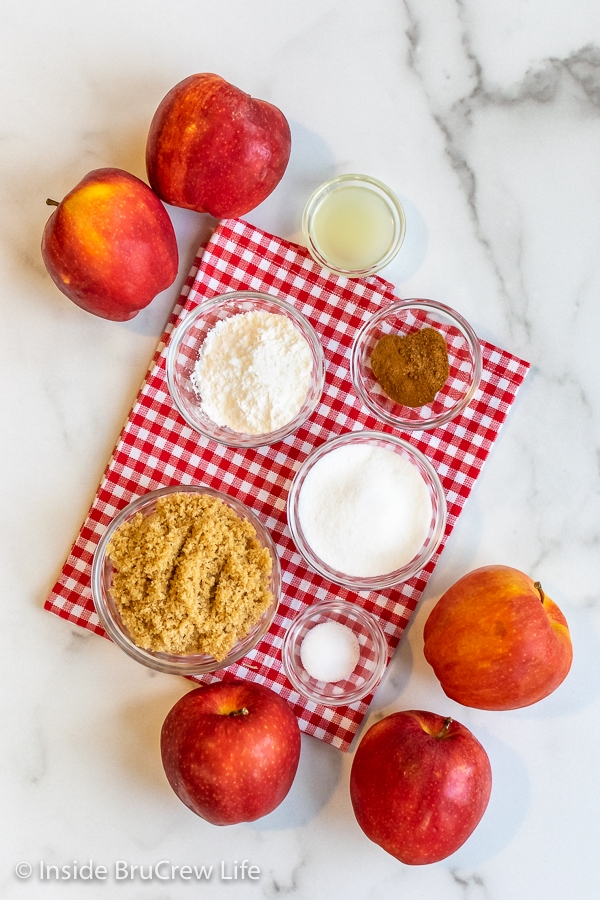 You only need a few ingredients to make this apple pie filling recipe. Most of these ingredients are probably in your pantry right now.
Apples - I like to use Gala apples for all my baking because they are a little sweeter and my favorite. Feel free to use your favorite variety. We prefer to use peeled apples, but if skins don't bother you you can leave them on.
Lemon Juice - A little bit of lemon juice keeps the apples from turning brown.
Sugar - I like using a mixture of brown and granulated sugar for this pie filling recipe.
Cornstarch - This gluten free ingredient is what thickens the homemade apple pie filling into gooey delicious goodness.
Spices - A mixture of cinnamon and nutmeg gives this pie filling a fall taste.
Salt - Just a pinch helps to balance out the sweetness and adds depth to the flavor.
How to make Apple Pie Filling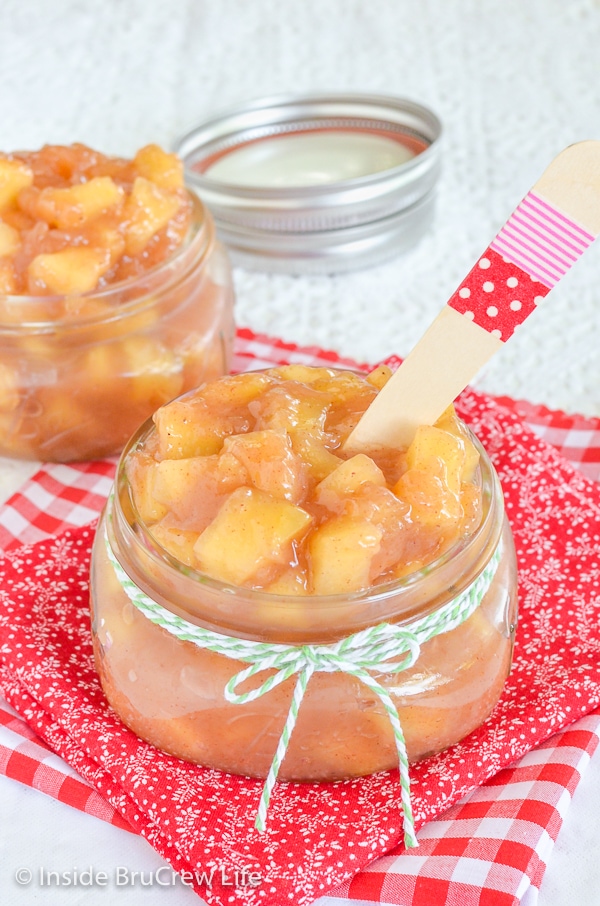 Homemade apple pie filling is so easy to make. It only takes a few minutes to put it all together. You can use it immediately, refrigerate it to use all week, or freeze it for later. It really is the best apple filling recipe around!
Cut your peeled apples into bite sized chunks. You can use your favorite apples for this filling.
Combine some sugar, water, and cornstarch to make a glaze. Let this boil for about a minute before stirring the diced apples into the hot mixture.
Bring it back to a boil, and then reduce the heat to a simmer for about 12 minutes.
Remove from the heat and let it cool in the pan for an hour or two. The apple pie filling will thicken as it cools.
Spoon the apple pie filling into jars or a large bowl and place in the refrigerator to continue cooling.
Uses for Homemade Apple Pie Filling
There is really no wrong way to use this apple filling recipe. My favorite is digging in with a spoon. Wink, wink!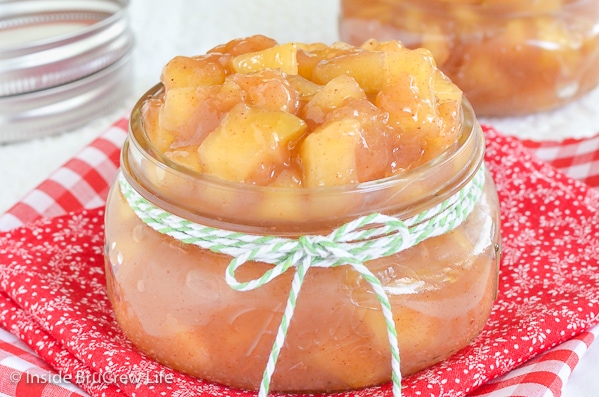 FAQ
What kind of apples should you use for pie filling?
I personally like to use Gala apples when I make this particular apple pie filling. Granny Smith, Fuji, Honey Crisp, and Red Delicious are also good to use. You can also use a mixture of different apples to give the pie filling a unique flavor.
Can you freeze this quick apple pie filling?
Yes, you can. Make the pie filling and let it cool completely. Spoon into freezer safe bags or containers and freeze for a few months. Thaw in the refrigerator before using.
Can you use homemade apple pie filling in place of canned pie filling?
Most 21 ounce cans of pie filling have about 1 ½ cups in them. For any recipe calling for a can of pie filling, substitute 1 ½ cups of homemade pie filling instead.
How do you thicken apple pie filling without cornstarch?
Tapioca - tapioca flour can be used to thicken sauces, fillings, and soups
Arrowroot - stir and dissolve this into cool liquid before adding it to a hot liquid
Clear Gel - This has great thickening abilities, so only use half the amount of the cornstarch. Stir into the sugar before adding water to avoid clumping.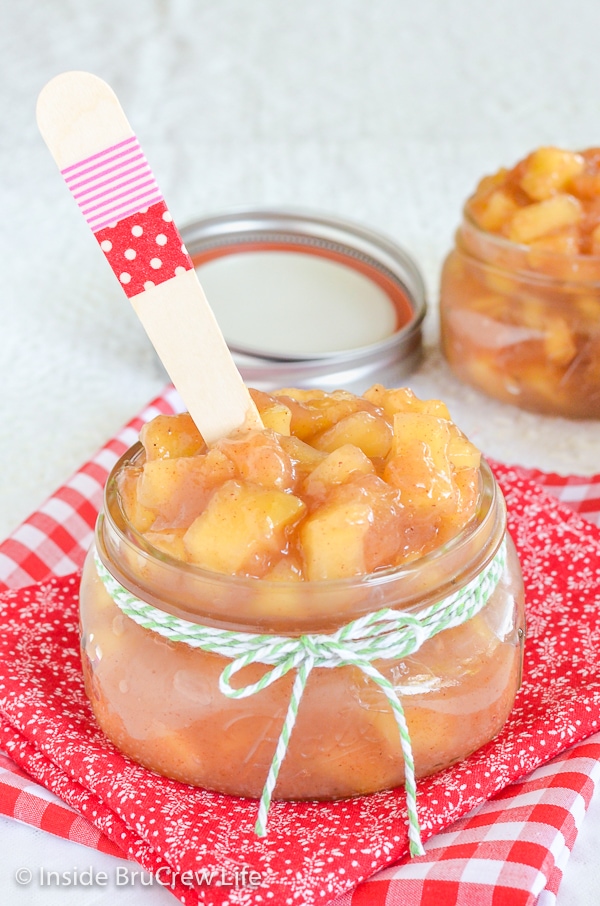 More easy apple desserts