This sweet and tropical Coconut Cream Fruit Dip is a delicious choice to serve with fruit. It's an easy no bake dessert to bring to summer picnics or parties.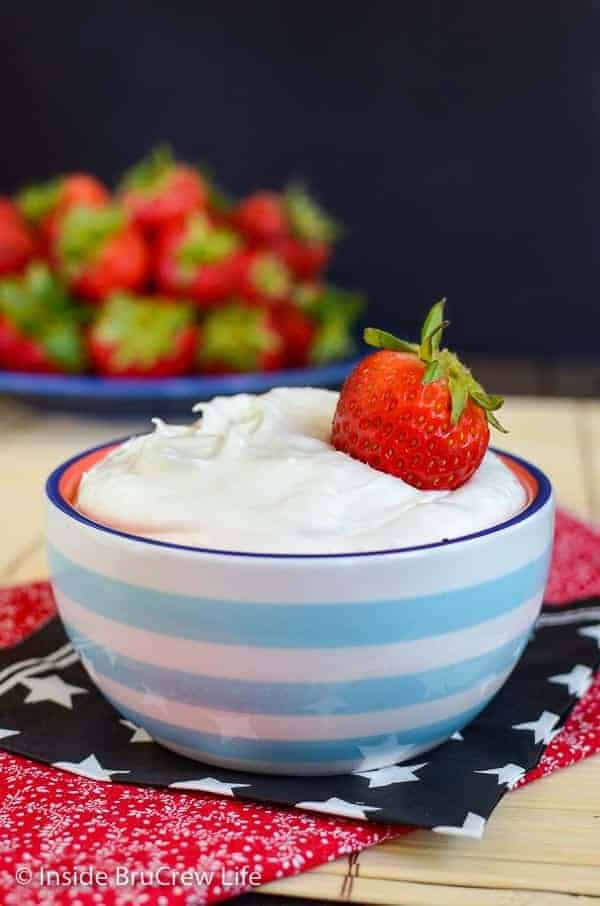 A few weeks ago we had a ladies meeting at our church. Of course, I had to bring some sort of dessert, right?
These Coconut Oreo Shortcakes were on my counter waiting to go over, but I wanted something else. I wanted something full of coconut goodness.
I opened the pantry and stared into it, then I heard angels start singing as I spotted the can of cream of coconut in the back.
Usually, I like to make a dark chocolate dip or this Lemon Cream Fruit Dip, but today my tropical loving tastebuds were craving a creamy, coconut dip.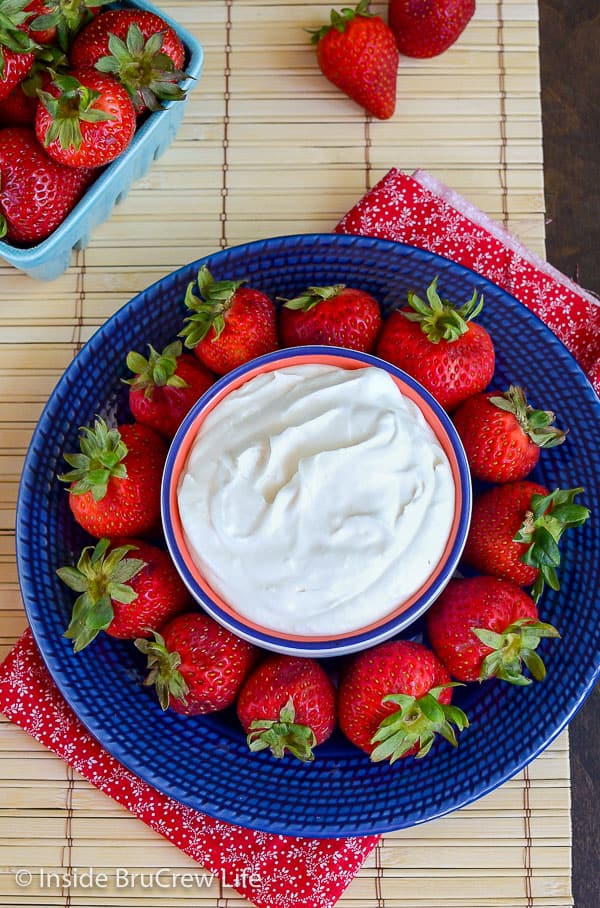 The ladies in my church loved this Coconut Cream Fruit Dip and have been patiently waiting for me to post the recipe for it.
What you need to make Coconut Cream Fruit Dip:
Let's talk about the cream of coconut for a sec, ok? This is not coconut cream or coconut milk.
Cream of coconut is more like sweetened condensed milk and is used in piña coladas and other drinks. You can find it in the grocery store with the mixer drinks or other juices.
Pro Tip: If you buy the canned version, place the unopened can in a bowl of hot water to soften the cream. It's much easier to mix into your dip this way. You can also buy it in a squeeze bottle.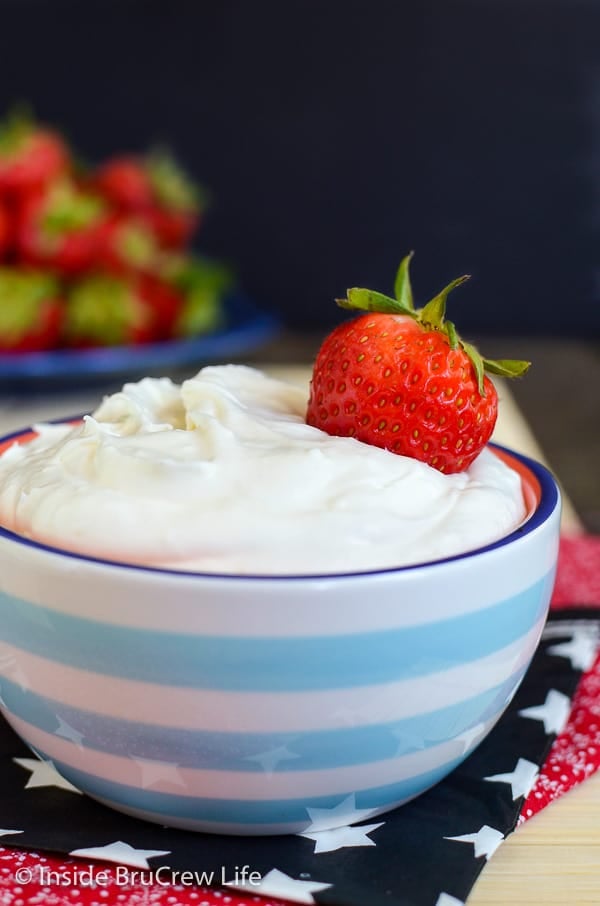 How to make Coconut Cream Fruit Dip:
Make sure to set out the cream cheese ahead of time. It's easier to beat it and mix in the other ingredients when it is soft.
Beat the cream cheese until nice and creamy. Slowly add the softened cream of coconut and marshmallow cream and beat it again. If you add everything at once and try to beat it, you will have cream cheese chunks. It won't affect the taste, but it won't look as pretty and creamy. Trust me on this one!
A little bit of rum extract adds that extra hit of tropical island wonder to this cream cheese fruit dip.
Fold in some Cool Whip, so that the dip will have a fluffy texture. Use a flat rubber spatula to lift the mixture up and over. You can also use Homemade Whipped Cream if you prefer that instead.
Refrigerate this easy fruit dip recipe to chill it, then grab some fruit (or a spoon) and go to town on it.
Pro Tip: If you are NOT serving this easy fruit dip to children, you can use real rum instead of the extract. This Mudslide Cheesecake Dip is another one that is perfect for adults.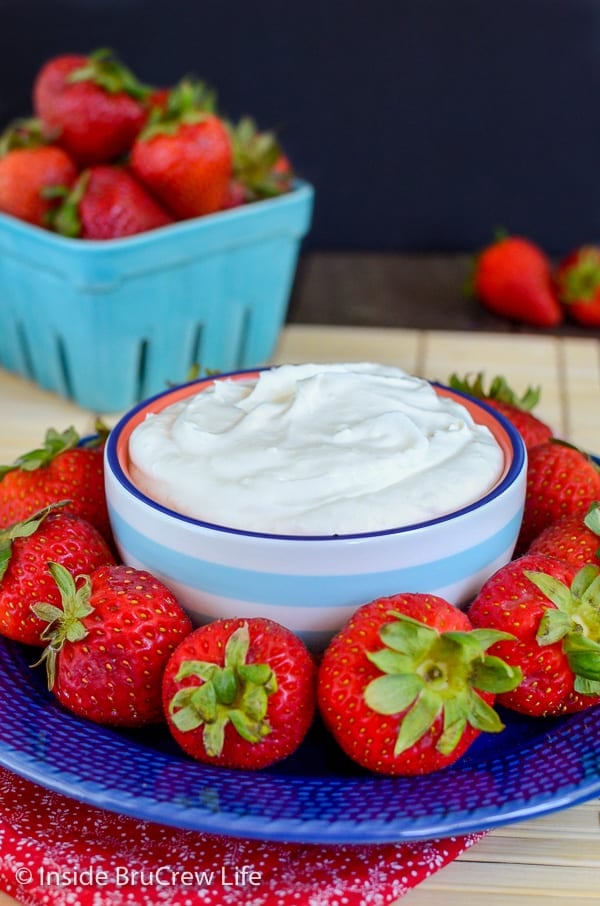 How long does coconut fruit dip last in the fridge?
Homemade dairy-based dips will generally last 3-4 days if stored in the fridge in a sealed container.
Can you freeze fruit dip?
It isn't recommended to freeze food made with cream cheese. It doesn't thaw and mix back together the same way.
Can I use something other than rum extract?
Feel free to use vanilla or coconut extract instead of the rum extract. You can also use regular rum if you are serving this dip to adults.
What do you serve with this easy fruit dip?
It really goes great with with every kind of fruit. Some of our favorites are strawberries, grapes, bananas, oranges, and pineapple. Go ahead and serve it with your favorite fruit.
I love to serve this coconut fruit dip with strawberries and blueberries for an easy Fourth of July dessert.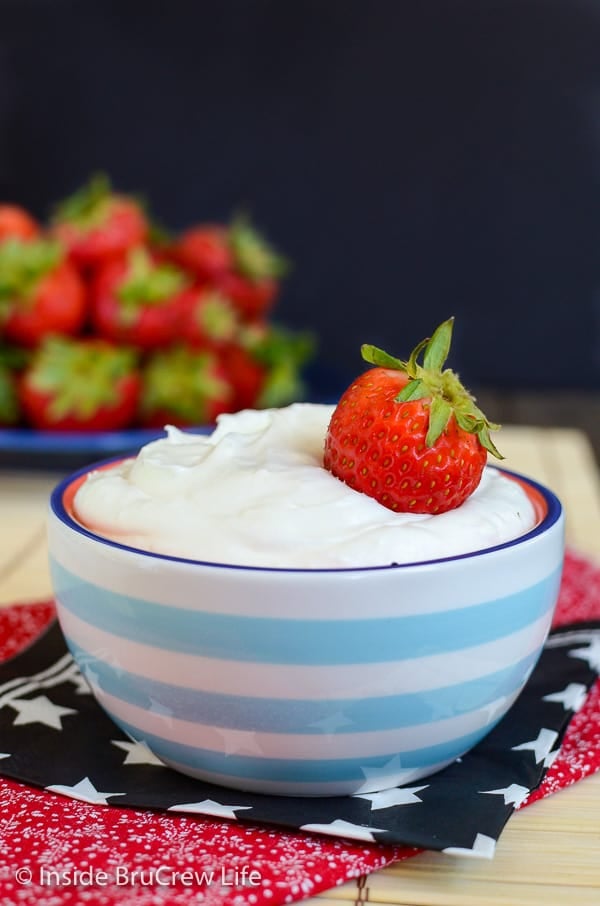 Other coconut recipes you may like: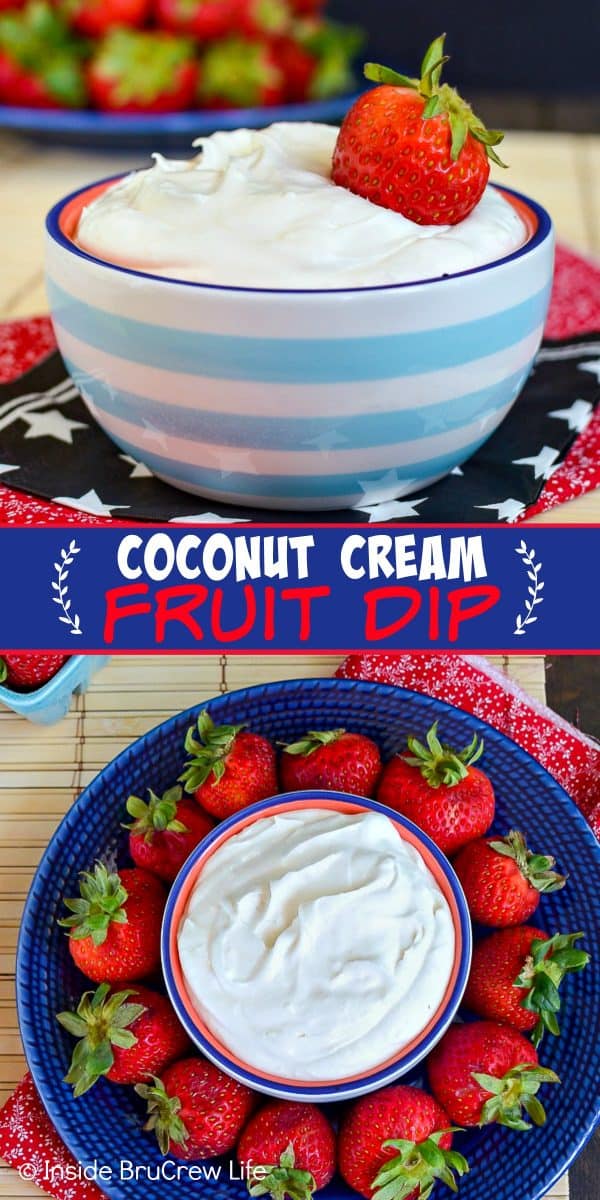 *This Coconut Cream Fruit Dip was first published on June 17, 2014. The photos have been updated, and it was republished on June 17, 2019.