If you like piña coladas and lying by the pool, you need to try this fluffy fruit dip. This Pina Colada Fruit Dip has the pineapple and coconut flavors of a piña colada drink in a light, fluffy mousse.
It is the perfect sweet dip to enjoy with fruit and cookies.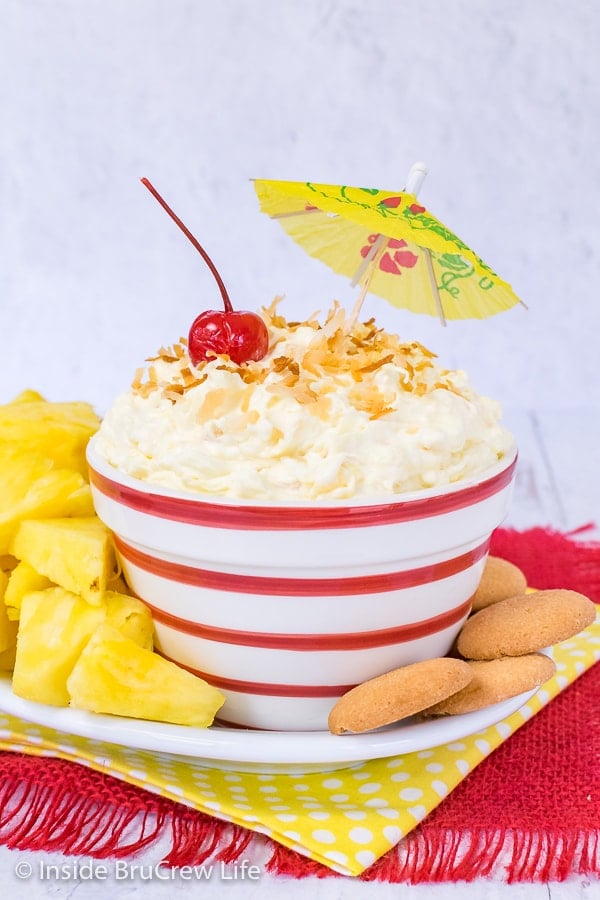 We are stilling enjoying lots of hot summer days here. There is no end in sight for the heat and humidity...yet. Give it another month or two, and we will see fall start creeping in.
Until then, lots of easy dinners and no bake desserts are all I'm planning on eating. Well, unless the urge to bake hits me. Then we all know that I can't resist a good baking session.
I actually made this easy fruit dip a few months ago and then totally forgot to share it with you. I blame it on the lack of routine that has become the new norm around here.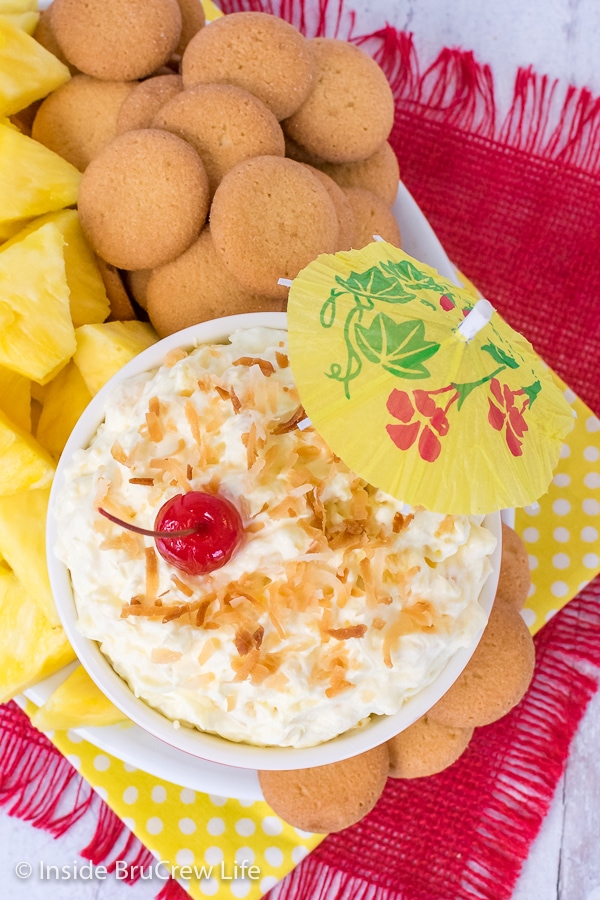 I don't know what has happened, but I'm slightly behind on all the things. I feel like I'm not alone in this current dilemma.
Anyway, don't wait another minute to make a batch of this Pina Colada Fruit Dip. This sweet dip only takes minutes to make, and then it is ready to be eaten.
Since it is still technically summer for another month, you have time to enjoy a few bowls of this no bake dessert.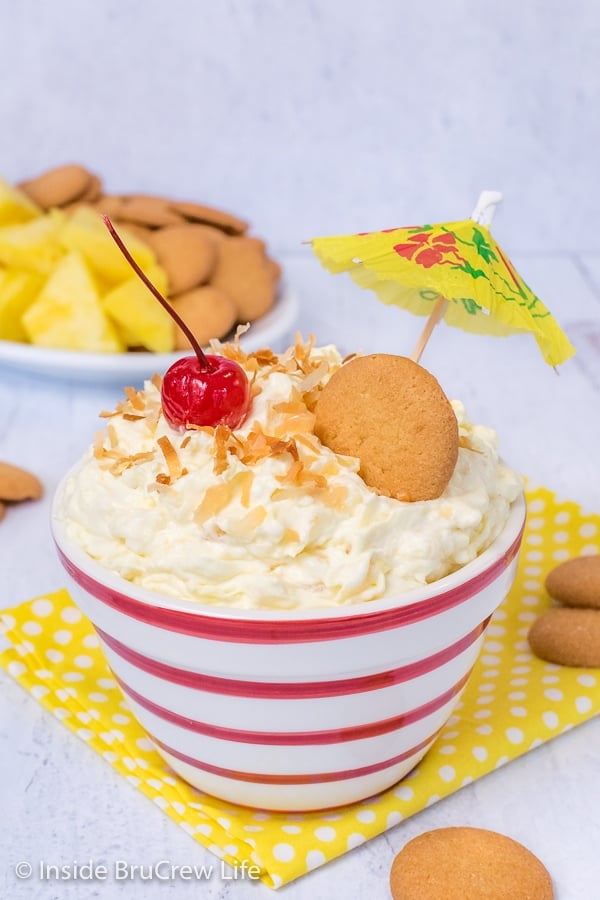 This fruit dip disappeared in a hurry when my in-laws came over for Mother's Day a few months ago. I served it with some fresh pineapple and vanilla wafers. Easy, simple, and so delicious.
The next time I make this fruit dip, I want to make a loaf of this Vanilla Bean Pound Cake and then layer the cake and dip in a bowl with some Homemade Cherry Pie Filling. How good would that be?!?!?!?!
How to make Pina Colada Dip:
Whisk together the dry pudding mix and undrained can of crushed pineapple until thick. (full recipe below)
Refrigerate for a few minutes to chill and thicken more.
Fold in a container of Cool Whip gently until it is light and fluffy.
Serve with your choice of dippers. Or just dig in with a spoon. That's your call.
PRO TIP: This fluffy fruit dip can also be made with Homemade Whipped Cream if you prefer that instead.
Can this fruit dip be made ahead of time?
Yes, you can make it ahead of time and refrigerate it until time to serve. This gives it time to thicken and the flavors to come together better. Store it in a tightly sealed bowl for 1-2 days.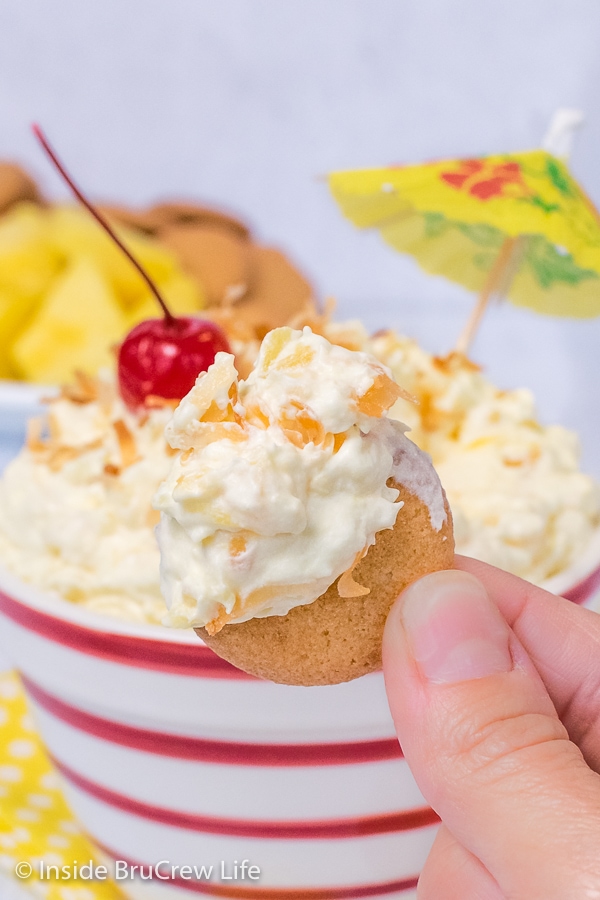 When you are serving this dessert dip at a party, here are some fun options you can set out in bowls or charcuterie style.
What to serve with fruit dip:
Pineapple wedges
Strawberries
Apple slices
Cherries
Grapes
Nilla Wafers
Graham Crackers
Pound Cake
Animal Crackers
Pretzels
If I'm being completely honest with you, I ate this fluffy fruit dip with a spoon. I mean, it is basically pudding and Cool Whip...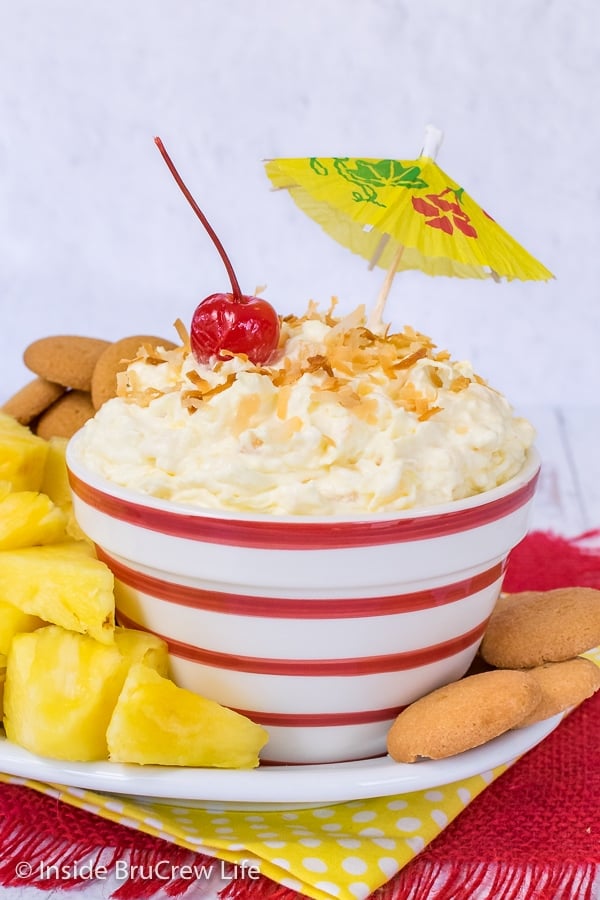 More quick and easy fruit dips you may like: