This easy Bacon Ranch Pasta Salad is loaded with bacon, spinach, and tomatoes giving it a delicious BLT flavor. This easy pasta salad recipe is a great side dish to share at summer picnics or barbecues.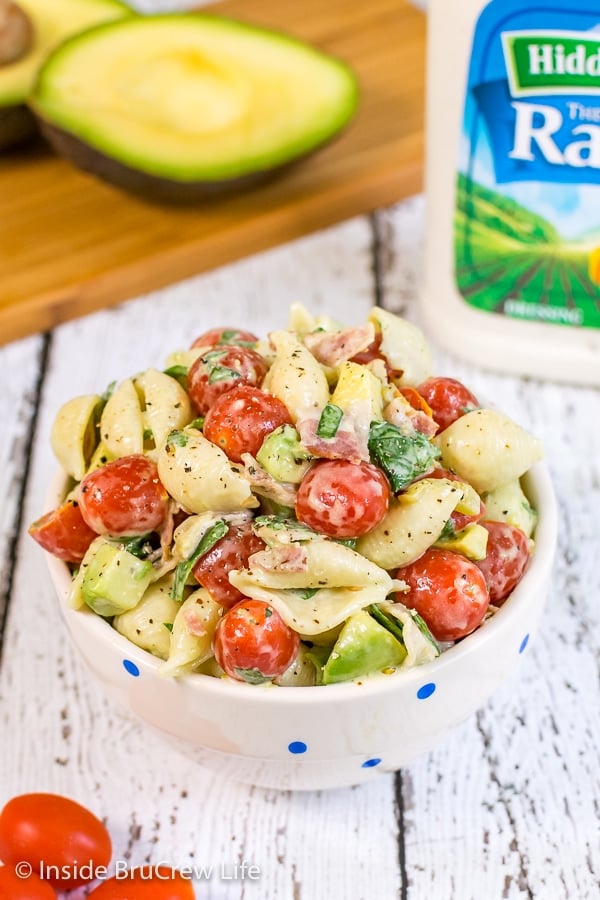 Summer Pasta Salad
Pasta salad is my go to during the hot summer months. If we get invited to picnics or dinners it is safe to say I will be bringing some type of easy pasta salad recipe.
I also make a pasta salad or this Veggie Salad when I have no idea what else to make for dinner. It's safe to say veggies and pasta are always my go to.
It's ok though, because pasta goes with just about any meal, right? Burgers, pulled pork, chicken tenders...it all goes together.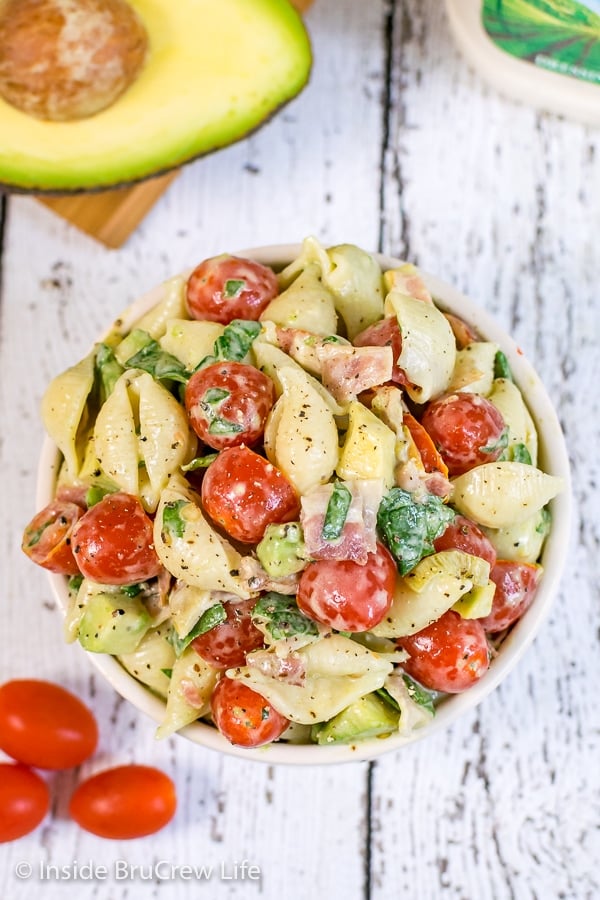 BLT Pasta Salad
A few weeks ago we made this Southwest Pasta Salad, and we still had extra bottle of salad dressing in our refrigerator. We always keep an extra bottle of Ranch dressing because our kids love it on salads, veggies, and pizza crust.
One of my favorite summer salads is a BLT pasta salad. When I was growing up my parents used to buy the Suddenly Salad box mix that we would eat with hamburgers and hot dogs all summer long.
I decided to recreate that ranch pasta salad from scratch since we had most of the ingredients on hand. All I had to do was thaw out the package of bacon from the freezer before I could get started.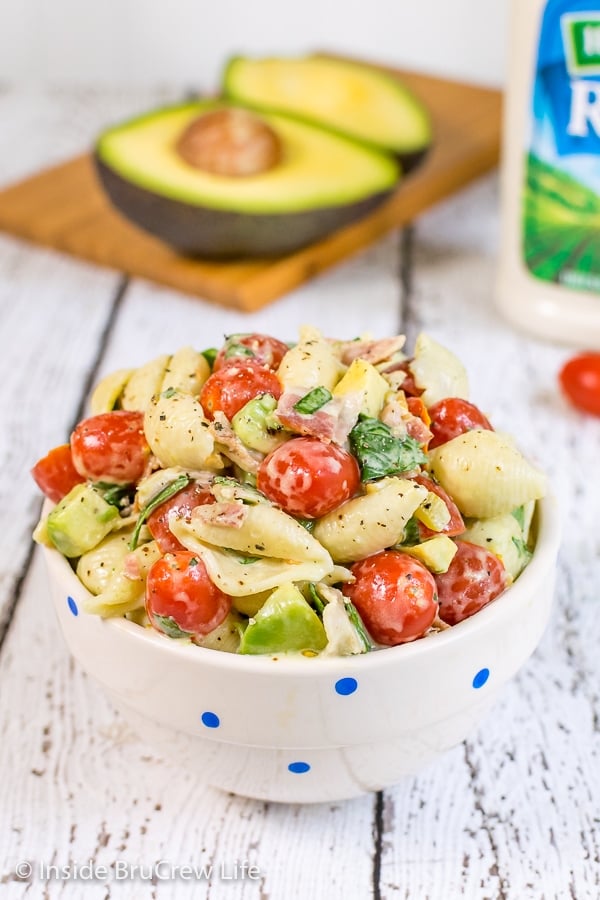 Did you know that I am not a huge bacon fan? Yes, I know you all probably just gasped out loud. Don't shoot me!
What I have found is that I do actually like bacon on things like BLT sandwiches. Well, as long as the bacon is crispy.
I also really like it in cheesy pasta dishes like this Chicken Ranch Pasta Bake. The key must be ranch and tomatoes because so far everything I like with bacon has those two ingredients.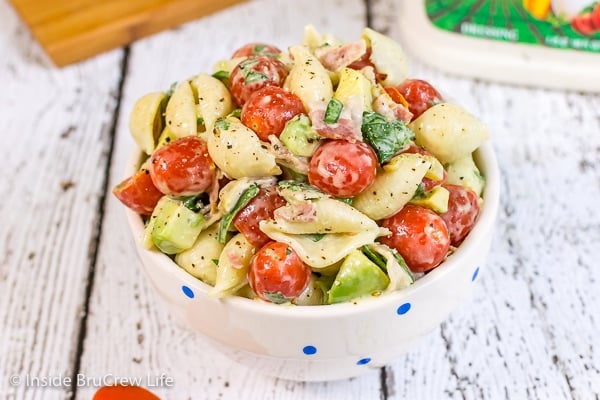 How to make Bacon Ranch Pasta Salad
Cook and drain pasta according to the package directions. (full recipe at bottom of post)
Cook bacon and place on paper towels to drain.
Chop tomatoes, spinach, and avocados. Open and drain the green chilis.
Add the pasta, veggies, crumbled bacon, and ranch dressing in a large bowl.
Season to taste with salt and pepper before serving.
PRO TIP: This can be eaten right away, but if you have time to refrigerate it for an hour or more the flavors come together even more.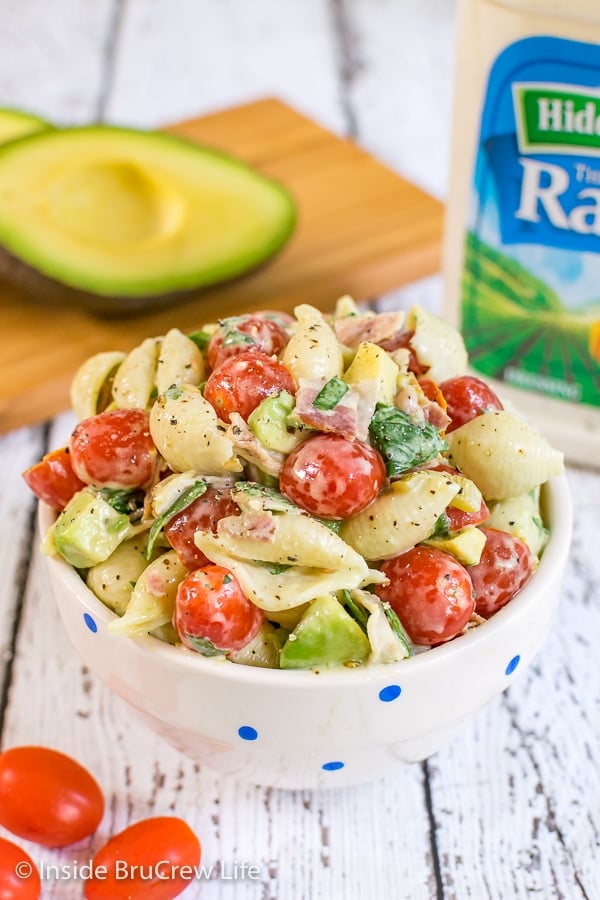 Other summer salads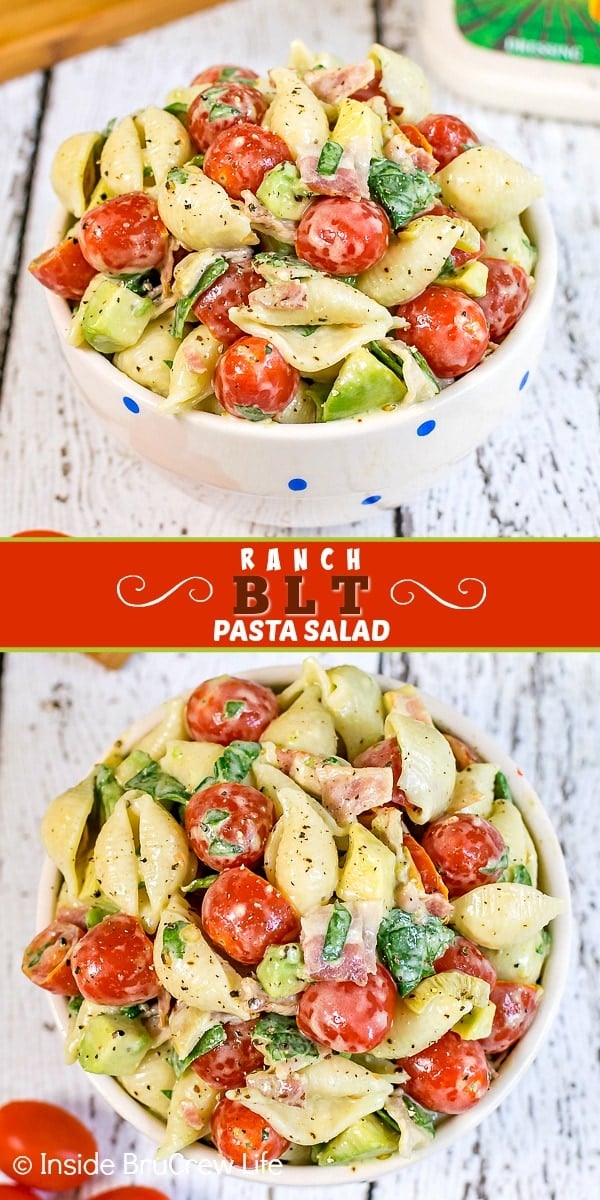 *The post for Ranch BLT Pasta Salad was first published July 22, 2015. The post and pictures were updated and republished August 1, 2020.