Adding green chilies and avocados to this easy Spicy Ranch BLT Pasta Salad gives this salad a spicy twist that everyone will love.  This is a great side dish to bring to any meal or picnic.
*Love this recipe? Sign up for the BruCrew email to have these recipes sent to your inbox.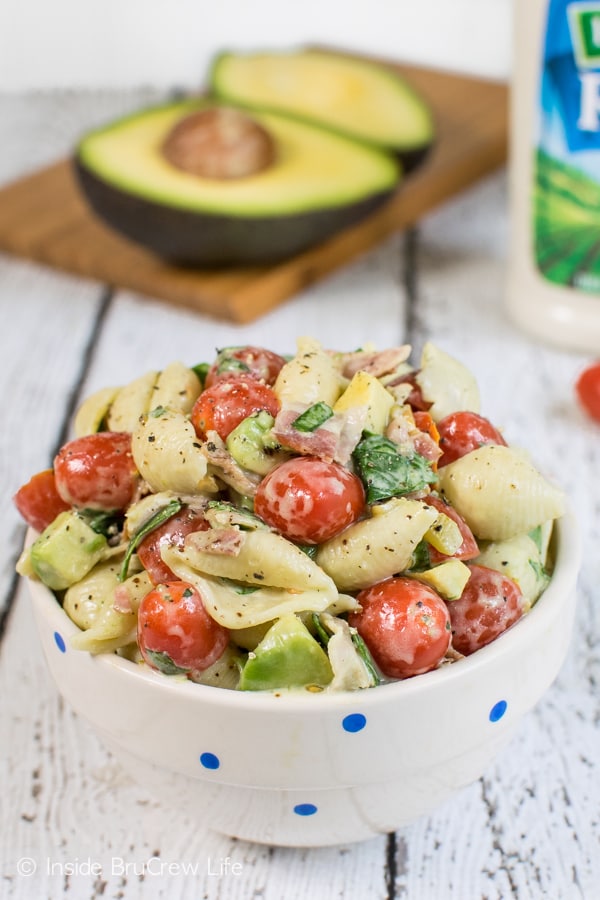 We do love our pasta salads in the summer.  Any picnic or dinner we go to means pasta salad will be happening.  Of course any dinner when I can't think of a meal to make means pasta salad too.  It's safe to say pasta is my go to when I do not have any idea of what to feed the hungry monsters in our house.
It's ok though, because pasta goes with just about any meal, right?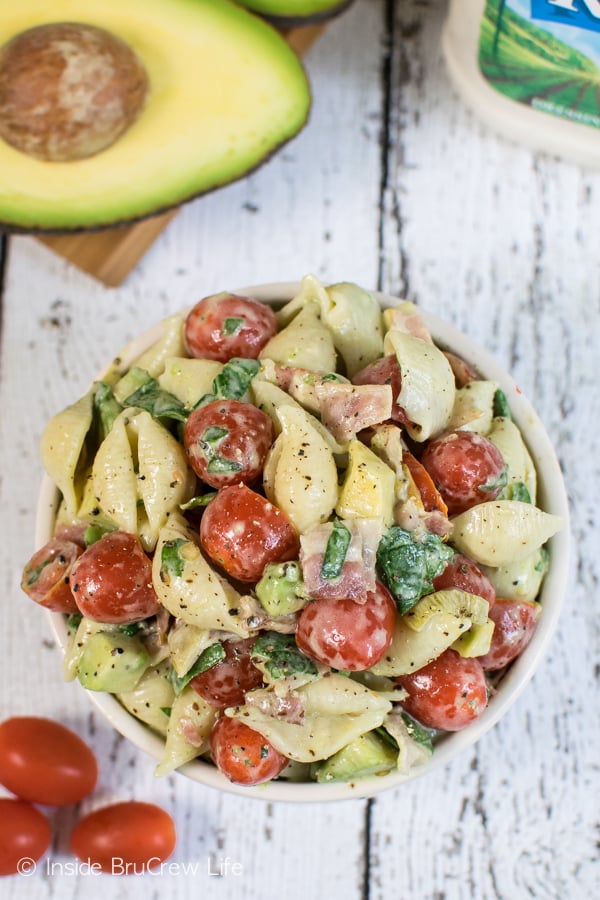 A few weeks ago we made this Southwest Avocado Ranch Pasta Salad, and we still had extra dressing in our refrigerator.  Of course Ranch dressing really doesn't need a reason to be used because our kids love it on all their salads and veggies. Anyone one else have kids that need a big bowl of dressing for just a few carrots? At least they are eating their veggies!
The extra bottle of dressing was the perfect excuse to make another pasta salad for dinner.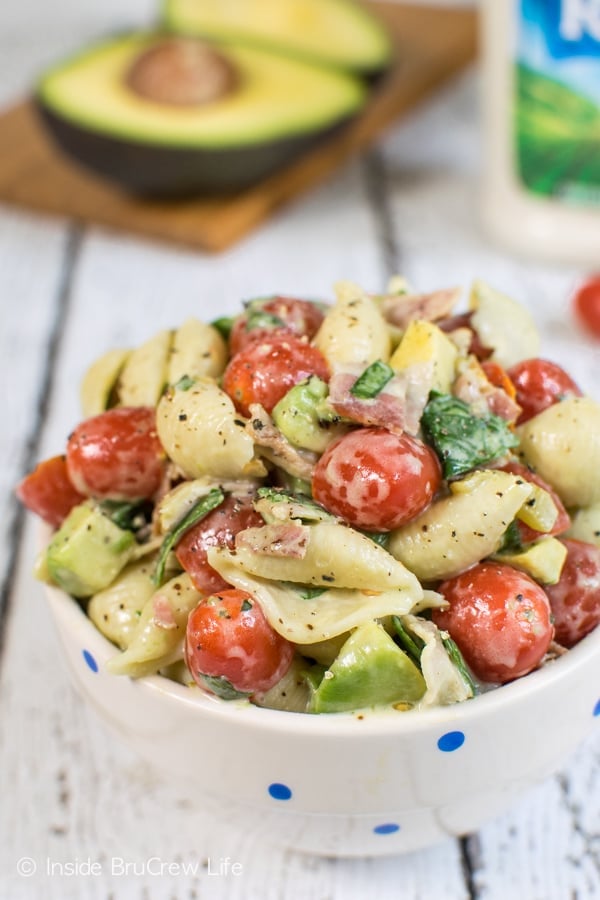 Did you know that I am not a huge bacon fan?  Yes, I know you all probably just gasped out loud.  Don't shoot me!
What I have found is that I actually like bacon on things like BLT sandwiches…as long as said bacon is very crispy.  I also really like it in cheesy pasta dishes like this Chicken Bacon Ranch Pasta Bake. The key must be ranch and tomatoes…so far everything I enjoy bacon as long as it is with those two things.
Anyway, I mixed together my favorite BLT sandwich into an easy pasta dish. It comes together really quickly.  I like to chop the veggies up as the pasta is cooking.  Then rinse the pasta in cold water and stir it all together.  This can be eaten right away, but if you have time to refrigerate it for an hour or more the flavors really come together even more.
Dinner in a hurry is always a plus for busy summer nights.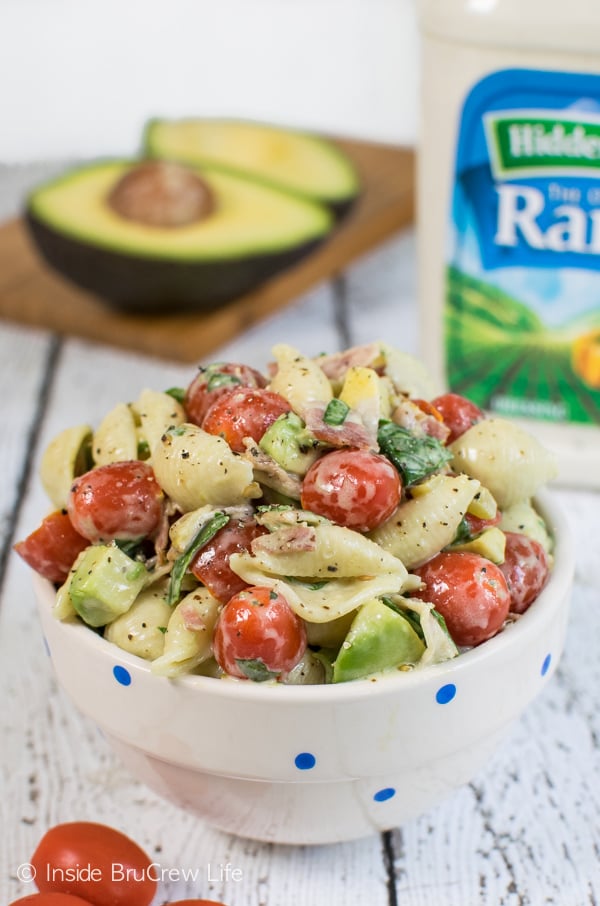 Stay up to date on all the BruCrew baking here:
FACEBOOK | PINTEREST | GOOGLE+ | TWITTER | INSTAGRAM | BLOGLOVIN
 Sign up to receive an email in your inbox for each new recipe:
EMAIL SUBSCRIPTION
Adding chili peppers and ranch dressing to a BLT pasta salad adds a fun spicy twist to an easy side dish. This is a great salad to take to any picnic or barbecue.
Ingredients
8 ounces shell pasta
2 cups halved cherry tomatoes
1/2 cup crumbled cooked bacon
1 cup finely diced baby spinach leaves
1 - 4 ounce can diced chilies
1/4 cup ranch dressing
1 avocado, diced
salt and pepper
Instructions
Cook the pasta to al dente according to the box directions. Drain and cool.
Mix together the pasta, tomatoes, bacon, spinach, chilies, and ranch dressing. Gently stir in the avocado chunks.
Season to taste with salt and pepper. Refrigerate.
https://insidebrucrewlife.com/spicy-ranch-blt-pasta-salad/
Copyright Inside BruCrew Life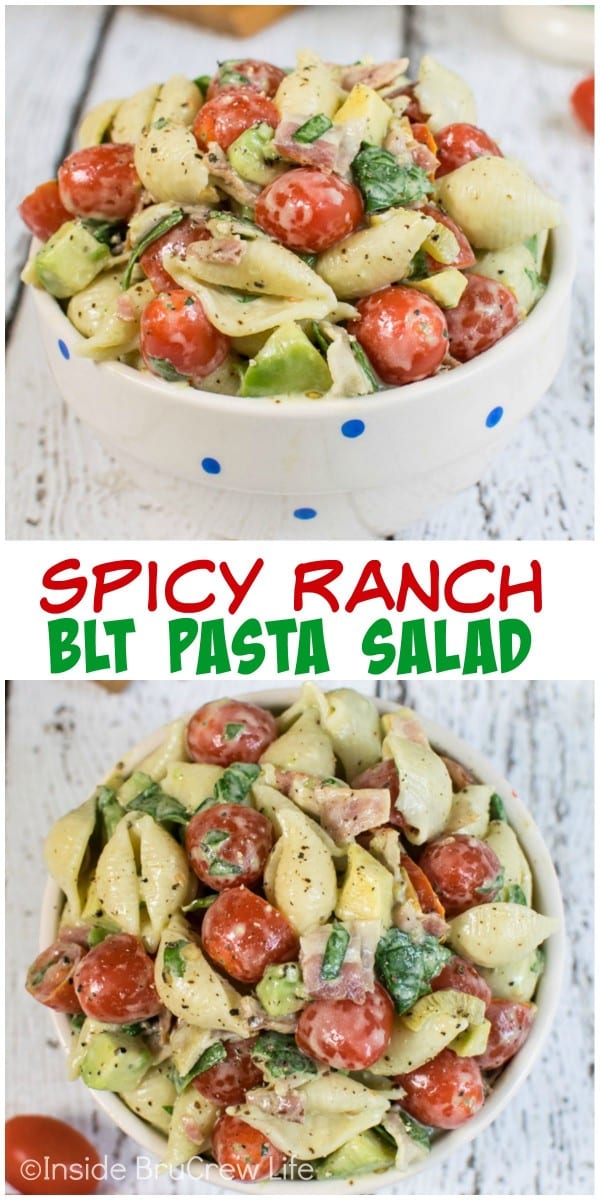 Other salads we enjoy in the summer: