Enjoy a bowl of this delicious Peach Crisp before summer is over. Every bite has fresh juicy peaches, crispy cinnamon oat topping, and melty vanilla ice cream. This dreamy fruit dessert is easy to make and is best served hot from the oven.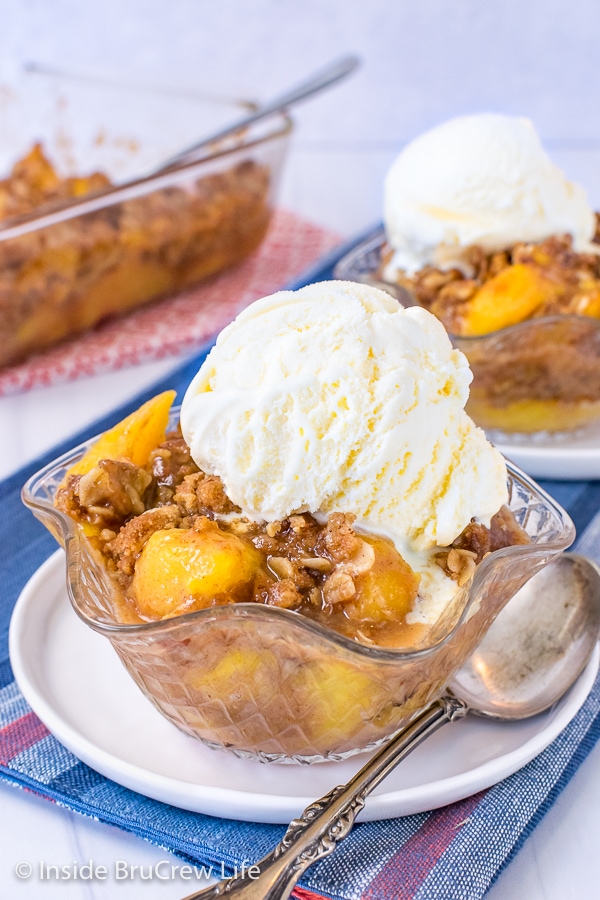 Have you noticed that there are foods you can eat now that you did not like when you were younger? Asparagus and brussel sprouts are two foods that I wouldn't touch with a ten foot pole when I was a child.
Now that my tastebuds have grown up, I love grilled asparagus. And I can handle brussel sprouts if they are chopped small and in a salad.
Our kids have been the same way. For some reason both of our boys despised peaches when they were little. I have never been able to get them to eat them and like them. Until now...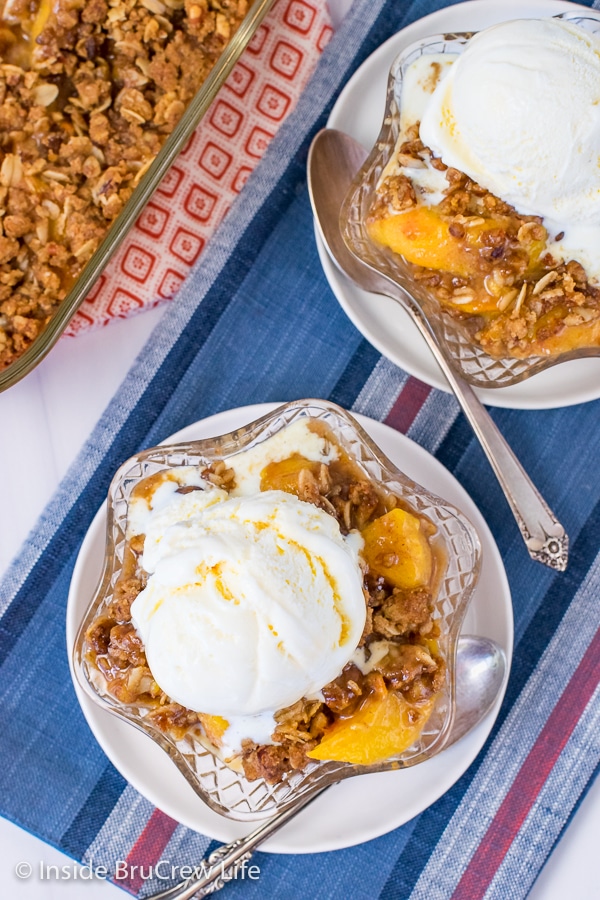 A few weeks ago I made this Peaches and Cream Cake Roll and our oldest decided he was going to try it even though it had peaches in it. The surprise in his eyes that he actually enjoyed a dessert with peaches in it was quite priceless.
Since I had an extra bag of peaches to use up before they went bad, I had a decision to make. Peach cobbler or a peach crisp??? I love both, but in the end the crispy oat topping from this Apple Crisp Pie won. Now you may be wondering...
What is the difference between peach cobbler and peach crisp?
The difference in the two summer desserts is what is baked on top of the fruit.
Crisp is a fruit dessert that is topped with a mixture of oats, flour, butter, spices, and nuts. The topping bakes together and forms a "crispy" topping.
Cobbler is a fruit dessert that is topped with a sweet biscuit topping like in this Strawberry Cobbler. The dough is scattered on top and bakes together into a light fluffy topping.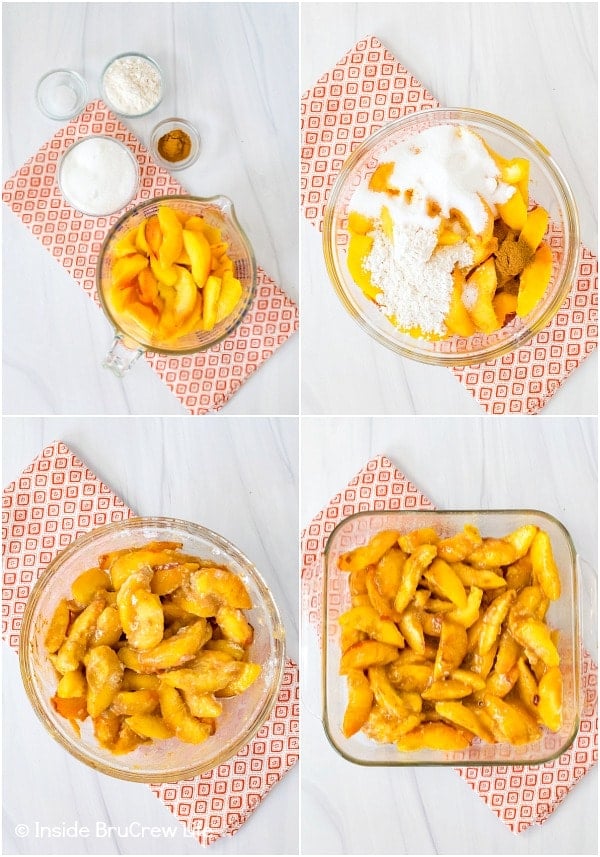 How to make Peach Crisp:
Peel and slice the ripe peaches and place in a bowl.
Add sugar, flour, cinnamon, and salt to the bowl of peaches and stir until coated.
Spoon into a buttered dish and set aside.
Stir together the topping ingredients until it looks like wet sand. Use your hands to clump the mixture together.
Sprinkle on top of the peaches and bake.
PRO TIP: If you want to serve this homemade peach crisp for dessert, prep everything ahead of time. Place the pan in the oven while everyone eats dinner. Once dinner is over, you can serve the warm peach crisp with vanilla ice cream or Homemade Whipped Cream.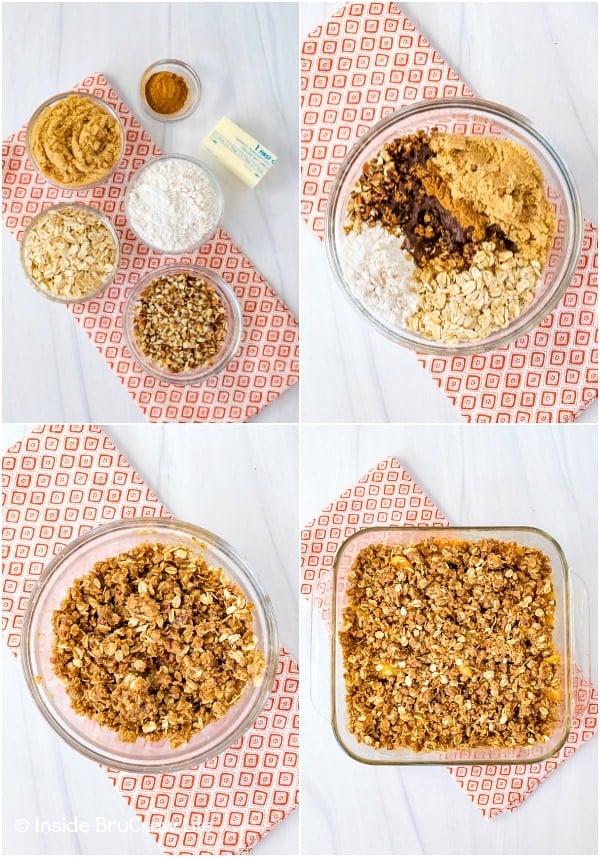 Recipe Tips:
If your peaches are ripe, cut larger slices. If the fruit is not as ripe, cut smaller pieces so they bake better.
You can leave the peels on the peaches if you like. They will soften up as the crisp bakes.
Canned and frozen peaches can be used in place of the fresh fruit. Be sure to thaw and drain the peaches very well before stirring anything into them. Be aware that the filling will be softer if you go this route.
To make this dairy and gluten free, use a 1:1 baking blend in place of the flour and a vegan-friendly butter.
To make peach crisp without oats, use more flour in place of the oats. This will make it more of a peach crumble.
Store the baked fruit crisp in a covered container in the refrigerator for up to 3 days.
Reheat in the oven or microwave before serving.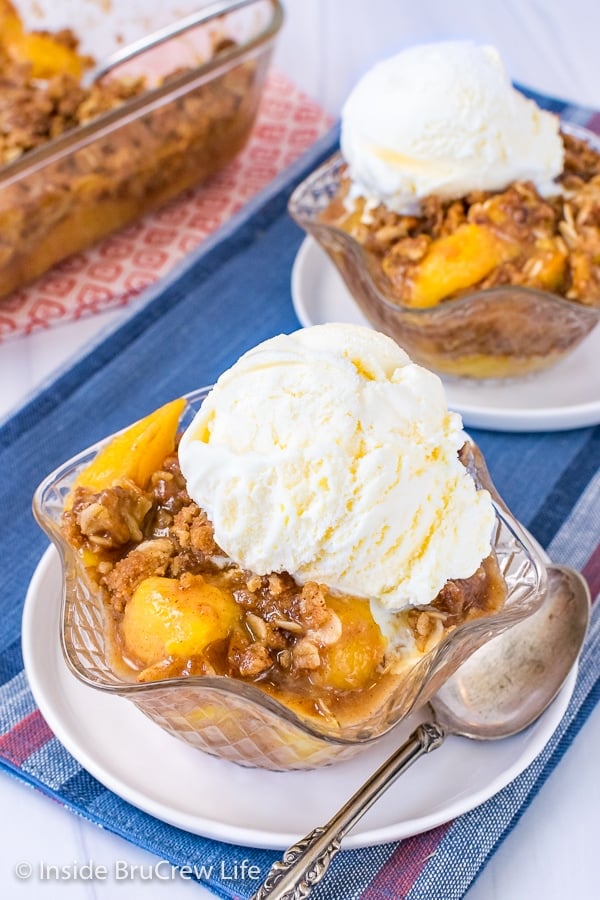 Other fruit desserts you may like: