This beautiful Peaches and Cream Cake Roll has whipped cream and cinnamon sugar-coated peaches all rolled up in a sweet sponge cake. If you are looking for peach recipes this summer, this is the one you need.
*I am partnering with Dixie Crystals to bring you this cake roll recipe. Click HERE to see the full recipe.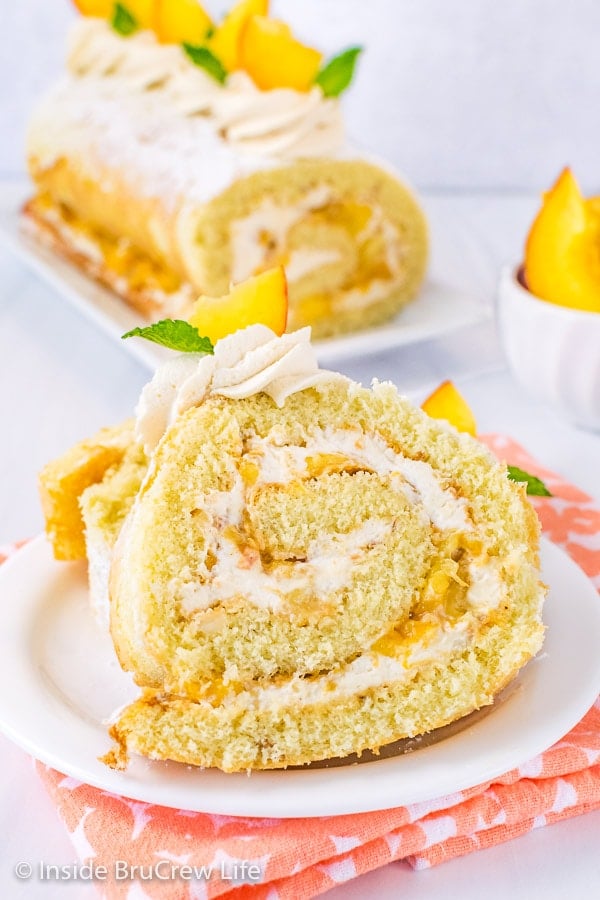 I love learning all about baking. One of the things that I had always heard was that cake rolls HAD to be rolled up immediately after baking, so it could "remember" its shape.
But I recently learned that rolling it warm for memory is a bit of an old wives' tale.
The amount of sugar in the batter and the chemical reaction while baking actually determines whether a cake will be pliable or tender.
This particular cake roll has just enough sugar that it can be rolled warm OR you can flip the pan over and let it cool flat with a pan over it. Either way, you can roll it up with your filling and it will not crack.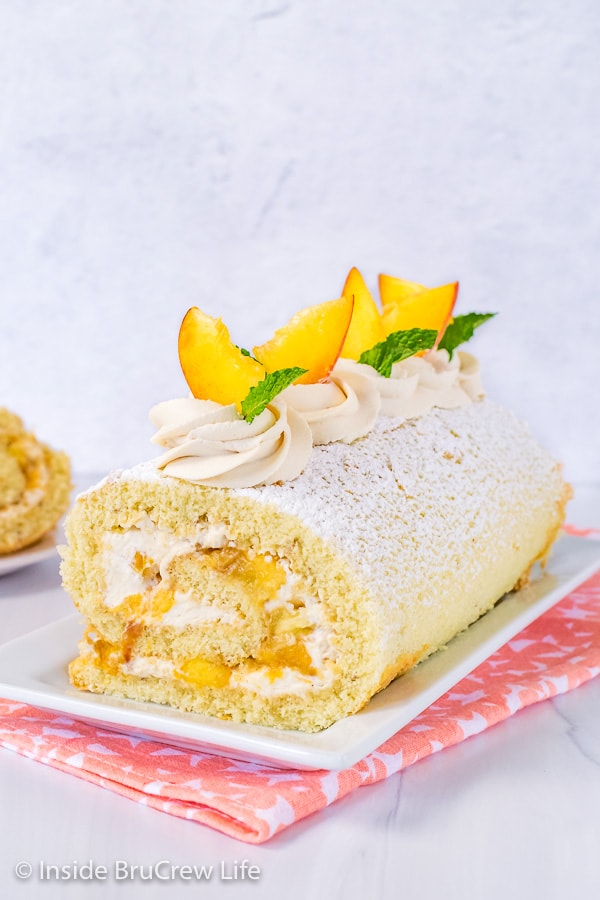 As I was looking at all the cakes I have done over the years, I realized this S'mores Pumpkin Roll is the only cake roll I have ever made.
It is time to change that. Since peaches are in season here in Florida, I decided on a peaches and cream cake roll first.
How to make a Peaches and Cream Cake Roll:
For the Cake
Start by beating the eggs until foamy. This will take about 4 minutes to get the right amount of foam. Slowly add the sugar and keep beating.
Add the extract, flour, baking powder, and salt and beat the batter until smooth.
Fold in the nuts if desired. This is an optional ingredient. If you don't like crunch in your cake, skip this step.
Spread the sponge cake batter in a pan lined with parchment paper and bake.
For the Brown Sugar Whipped Cream:
Chill a bowl and whisk attachment ahead of time because this will help the cream whip up faster.
Add the heavy cream and brown sugar to the chilled bowl and beat on high speed until stiff peaks form.
Refrigerate until ready to fill the cake roll.
For the Peaches:
Peel and dice fresh peaches.
Melt butter in a pan. Stir in sugar and cinnamon.
Add the peaches and continue to heat and stir until the sugar is dissolved and the peaches are coated.
Remove from the heat and drain all the liquid from the peaches.
FYI: I am sharing this recipe over at Dixie Crystals today. Click on Peaches and Cream Cake Roll to see the full recipe.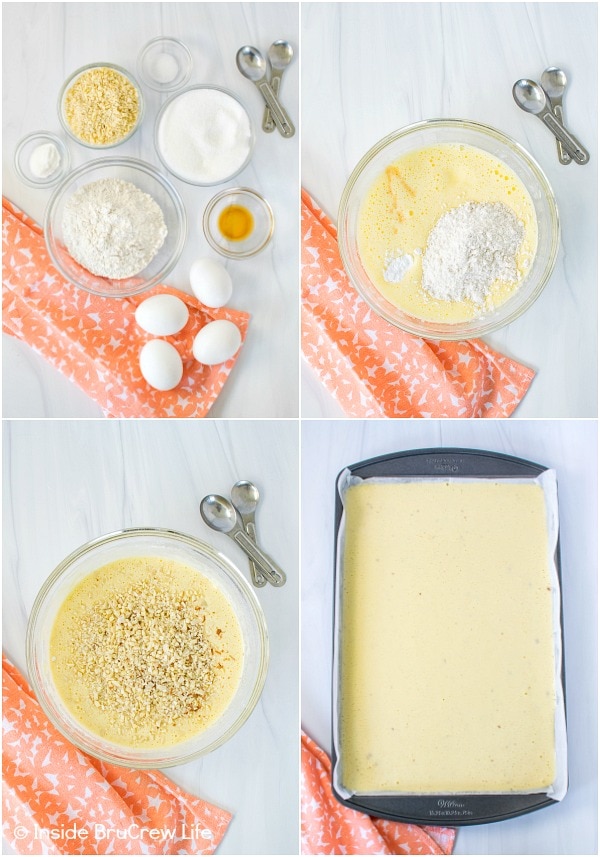 Filling a Cake Roll:
Spread half of the brown sugar whipped cream on the cooled cake. You can also make a batch of this plain Homemade Whipped Cream if you prefer that instead.
Arrange the sugar coated peaches on top of the whipped cream.
Slowly roll the cake up and place seam side down on a serving plate.
Sprinkle with powdered sugar and refrigerate until ready to serve.
Add whipped cream swirls and a fresh peach slice to the top before cutting into slices.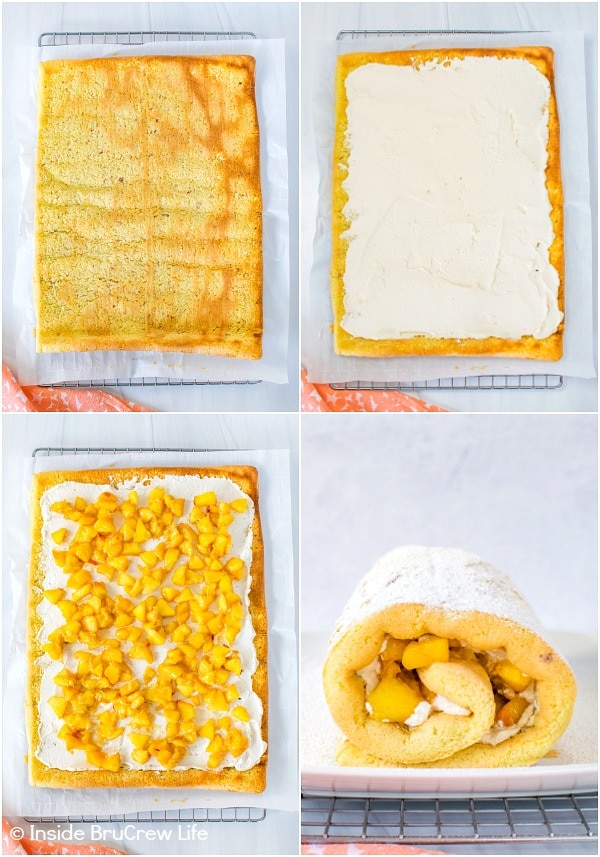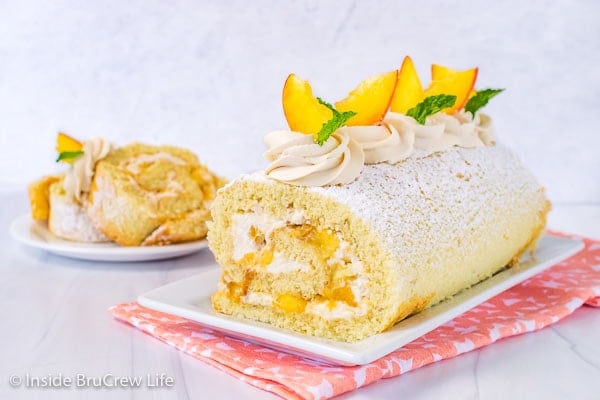 Recipe Tips and Tricks:
Make sure you beat the eggs long enough to get nice and foamy before you start beating the sugar in.
Spray the pan with nonstick spray and line it with parchment paper. Make sure you press it into each corner.
Spread the batter out evenly in the pan and bake.
Place a sheet of parchment on top of the cake and flip it over onto a cooling rack.
Peel the bottom piece of parchment off slowly.
Slowly roll the cake up with the new parchment inside it and let it cool. You can also let it cool flat with the pan over the top of it.
Other peach recipes you may like: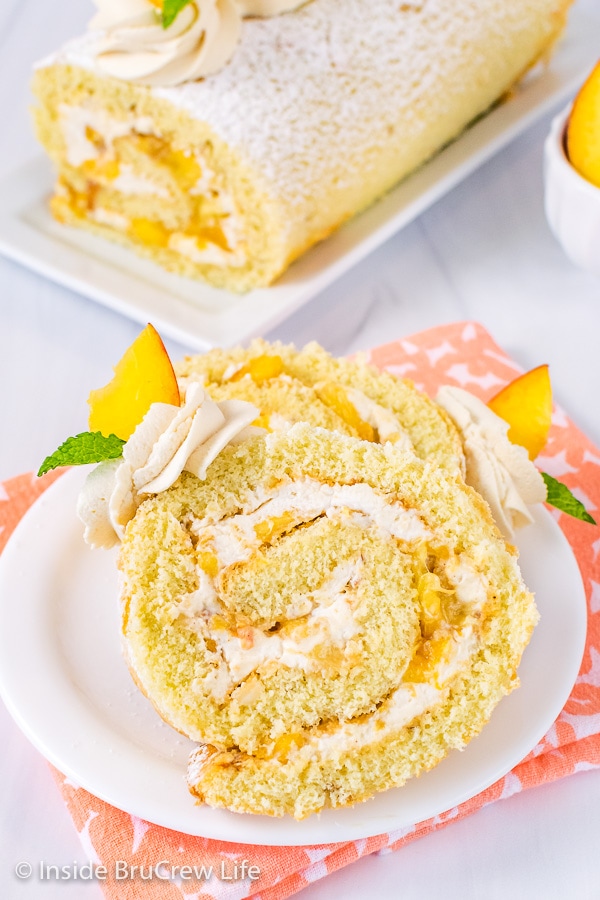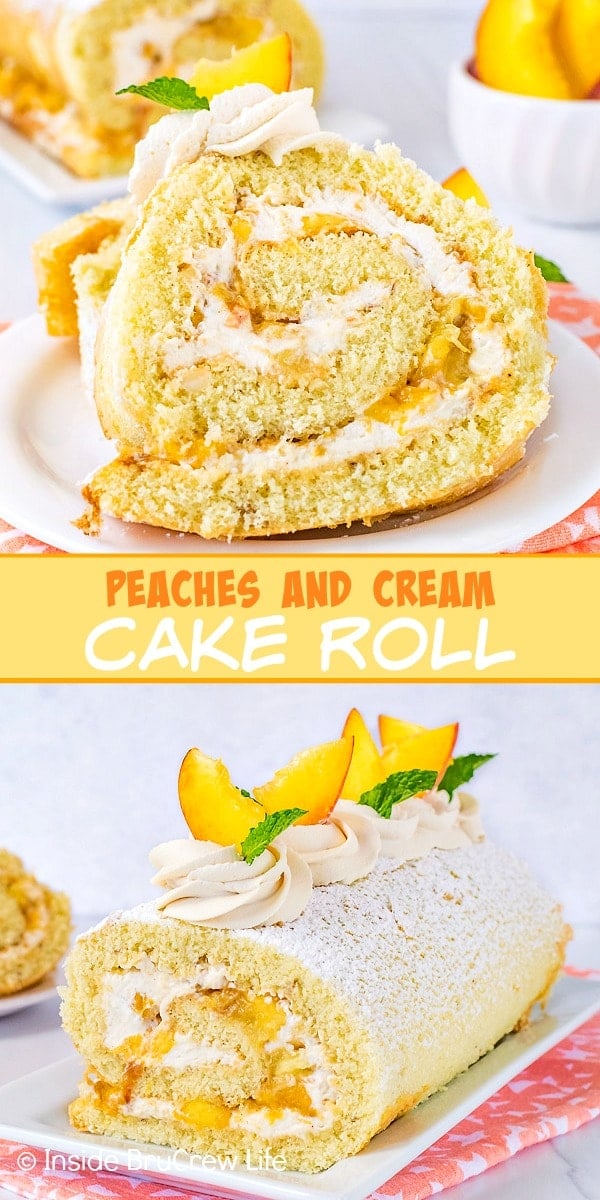 *Dixie Crystals has sponsored this recipe and post. All opinions expressed are 100% my own. Thank you for letting me share products and brands we use and love. See my disclosure policy for more information.*