These easy Peanut Butter Pie Bars have a sweet cookie crust and a fluffy peanut butter filling. Chocolate glaze, a swirl of homemade whipped cream, and peanut butter cups make this no bake peanut butter pie look so fancy.
*I am partnering with Dixie Crystals to bring you this cake recipe. Click HERE to see the full recipe.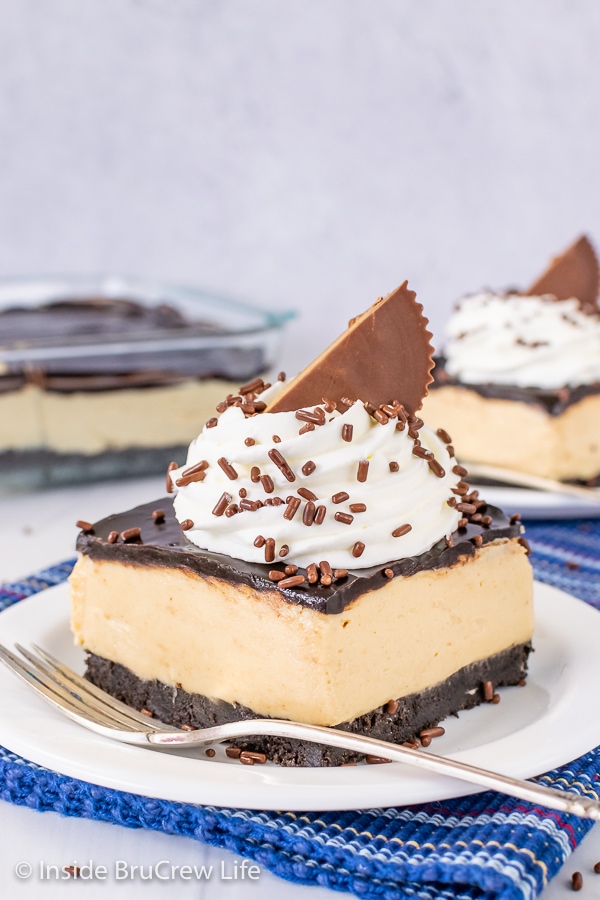 Why You Will Love These Pie Bars
A no bake peanut butter pie is an easy dessert that peanut butter fans will go crazy for. The rich and buttery Oreo crust topped with a creamy no bake peanut butter cheesecake filling and a silky chocolate ganache will get rave reviews.
Years ago we lived in the midwest and would eat at Baker's Square from time to time. To be honest, I was only there for the pie. One of my all time favorites was a peanut butter pie that was to die for.
I decided that I wanted to recreate that amazing pie, but with a little twist. I turned the peanut butter pie into pie bars by using a square dish. Same great taste, just a different shape.
If you really want the traditional pie form, use a 9 inch deep dish pie plate instead of the square baking dish. Either one works!
What I love most about these peanut butter pie bars is that they are rich and creamy without being overly sweet and heavy.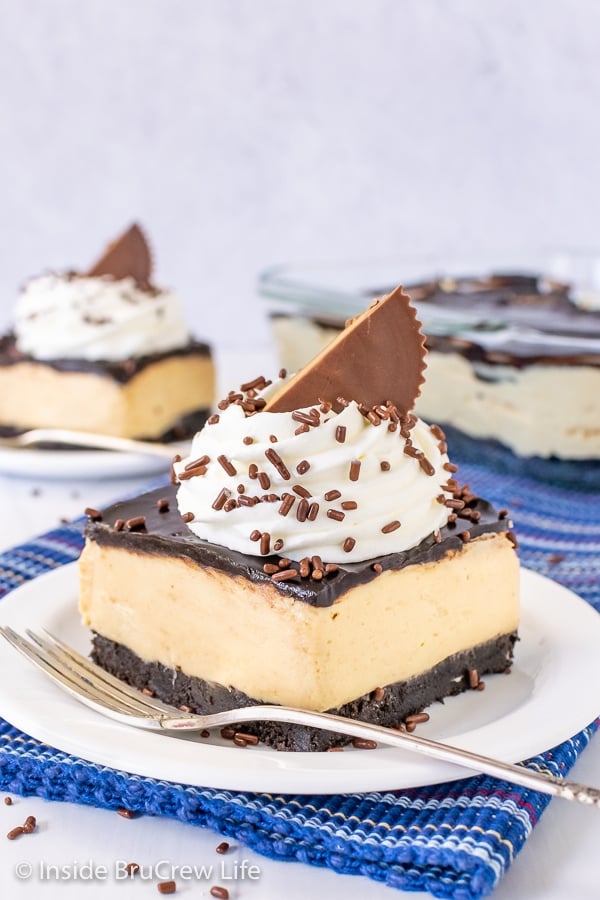 What You'll Need
You may want to run to the store ASAP for the ingredients to make this easy no bake dessert. Seriously! These peanut butter squares are so easy to make, yet they look like they came from the bakery. And they taste absolutely amazing.
Homemade Whipped Cream: Heavy whipping cream and powdered sugar mix up into a fluffy, dreamy topping.
Oreo Cookie Crust: Crushed Oreo cookies (cream included) and melted butter make this sweet cookie crust.
Peanut Butter Filling: A mixture of peanut butter, powdered sugar, cream cheese, and whipped cream makes this filling so creamy and delicious.
Chocolate Topping: Chocolate chips (or chunks) and warm heavy whipping cream create a silky chocolate ganache.
How to make Peanut Butter Pie Bars
These no bake pie bars come together in no time at all. It only takes minutes to make with a few ingredients. If you love peanut butter, you need to try this easy recipe.
Beat the heavy whipping cream and powdered sugar in a chilled bowl until stiff peaks form. Place in refrigerator.
Use a food processor to crush the cookies with the cream in them into crumbs. Stir the melted butter into the crumbs.
Press the mixture evenly and firmly into the bottom of an 8x8 baking dish. Refrigerate.
Beat the cream cheese, powdered sugar, and peanut butter until light and creamy.
Add whipped cream and mix gently. Spread on top of the Oreo cookie crust. Refrigerate 10 minutes.
Stir together chocolate and warm heavy cream until it melts and becomes creamy.
Spread the chocolate ganache on top of the peanut butter filling. Refrigerate 3-4 hours or until firm and set up.
Serve with extra whipped cream, peanut butter cups, and chocolate sprinkles.
FYI: I am sharing the ingredients and full directions for these peanut butter pie bars on Dixie Crystals. Click HERE to see the full recipe.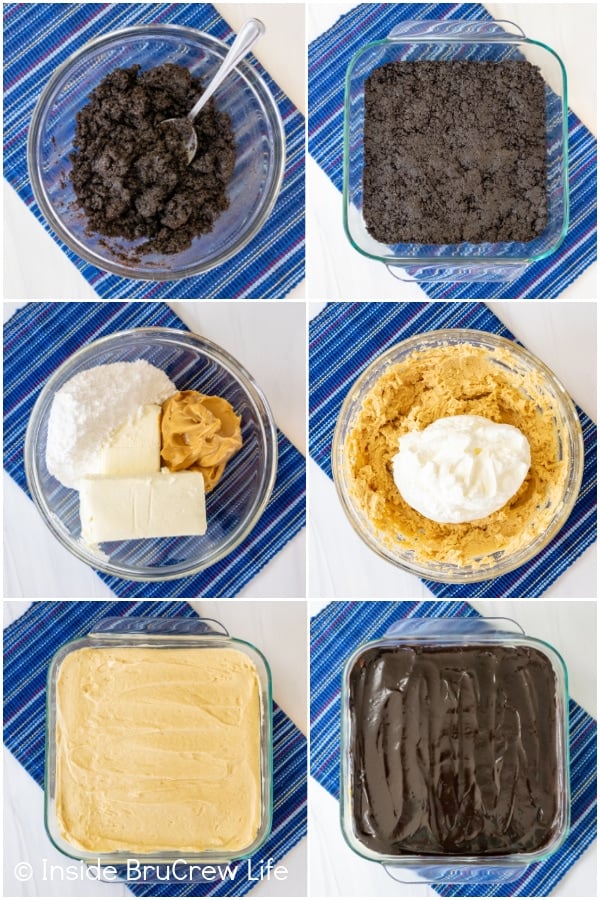 Recipe Tips and Tricks
Chill a metal bowl and wire whisk attachment in the freezer for at least 10 minutes before making the whipped cream.
Set the cream cheese out ahead of time, so it is easier to beat into a light, creamy filling.
Leave the filling in the Oreo cookies when you pulse them into crumbs. The cream filling helps to hold the Oreo crust together, so you can use less butter.
If you would like a crunch in your filling, use crunchy peanut butter.
Need to make a nut free dessert? Use cookie butter in the filling instead of peanut butter.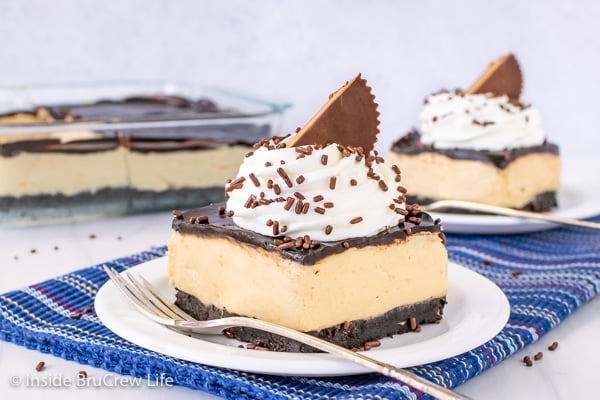 Common Questions
What are pie bars?
Pie bars are just a no bake pie made in a square dish instead of a round pie plate.
Can you make peanut butter squares ahead of time?
Yes you can. It's an easy recipe to make a day ahead of time, or you can make it first thing in the morning, so it has time to set up and chill.
How do you store peanut butter pie bars?
There is dairy in this recipe, so it need to be refrigerated. Keep the peanut butter pie in a covered container in the refrigerator for 3-4 days.
The pie bars can also be frozen in a freezer safe container for 2-3 months. Serve frozen like an ice cream pie or thaw overnight in the refrigerator before serving.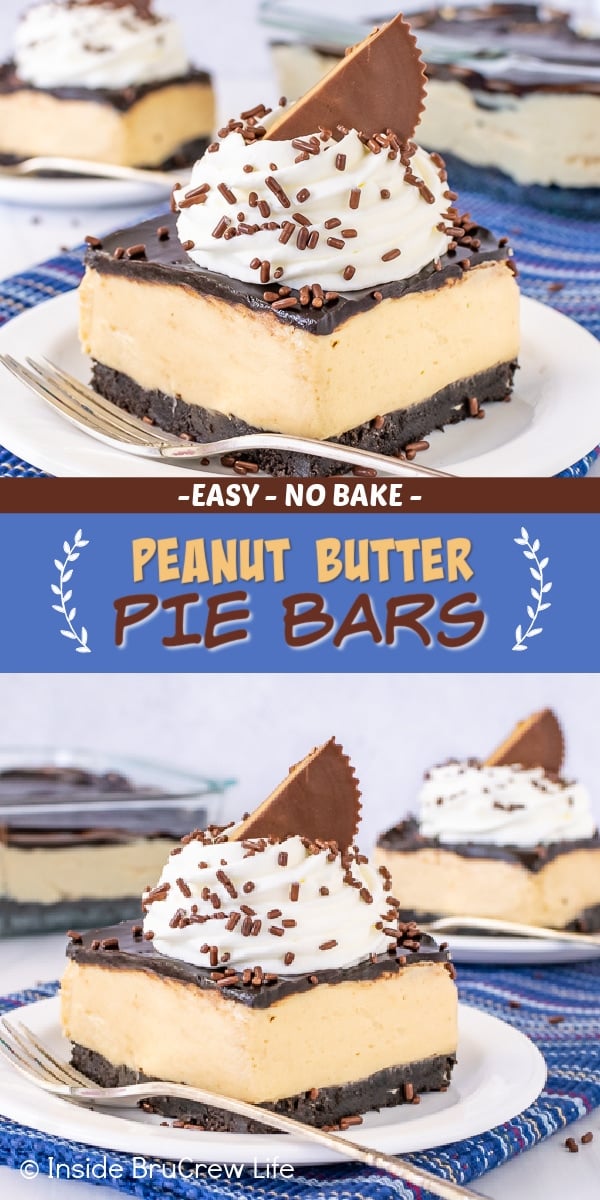 More No Bake Pies