The best Vanilla Pudding Cookies are loaded with two kinds of chocolate chips, M&M's candies, and sprinkles. Adding a box of instant pudding keeps these pudding cookies so soft and chewy for days! Grab a few to enjoy with a big glass of milk.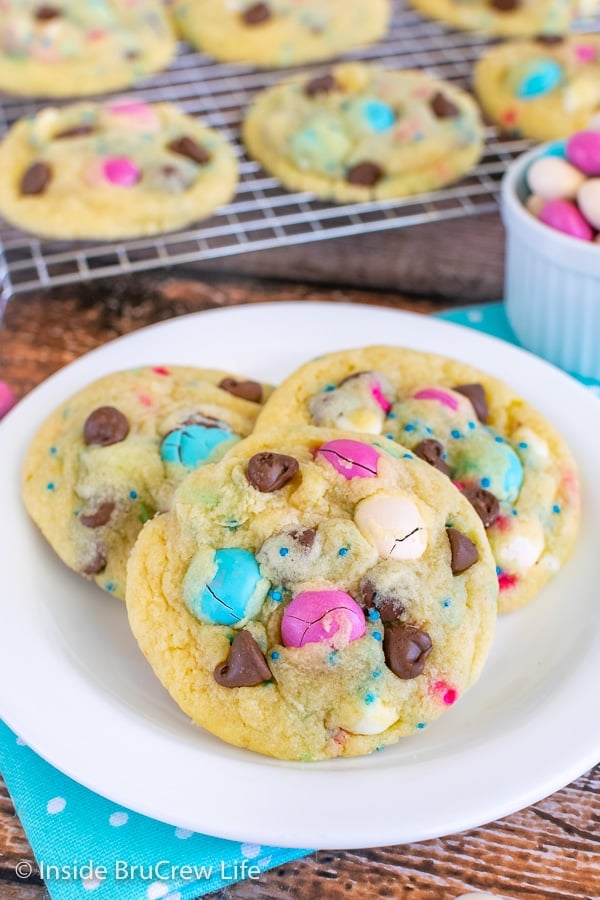 Vanilla Pudding Cookies with M&M's
All you need to bake these pudding cookies is one bowl, a few ingredients, and a couple minutes. The dough comes together so quickly. There is no chill time, so you can bake the cookies right away.
The best thing about these pudding cookies is that you can make and bake them right away, and you can use whatever candy you have on hand. I had a few bags of Easter M&M's candy in the pantry, so I decided to make pudding cookies for our kids.
These are the perfect cookies to make when you need a quick and easy dessert, need a fun treat for get togethers or picnics, or just want cookies.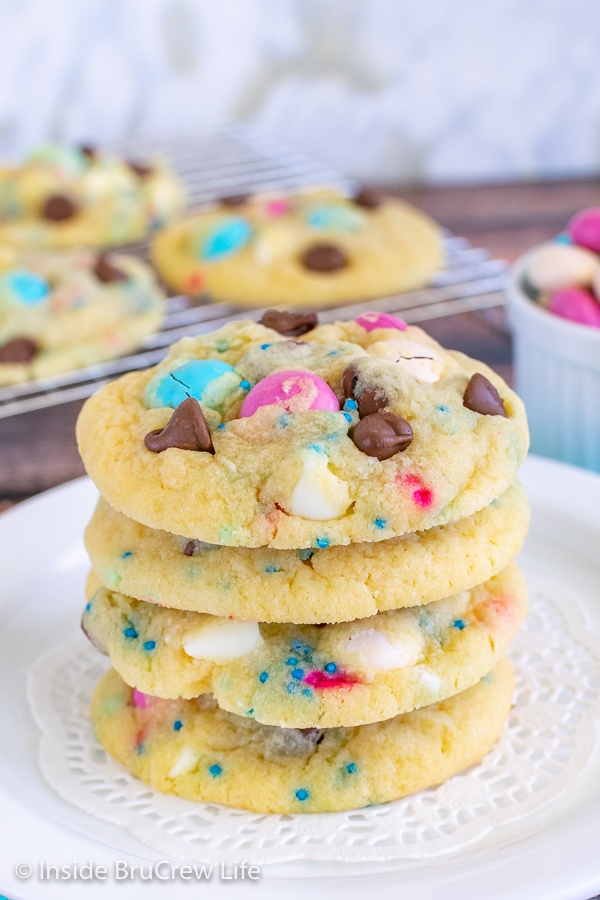 What are pudding cookies?
Pudding cookies have a box of dry instant pudding mix added to the cookie dough. Adding instant pudding mix to cookie dough adds flavor and gives the cookies a soft and chewy texture.
Another great thing is that you can change out the flavor of the pudding and your mix-ins and create a completely different cookie every time you bake them. Pretzels and chocolate chips work very well together.
Recipe Ingredients
Butter - make sure the butter is soft when you go to make the cookie dough
Sugars - a mixture of granulated and brown makes these cookies soft
Eggs and Vanilla Extract - adds moisture and flavor to the dough
Instant Vanilla Pudding - gives the baked cookies a soft and chewy texture, plus flavor
Flour, Baking Soda, Salt - adds structure, lift, and balances out the sweetness
Chocolate Chips, M&M's, & Sprinkles - fun mix ins to add color and goodness
Pudding Mix Variations
Butterscotch - pretzels, chocolate chips
Chocolate - Reese's Pieces, peanut butter cups
Vanilla - Oreo cookies and sprinkles
Lemon - white chocolate chips, raspberry candy bars
Pistachio - white chips and pistachios
Coconut - shredded coconut and dark chocolate chips
Anything goes! Feel free to mix and match your favorite flavor of pudding with your favorite mix-in.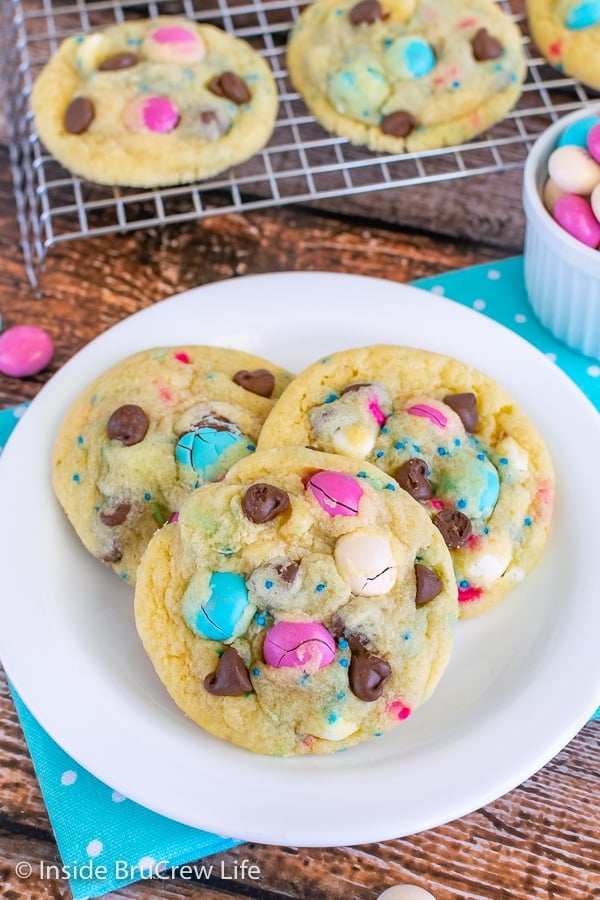 How to make Vanilla Pudding Cookies
The dough for these Jello pudding cookies is so easy to make. There is no chill time, so you can have cookies in your mouth faster.
Beat the butter and sugars until light and cream.
Add the eggs and vanilla and mix again.
Stir together the dry ingredients and slowly mix everything together.
Add the candy, sprinkles, and chocolate chips and stir gently.
Scoop out 36 even dough balls.
Roll each one into a ball and place on a baking sheet.
Bake 10 minutes.
FAQ'S
How many cookies does this recipe make?
This recipe will make 36 medium sized cookies. You can also divide the dough into 24 dough balls and bake a little longer.
How do you store pudding cookies?
Store them in a tightly sealed bag or container on the counter for 3-4 days.
Can you freeze pudding cookies?
Yes, you can. Place them on a tray and place in the freezer for 30 minutes. Place in a single layer in a freezer bag or freezer safe container and freeze for 2-3 months.
Remove cookies from the bag or container and thaw to room temperature. Place in the microwave for 7-8 seconds to warm them up.
CLICK HERE TO PIN THIS RECIPE FOR LATER!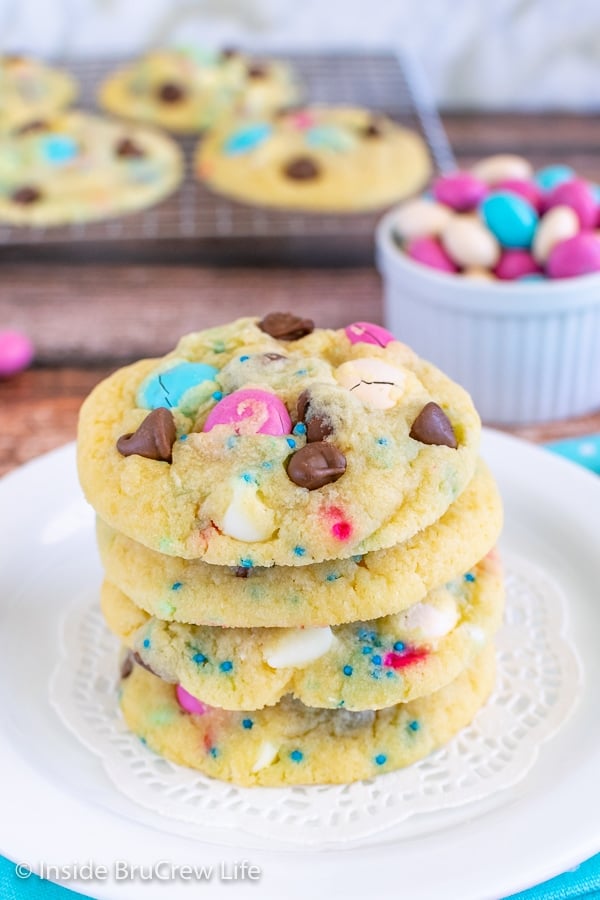 More pudding cookie recipes
Other easy dessert recipes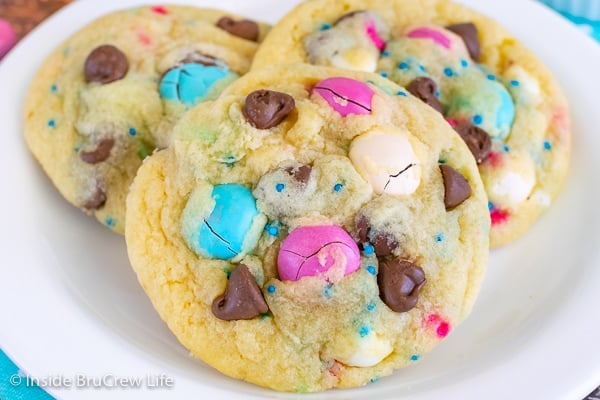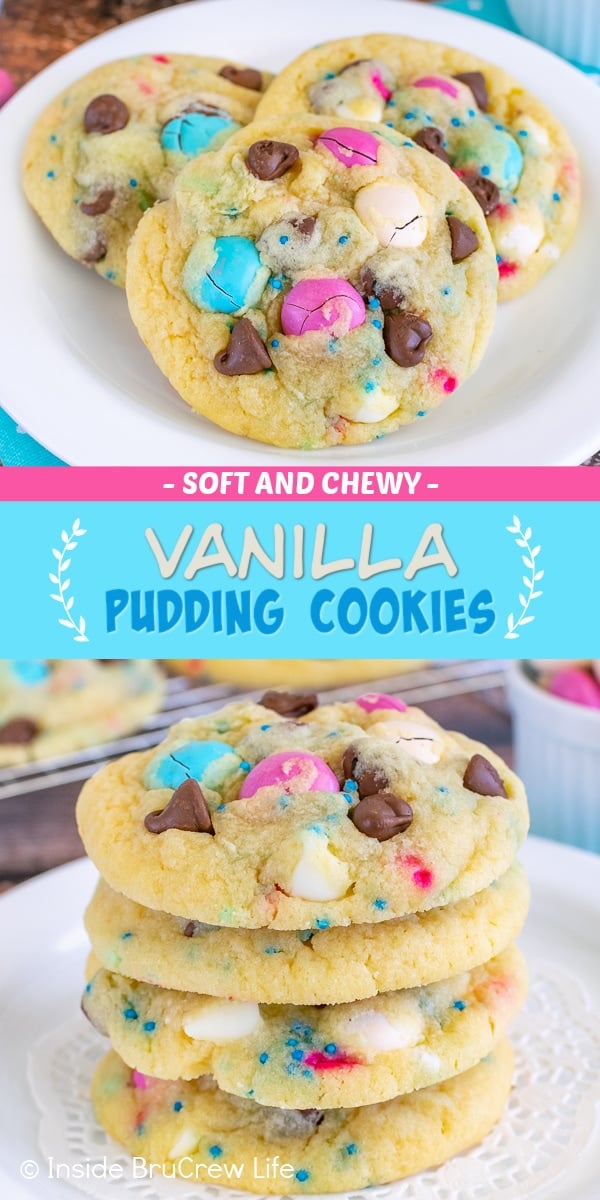 *The post for Vanilla Pudding Cookies was first published on March 21, 2016. The photos and post were updated and republished March 22, 2021.