Swirling marshmallow cream and fudge topping inside these Peanut Butter S'mores Blondies will satisfy all your chocolate and peanut butter dreams.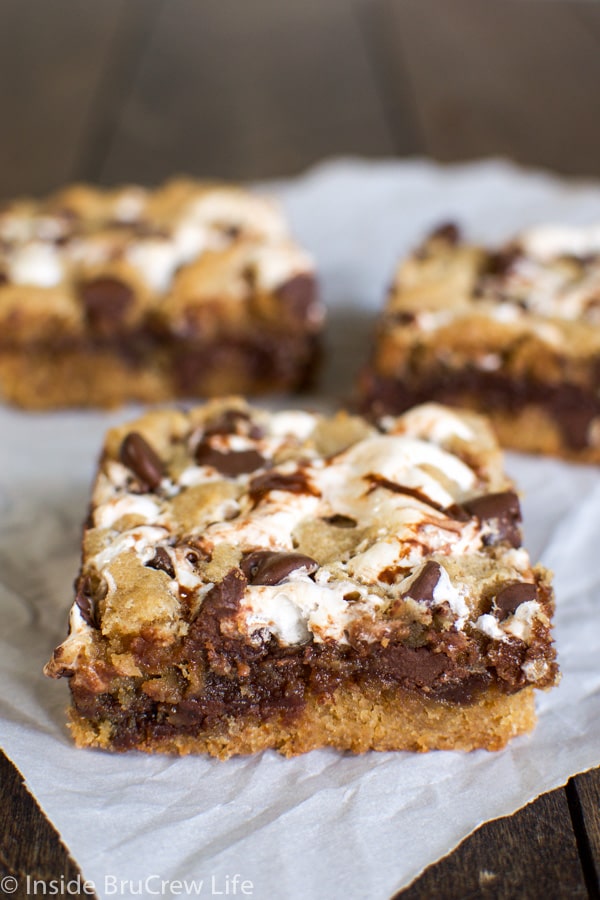 (photos updated July 2015)
Every month I get in my car drive downtown to pay my water bill, and every time I FORGET what street to turn on. Seriously? It's not like it's a new thing. I go every month to the exact same office.
I blame it on SAHM mush brain. That or it is probably just old age creeping in at an alarmingly fast pace!
Yesterday was "pay the water bill" day, and yup, you guessed it. I got down there and second guessed myself, and sure enough, turned on the wrong one. The thing is…as soon as I passed the right street I knew.
Now I could avoid this whole thing and just put it in the mail, but I usually have library books to return or errands to run, so why not just swing on by there too.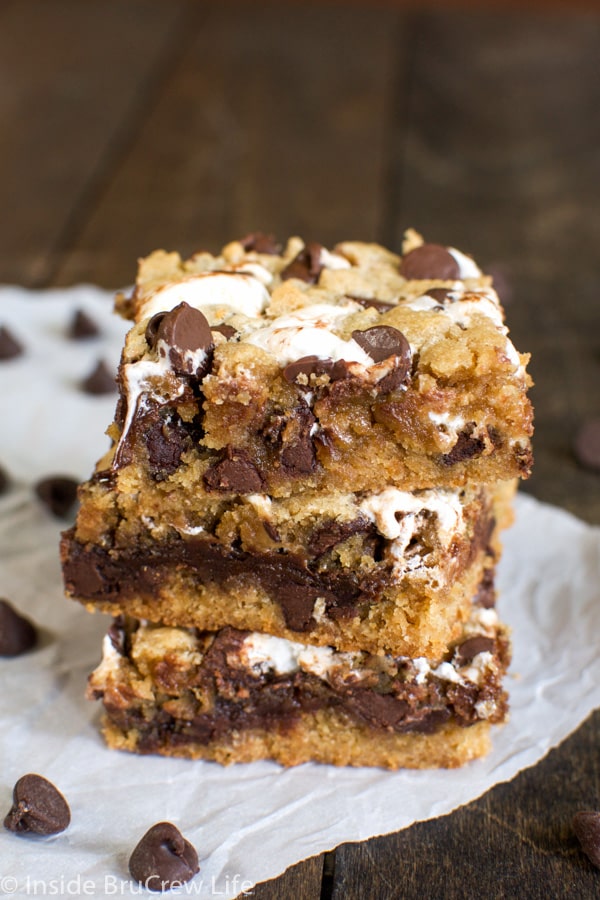 Now I wish that I could FORGET about my peanut butter and chocolate love affair!!! I have a diet confession for you! (hangs head in shame)
The other night I was working on some flowers for my shop when I heard the chocolate frosting in the fridge calling out to me in a sweet sing songy voice. "Please come dip a spoon into my yummy, chocolatey goodness!"
What? You have never had chocolate frosting talk to you????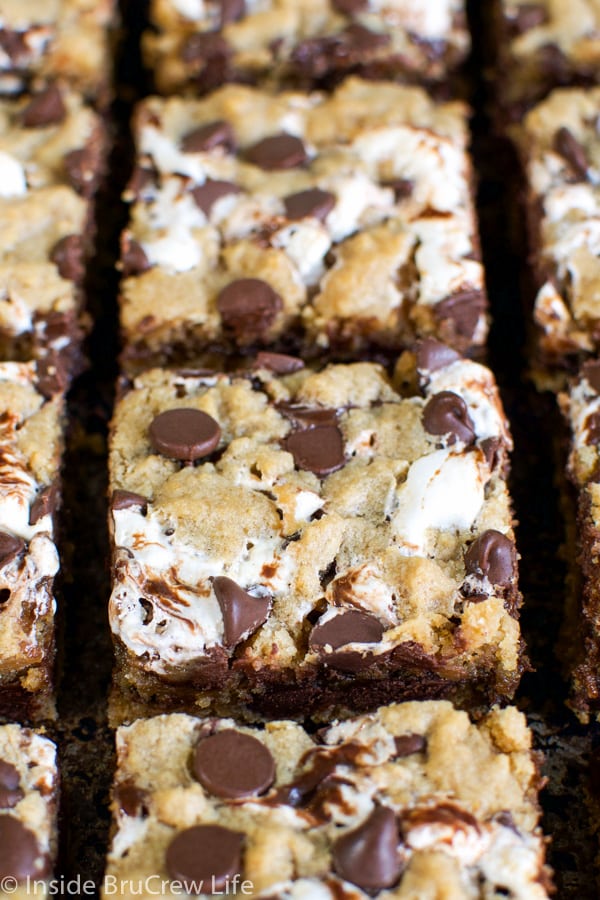 Hhhhhmmmm, like I said old age is catching up to me fast! Anyway, I walked right to the kitchen, got out a spoon and took out a big spoonful.
 Then I turned around and the pantry door was wide open! It was like angels singing or something, and there was a glow of light coming from the peanut butter and marshmallow cream jars!!!
I lost all self control and went crazy!!! Let me tell you that a spoonful of fudge frosting, peanut butter, and marshmallow cream is HEAVEN on a spoon!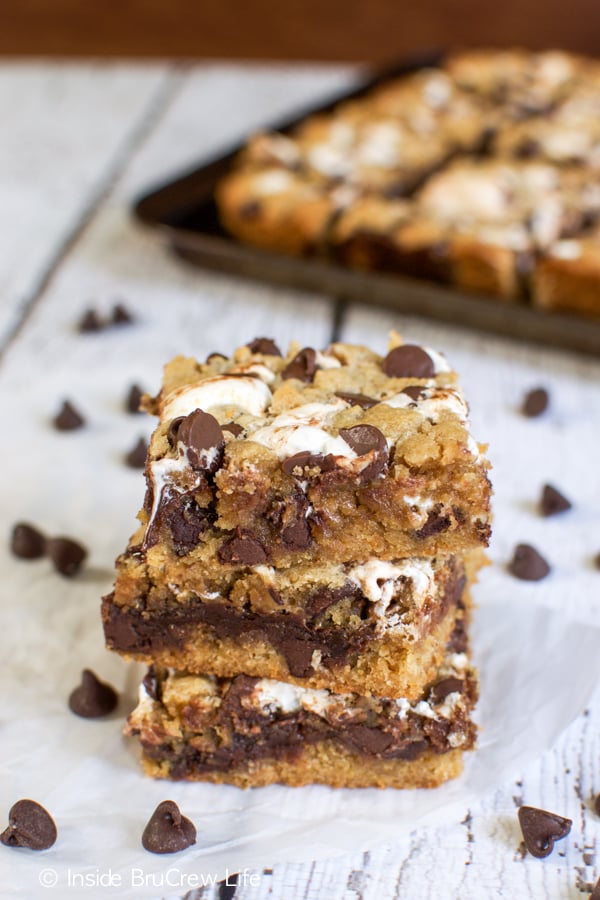 So then all I could dream about was somehow pairing those flavors into some sort of delicious goodness!!!
These Peanut Butter S'mores Blondies are a result of my diet fail…see some good came out it, right?
Plus, I got to send them away to a dinner right away so that I couldn't stuff my face again…at least with these tempting treats!!!!
Still looking for more sweet bars to make and eat?  These Trail Mix Peanut Butter Granola Bars sound like a great after school snack. And these Snickers Cheesecake Brown Butter Bars and these Hazelnut Magic Layer Bars sound so good too!!!
(original photo from June 2011)
Stay up to date on all the BruCrew baking here:
FACEBOOK | PINTEREST | GOOGLE+ | TWITTER | INSTAGRAM | BLOGLOVIN
 Sign up to receive an email in your inbox for each new recipe:
EMAIL SUBSCRIPTION
Peanut Butter S'mores Blondies recipe: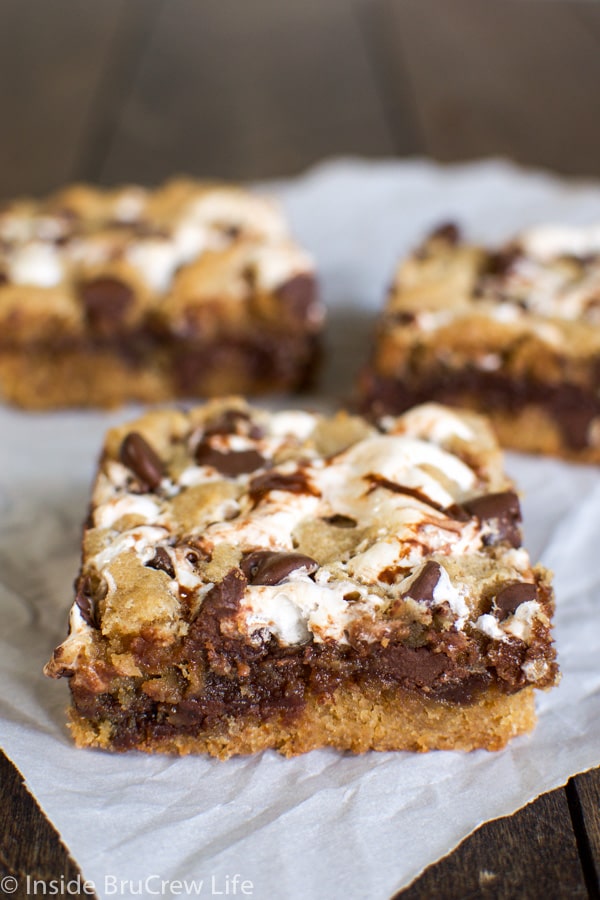 Swirls of marshmallow and fudge make these peanut butter blondies decadent and delicious. Make sure you can share them with others, or you will want to eat them all.
Ingredients
1/2 cup butter, softened
1 cup brown sugar
1/2 cup creamy peanut butter
2 eggs
1 teaspoon vanilla extract
2 teaspoons baking powder
1/2 teaspoon salt
1 1/2 cups flour
1/2 cup graham cracker crumbs
1 1/4 cups chocolate chips, divided
1 cup marshmallow cream
1/2 cup hot fudge ice cream topping
Instructions
Beat the butter and sugar until creamy. Add the peanut butter, eggs, and vanilla and beat again.
Stir together the baking powder, salt, flour, and graham cracker crumbs. Slowly add to the butter mixture until a soft dough forms. Stir in 3/4 cup chocolate chips.
Using a flat spatula spread half the batter in a greased 9x13 baking pan. Drop spoonfuls of marshmallow cream and hot fudge over the top of the batter in the pan. Swirl very gently with a knife. Crumble the remaining dough over the top, covering as much of the marshmallow and fudge as possible. Sprinkle with the remaining chocolate chips. Bake at 350 degrees for 25 minutes.
Remove and cool completely before cutting into squares. Store in a sealed container. Makes 24 squares.
https://insidebrucrewlife.com/peanut-butter-smore-blondies/
Copyright Inside BruCrew Life