The swirls of marshmallow cream and fudge topping inside these Peanut Butter S'mores Blondies will satisfy all your chocolate and peanut butter dreams. Great blonde brownie recipe to make for summer picnics and parties.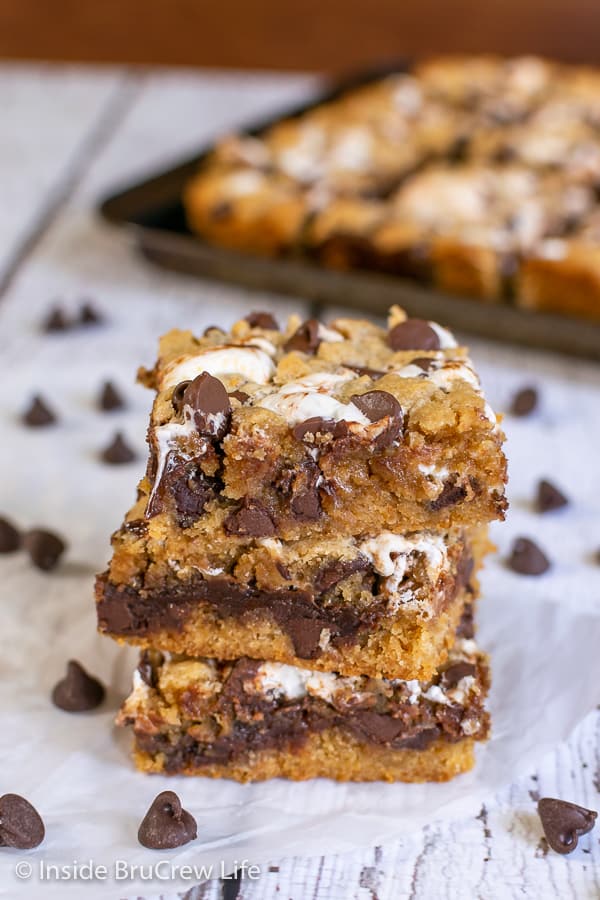 I wish that I could FORGET about my peanut butter and chocolate love affair!!! I have a food confession for you! (hangs head in shame)
The other night I was working on editing some new photos when I heard the leftover Dark Chocolate Buttercream Frosting in the fridge calling out to me in a sweet sing songy voice. "Please come dip a spoon into my yummy, chocolatey goodness!"
What? You have never had chocolate frosting talk to you???? I'm guessing you've never heard from Chewy Chocolate Brownie Cookies either. I'm probably the strange one here.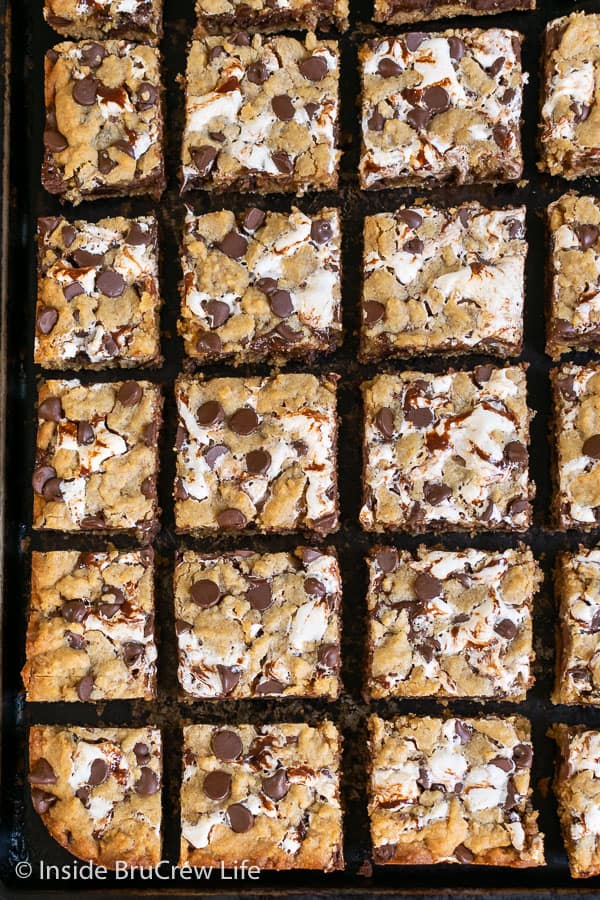 Anyway, I walked right to the kitchen, got out a spoon and took out a big spoonful. Then I turned around and the pantry door was wide open!
It was like angels singing or something, and there was a glow of light coming from the peanut butter and marshmallow cream jars!!!
I lost all self control and went crazy!!! Let me tell you that a spoonful of fudge frosting, peanut butter, and marshmallow cream is HEAVEN on a spoon!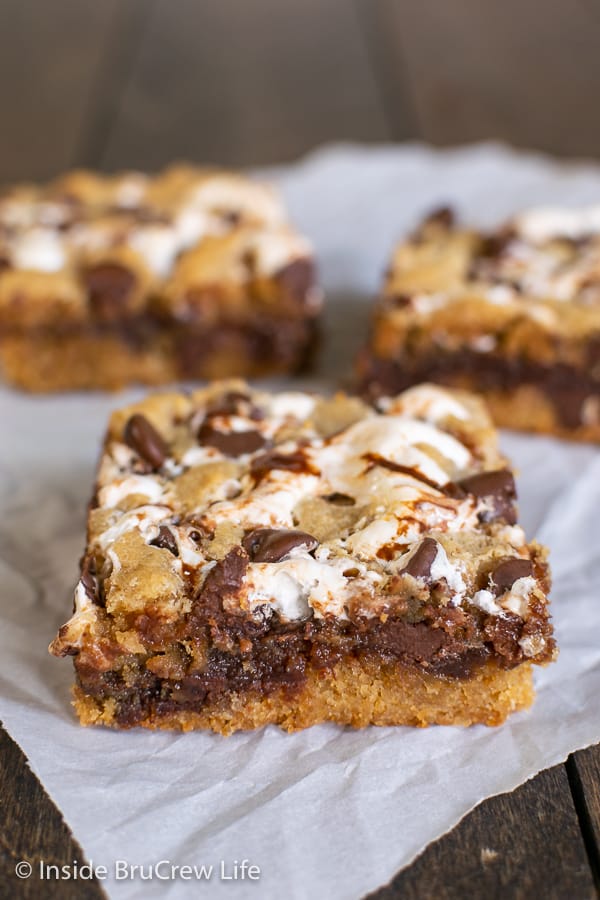 All I could dream about was somehow pairing those flavors into some sort of delicious goodness! These blonde brownies are a result of my lack of self control, so I guess some good came out it.
Plus, I got to send them away to a dinner right away so that I couldn't stuff my face again.
How to make Peanut Butter S'mores Blondies:
Beat the butter, sugar, and peanut butter until creamy. (full recipe at bottom of post)
Add eggs and vanilla and beat again.
Stir together the flour, baking powder, salt, and graham crumbs.
Slowly mix into the wet ingredients. Stir in chocolate chips.
Spread half the batter in a greased pan.
Drop spoonfuls of marshmallow and hot fudge over the top and spread out.
Drop the rest of the batter by spoonfuls over the top and spread out with a spatula.
Sprinkle with more chocolate chips and bake.
Is there a nut allergy in your family? Make these S'mores Swirled Blondies instead.
More blonde brownie recipes you may like: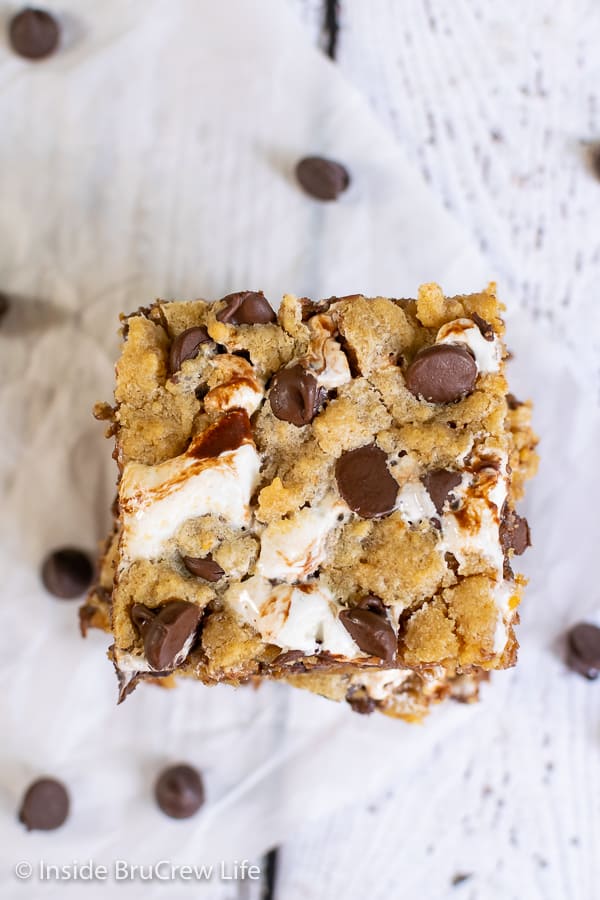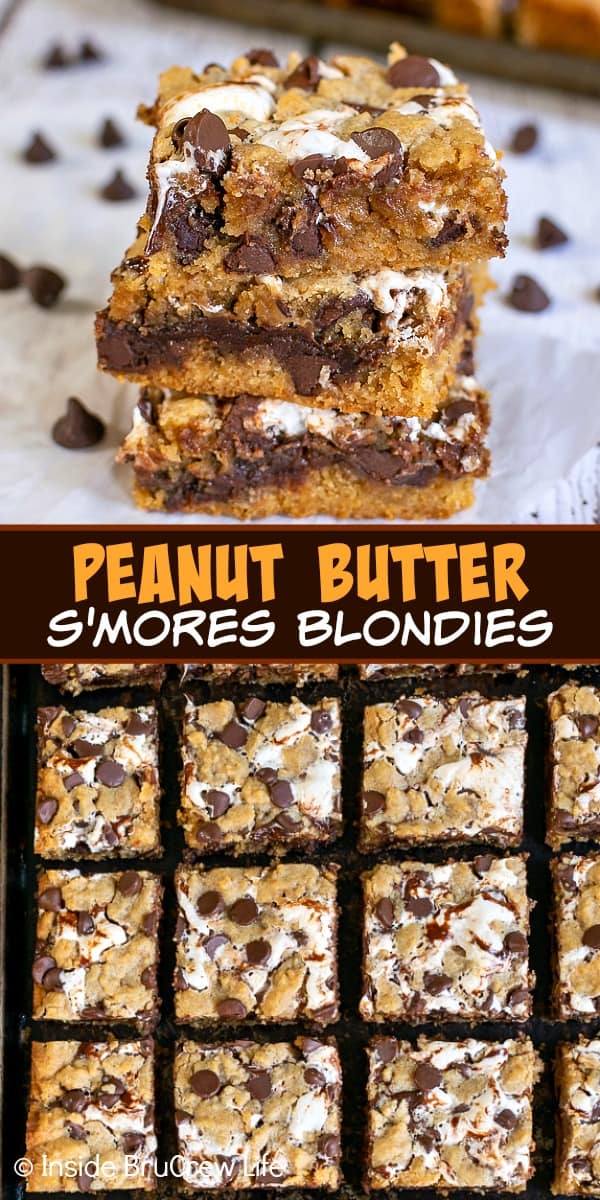 *The post for Peanut Butter S'mores Blondies was first published on June 1, 2011. The pictures were updated July 2015, and the post was updated and republished May 18, 2020.