This Pumpkin Nutella Cheesecake Danish is an easy and delicious breakfast choice when you want to enjoy fall wrapped in a soft crescent roll.
CLICK HERE TO PIN THIS RECIPE FOR LATER!
Let's just chat about breakfast choices for a minute.  So many different things are considered an acceptable breakfast now.  Cinnamon rolls covered in cream cheese frosting, muffins laden with chocolate, donuts stuffed with fillings, pancakes or waffles drenched in syrup, or a crescent roll filled with some cream cheese and chocolate.
Out of that list of breakfast choices, I'm thinking the danish is the healthiest one.  Pumpkin is full of vitamins, and my Nutella container says it is healthy, so I'm going with it.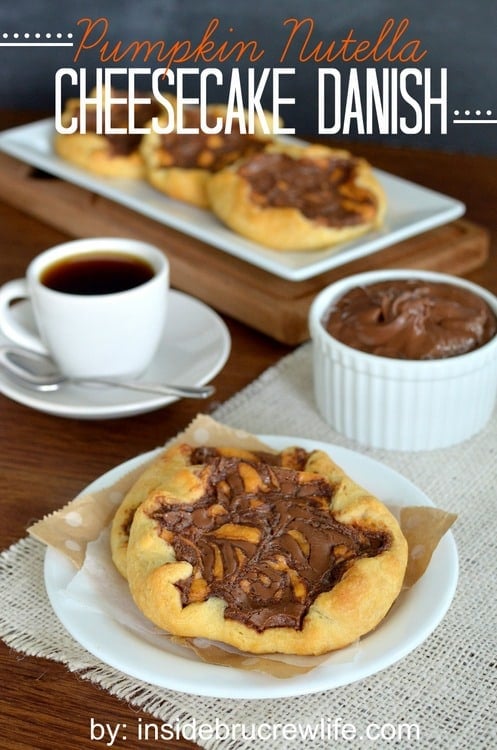 My kids are not picky eaters, but they are not big breakfast eaters.  I am always creating fun new treats for them to enjoy in the morning.  Do they eat these things every morning?  No.  They also eat all the above sugar laden breakfast choices I mentioned along with toast, cereal, pop tarts, pizza, mashed potatoes…basically whatever is in the fridge.
And honestly I am A-ok with that.  I would rather have them eating something, rather than going to school hungry.  I realize not everyone thinks the same way about breakfast choices, but that is what makes us all unique.  We all have our own ideas of what is ok.
We eat plenty of fresh vegetables and fruit and drink lots of milk to counter act all the sugar here.  It's all about balancing those not so healthy choices with healthy goodness and exercise.  Obviously, I don't let them go crazy in the morning with all the sugar-filled breakfasts, but I don't stop it either.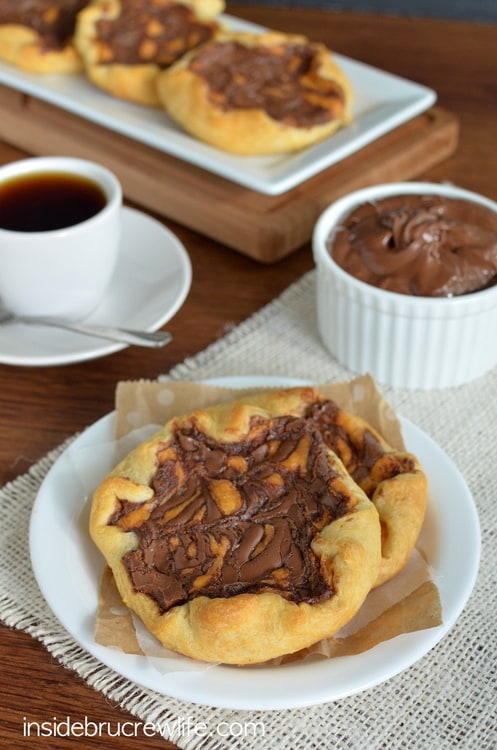 I had a roll of crescent rolls in my fridge, (It's one of the things you will almost always find in there.) and I had some leftover pumpkin puree from these Chocolate Pumpkin Spice Cookies that needed used up.  Somehow I wanted to use the two of these together to make a fun and delicious danish.  The half a box of cream cheese sealed the deal.
Pumpkin…good.  Cheesecake…good.  Nutella…good.  A danish that includes all three…fantastic!!!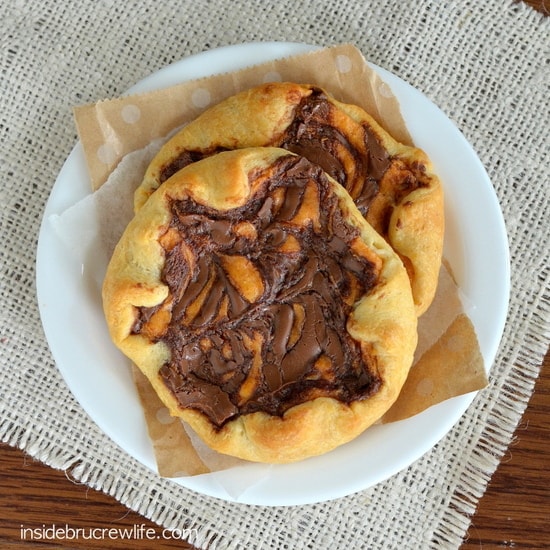 The Nutella drizzle on top was the perfect way to dress this danish up.  You just need to warm the Nutella up for a few seconds.  15-20 seconds is all you need to get it melted enough to drizzle smoothly.
I spooned the warm Nutella into a plastic baggie with a tip cut off.  I love using plastic baggies for any kind of drizzle because it is one less thing I have to wash after baking.  Plastic bags are perfect for drizzling melted chocolate chips onto baked things like these Chocolate Pumpkin Donuts too.
You can drizzle the Nutella on in a back and forth motion.  Then use a toothpick to drag through it in the opposite direction.  Do not swirl too much, or it will just look like chocolate on top.  You want that delicious pumpkin cheesecake to bake through and create a fun spiderweb pattern.
You are just 12 minutes away from having a pumpkin Nutella cheesecake danish.  Add a hot cup of coffee and a friend to chat with, and the morning will be off to a great start.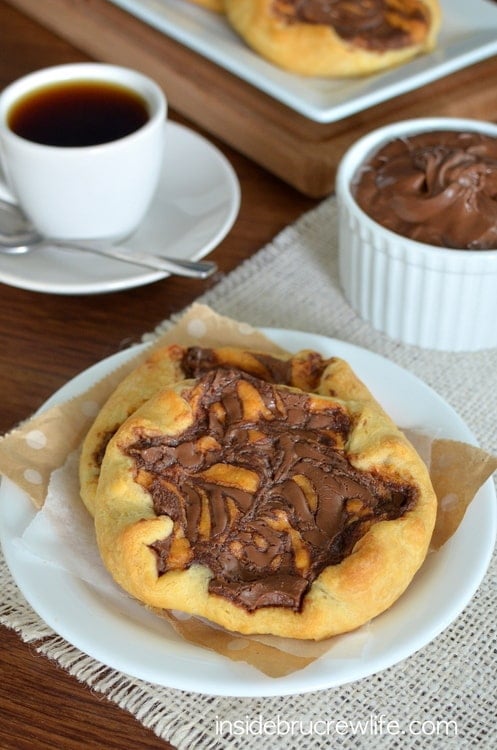 Stay up to date on all the BruCrew baking here:
FACEBOOK | PINTEREST | GOOGLE+ | TWITTER | INSTAGRAM | BLOGLOVIN
Yield: 8 danish treats
Pumpkin Nutella Cheesecake Danish
Swirls of chocolate and pumpkin cheesecake make a delicious fall breakfast danish. Easy treat for afternoon coffee or on-the-go breakfasts!

Prep Time 20 minutes

Cook Time 12 minutes

Total Time 32 minutes
Ingredients
1 package refrigerated crescent rolls
4 ounces cream cheese, softened
2 Tablespoons sugar
1/4 cup pumpkin puree
1/2 teaspoon pumpkin pie spice
1/4 cup Nutella
Instructions
Preheat oven to 375 degrees.
Beat the cream cheese, sugar, pumpkin, and spice until creamy.
Unroll the crescent rolls into 4 rectangles. Press together the seams. Cut each rectangle into 2 squares.
Divide the cheesecake batter by spoonful onto each square. Spread out, leaving a 1/4 inch border all around.
Place the Nutella in microwave-safe bowl and heat for 15-20 seconds. Spoon into a plastic baggie with one corner cut off. Drizzle back and forth over the pumpkin mixture. Use a toothpick to swirl the two together slightly.
Fold the edges of the crescent rolls up over the cheesecake batter. Bake for 12 minutes. Cool on a wire rack for an hour. Refrigerate.
Nutrition Information:
Yield:
8
Serving Size:
1
Amount Per Serving:Calories: 116 Total Fat: 8g Saturated Fat: 5g Trans Fat: 0g Unsaturated Fat: 2g Cholesterol: 16mg Sodium: 62mg Carbohydrates: 10g Fiber: 1g Sugar: 8g Protein: 2g
Other fun ways to incorporate pumpkin into breakfast: