This Easy Pumpkin Nutella Cheesecake Danish is a delicious fall breakfast pastry. A cream cheese danish swirled with pumpkin and chocolate is a great treat to add to your morning routine.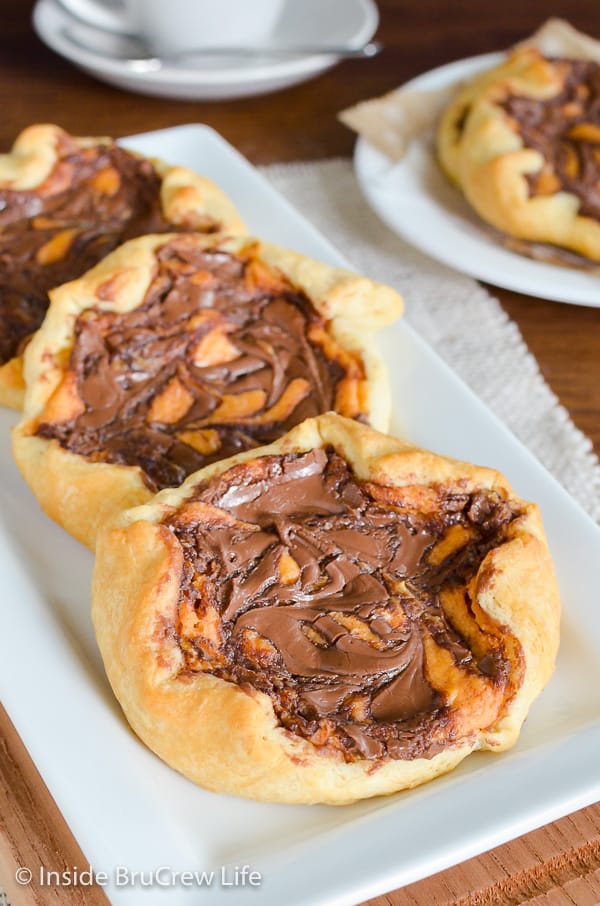 Let's just chat about breakfast choices for a minute. So many different things are considered an acceptable breakfast now.
Cinnamon rolls covered in cream cheese frosting, muffins laden with chocolate, donuts stuffed with fillings, pancakes or waffles drenched in syrup, or a cheese danish with pumpkin and chocolate.
Out of that list of breakfast choices, I'm thinking that this easy pumpkin danish is the healthiest one. Pumpkin is full of vitamins, and my Nutella container says it is healthy, so I'm going with it.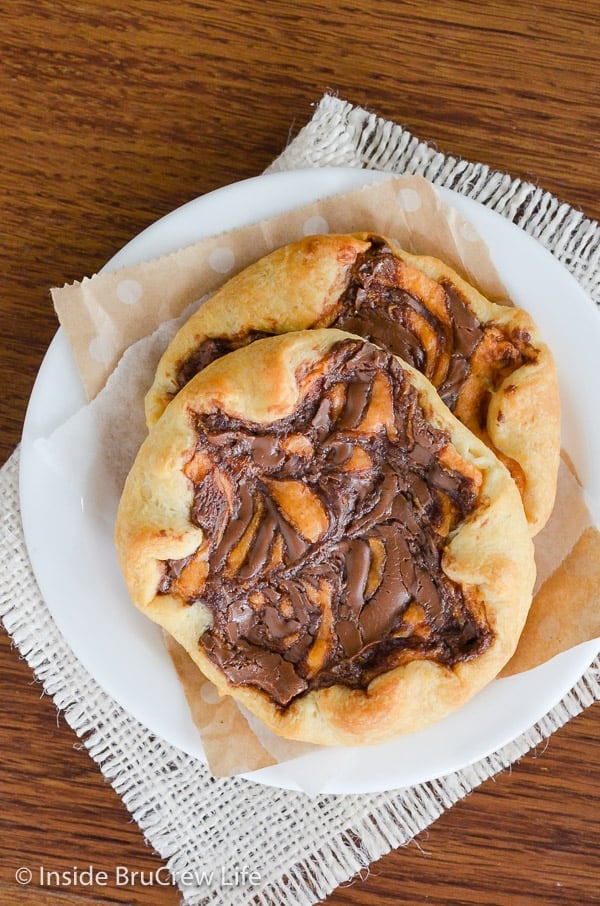 Our kids are not picky eaters, but they are not big breakfast eaters. Every once in a while I like to create a breakfast pastry for them to enjoy in the morning. Want to know the truth? They won't usually eat things like these Cheesecake Nutella Twists for breakfast though.
Most of the time they grab a protein bar, a Triple Berry Orange Smoothie, a jar of overnight oats with fruit, or a few of these Baked Ham and Cheese Egg Muffins before they head off to school.
After a few years of modeling healthy eating habits, I am happy to say our kids have started to pick up those same habits. We eat plenty of fresh vegetables and fruit and drink lots of milk to counter act the sugar laden treats I come up with.
It's all about balancing those not so healthy choices with healthy goodness and exercise. Now don't get me wrong, our youngest chooses pizza, ramen, and quesadillas quite often too. Oh, to have the metabolism of a 16 year old again.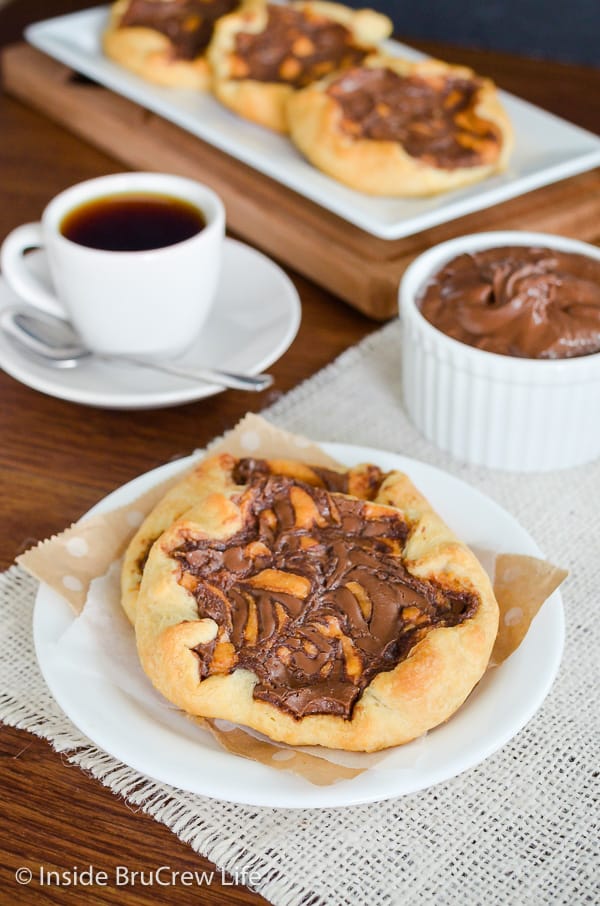 This week I had some pumpkin puree leftover after making these Chocolate Pumpkin Spice Cookies. I also found an extra package of crescent rolls hiding in one of the fridge drawers that needed to be used up.
Pastries using crescent rolls are one of my favorite things to make. As soon as I saw cream cheese and the jar of Nutella, I knew what I wanted to make a fall cream cheese danish.
Pumpkin...good. Cheesecake...good. Nutella...good. A danish that includes all three...fantastic!!!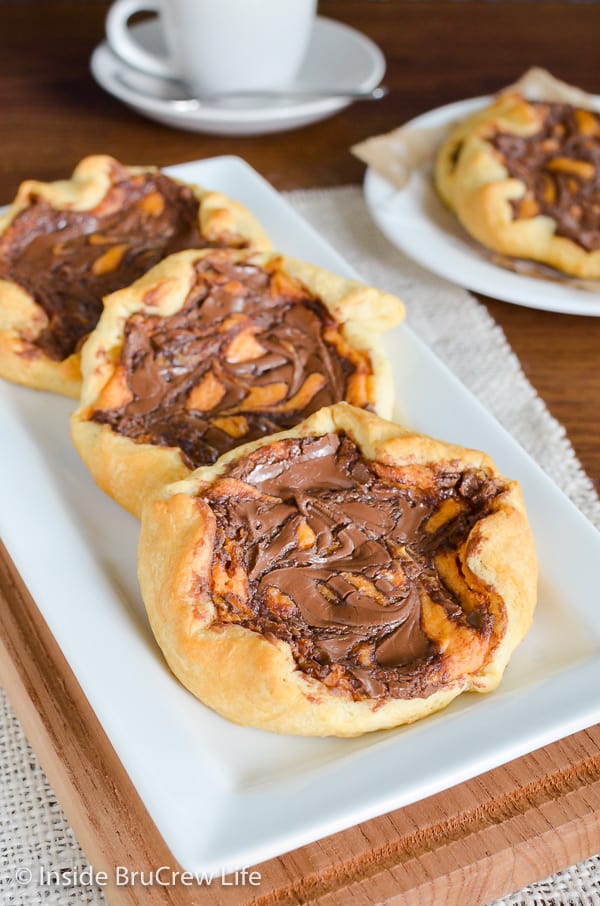 You are only a few minutes away from having a Nutella and cheese danish. Add a hot cup of coffee and a friend to chat with, and your day will be complete.
How to make a Pumpkin Nutella Cheesecake Danish:
Beat the cream cheese, sugar, pumpkin, and spice until creamy.
Open the crescent rolls and divide into 4 rectangles. Press the seams together.
Cut each one into 2 squares for a total of 8 squares.
Spoon the cheesecake filling evenly onto each square, leaving a border around the edges.
Heat the Nutella in the microwave for a few seconds and drizzle over the pumpkin cheesecake filling.
Use a toothpick to swirl the two together before baking. Do not swirl too much, or it will just look like chocolate on top. You want the pumpkin cheesecake to bake through and create a fun spiderweb pattern.
See the full printable recipe for this pumpkin cream cheese danish below.
Pro Tip: Spoon the warm Nutella into a Ziplock baggie and cut one tip off. Using plastic baggies for any kind of drizzle means one less dirty dish to wash later. They are also perfect for drizzling melted chocolate onto things like these Chocolate Pumpkin Donuts or this Pumpkin Chocolate Chip Bread.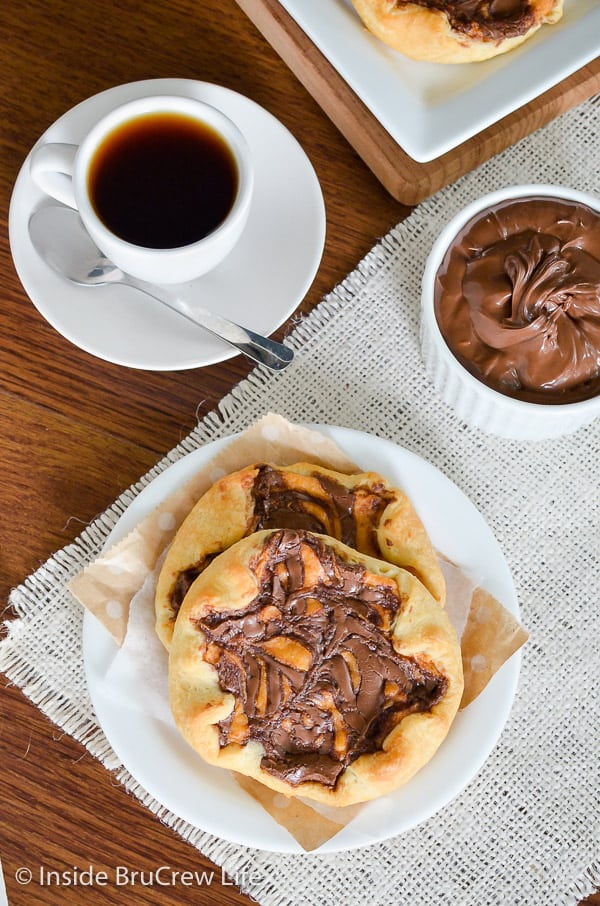 Other easy crescent roll breakfast ideas you may like:
A cinnamon sugar coating and a sweet glaze gives this Churro Pumpkin Pie Cheesecake Danish a fun and pretty texture!
Banana cheesecake and chocolate hazelnut spread make these little Banana Nutella Crescent Cups an easy little treat for busy days.
These easy and delicious Sprinkle Nutella Rolls start with just 3 ingredients. Sprinkles make everything taste better!
A batch of these easy Raspberry Crescent Rolls would be delicious for breakfast or dessert.
Add these sweet Banana Split Cheesecake Rolls to your breakfast plans. Strawberry and chocolate is such a great combo.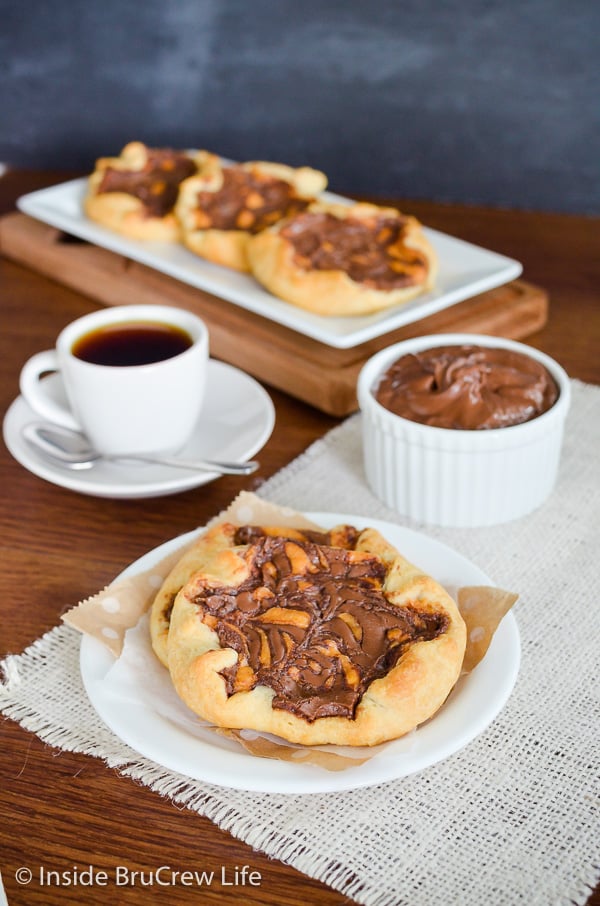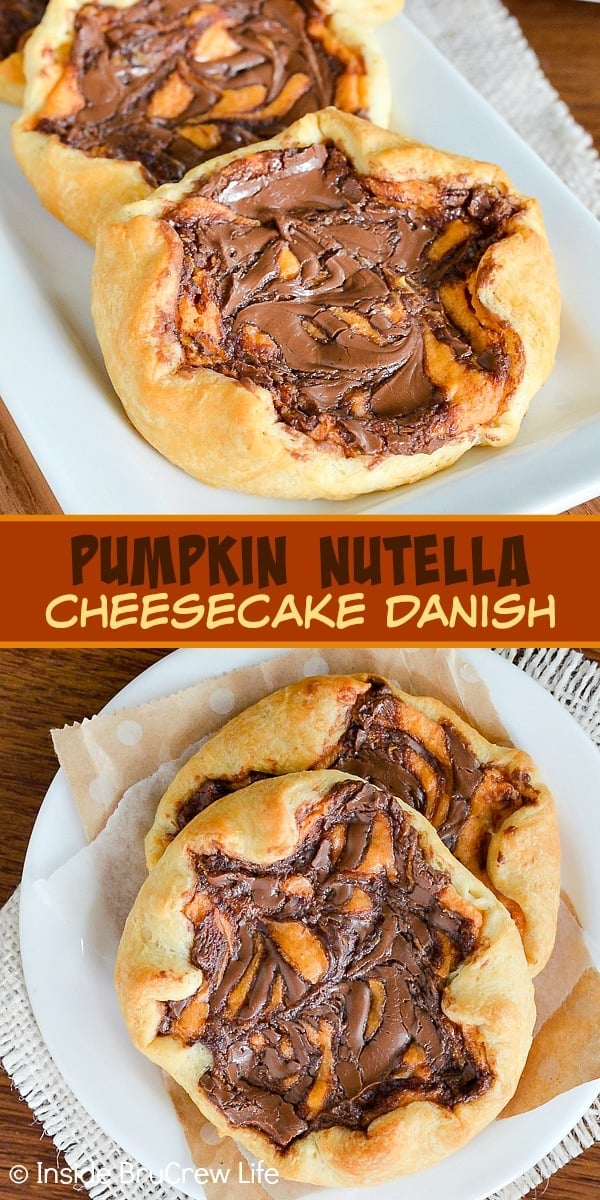 *The post for Pumpkin Nutella Cheesecake Danish was first published on September 15, 2013. The photos have been updated, and it was republished on October 1, 2019.