Adding some spices and pumpkin pudding makes this Pumpkin Spice Pudding Cake a delicious fall treat to end any meal. The cool and creamy pudding and topping are a refreshing treat on those still warm fall days.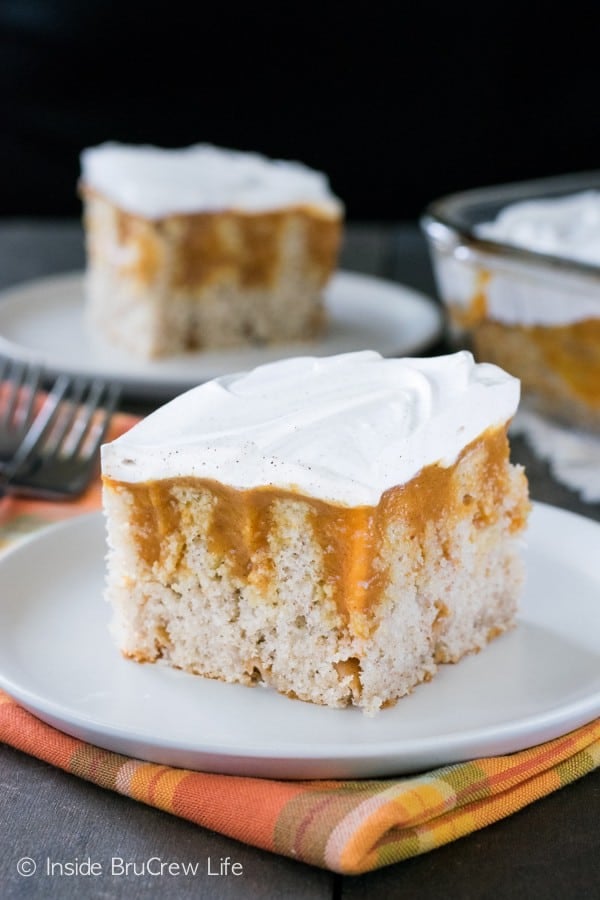 Those magazines that stores put at the end of check out lanes are dangerous to me. I tell myself that I have plenty of food magazines at home still to read, but that doesn't stop me from buying more.
The problem is that I buy new ones every single time I go to the store. Ok, maybe not every time, but I have quite the stack of new ones piling up. I like to call it "research" because reading food magazines always sparks new recipes and creations in my mind.
Unfortunately food magazines are not the only things I have a hard time resisting in the stores. Jewelry, candy, and seasonal décor also tend to jump into my shopping cart if I'm not watching. Unfortunately, most of those do not fall under the "research" category. I'm still trying to find a way to have those be a work related expense, but so far those still go in the hobby column.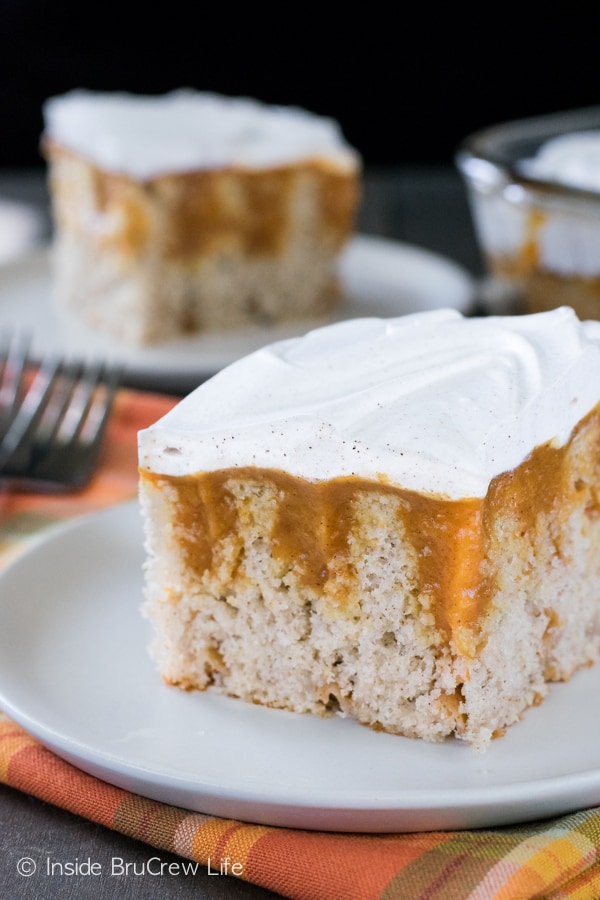 Another thing I have a hard time resisting is making pumpkin everything in the fall. I look forward to the fall months because pumpkin treats are accepted a little more than in March or July. I don't know why because pumpkin treats are delicious any time of year, but I admit that I do not bake with pumpkin year round either.
So, when fall comes I have to make up for it by making something every week. Ok, fine sometimes it's pumpkin every day. My family just rolls their eyes at me when they see more pumpkin on the counter. I just pretend not to see those eye rolls.
One of my favorite cakes is this chocolate s'mores pudding cake. I love the creamy pudding streaks in the cold, soft cake. I started brainstorming how I could make that type of cake into a fall dessert. Adding pumpkin and spices to vanilla pudding creates a fun pudding that goes so well with a spice cake and topping.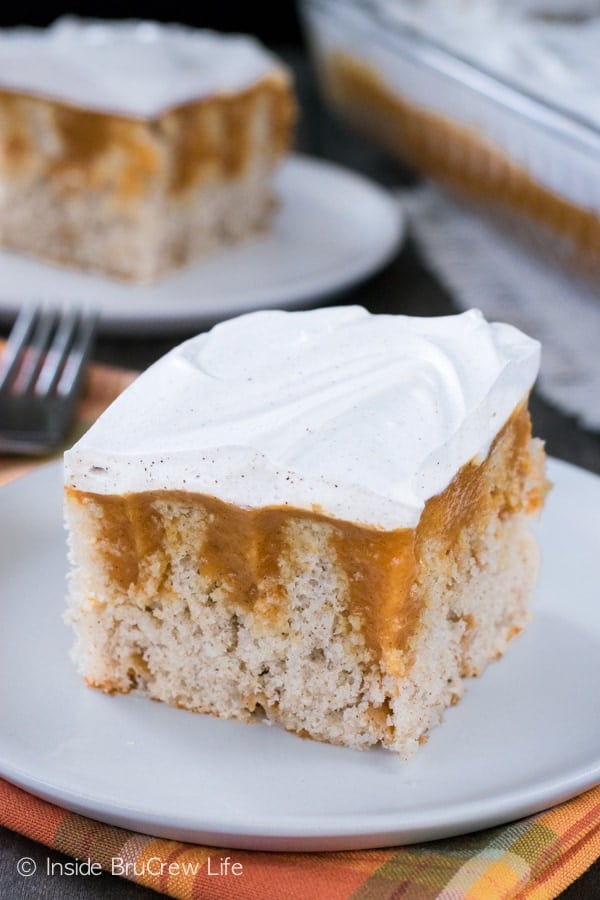 Poke cakes are just what they sound like. As soon as your cake comes out of the oven, you will poke the cake all over with the handle of a wooden spoon. Then mix your pudding ingredients and spoon it over and into the holes.
The pudding will be thick, so use the back of the spoon to really smooth it into the holes. You can even tap the bottom of the cake pan on the counter to make the pudding fill in. Then let it cool completely in the refrigerator. A little bit of pumpkin pie spice added to a container of Cool Whip is the perfect way to cover the pudding mess on top the next day.
I still have a few more cans of pumpkin in my cupboard just waiting for me to get inspired. Are you ready for more pumpkin in the next few months? I sure hope so, because all the "research" I have done has given me so many new ideas.