Enjoy a mug of this homemade Sugar Free Vegan Pumpkin Spice Latte in a matter of minutes in your own kitchen. This easy coffee drink will save you money and time and will satisfy your sweet tooth.
Fall is officially here, so we can pumpkin spice all the things now. If you love pumpkin as much as I do, enjoy your pumpkin latte with a few of these Chocolate Chip Pumpkin Donuts or a slice of this Pumpkin Spice Latte Bread.
*This post and my trip to Maryland was sponsored by Best Food Facts and the United Soybean Board.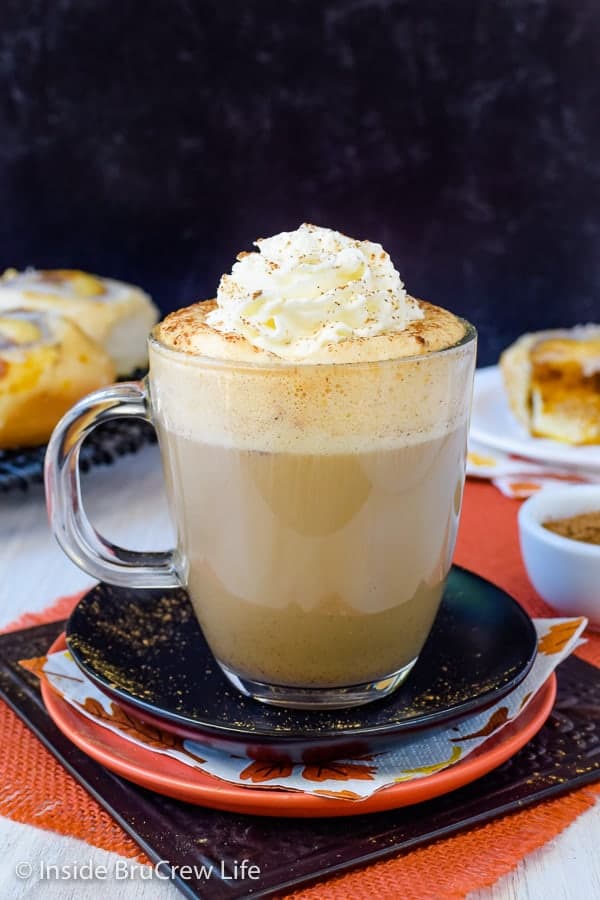 CLICK HERE TO PIN THIS RECIPE FOR LATER!
Now that pumpkin spice season is here, I have enjoyed a few too many drinks at our local coffee shop. I'm all for supporting businesses, but I really need to conserve my time and money when it comes to buying a cup of Joe every few days. Anyone else with me?
Enter in my homemade pumpkin spice latte. With just a few ingredients, you can be sipping your own healthy latte in a matter of minutes. The best part is that you can stay in your pj's or workout clothes and no one will ever know.
Since fall weather will not be coming any time soon here in Florida, I have been keeping my house at a chilly temperature in the morning, so I can sip my pumpkin latte. As long as it is cool in the house and I look at the pumpkin decorations, I can trick myself into believing fall has arrived.
But then I go outside and realize the heat and humidity are still very much here. Until then, the thermostat is set low, the slippers and flannel pj's are on, and the pumpkin spice lattes are still happening.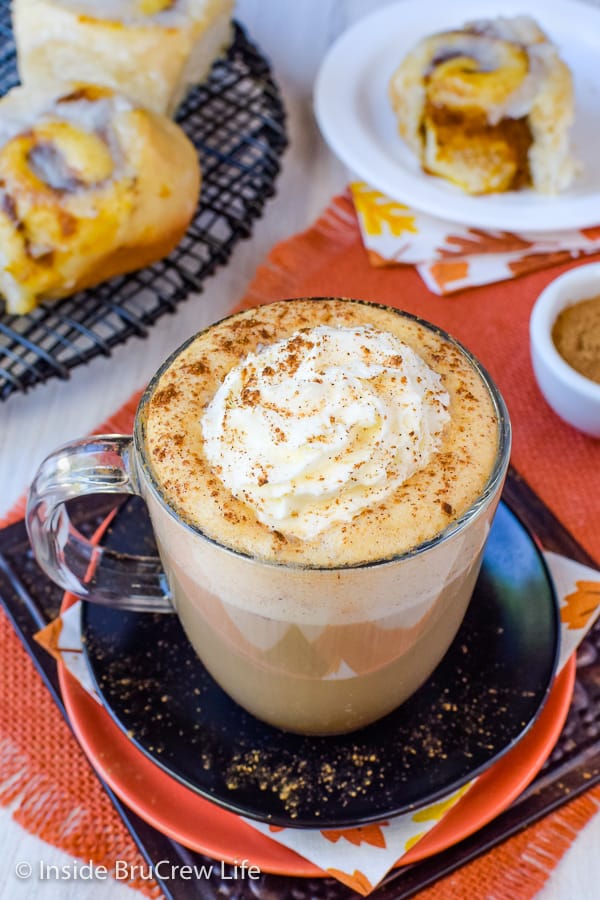 A few weeks ago, I shared about my trip to Maryland and some Fun Facts about Soybeans. We learned so much about soy and how healthy it actually is for you from the nutritionist that was on the trip with us.
Health Benefits of Soy:
Soy foods are good for you because they are rich in many nutrients such as protein, B vitamins, fiber, and calcium. Soybeans are also cholesterol-free and low in saturated fats making them a great addition to your diet.
Did you know that soy protein is a complete protein? That's right. It contains all the essential amino acids that your body cannot make on its own. It also contains healthy fats that our body needs as well. This little bean is a powerhouse when it comes to nutrition.
The natural chemicals in soybeans do not affect our bodies the same way estrogen does. Actually, now studies suggest that drinking a cup of soy milk a day could reduce your risk for breast cancer.
How to include Soy in your Diet:
There are so many different ways that you can include soy in your diet. Soy milk is delicious when used in soups, smoothies, and coffee.
You can enjoy soynuts for a great protein packed snack. Edamame can be added to into different types of salads.
And tofu can be added to smoothies, stir fries, dips, or chili.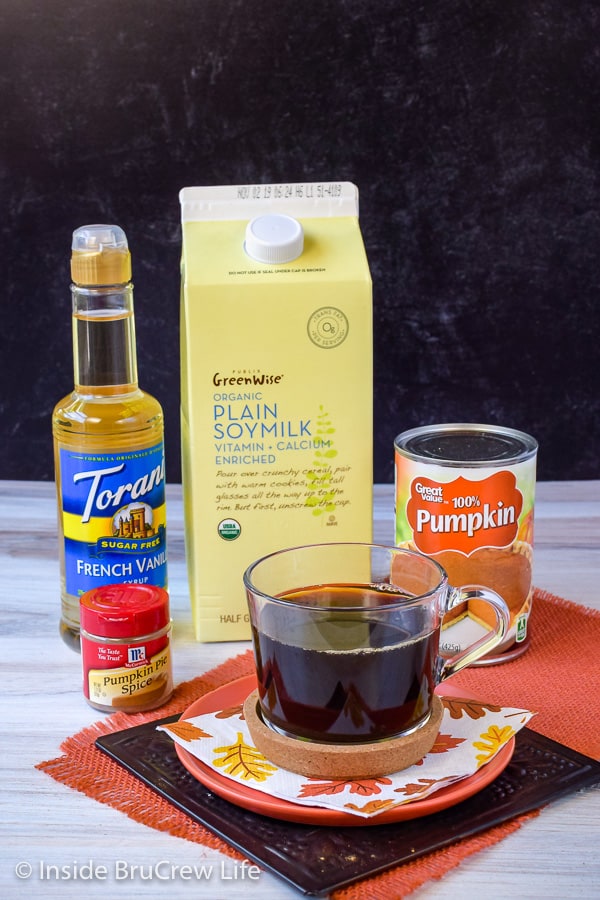 I have a background of medical issues and cancer in my family history, so I have been incorporating soy milk into the recipes that I have been making to get the added nutrition and benefits.
One of my favorite ways to use it is in my daily coffee because it froths well and creates a thick layer of foam for my homemade lattes.
Plus, it only has 100 calories in each cup and also has 8 grams of protein. This daily cup of coffee is helping me stay away from all those desserts I have in my kitchen.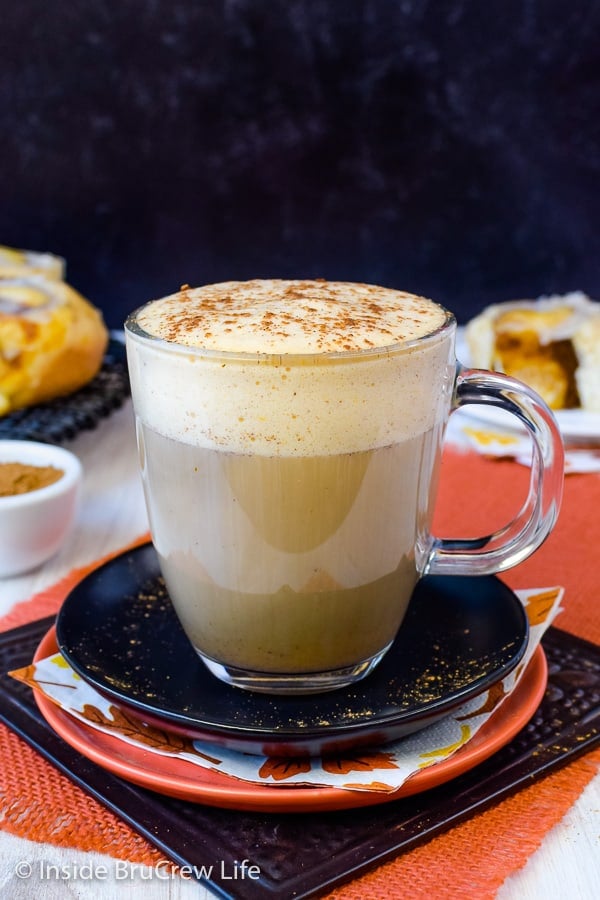 How to make a Sugar Free Vegan Pumpkin Spice Latte:
Whisk together the pumpkin puree, pumpkin spice, and soy milk in a small saucepan over low-medium heat until it is heated through. Pro Tip: Make sure you are using pumpkin puree, not pumpkin pie mix because the mix has added sugars and spices in it.
Brew some extra strong coffee or make an espresso. Pour the coffee into a mug and stir in the sugar-free vanilla syrup.
Once the milk and pumpkin have been heated to just below boiling, remove the pan from the heat. Pour a little more than half the milk mixture into the coffee. Pro Tip: You can pour the milk through a fine mesh strainer to remove the excess pumpkin if you do not want them in the bottom of your coffee.
Froth the remaining milk until it becomes a thick foam. Spoon this on top of the coffee gently.
Top with sugar free Cool Whip or Rediwhip and a sprinkle of pumpkin pie spice and enjoy.
How to Froth Milk:
Use a mason jar. Pour the steamed milk in the jar, screw the lid on tight, and shake until the milk is frothy and foamed.
A whisk or mixer can also be used to froth the milk into little bubbles.
A small frothing wand will whisk and swirl until it creates a nice foam in your heated milk. It's small so it won't take up much room in your kitchen utensil drawer, and it's great for whisking cream or soy milk for hot cocoa as well.
You can also pour the warmed milk into a blender. Make sure the lid is on tight and hold it as you pulse the milk.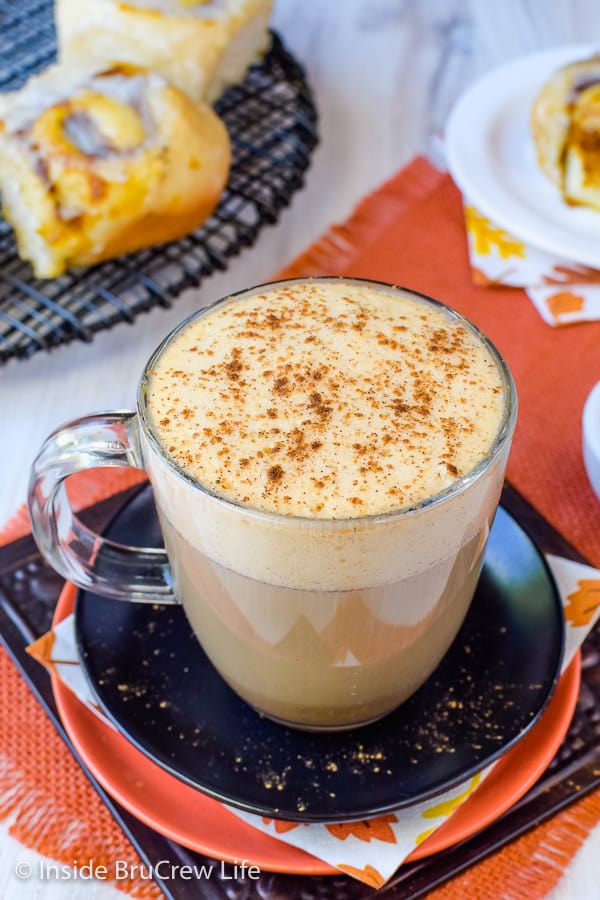 How to change the flavor of a Pumpkin Spice Latte:
If you like to experiment with your coffee flavors, try different syrups in the coffee and toppings on the foam. Here are some of my favorites:
Sugar-free chocolate syrup and sugar-free hot chocolate mix
Sugar-free salted caramel syrup and pumpkin pie spice
Pure maple syrup and cinnamon
Other easy latte recipes that you may enjoy: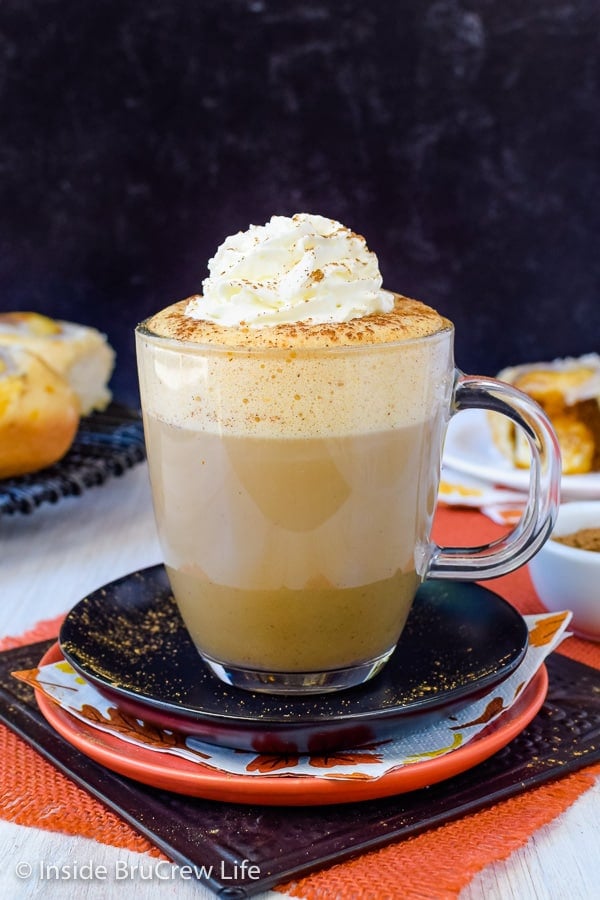 Connect with Inside BruCrew Life! Follow us on social media, so you never miss a post.
Email Subscription | Facebook | Pinterest | Twitter | Instagram | Bloglovin
I also have a fun Facebook group, and I would love for you to join. It's a group where you can share your favorite recipes, ask questions, share photos, and see what's new with the BruCrew. If you would like to check it out, you can request to join HERE.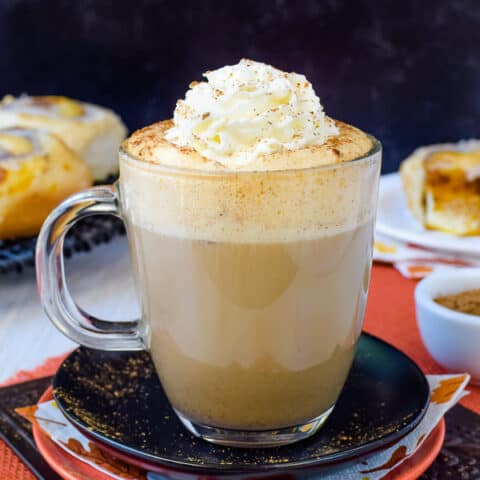 Sugar Free Vegan Pumpkin Spice Latte
Ingredients
2/3 cup soy milk
2 Tablespoons pumpkin puree
1/4 teaspoon pumpkin pie spice
1/3 cup very strong brewed coffee or espresso
1 Tablespoon sugar free vanilla syrup
2 Tablespoons sugar free Cool Whip
Instructions
Stir together the soy milk, pumpkin puree, and pumpkin pie spice in a small sauce pan.
Heat it over low-medium heat until it is hot, but not boiling. Remove the milk from the stove.
Stir together the coffee and sugar free syrup. Pour a little more than half the heated milk mixture into the coffee.
Froth the rest of the milk until it becomes a nice thick foam. Spoon the foam on top of the latte. Garnish with sugar free Cool Whip and pumpkin pie spice, if desired.
Notes
You can pour the heated milk and pumpin through a fine mesh strainer before adding it to your coffee if you do not want the excess in the bottom of your cup.
Recommended Products
As an Amazon Associate and member of other affiliate programs, I earn from qualifying purchases.
Nutrition Information:
Yield:

1
Serving Size:

1
Amount Per Serving:
Calories:

127
Total Fat:

4g
Saturated Fat:

1.4g
Trans Fat:

0g
Unsaturated Fat:

0g
Cholesterol:

0mg
Sodium:

90mg
Carbohydrates:

17.8g
Fiber:

2g
Sugar:

7.6g
Protein:

5.8g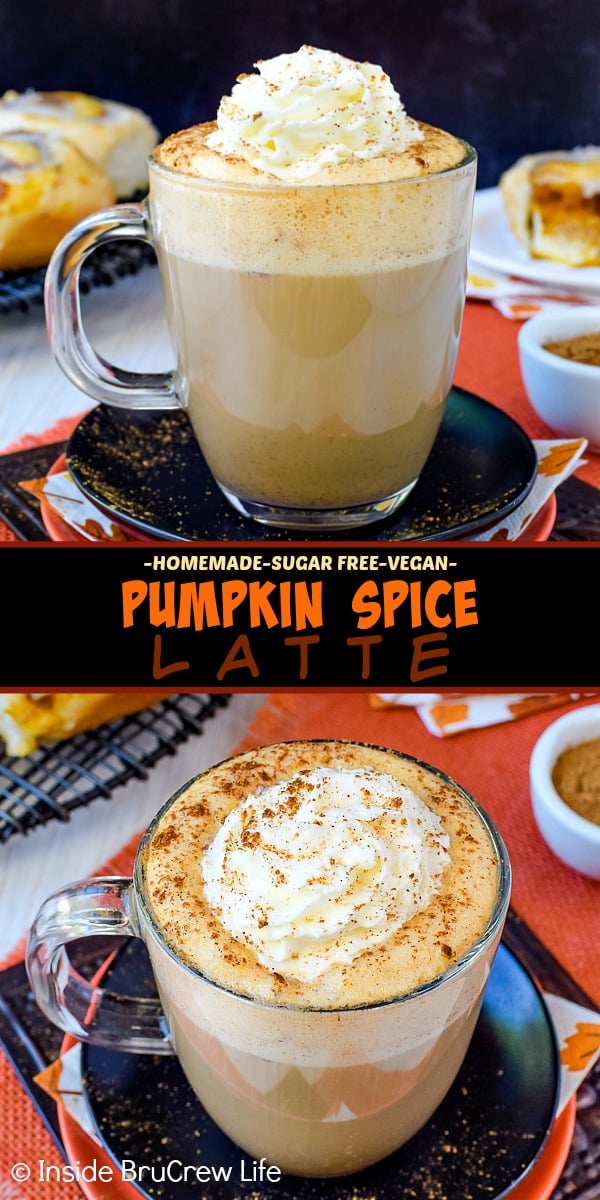 *This post has been sponsored by Best Food Facts. I was compensated for my time to travel and write this post, and all opinions are 100% my own.