These easy Chocolate Cherry Cookies are topped with a maraschino cherry and a chocolate glaze with sprinkles. Such a fun holiday cookie to share with friends and family.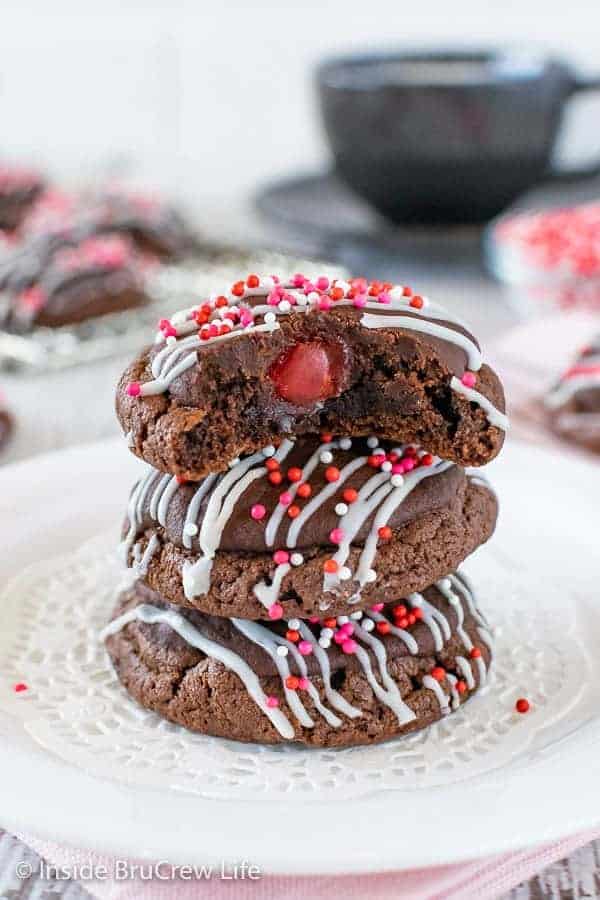 I know it is totally cliché, but Valentine's Day and Christmas makes me think about chocolate and cherries. Now to be completely honest, I think about chocolate all the time. It's that dang sweet tooth of mine.
These Valentine's kiss cookies and chocolate thumbprint cookies make the top of my list for the holiday. But today I wanted something with cherries.
There are always cake mixes and maraschino cherries on my pantry shelves, so I decided to make a chocolate version of these Chocolate Chip Cherry Cookies. If you love chocolate and cherries, trust me and make both of these easy cookie recipes. This oatmeal cherry chocolate cookie is a great choice as well!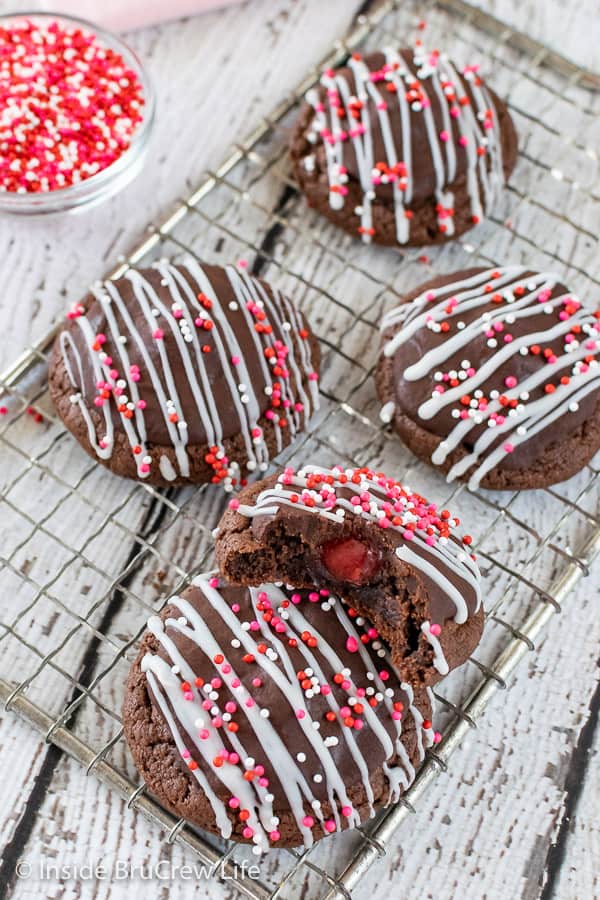 The hidden cherry under the chocolate glaze is a fun surprise to find when you bite into one of these chocolate cookies.
Well, if you like cherries that is. If you don't like cherries, you may be scarred for life and may never trust another chocolate thumbprint cookie.
If this is you, you should skip this recipe and make these Easy Chocolate Marshmallow Cookies instead. Chocolate and marshmallow is another awesome combo.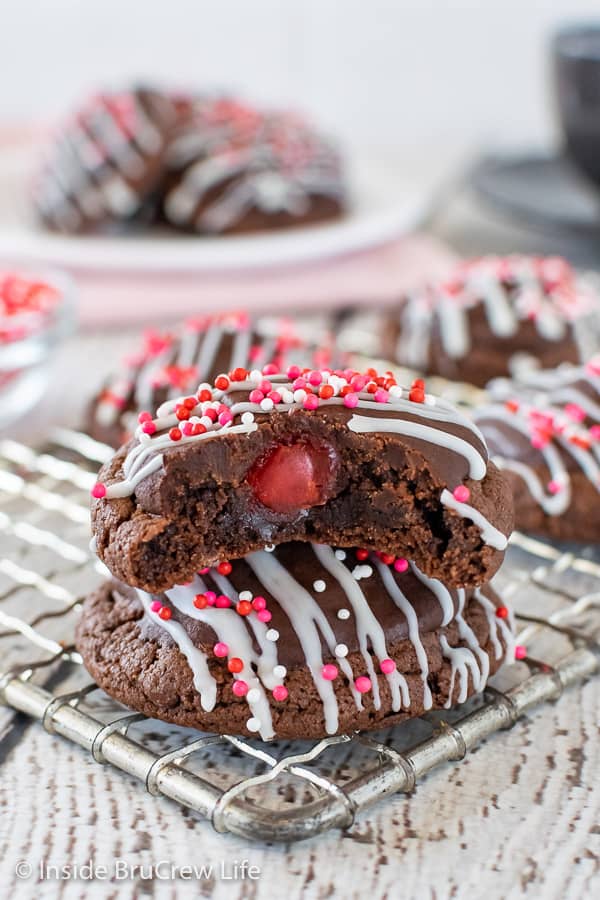 By now you know how much I love making cake mix cookies. There is just something about these soft, puffy cookies that we go nuts for.
I love how easy it is to change up these simple cookies with different mix-ins and fillings. You can add just about any candy or cookie to make them different every single time.
Mix-In Ideas for Cake Mix Cookies
Candy – M&M's, Reese's Peanut Butter Cups, Butterfingers, Bunch a Crunch, Reese's Pieces, Peppermint Patties, Rolos
Dried Fruit – cherries, blueberries, cranberries, raisins
Cookies – Oreos, Nutter Butters, Chips Ahoy, Animal Crackers
Chocolate Chips – white chocolate, dark chocolate, milk chocolate, butterscotch, peanut butter, mint, peppermint
Sprinkles, Nuts, Maraschino Cherries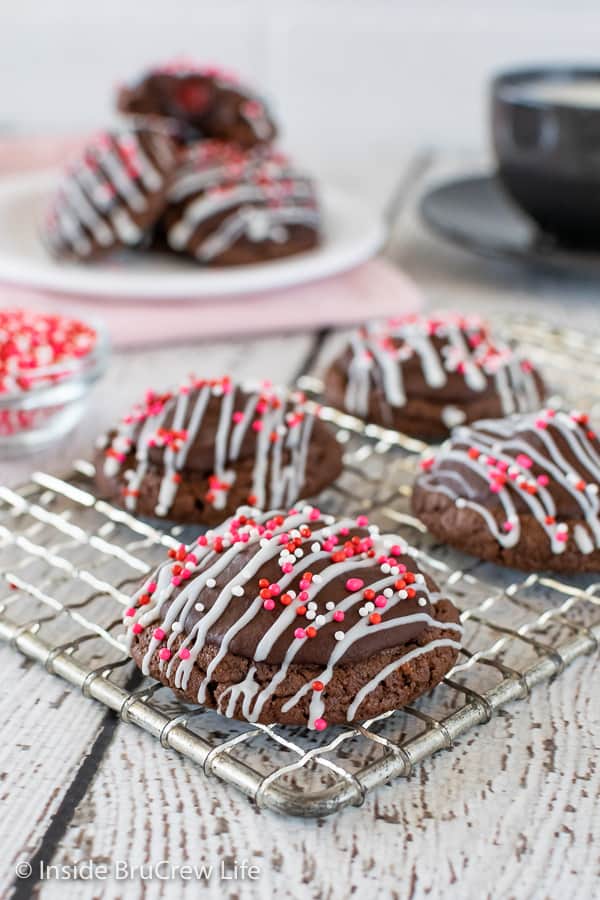 If you love cherries, you need to bake these chocolate covered cherry cookies today. I suggest heading to the store ASAP to buy the ingredients! Just make sure you have friends to share them with because you might eat the entire batch.
How to make Chocolate Cherry Cookies
Mix together the dry cake mix, butter, egg, and cream cheese until a soft dough forms.
Refrigerate dough for at least an hour.
Roll the chilled dough into 36 even balls and bake.
Let the cookies cool on the pan for a few minutes before moving them to parchment paper.
Press maraschino cherries into the tops of the warm cookies. Let cool completely.
Heat the chocolate chips and heavy cream in the microwave for 30 seconds. Stir until melted and creamy.
Spoon the chocolate over the cherries.
Drizzle with melted white chocolate and add sprinkles, if desired.
Recipe Tips
Set your butter and cream cheese out ahead of time because it is easier to beat it into the dry cake mix.
If the cookie dough is still too sticky to roll after an hour, refrigerate it longer. All cake mixes are different and some need to chill longer.
Make sure you drain and pat dry the maraschino cherries before putting them on top the cookies.
Change the cookies up by topping with a white chocolate glaze and adding chocolate drizzles.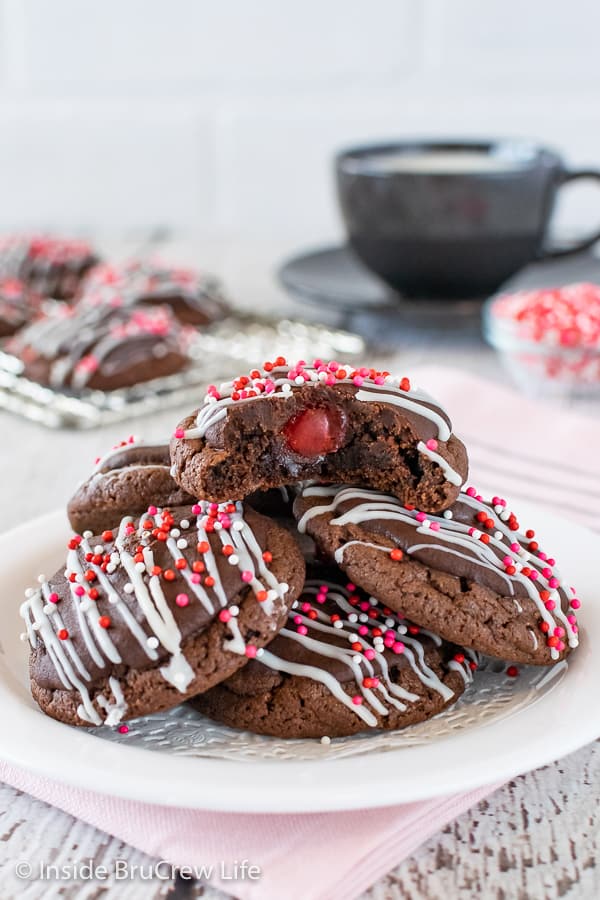 More easy cake mix cookies you may like
Hidden chocolate candy bars inside these Triple Chocolate Cookies are always a fun surprise for everyone to find.
These pretty Strawberry Truffle Kiss Cookies are pink, sparkly, and taste amazing.
The hidden candy center in these Cinnamon Caramel Cookies will make everyone smile when they find it.
Red Velvet Peppermint Pattie Cookies are easy to make, taste delicious, and are the perfect Valentine's Day treat.
These easy Chocolate Chip Cookies and Cream Cookies are loaded with chocolate and Oreo cookie chunks.
Peanut butter cups and a raspberry chocolate bar make these Peanut Butter and Jelly Cookies a fun treat.