You can have a batch of this Salted Caramel Pretzel Bark in your hands in about 10 minutes. It's the perfect quick and easy holiday candy to make and give away to everyone who loves sweet and salty desserts.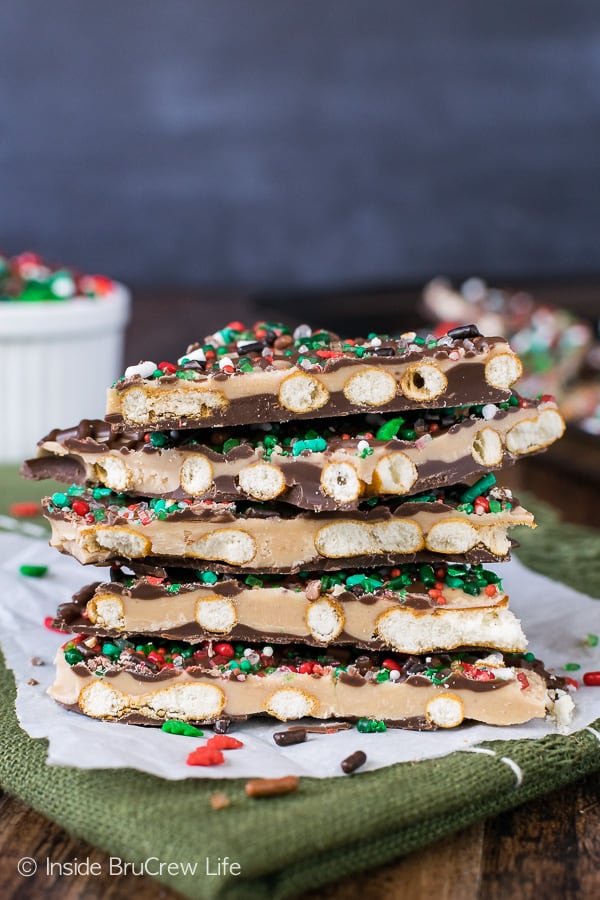 I love making lots of different kinds of fudge and candy and popcorn at this time of year. They are such fun treats to package up and give away. I love finding cute little boxes and bags that I can add fun ribbons and stickers to.
What are your favorite treats to make for parties and packages? Do you make lots of cookies to send to family and friends? These Christmas blondies or mint grinch popcorn are a couple great ideas!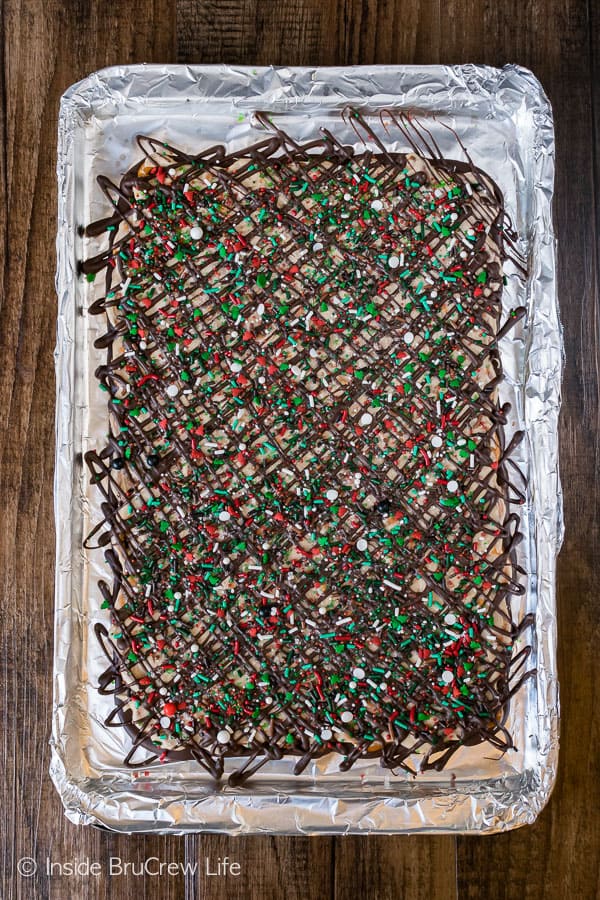 A few years ago I made this fun pretzel bark. Well, a variation of it anyway. You see the first batch I tried to melt down some caramel filled chocolate kisses and spread them on the pretzels.
Yeah, it wasn't the best idea. My first thought after I made it was that it was a huge fail. The chocolate melted kind of funny, so I topped it off with some sprinkles and threw it into the fridge.
Sprinkles always make me feel better.
A few hours later I was getting a bottle of water, and I thought I would look at it again to see if I could fix it or at least eat it. Somehow magic happened in my fridge because it set up. But it was kind ugly looking. We will call it rustic.
It tasted great, but needed some work. I think the caramel kisses work much better in these Salted Caramel Mocha Brownie Cups instead of in bark.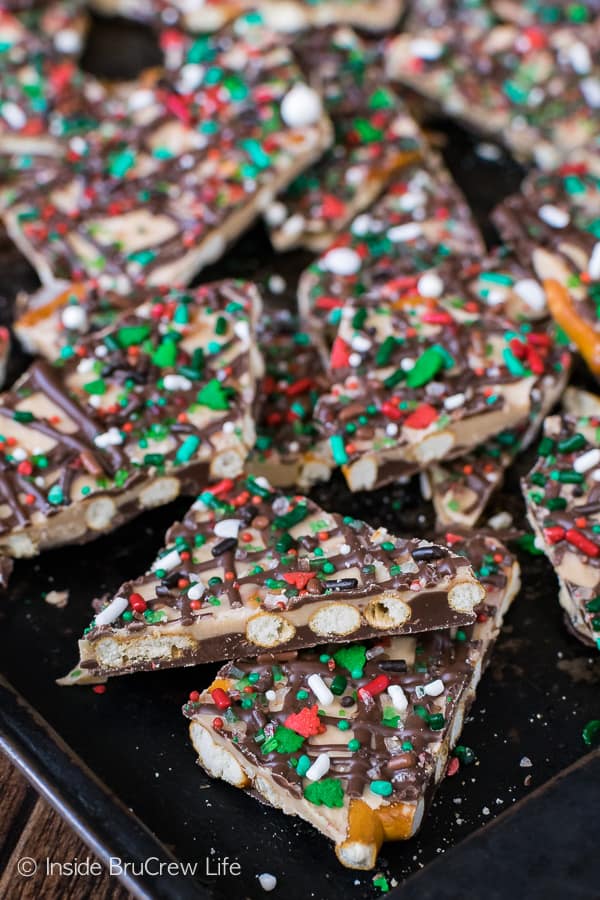 Since you can now buy salted caramel chips in most grocery stores, I decided to redo the candy bark with a layer of chocolate and a layer of salted caramel instead. Seriously, this was so much easier than trying to melt down candy.
This easy Salted Caramel Pretzel Bark won my heart with it's sweet and salty magic and bright holiday sprinkles.
I love it even more because it seriously only takes a few ingredients and about 10 minutes to put together. Let it set up in the fridge for a few minutes, and then you are on your way to salted caramel bark heaven.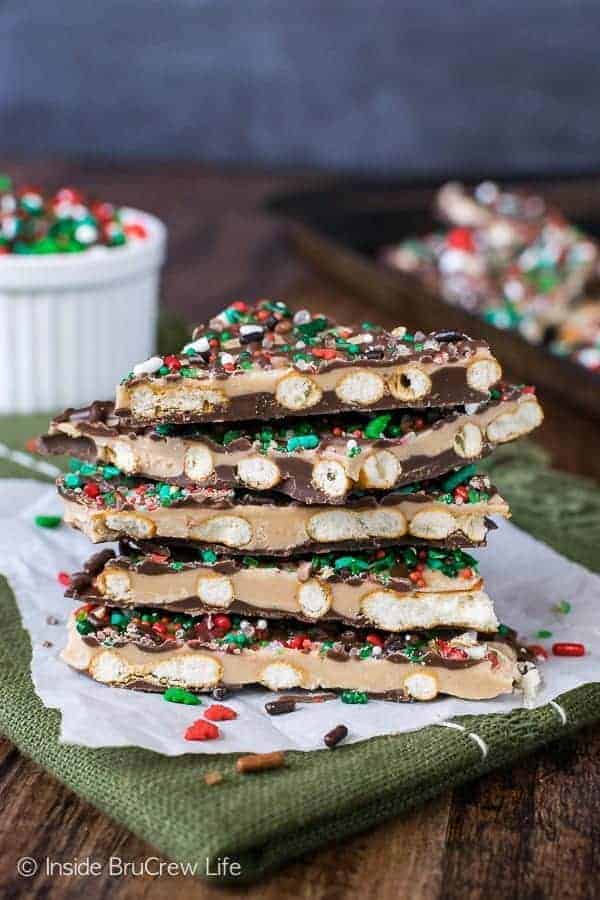 How to make Salted Caramel Pretzel Bark
Line your pan with foil or parchment paper because you want the bark to come off the pan easily after it sets up.
Melt the first batch of chocolate wafers in a bowl and spread them on the bottom of the pan.
Press the pretzels immediately into the chocolate before it sets up.
Place the salted caramel chips and some coconut oil in a bowl and heat it for 30 seconds. Stir and heat 20 more seconds. These chips do not melt as easily, so go slow on your time or you will scorch or seize the chips.
Use an angled metal spatula to spread the salted caramel chips over the pretzels. It should just cover the pretzels and fill in the holes.
Melt the remaining chocolate wafers and spoon them into a plastic baggie with one tip cut off. Drizzle it all over the top of the bark and add lots of colored sprinkles.
Refrigerate the bark for a few minutes, then use a knife to chop it into pieces.
Store the candy in a tightly sealed container.
I recommend giving this sweet candy away ASAP because it's so good. We kept snagging small pieces every time we walked through the kitchen, so trust me when I say get it out of your house!!!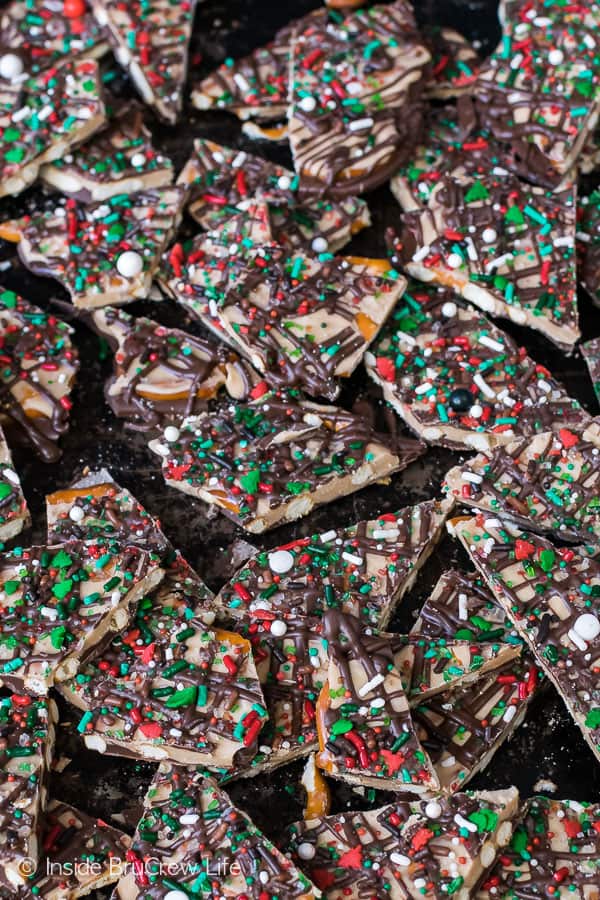 More easy no bake candy recipes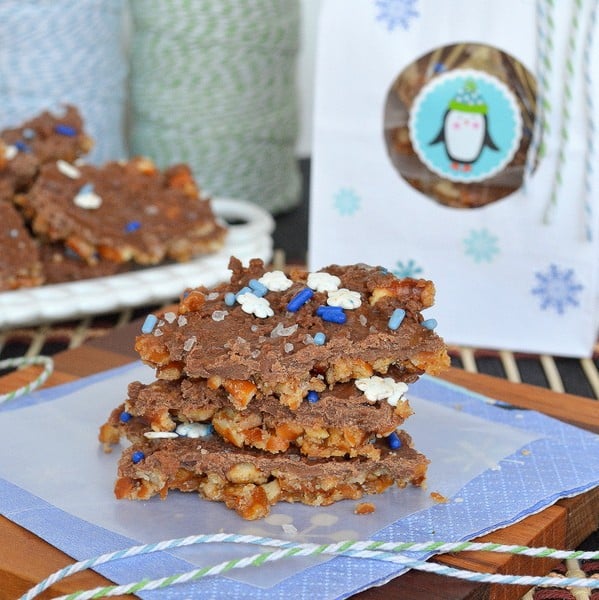 (original photo from November 2012)
*The post for this Salted Caramel Pretzel Bark was originally published on November 30, 2012. The pictures and recipe have been updated and republished on December 19, 2018.