Looking for a breakfast that is healthy and full of protein? These Chocolate Protein Pancakes are just what you need to get going in the morning. Enjoy a batch in minutes with your favorite fruit.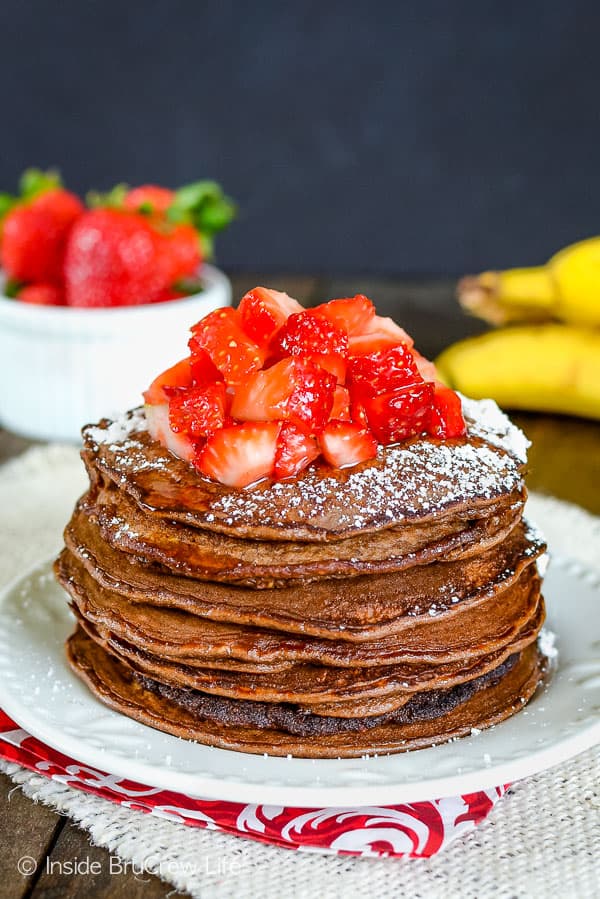 My husband and I both enjoy working out. Well...I like it when I finish my workout for the day. There are plenty of mornings when I'm not so happy while doing lunges, crunches, rows, or whatever other torturous move I am doing in our garage gym.
Working out is only 10 percent of living a healthy life. The other 90 percent is all about eating right. When you eat right you feel better, have clarity, and have more energy. I know that I need all the energy I can get to get through the day.
Some mornings I start my day with either a protein shake or a smoothie, but every once in a while I like to change things up and make two ingredient pancakes.
About This Recipe
Being the chocolate lover that I am, I had to find a way to add more chocolate into my morning routine. A scoop of chocolate protein powder gives these simple pancakes a healthy boost.
I like to make a big batch of chocolate banana protein pancakes to keep in our freezer or refrigerator for a quick and easy breakfast on busy days. They are a chocolate version of these healthy banana oatmeal pancakes from a few months ago.
All you need is a blender and a skillet and you can have a batch of two ingredient pancakes for your breakfast too. They seriously take 30 seconds to mix together and a few minutes to cook.
Now I do have to warn you, these are not the big fat fluffy pancakes that you normally eat from a diner or cafe. They are a great alternative and a delicious choice when you are eating healthy or counting macros.

Two Ingredient Pancakes
Did you know that you can make pancakes from eggs and and a ripe banana? Yup, you read that right. All you need to make these a batch of these easy pancakes is 2 eggs and 1 banana.
Mash the ripe banana and add in the whisked eggs. It is seriously the world's easiest pancake recipe. And they work for all low-fat, gluten-free, sugar-free, dairy-free, and paleo diets. Gotta love that!
Make sure to keep these pancakes small, as there is no flour holding them together. Use a thin spatula when you flip them over.
What You Need
All you need are a few simple ingredients and a blender to make your own batch of chocolate protein powder pancakes.
Eggs - Gives the pancakes structure and holds everything together, plus adds protein.
Bananas - Naturally sweetens the pancake batter. If your bananas are not ripe yet, see how to quickly ripen bananas for baked goods.
Rolled Oats - Adds a little thickness and bulk to the pancakes. Leave them out if you are eating grain free.
Chocolate Protein Powder - Gives a nice boost of protein to your breakfast.
Cocoa Powder - This is optional, but it does help give the banana pancakes a nice chocolate color and flavor.
Cinnamon - Adds a little spice and flavor.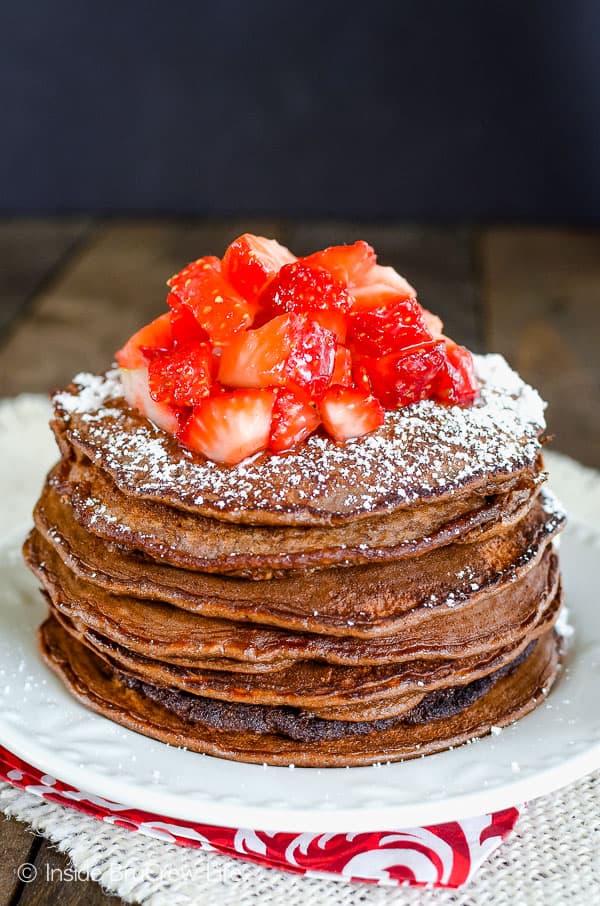 How to make Chocolate Protein Pancakes
These healthy chocolate pancakes can be made in less than 5 minutes because you use a blender. Gotta love a healthy breakfast in minutes!
Add all the ingredients in a Ninja food prep. Pulse a few times to mix everything together. The more you pulse the thinner the batter will be.
Scoop ¼ cup onto a hot pan and let each side cook for 1 minute. Keep your pan on medium heat, so the pancakes cook evenly and do not burn.
Serve the cooked pancakes immediately with your favorite toppings.
Storage
These chocolate pancakes can be refrigerated for a few days in an airtight container.
Place the cooled pancakes in a freezer safe ziplock bag with parchment paper between the layers and freeze them for 1-2 months. Reheat twice in a toaster oven on a lower setting to keep from burning the protein pancakes.
Recipe Tips
To give these healthy pancakes a protein boost, add 1-2 scoops of chocolate protein powder. You can also some cocoa powder for more chocolate flavor and a little bit of oatmeal to thicken the pancakes just a little bit.
If you want to make these low carb, leave the oatmeal out or substitute almond flour in place of it. The pancakes will cook up just the same. The oatmeal or flour just helps to give the pancake a little more body.
Using a blender helps to mix in the oatmeal a little bit more. If you mix it in a bowl with a fork, your pancake batter will be thicker and coarser.
To give these skinny banana pancakes a little extra sweetness, add some diced fresh strawberries and a drizzle of raw honey. Perfect way to start the day with chocolate! Am I right?
Do banana egg pancakes really taste like pancakes?
Well, they are called pancakes because of how they are mixed and cooked and because you can drizzle honey or syrup on top. But I would not replace your favorite fluffy weekend pancakes with these. They have a totally different taste. Delicious, but definitely different.
They remind me more of crepes or dutch baby pancakes. They are soft and just kind of melt in your mouth.
CLICK HERE TO SAVE THIS RECIPE FOR LATER!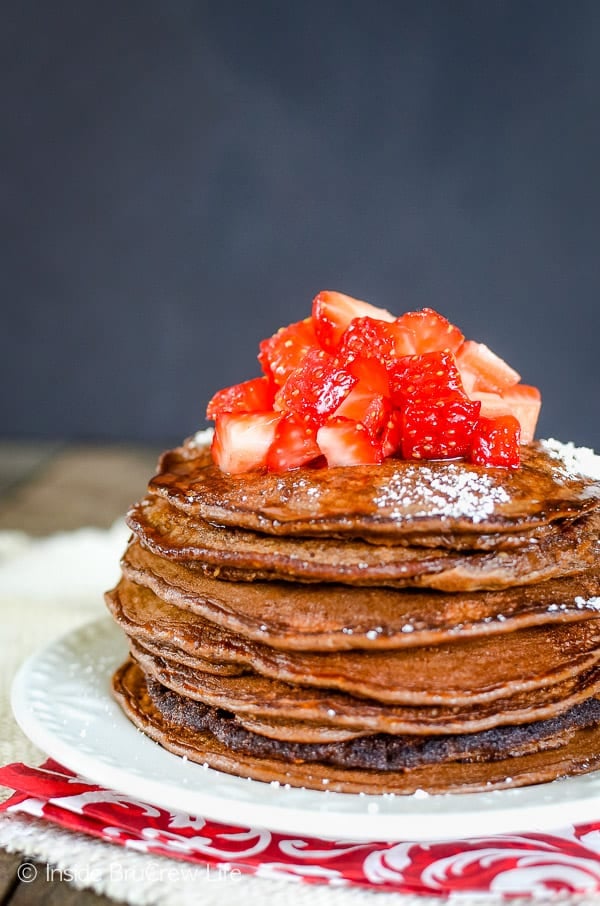 More Healthy Breakfast Ideas
Frozen fruit, juice, and yogurt gives this orange berry smoothie a delicious flavor. This easy and healthy recipe is a great way to start out the day or to fight off the afternoon snacking urge.
Make a batch of these peanut butter granola bars to keep on hand for when you are running out the door. The grains and peanut butter will keep you full until lunch.
These easy blender peanut butter banana pancakes are a great way to get more protein and fruit in your body. Great breakfast choice when you are eating healthy.
Layers of fruit, yogurt, and granola make this strawberry yogurt parfait an easy and fresh breakfast choice.
Enjoy a sweet treat for breakfast with a batch of these Healthy Breakfast Cookies. Only 75 calories in each one!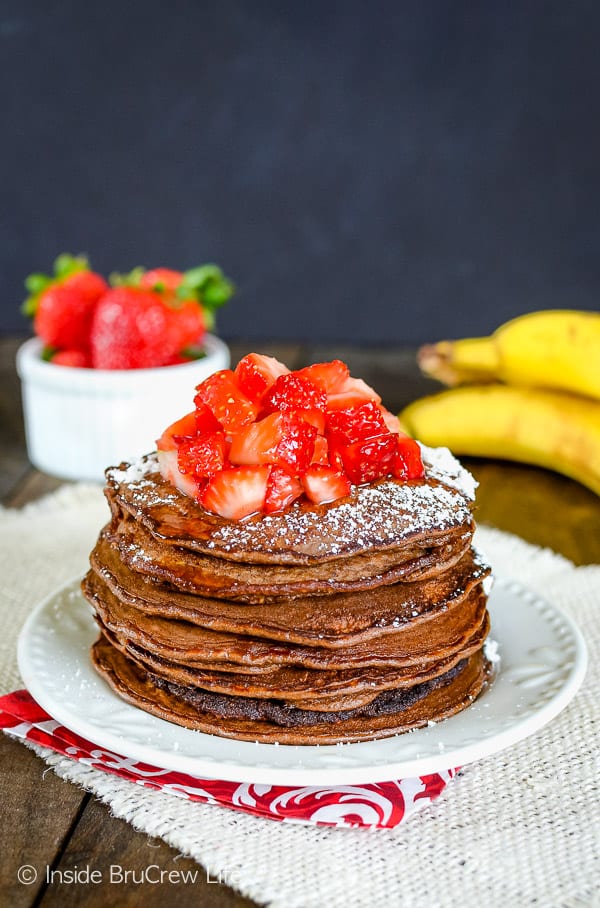 Love a recipe you tried from Inside BruCrew Life?
Please consider leaving a 5 star ⭐️ rating in the recipe card below and/or a review in the comments section further below.
*The post for Skinny Chocolate Banana Oatmeal Pancakes was first published on May 2014. The photos and text were updated and republished on January 2019.
**This post does contain affiliate links. Inside BruCrew Life may receive a small percentage from sales made through these links. Thank you for letting us share products that we use and love this way.