A Patriotic Chocolate Chip Cookie Pie decorated with swirls of frosting and red, white, and blue sprinkles will make everyone smile at your Fourth of July picnics.
Change up the colors to make this easy cookie cake recipe perfect for any celebration or party!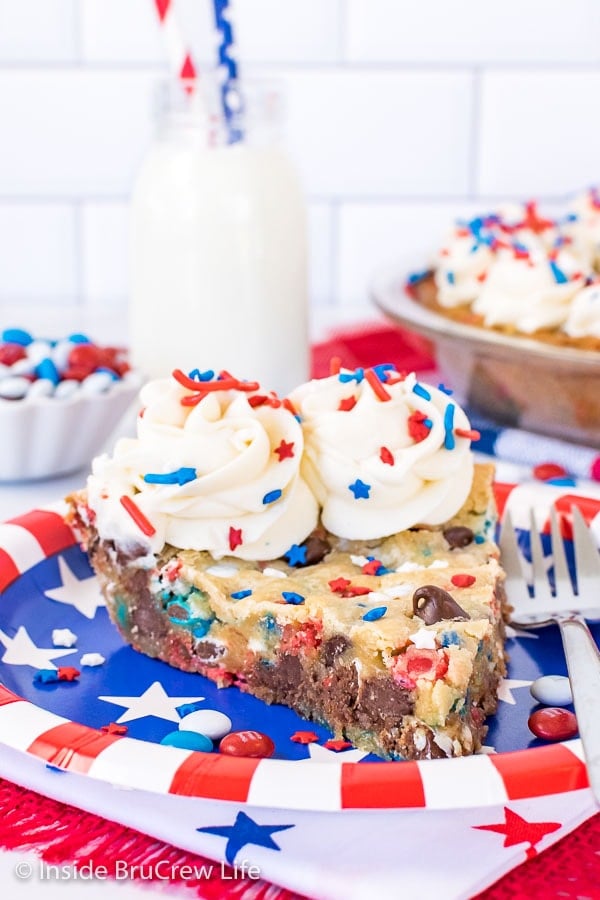 Looking for a last minute red, white, and blue dessert to make for this Fourth of July weekend? I've got you covered with this easy cookie dessert.
The other day I was craving cookies something fierce. I have been trying to watch what I'm eating, but lately I have just been watching everything go into my mouth. LOL! Not really, we really do eat healthy most of the time.
But when a cookie craving hits, you just have to bake some dang cookies. Although, I took the easy (aka lazy) route and baked the dough into one large cookie.
Inquiring minds would like to know...would you call this a cookie cake, a cookie pie, or a cookie pizza? I baked the cookie dough in a pie plate and cut the servings into wedges, so I thought cookie pie sounded right.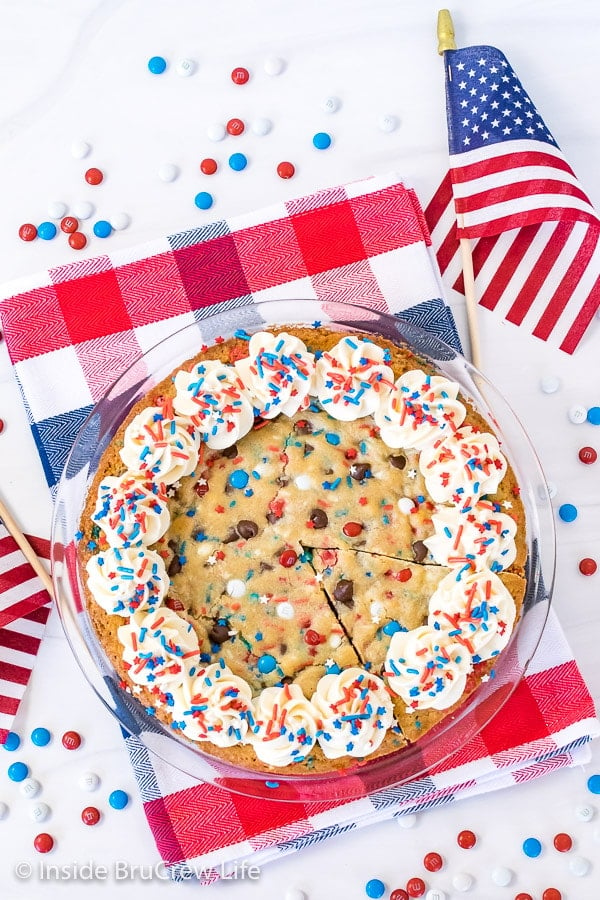 I had a bag of mini red, white, and blue M&M's sitting in our pantry, so I could make these Fireworks Cookies and Cream Cookies. I decided the giant chocolate chip cookie needed them instead.
When I was much younger I used to work at our local mall and on my breaks I would walk around. Inevitably, I always ended up walking past the Great American Cookie Company where I would stop and drool at all the decorated cookie cakes.
I'm kind of cheapskate because I do not like to spend money on anything that I know I can make. I never bought any of those cookies because I knew how easy they are to make and decorate.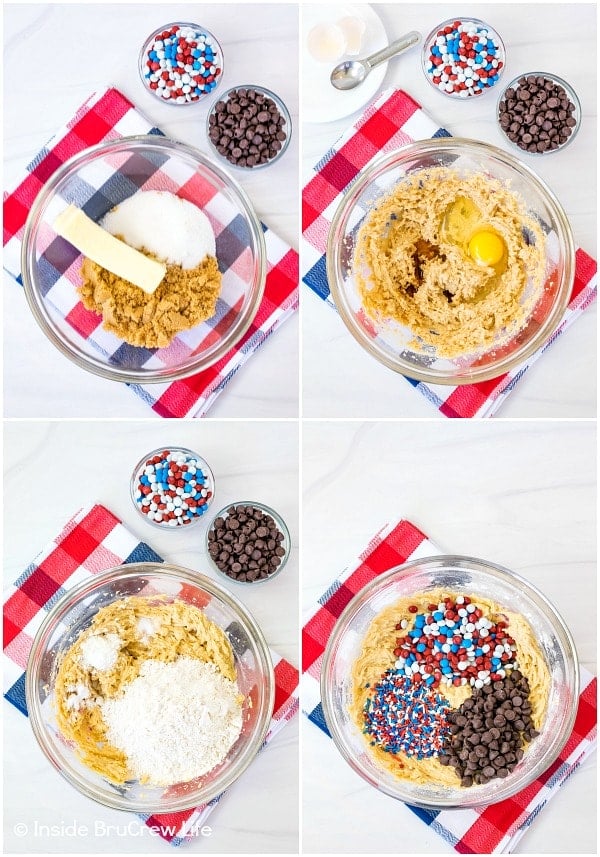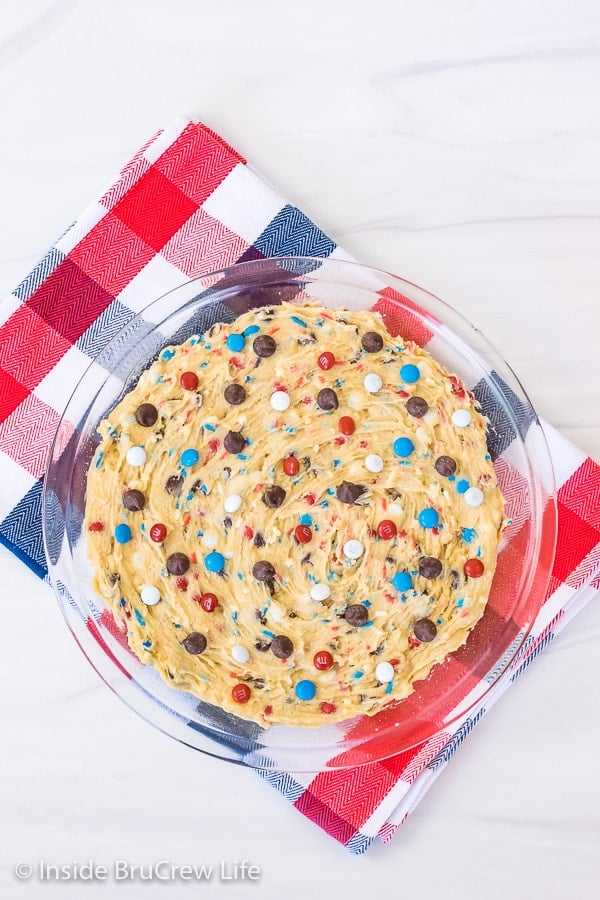 Cookie cakes are so easy to make for any party. You can customize them with different color sprinkles and M&M's to match whatever theme or event you are making it for.
How to make a Patriotic Chocolate Chip Cookie Pie:
Beat butter and sugars until creamy. Add egg and vanilla and beat again. (full recipe at bottom of post)
Add the dry ingredients and mix until dough forms.
Add chocolate chips, candies, and sprinkles and stir gently.
Spread the cookie dough evenly in the bottom of a pie plate and bake.
Once the cookie pie is cooled completely, add swirls of vanilla frosting and sprinkles around the outside edge.
Recipe Tips:
Make sure your butter is soft. It is easier to beat everything into a soft dough.
If you want to remove the entire cookie pie before serving, add a circle of parchment paper to the bottom of the pie plate before adding the dough and baking it.
You can also bake this cookie pie in a 9 inch springform pan or cake pan.
Use different colored candies and different flavored chocolate chips to give this cookie cake a fun twist.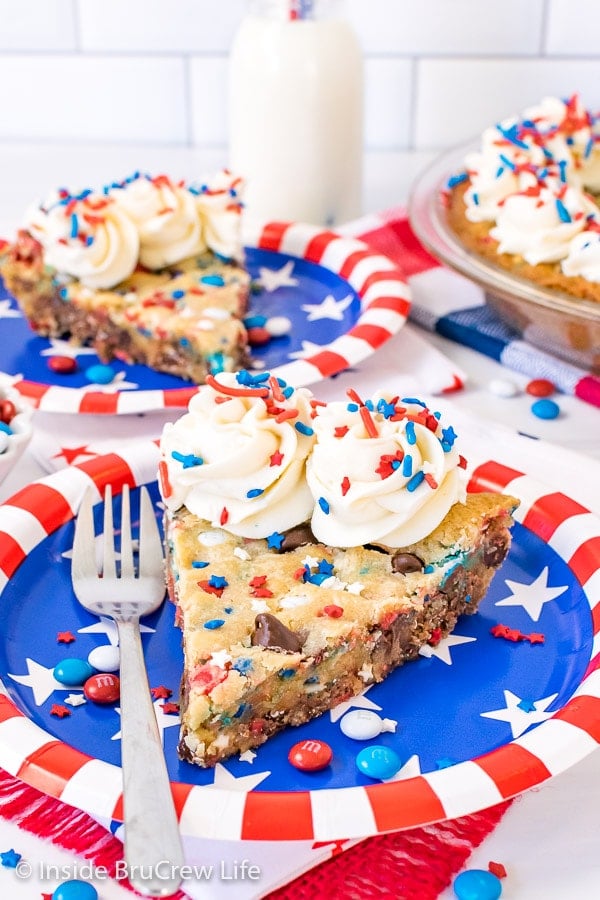 Other Fourth of July recipes you may like: