Add a drizzle of this Strawberry Poppy Seed Salad Dressing to your summer salads. The homemade salad dressing made with fresh strawberries will have your taste buds singing.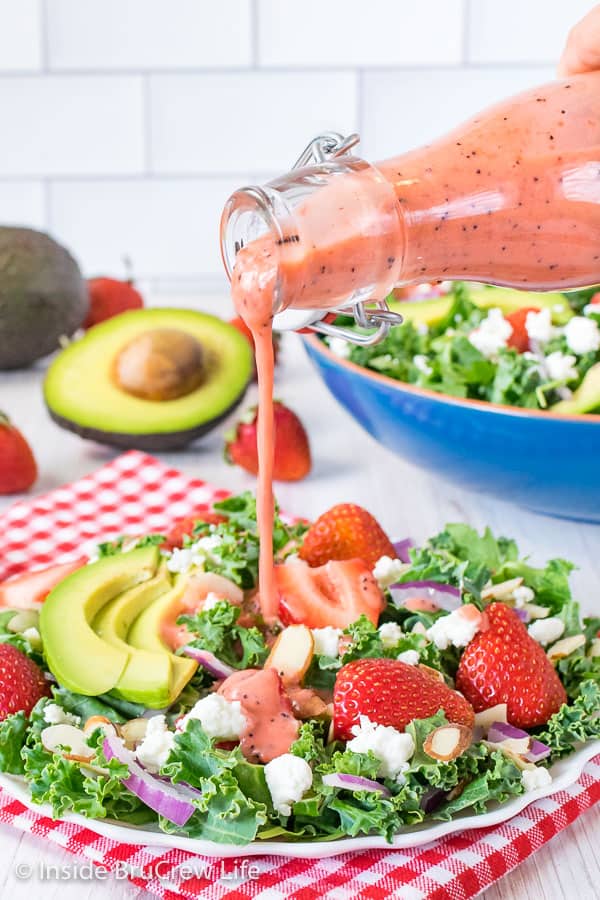 So, at the moment I am totally obsessed with making and eating salad for dinner. Usually I get bored and tired of salads after the second day.
But I have found the key to enjoying and even craving salad is to change it up. Last week we had this Blueberry Apple Spinach Salad for a few days, and then I moved onto strawberries and kale.
Of course, that meant I got the opportunity to create a new salad dressing to go with it too.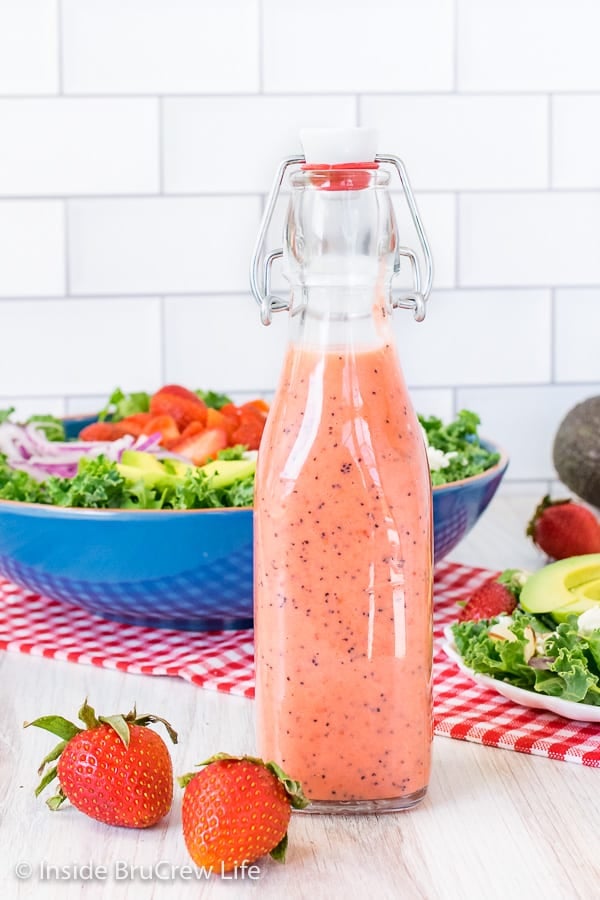 Now that I'm on a roll making all these homemade salad dressings, I may never need to buy another bottle again. Ok, ok. That's probably a straight up lie.
There will come a point when I will be bored with making my own or I will just get plain lazy and totally buy more.
But until then, I'm having fun making different varieties because it is so stinking easy!!! Seriously. It takes about 5 minutes to have a fresh new dressing to go with your summer salads.
One of my favorite salads at Panera is their strawberry poppy seed salad. This salad and poppy seed dressing is similar, but not really because I did not add all the other fruit this time.
Usually when we have extra strawberries, I make this Strawberry Orange Spinach Salad for dinner. But like I said, salads get boring, so I had to change it up a little this time.
How to make Strawberry Poppy Seed Salad Dressing:
Cut the tops of fresh strawberries and cut them into slices.
Add the strawberries, vinegar, lemon juice, honey, salt, and pepper to a food processor or blender.
Pulse until mixed and blended.
Add the oil and pulse until light and creamy.
Stir in the poppy seeds and serve with your favorite salad.
I love how light and refreshing this dressing is. It is just a little bit sweet, but not in an overpowering way. Simple, easy, and perfect with this Strawberry Avocado Kale Salad.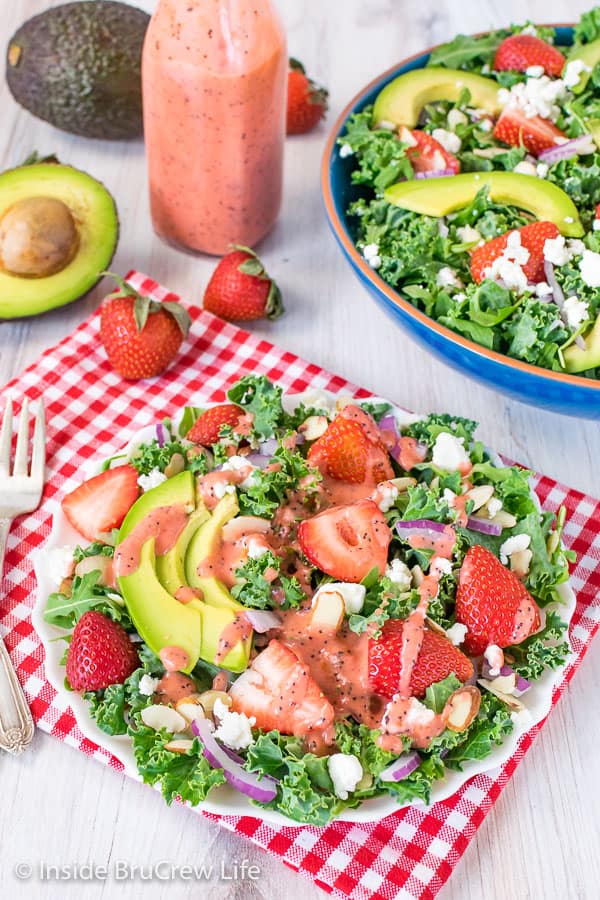 How long will this strawberry poppy seed dressing last?
It is best if used within 2-3 days, but it will keep for about a week in the refrigerator. The oil and vinegar may separate a little the longer it sits, so make sure you shake it really well before serving.
If it thickens up too much in the fridge, you can also add a little bit of water or milk to thin it out. Make sure to shake it up really well.
More homemade salad dressings:
Other strawberry recipes you may like: