This Strawberry Chocolate Cheesecake has layers of chocolate and vanilla cheesecake topped with a sweet strawberry pie filling. Make this gorgeous dessert as the perfect ending to any summer dinner party.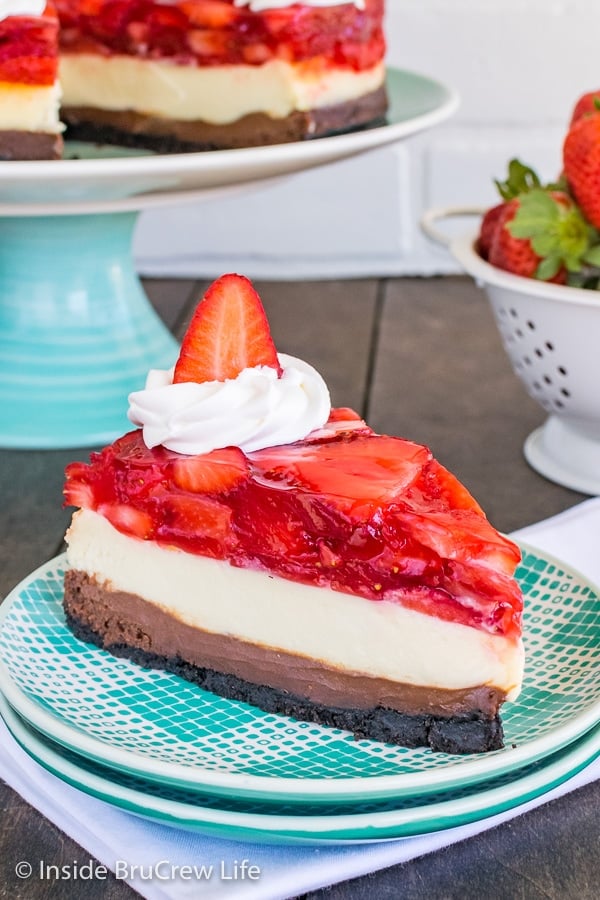 Years and years ago, my husband and I started baking cheesecakes together. We love the challenge of coming up with fun flavor combos. Some of our favorites are this Apple Crisp Cheesecake and this Banana Pudding Cheesecake.
But I have to say that this Strawberry Chocolate Cheesecake was the best cheesecake that we ever came up with. It combined my love for chocolate cheesecake and my hubby's love for strawberry pie. It is seriously the best of both worlds.
And I'm just now realizing that we have a thing for pie and cheesecake mashups. LOL!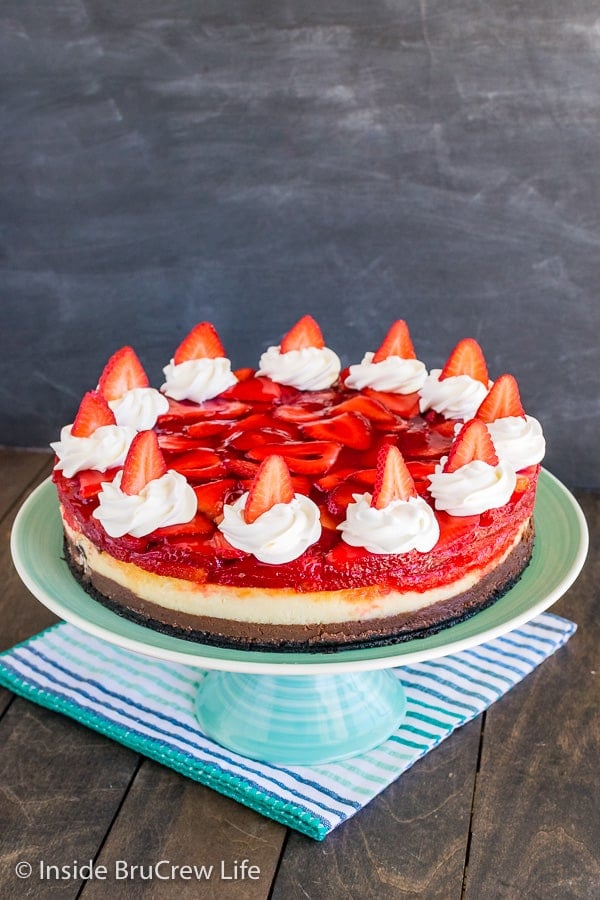 I'm not going to lie. This layered cheesecake is a labor of love. There are quite a few steps involved. But after you take one bite you will agree with me that all the work is totally worth it!!!
If you want to make this for dessert or a get together, make sure you allow yourself enough time for all the steps and chilling.
This strawberry cheesecake will take you two days to fully finish. The full cheesecake layer needs to be made and completely chilled before you can add the strawberry pie layer. Then it needs to chill again before you can cut it into slices.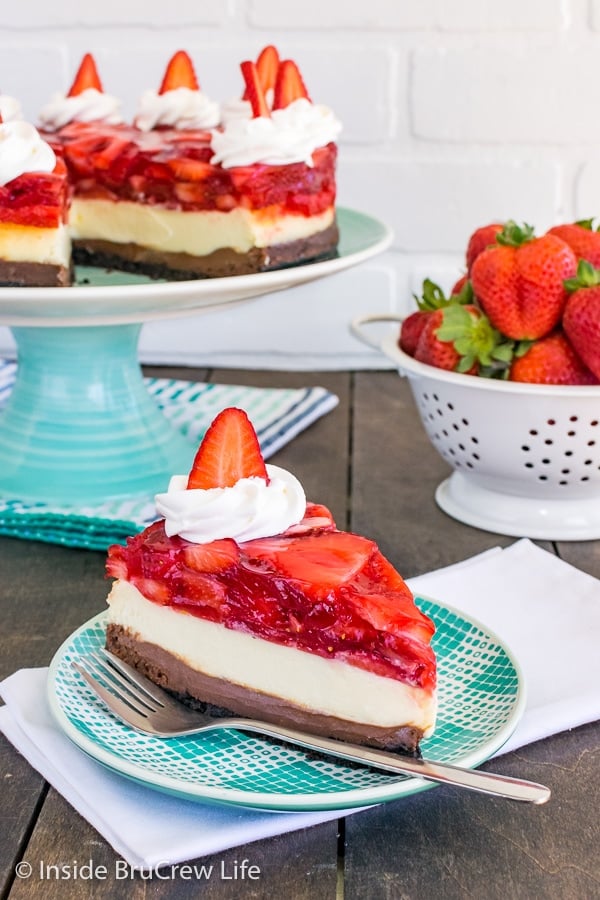 How to make a Strawberry Chocolate Cheesecake:
Crust:
Stir together the cookie crumbs and butter.
Press into a 10-inch springform pan lined with parchment paper and set aside. (full recipe at bottom of post)
Chocolate Cheesecake:
Melt chocolate chips in a saucepan over low heat.
Add cream cheese to the melted chocolate and stir until creamy.
Stir in the cream and vanilla. Add eggs and whisk until creamy.
Pour onto prepared cookie crust.
Vanilla Cheesecake:
Beat cream cheese and sugar until creamy. Add sour cream and vanilla and beat again.
Beat in eggs one at a time until smooth.
Spoon vanilla cheesecake on top of chocolate cheesecake batter; spread out evenly and bake.
Remove and cool on wire rack for an hour, then refrigerate 8 hours or overnight.
Strawberry Pie:
Whisk water, sugar, and cornstarch in a saucepan over medium heat. Bring to a boil.
Reduce heat and whisk in dry Jell-O powder. Set aside to cool for at least 30 minutes.
Layer sliced strawberries on top of chilled cheesecake.
Pour cooled Jell-O slowly over the berries.
Chill for a few hours before removing the sides of the pan and slicing.
Serve slices of this cheesecake with homemade whipped cream and fresh strawberries.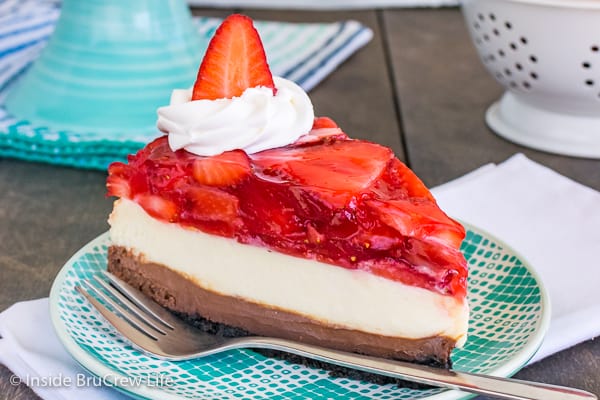 Tips to remember:
Leave the cream filling in the cookies when you crush them into crumbs. The extra filling helps bind the crust together without using more butter. Using a food processor will crush the cookies and cream filling best.
SPOON the vanilla cheesecake gently onto the chocolate cheesecake. If you pour it, you could end up with swirls in your cheesecake layers.
Do not loosen the pan from the cheesecake when it comes out of the oven. You want the cheesecake to stay tight to the pan, so the strawberry layer does not leak down the sides.
Let the strawberry Jell-O mixture cool before adding it to the chilled cheesecake. You can stir the berries into the Jell-O before placing it onto the cheesecake, if you like.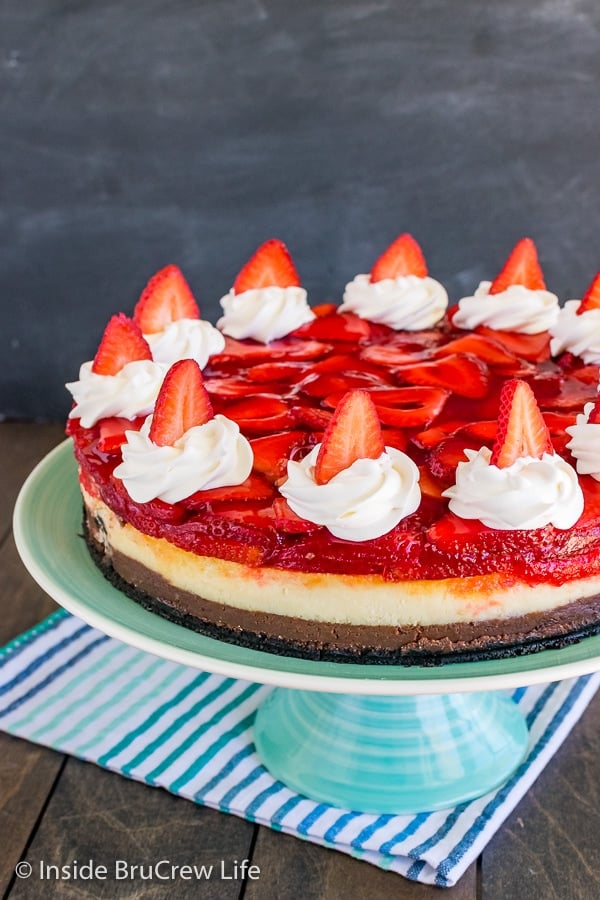 Other full-sized cheesecake recipes that you may like: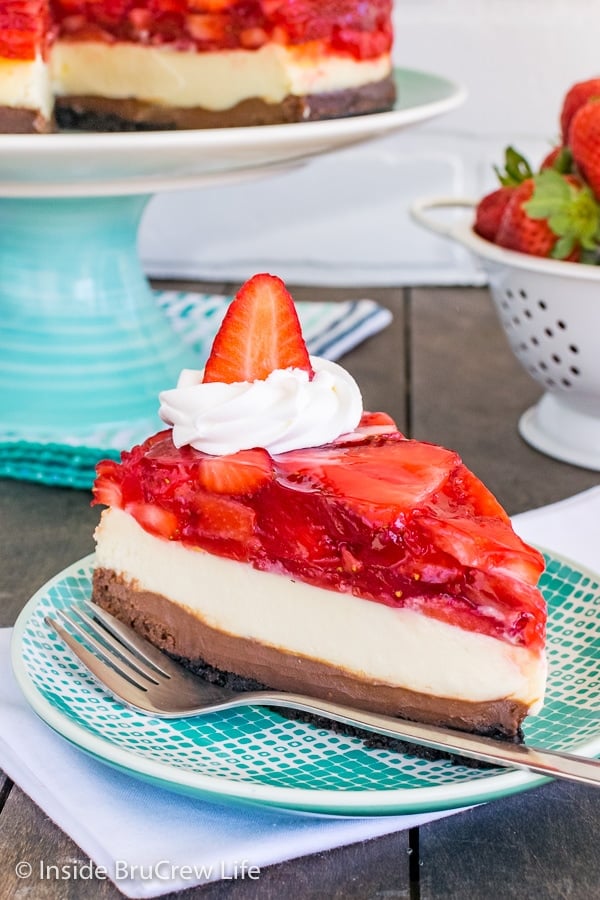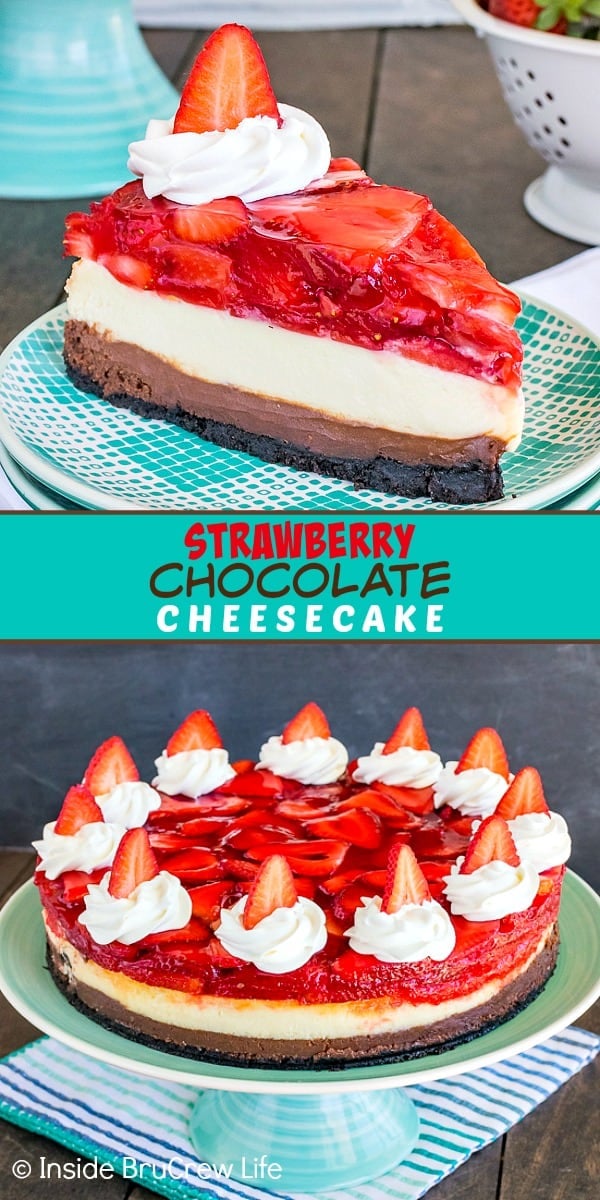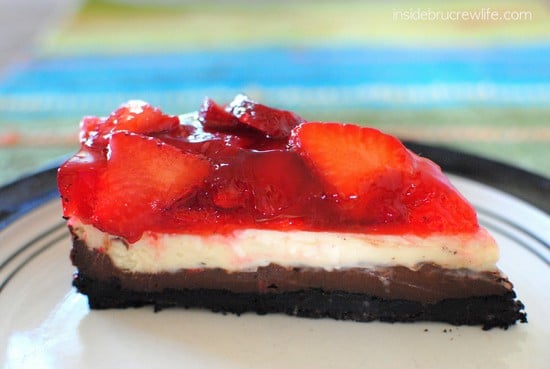 (original photo from June 2010)
*The post for Strawberry Chocolate Cheesecake was first published June 29, 2010. The photos and post were updated and republished June 29, 2020.