This amazing Funfetti Cheesecake is loaded with bright colored sprinkles and topped with a hot pink white chocolate glaze. Such a fun and festive dessert to make for any celebration.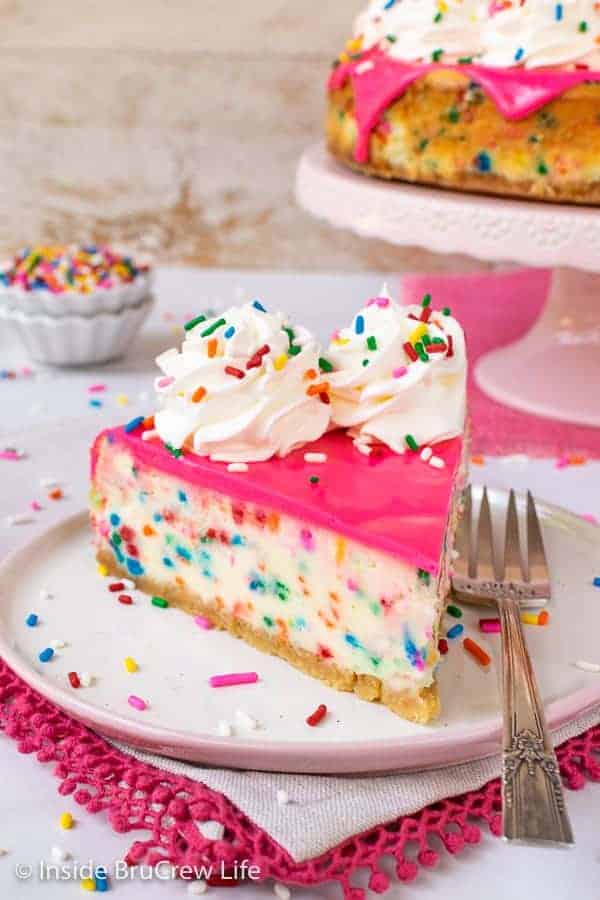 A few weeks ago I was cleaning and rearranging some things in our pantry when I realized that I have 3 bins full of sprinkles. And these are not tiny little bins. So my question is how many sprinkles are too many? Because apparently I have quite a few.
I guess that means I should start using more sprinkles in my baking. A lot more sprinkles. And maybe I should just stop buying sprinkles until I use up what I have.
Of course, since I had sprinkles on my mind, I had to make something right away. Since I have been wanting to make a cake batter cheesecake loaded with lots of rainbow colored sprinkles, this was the perfect time to do it.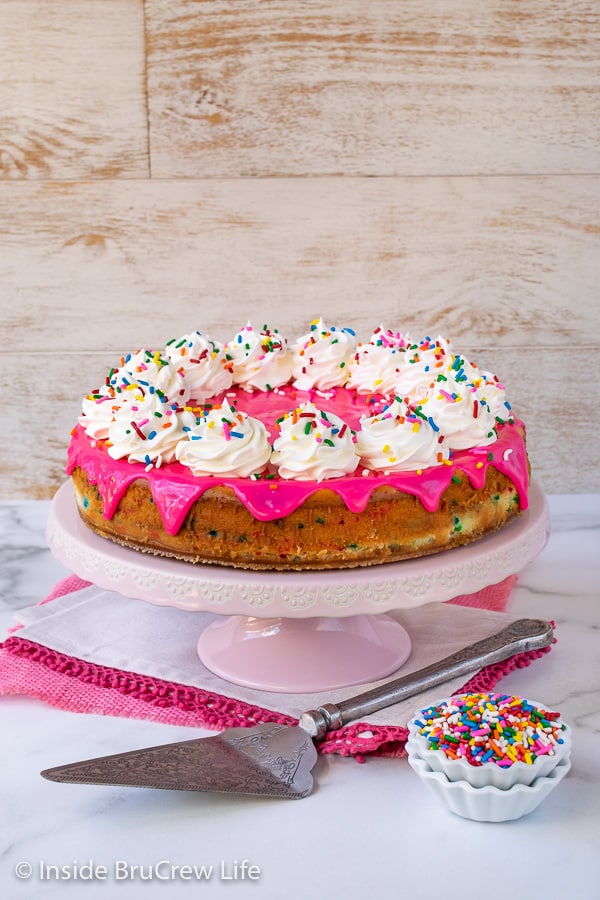 Cheesecake is one of our all time favorite desserts. Fun fact. Years ago my husband was actually the one that started baking cheesecakes for us to take to family dinners or church events.
Eventually I got hooked on baking them with him, and then I kind of took over the cheesecake baking because he had work and other things to do. I've always done most of the baking, so it was pretty natural for me to do cheesecakes too.
What I learned over the years is that cheesecake is not really hard to make if you know the basics. If you have a good base cheesecake, you can make all kinds of changes to the crust, the flavors, and mix ins to create an entirely new cheesecake.
We started with the Vanilla Bean Cheesecake and slowly started creating new ones based off it. In fact, I used that same recipe to create this full-sized Funfetti Cheesecake. All I had to do was change out the extracts, add lots of colorful sprinkles, and top it with a fun chocolate glaze. Hello rainbow dessert!
If you want an easier cheesecake, you may like these Rainbow Vanilla Cheesecake Bars or these No Bake Rainbow Unicorn Cheesecake Bars.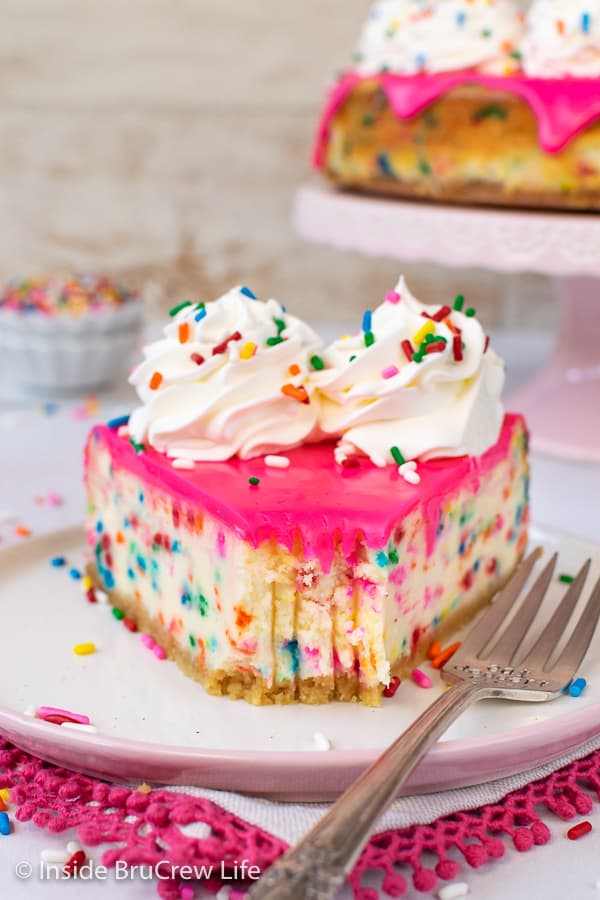 Funfetti cake is a white cake that has sprinkles baked into it, so I wanted this cheesecake to look just like that.
How to make a Funfetti Cheesecake:
Crush the cookies and stir in melted butter until combined. Press in the bottom of a 10 inch springform pan.
Beat the cream cheese and sugar until light and creamy.
Pour in the heavy cream and extracts and beat again.
Add the eggs one at a time beating after each one.
Stir in the sprinkles gently and pour the batter onto the crust.
Bake 80 minutes and remove from the oven.
Cool 5 minutes, then run a knife around the outside edge to loosen it from the pan.
Cool on the counter 1 hour, then refrigerate 5-6 hours or overnight.
Add your toppings and more sprinkles before serving.
Tips for making Cheesecake:
Line your springform pan with parchment, so you can remove the cheesecake easier later.
Set your cream cheese out ahead of time. It's easier to beat the cream cheese if it is soft.
Do not over beat your cheesecake batter once you add the extra liquids. This will add air bubbles to the mixture that will create cracks when the cheesecake bakes.
Use a steam bath when baking a cheesecake. It creates the same effect as a water bath with less work and no chance of water leaking in your pan.
Run a knife around the edge of the cheesecake about 5 minutes after it comes out of the oven. This will loosen the cheesecake from the pan, so it can cool properly. Cheesecake shrinks as it cools, so if it is attached to the pan it will create cracks in the center.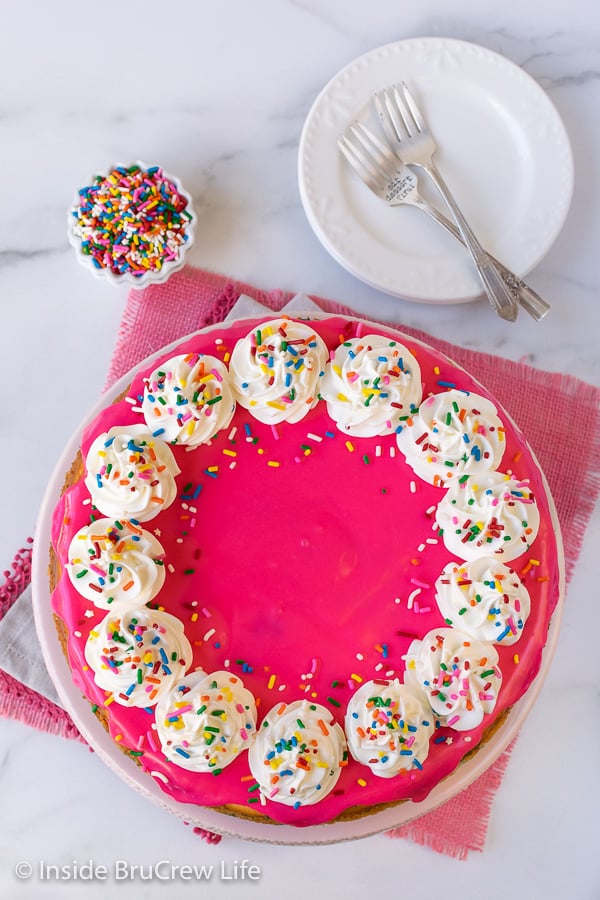 Why does cheesecake crack?
Only mix your batter as much as it takes to make your ingredients smooth. Over mixing incorporates too much air in the batter which causes the cheesecake to rise and fall as it bakes resulting in cracks.
Run a knife around the edge of the cheesecake when it comes out of the oven. As cheesecakes cool, they shrink. If it is attached to the pan it will pull and create cracks in the center.
Use a steam bath. Place a sheet pan on the very bottom oven rack and fill it with water. As the oven heats, it will heat the water creating a steamy environment. Bake your cheesecake on the oven rack directly above the steaming water.
Do not over bake cheesecake. Take it out of the oven when it is still slightly jiggly in the center. Cracks happen when cheesecake is dry.
Cooling a cheesecake too quickly can cause cracks. Make sure your cheesecake cools somewhere where there is no cool draft. An air-conditioned room during the summer will cause a cheesecake to cool too quickly. Consider raising the temperature in your kitchen before baking.
How to fix a cracked cheesecake:
Chill the cheesecake completely. Press the cracks together as much as possible with clean hands. Place an offset spatula in hot water. Run the spatula over the cheesecake. Wipe the spatula clean and repeat until the crack is gone.
Covering the top with chocolate, Cool Whip, or pie filling will hide the cracks and no one will ever know they were there.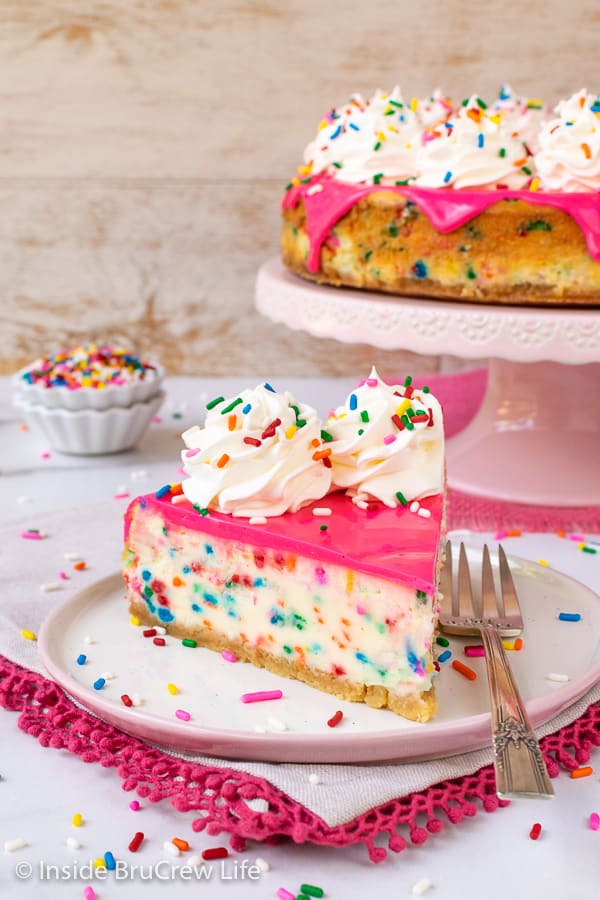 More cheesecake recipes you may like: