This Banana Pudding Cheesecake combines the best banana cheesecake recipe with a classic banana pudding. Layer it with fresh bananas and whipped topping and you get an amazing banana dessert!
If you are a fan of banana and cheesecake, you need to try this mini chocolate banana cheesecake too.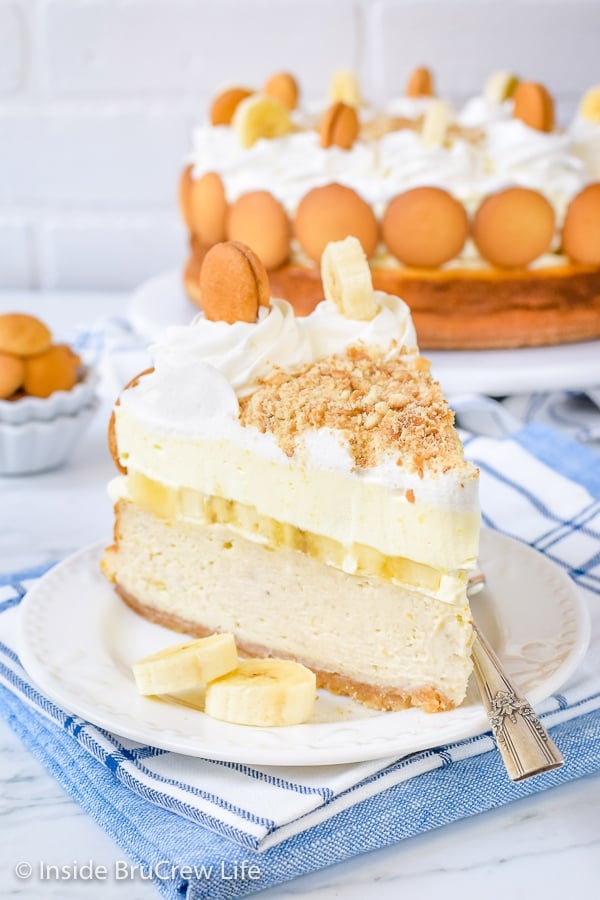 Why This Works
Cheesecake is one of our favorite things to make for dessert. Over the years we have come up with so many recipes for cheesecake bars, full sized cheesecake, mini cheesecakes, and no bake cheesecakes.
This banana cheesecake recipe is a combination of two of our favorite classic desserts...banana pudding and banana cheesecake. A few years ago we made this Banana Split Cheesecake, and it is still one of our our all time favorites because it is made with real bananas.
I decided to make that same banana cheesecake, but this time I added a simple banana pudding layer on top. The combination of thick creamy cheesecake with light fluffy pudding turned out so good. It may be our new favorite cheesecake.
Packed with banana pudding flavor, this twist on banana cheesecake will be a new favorite with your family too.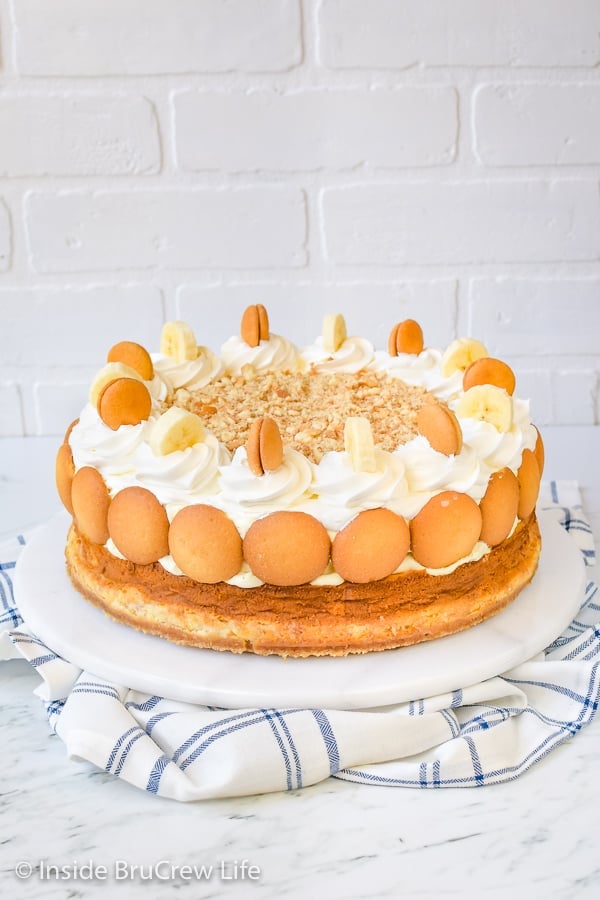 Ingredients Needed
Real bananas, banana pudding, and a vanilla wafer crust add a delicious twist to a classic banana cheesecake.
For the Vanilla Wafer Crust
Nilla Wafers - Buy a big box of cookies, so you have enough for the crust and the decorations.
Sugar - Sweetens the crust and also helps it bake firm.
Butter - Unsalted, melted, and mixed with wafer crumbs.
For the Banana Cheesecake
Cream Cheese - Make sure to set the 4 blocks out ahead of time.
Sugar - Sweetens the cheesecake.
Vanilla Extract - Adds flavor.
Bananas - 3-4 ripe bananas mashed up.
Flour - Adding flour helps to stabilize the filling, so it doesn't crack.
Eggs - Binds everything together and helps the cheesecake bake.
For the Banana Pudding
Vanilla Pudding Mix - One small box of instant pudding.
Milk - 2% or whole will give you the best pudding texture.
Cool Whip - Gives the pudding a light and fluffy texture. You can also use heavy cream to make this homemade whipped cream, if you prefer. You will need 6 cups.
Bananas - 3 sliced ripe bananas for inside and on top.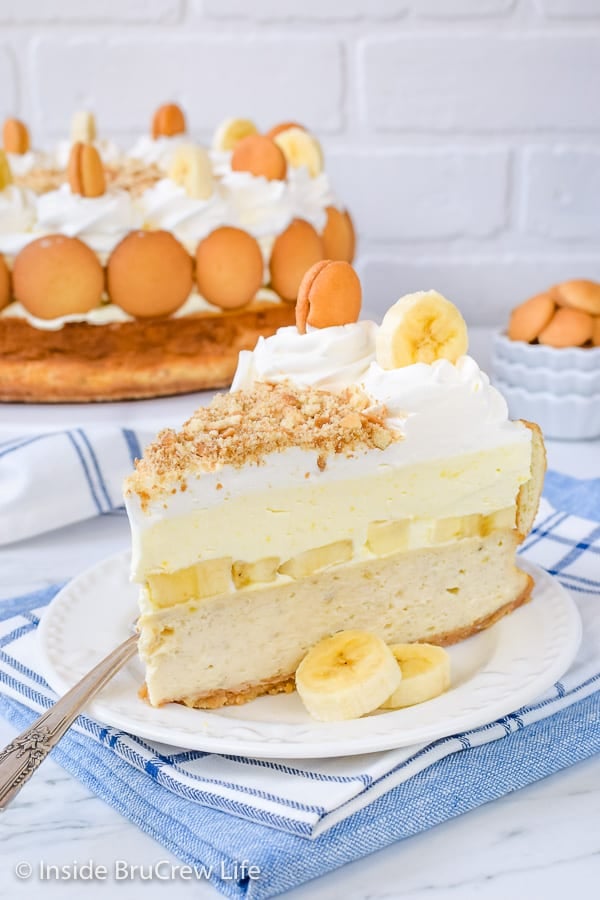 How to Make Banana Pudding Cheesecake
This banana pudding cheesecake recipe has a few steps, but it is really quite simple to make. I added banana pudding and fresh bananas to the top of the fresh banana cheesecake. If you are opposed to box mixes, check out this banana pudding from scratch.
Step One: Make the Vanilla Wafer Crust
Mix together the crushed vanilla wafers, sugar, and melted butter.
Press firmly and evenly in the bottom of a 10-inch springform pan.
BruCrew Tip: Make this graham cracker crust recipe, if you prefer that flavor instead.
Step Two: Make the Cheesecake Filling
Beat the cream cheese and sugar in a medium bowl until light and creamy.
Add the vanilla, mashed banana, and flour and mix again.
Add the eggs and gently mix until everything is combined.
Pour onto the vanilla wafer crust and bake.
Once it is done baking, remove and cool 5 minutes. Loosen edges from pan.
Cool on wire rack to room temperature, then refrigerate until chilled through.
Step Three: Make Banana Pudding
Whisk together the pudding mix and milk.
Refrigerate 5-10 minutes.
Fold in Cool Whip gently.
Step Four: Assemble the Cheesecake
Arrange sliced bananas on top of the cooled cheesecake.
Place Nilla Wafers around the very outside edge of the pan standing up on the cheesecake.
Spread the banana pudding evenly over the bananas.
Top with another layer of Cool Whip and refrigerate.
Right before serving, add Cool Whip swirls, mini Nilla wafers, banana slices, and wafer cookie crumbs.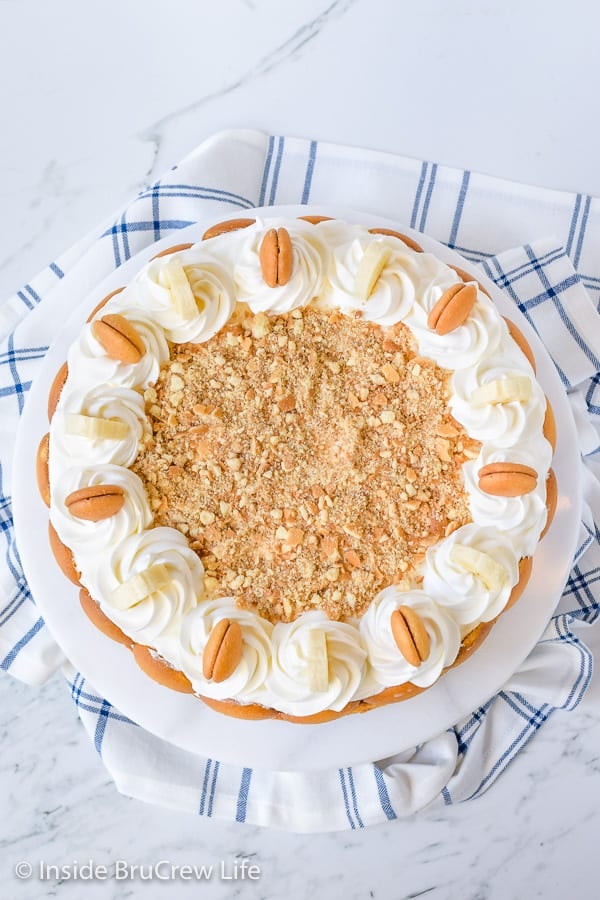 Tips & Tricks
Make sure you set out your cream cheese ahead of time. It is so much easier to cream the ingredients if they are softer. Although, if you do forget, you can remove the foil wrappers and microwave each block for about 15-20 seconds.
Preheat your oven and place a large sheet pan on the very bottom rack of the oven. Fill it at least halfway with water for a steam bath. This is quite a controversial topic, but I have found that the steam bath method works to work great. Plus, it's so much easier than a water bath, and you don't have to worry about water seeping in and ruining a perfectly good cheesecake.
Use parchment paper in the bottom of the springform pan if you want to remove the cheesecake completely from the pan later. This is an optional step though. If you do not mind serving your cheesecake from the bottom of the pan, you can skip this step.
Make sure you add the eggs one a time while mixing the batter. Do NOT over beat the cheesecake batter once your eggs are incorporated. This can add extra air bubbles which could cause cracks when the cheesecake bakes.
When you bake the cheesecake, place the pan on the oven rack directly above the steaming pan of hot water.
As soon as your timer goes off, remove the cheesecake from the oven. There is no need to keep it in the hot oven. A cheesecake kept in a hot oven keeps cooking, which in turn could mean cracks or an over dry cheesecake.
TIP: The only time you will leave the cheesecake in the oven after the timer is if you are running your air conditioning and it is below 75° in your house. Crack the oven door and let it sit for 5 minutes.
Let the banana cheesecake chill for about 5 minutes, then run a knife around the outside edge of the cheesecake to loosen it from the pan. Again, this is to keep the cheesecake from cracking as it cools and pulls away from the pan.
Recipe FAQS
Can you make banana cheesecake ahead of time?
Cheesecake is the perfect dessert to make ahead of time because it needs time to chill.
Can you make these into banana pudding cheesecake bars?
Yes, you can. Press the crust into the bottom of a 9x13 pan. Pour the cheesecake filling on top and bake for 40-50 minutes.
How do you know when cheesecake is done?
Gently shake the pan of baked cheesecake to see if the center jiggles. Cheesecake is done when the outside is set and the center jiggles. It should wiggle as a whole, like a pan of Jello.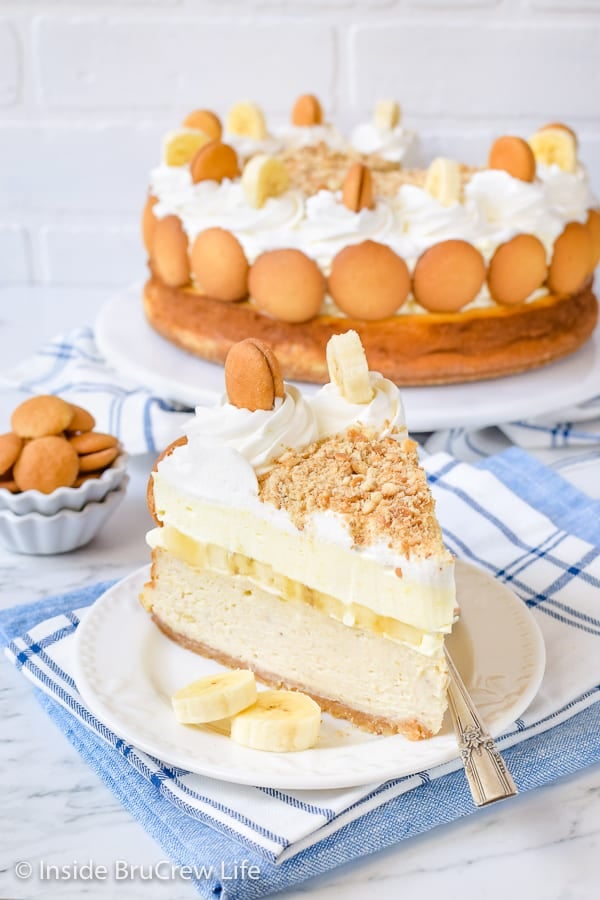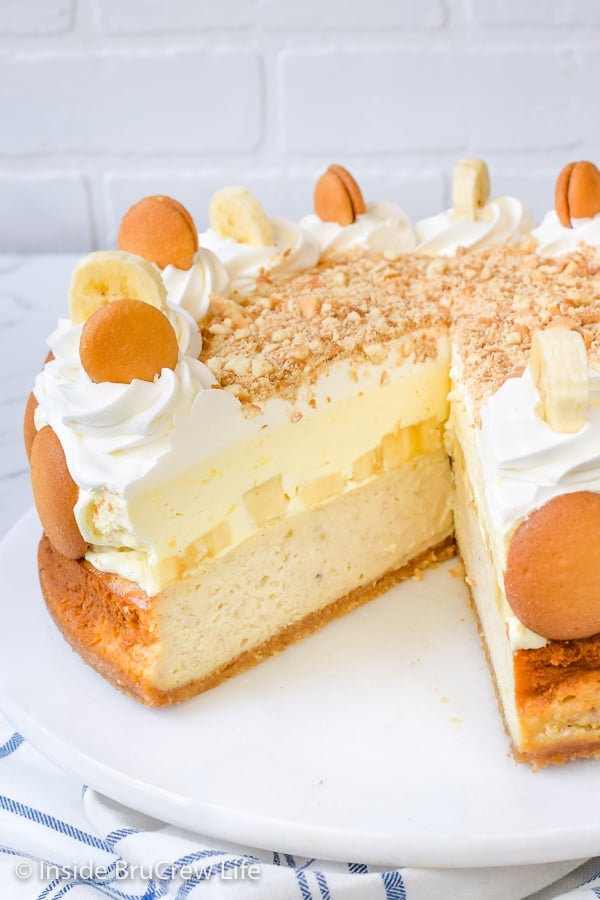 Do you love a recipe you tried from Inside BruCrew Life?
Please leave a 5-star ⭐️ rating and a review in the comments section below.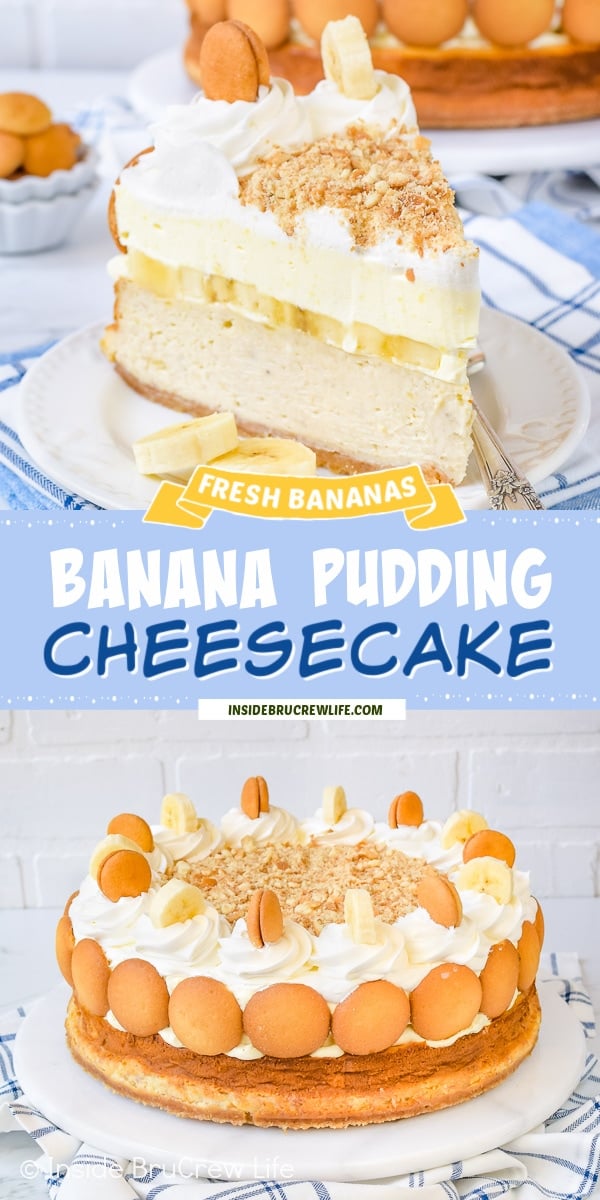 *The post for Banana Pudding Cheesecake was first published May 2019. The post was updated and republished July 2021.