Make this Almond Cherry Chip Cheesecake for dessert and watch everyone swoon. The creamy almond flavored cheesecake loaded with cherries and chocolate makes the a delicious holiday dessert.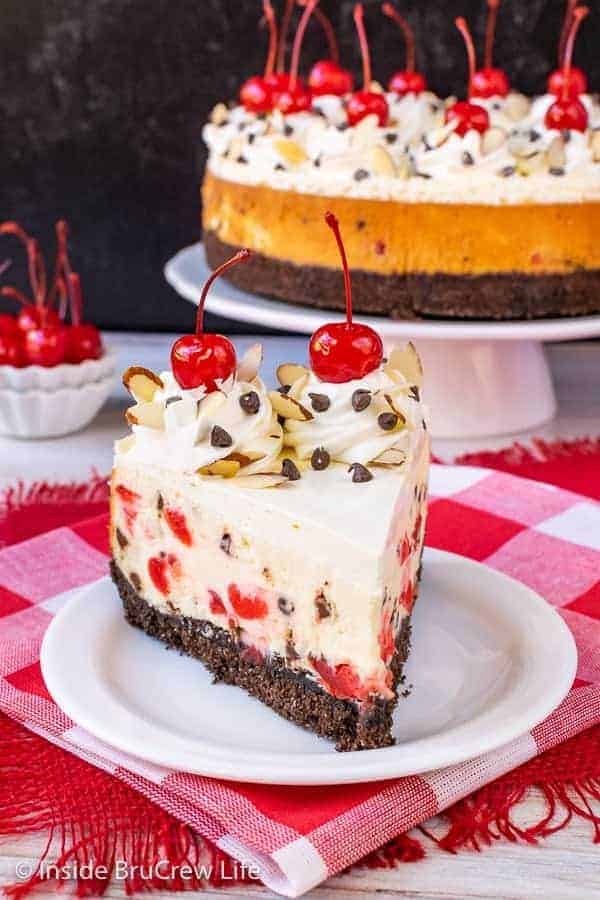 CLICK HERE TO PIN THIS RECIPE FOR LATER!
Slowly, but surely, I am making every cheesecake idea that I wrote down when I was planning and creating recipes for my cookbook, Cheesecake Love. I only had room to add so many recipes to that book.
So, now I have lists and lists that I want to make and share with you guys. But one can only test and eat so much cheesecake, so I have been trying to space these recipes out by only making one full sized cheesecake each month.
The ladies in my Bible study do not mind when I show up with my latest Peanut Butter Cup Cheesecake creations. In fact, this one got rave reviews when I shared it with them last month.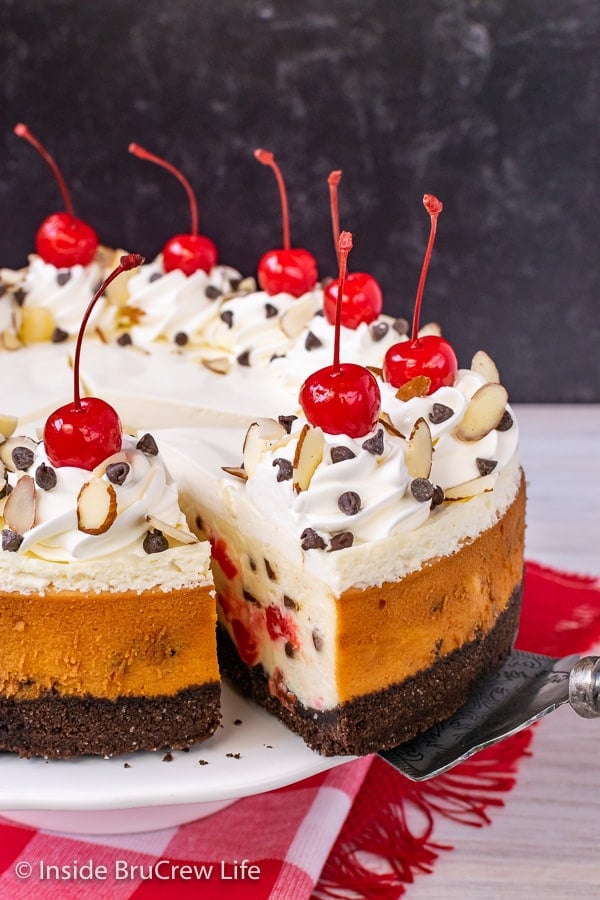 To give this cheesecake a little extra chocolate goodness, I made a thick chocolate graham cracker crust. You could also do an Oreo crust like in this Peanut Butter Cup Cheesecake, if you prefer that instead.
You could also use regular graham crackers or Golden Oreos if you don't like chocolate. Gasp! Just remember to use less butter in the crust if you use cookies with a cream filling.
With Valentine's day right around the corner, I decided to give this Orange Cream Cheesecake a fun twist.

The bright color pop from the maraschino cherries makes this the prettiest holiday cheesecake. It would be great for Valentine's Day, Easter, Fourth of July, Memorial Day, Labor Day, and Christmas.
How to make an Almond Cherry Chip Cheesecake:
Mix together the graham cracker crumbs, sugar, and butter until combined. Press evenly into the bottom of a 9-inch springform pan.
Beat the cream cheese and sugar and creamy. Add sour cream, extracts, heavy cream, and flour and mix again.
Add the eggs one at a time until combined.
Drain and pat the cherries dry. Dice and pat dry again. Sprinkle with flour.
Stir the cherries and chocolate chips into the batter gently, then pour onto the crust.
Bake for one hour. Remove and add topping, then bake an additional 5 minutes. (scroll to bottom for full recipe)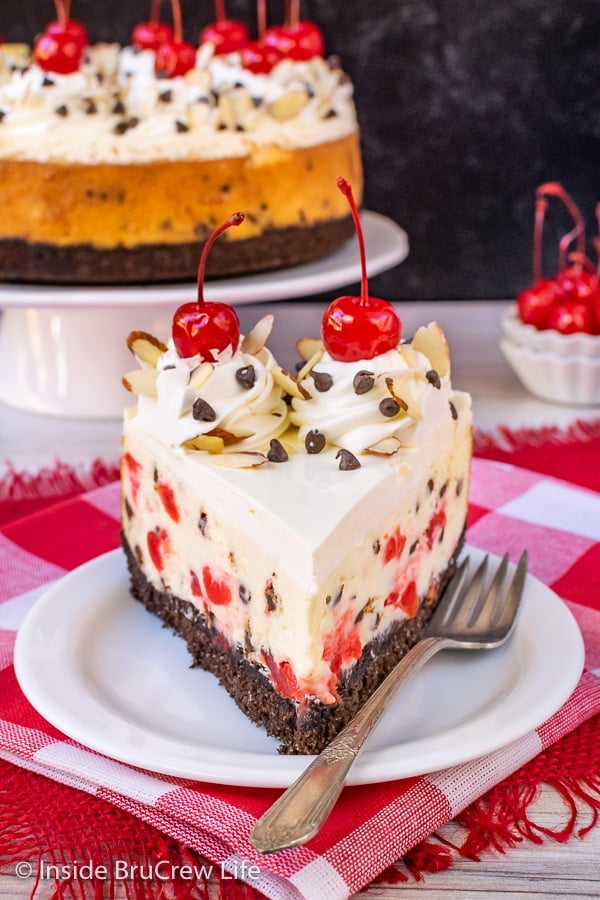 Adding different toppings to the top of a cheesecake is a fun way to make it look like it came from a bakery.
Topping Ideas for Cheesecakes:
Cool Whip
Homemade Whipped Cream
Nuts
Cherries with Stems
Chocolate Chips or Curls
Candy
Using a piping bag and icing tip 1M will give the whipped cream that professional look. Then have fun adding your favorite toppings to the top of each swirl.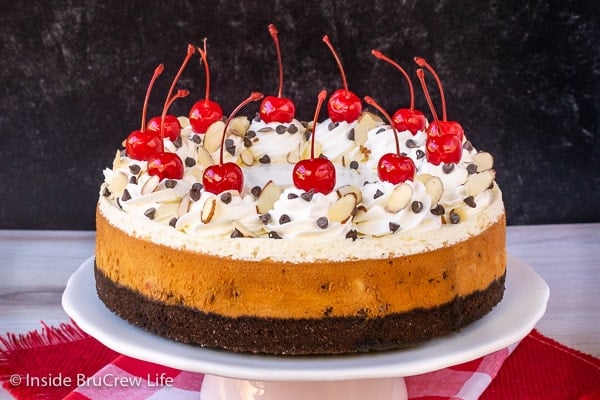 More full-sized cheesecake recipes:
Easy cheesecake bars: