These White Chocolate Caramel Granola Bars are an easy way to start out the day with homemade goodness.  They are perfect for breakfast or snacking on any time of day.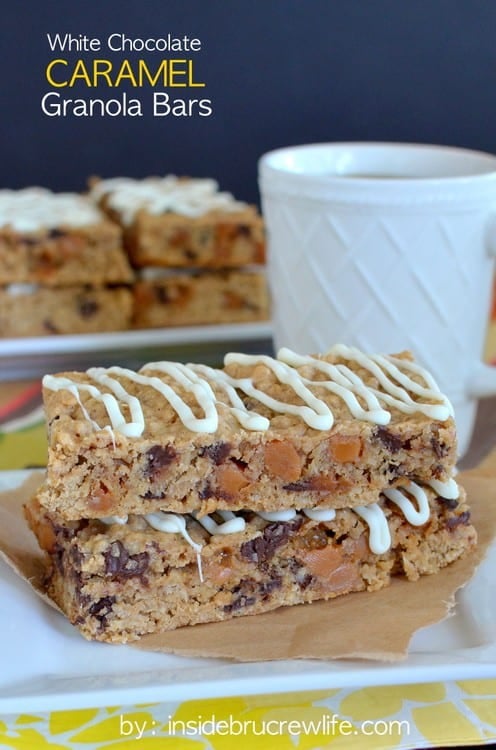 Right now I am sitting inside all toasty warm with my space heater.  Outside the weather is frightful.  We are under a winter storm warning with a severe wind chill warning.  Everything has shut down around here for the day and possibly for the day tomorrow.
Our kids are excited that another day has possibly been added to their winter break…little do they realize that just means another day somewhere else 😉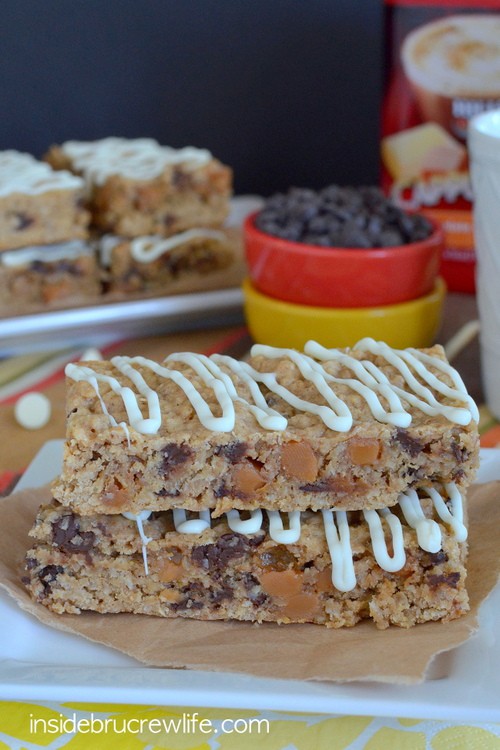 We spent the past week visiting friends and family in Pennsylvania.  Then we started to get texts and messages about the impending snowmaggedon that was headed to our area.  It was in our best interest to get home before that mess started.   10 hours later we pulled in to see nothing.   But the radar was showing a big blue blob headed our way, so I headed to the grocery store to pick up some necessities like bread, milk, eggs, dinner stuff…chocolate chips, caramel, and cherries.  The family needs to eat, and I need to be able to stick to my goal of lots of baking 🙂
Everyone in our area must be scared to death of being snowed in for weeks.  The grocery store was barren!!!  Even the produce section was severely picked over.
Really?  Everyone stocked up on broccoli and salad for snacking on while snowed in?  I guess it is still pretty early in the year…good for everyone for sticking to those healthy eating goals in the event of snow doom!
I had to search a little, but I was able to find all the items on my shopping list.  I didn't stock up with a month's supply of food…in fact if we get snowed in for longer than 3 days my kids will be eating rice for all their meals.  My husband keeps forgetting he bought rice the last time he did grocery shopping…I think there are 4 boxes in the cupboard now.  I better start thinking creatively on how to use some of that in our meals.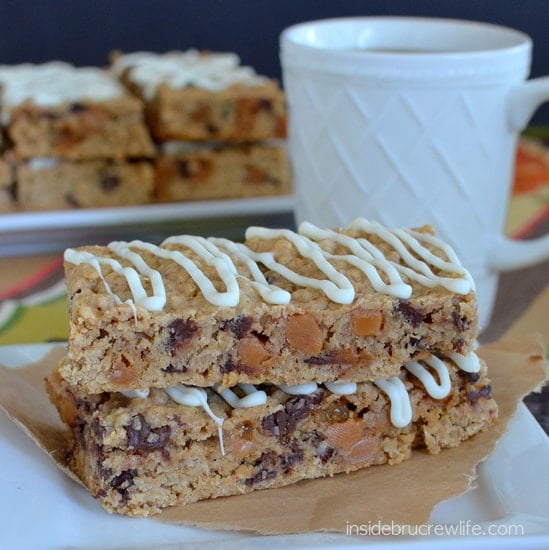 As the snow comes down, I am headed to the kitchen to bake a few things today.  Baking = help keeping the house warm while we are under these severe weather conditions.  One thing on my list is another batch of homemade granola bars.  These bars are so easy to put together and so easy to adjust to your taste.  I love going through my cupboards and coming up with fun new flavors using the same base.
These bars are full of coffee and caramel flavor.  I used some white chocolate cappuccino mix, some coffee extract, and caramel baking bits.  Feel free to use hot chocolate mix and vanilla extract if you do not like coffee in your treats.  Everyone in our family loves coffee though, so you can imagine how quickly these bars disappeared.  My kids love to eat them for breakfast and snacks.
Bring it on winter!  We are ready to see what you can do…as long as I can stay inside.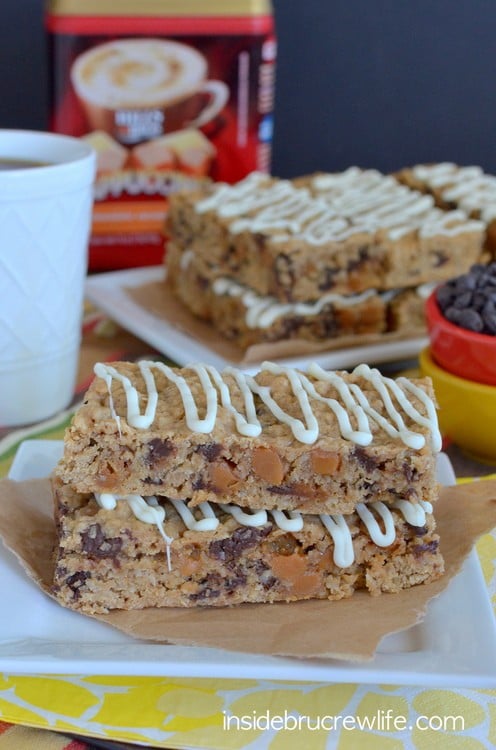 Stay up to date on all the BruCrew baking here:
FACEBOOK | PINTEREST | GOOGLE+ | TWITTER | INSTAGRAM | BLOGLOVIN
Easy homemade granola bars made with caramel bits and cappuccino drink mix. These are perfect for snacking on any time of day.
Ingredients
3/4 cup butter, softened
3/4 cup brown sugar
2 eggs
2 teaspoons coffee extract
1/2 teaspoon salt
2 1/2 cups quick oats
1 1/2 cups flour
3/4 cup white chocolate cappuccino mix
1 cup caramel bits
1/2 cup mini chocolate chips
1/4 cup white chocolate chips
1/2 teaspoon shortening
Instructions
In a large mixing bowl, beat the butter and sugar until creamy. Add the eggs, extract, and salt and beat again. Pour in the oats, flour, and cappuccino mix slowly until thoroughly mixed. Stir in the caramel bits and mini chocolate chips by hand.
Press the mixture into a 9x13 baking dish that has been sprayed with non stick spray. Bake at 350 degrees for 20-22 minutes. Let cool completely.
Cut into 12 bars. Place the white chips and shortening in a microwave safe bowl. Heat for 30 seconds. Stir until melted and creamy. Heat for 15 seconds more if needed. Spoon into a plastic baggie and cut one tip off. Drizzle over the bars. Let set. Store in a sealed container.
Notes
*Use vanilla extract if you cannot find the coffee extract or if you don't like coffee flavored treats. *You can also use hot chocolate drink mix in place of the cappuccino mix if you like.
https://insidebrucrewlife.com/white-chocolate-caramel-granola-bars/
Copyright Inside BruCrew Life
More caramel recipes that we enjoy: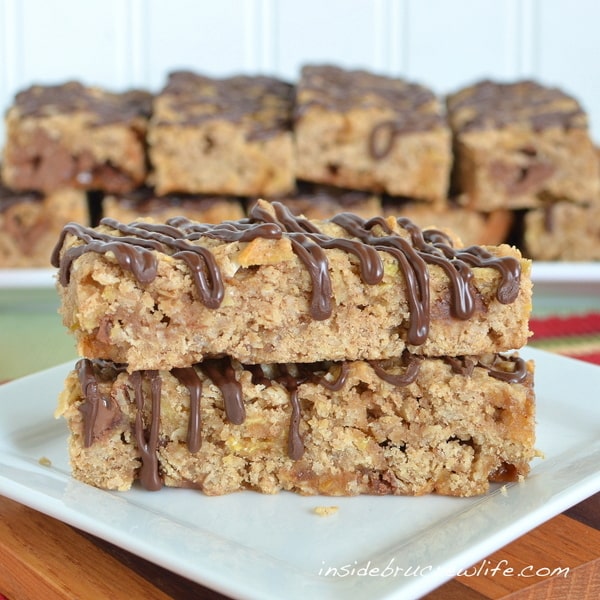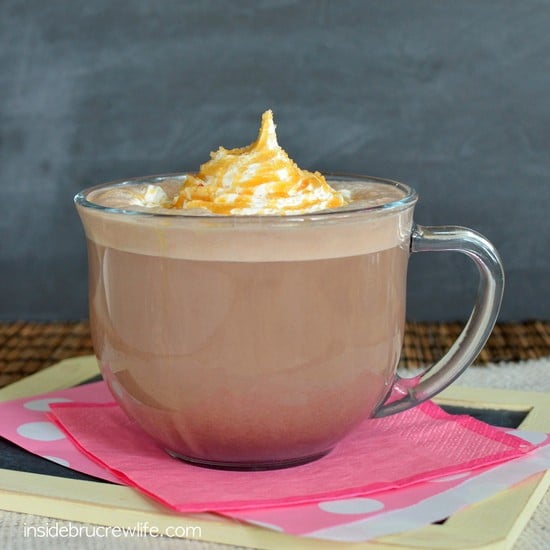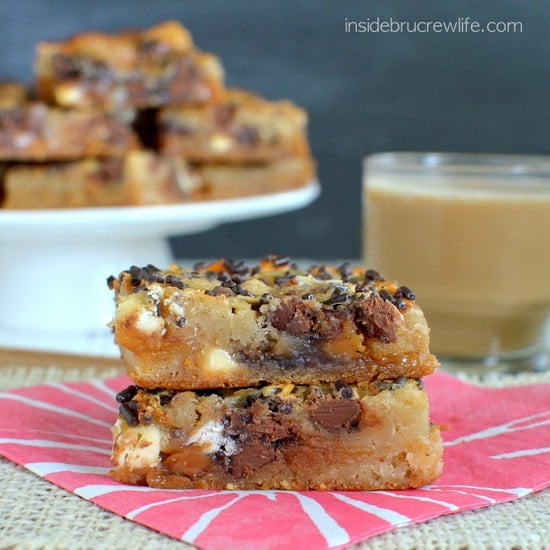 Caramel Macchiato Gooey Cake Bars