Adding a white chocolate glaze and chocolate drizzles makes these homemade Zebra Brownies a fun treat.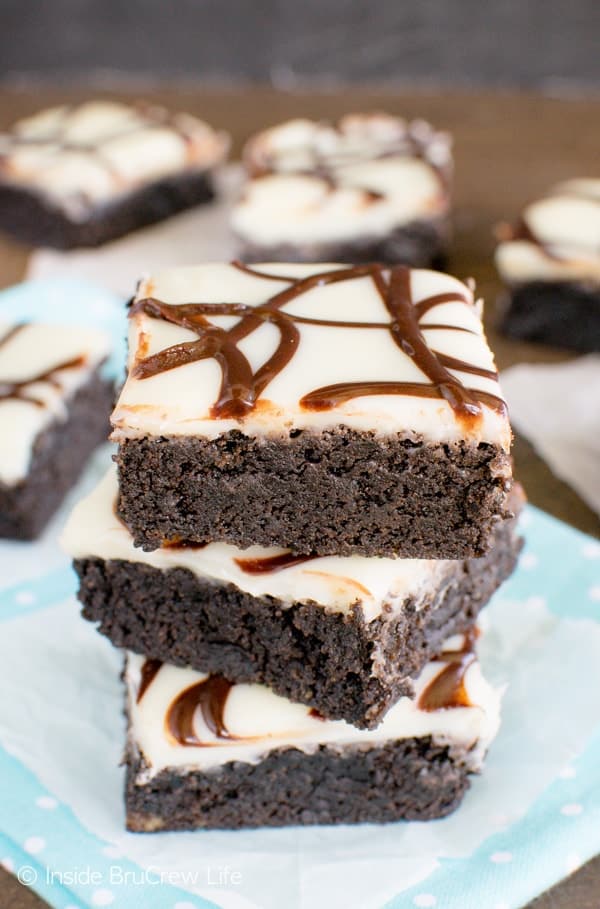 PIN IT NOW TO SAVE THE RECIPE FOR LATER!
So, I just can't do plain brownies anymore.  Baking all the time has kind of made me into a dessert freak, I think.  Add lots of candies and chocolates to all the baking is my motto!
My son has learned that if he wants a brownie with absolutely nothing adding into it or on top of it, he has to take matters into his own hands.  Of course, I was more than willing to teach him how to make a box of brownies when he needs that plain boring brownie goodness in his life.
A few weeks ago I was at the grocery store and I saw the new Zebra Brownies with all the other snack cakes!  My kids love the Zebra Cakes, so I just knew they would love the brownies too.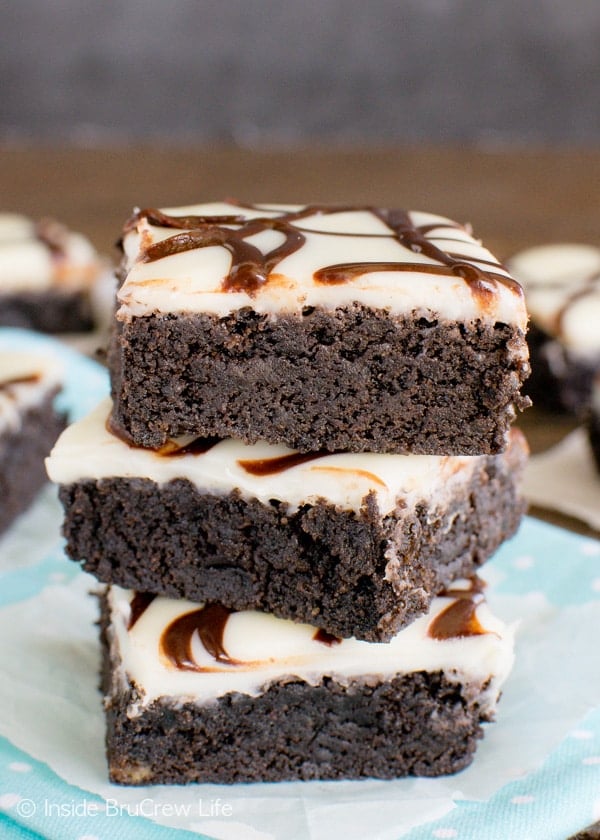 But I decided that my homemade chocolate chip brownies would make a better base for those fun chocolate stripes.
These brownies come together so quickly, and they really do taste so much better than the boxed ones.
Melt butter in a saucepan and whisk in some cocoa powder.  I prefer to use dark cocoa powder in almost all of my baking, but you can use whatever you have on hand.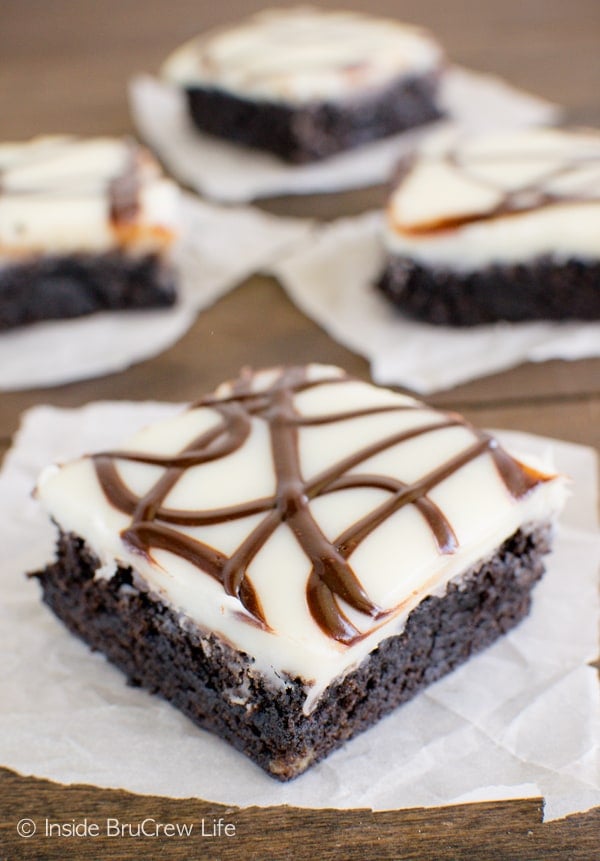 Then mix together the rest of the ingredients with the chocolate butter and spread the batter in a pan.  See I told you these brownies were super easy.
Now you could stop there and eat the brownies…and honestly, my son would tell you that plain brownies are the best in the world!!
But you know I can't do that…so adding a white chocolate glaze with chocolate drizzles had to happen! I shared these zebra brownies with some friends at church, and the pan came home empty.  I think it is safe to say they like jazzed up brownies just as much as me!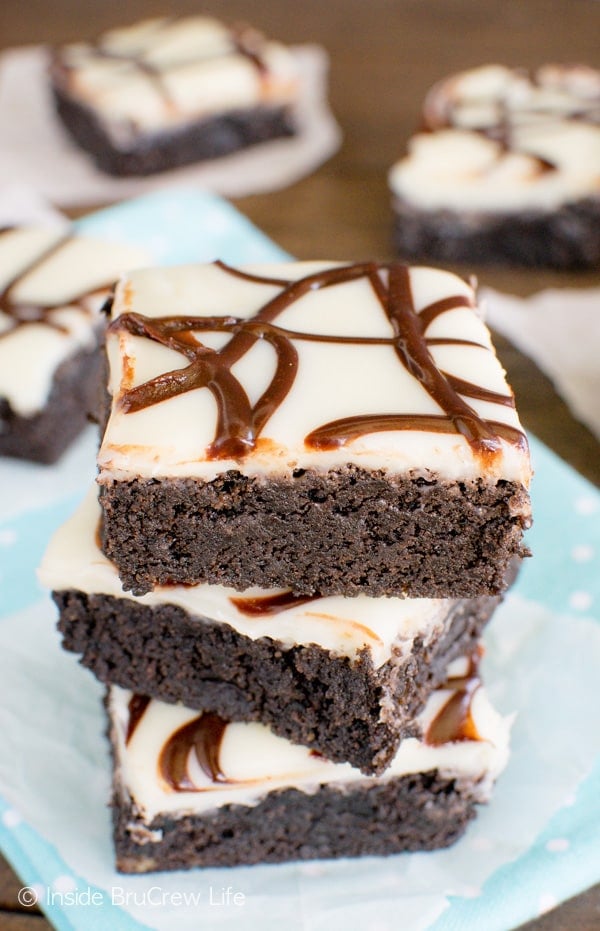 Stay up to date on all the BruCrew baking here:
FACEBOOK | PINTEREST | GOOGLE+ | TWITTER | INSTAGRAM | BLOGLOVIN
 Sign up to receive an email in your inbox for each new recipe:
EMAIL SUBSCRIPTION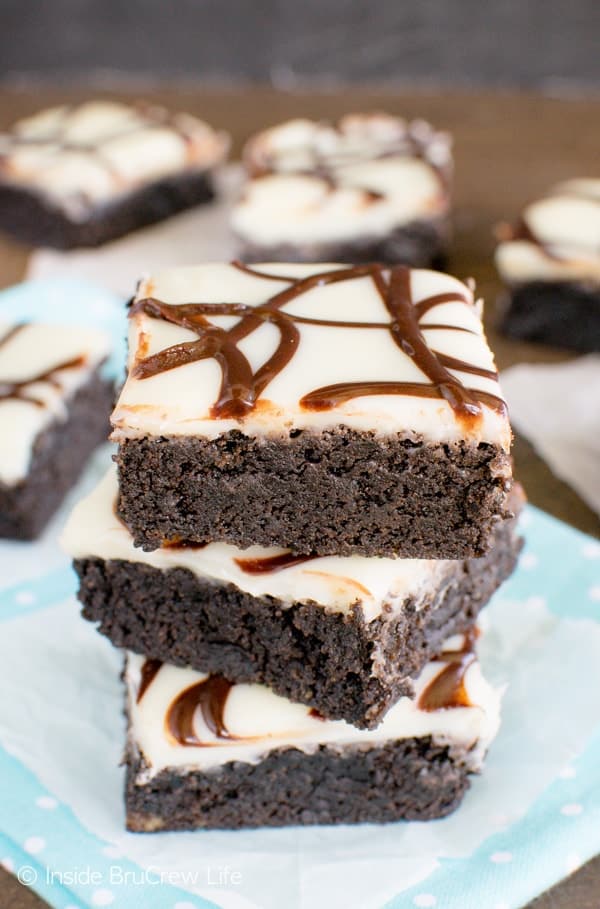 These homemade Zebra Brownies are fudgy and have a white chocolate glaze with a fun chocolate pattern drizzled on the top.
Ingredients
1 cup butter
1/2 cup dark cocoa powder
4 eggs
2 cups sugar
2 teaspoons vanilla extract
1 teaspoon salt
1 1/2 cups flour
1/2 teaspoon baking powder
1 cup white chocolate chips
1/4 cup heavy cream + 1 Tablespoon, divided
2 Tablespoons chocolate chips
Instructions
Preheat the oven to 350 degrees. Line a 9x13 baking pan with foil or parchment paper and spray with non-stick baking spray.
Place the butter in a pan and melt it over medium heat. Remove from the heat and whisk in the cocoa powder.
Beat the eggs for 2-3 minutes. Add the sugar and vanilla and beat again.
Whisk 1/2 of the hot butter into the eggs, and then add the rest of the butter and completely mix in.
Add the flour, salt, and baking powder and beat until it is mixed together. Spread the batter in the prepared pan. Bake for 30 minutes. Remove and cool completely.
Place the white chocolate chips and 1/4 cup heavy cream in microwave safe bowl. Heat for 30 seconds. Stir and heat again for 15-20 seconds if needed. Stir until melted and creamy. Spread over the top of the cooled brownies. Let set.
Place the chocolate chips and remaining 1 Tablespoon heavy cream in a bowl. Heat for 30 seconds and stir until melted. Spoon into a plastic bag and cut one tip off. Drizzle randomly over the top of the brownies. Let set. Cut into 24 brownies.
https://insidebrucrewlife.com/zebra-brownies/
Copyright Inside BruCrew Life

More fun brownie recipes that never last long: