Little Debbie snack cakes have been a lunch box staple for years. Now you can make and enjoy Banana Twins in your own kitchen. This banana flavored cake layered with vanilla cream frosting will remind you of the classic childhood treat.
*I am partnering with Dixie Crystals to bring you this copycat banana twins recipe.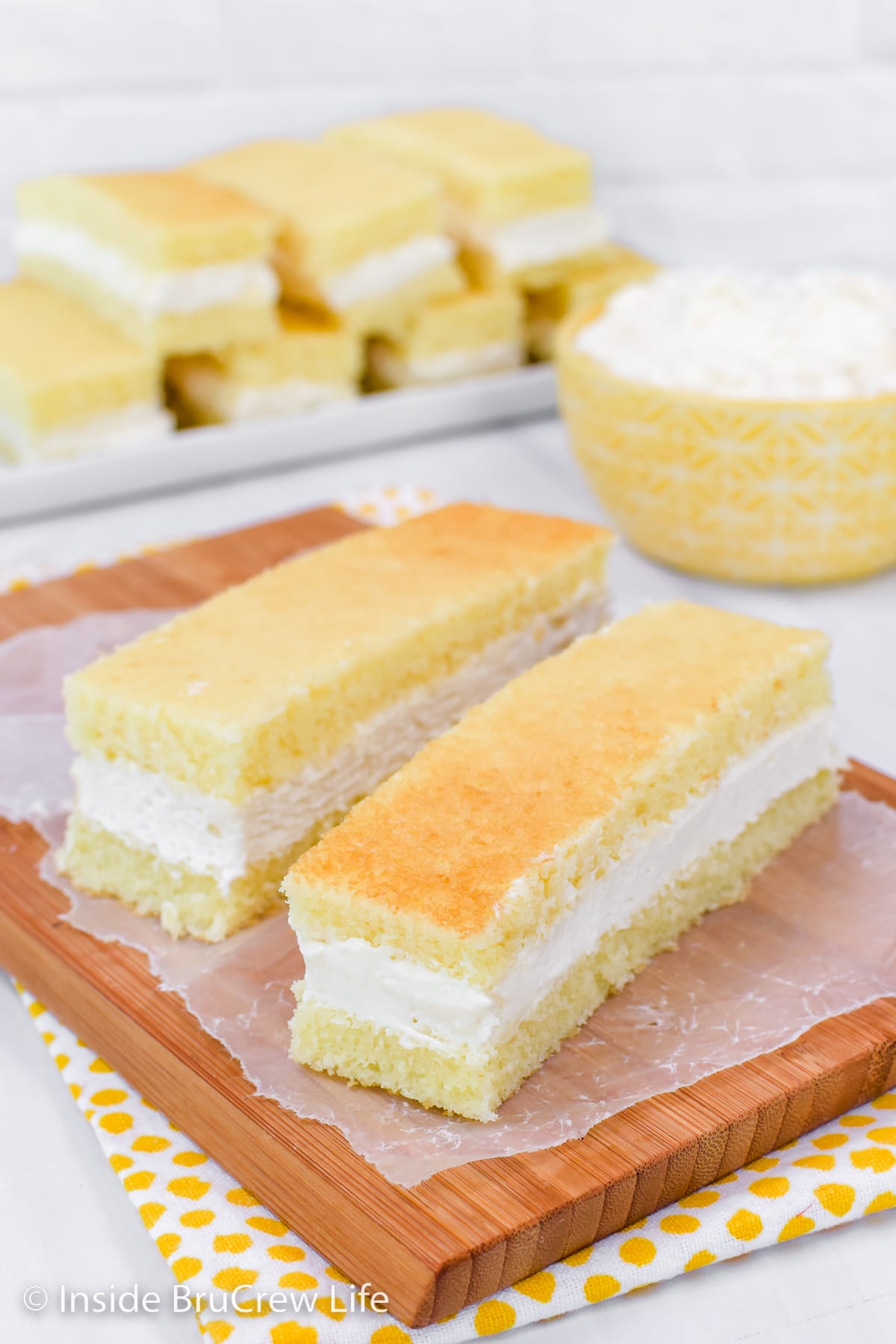 Over the years I have made a few copycats of my favorite Little Debbie snack cakes. These homemade oatmeal cream pies and these homemade cosmic brownies are two family favorites.
My husband said that banana twins were one of the snack cakes he remembered eating as a kid. Did you know those cakes have been discontinued?
So, of course I had to recreate those sweet little banana cakes and fill them with my creamy vanilla frosting.
About This Recipe
If you grew up eating banana twins or banana flip snack cakes, you are going to love this fun and easy copycat recipe.
Easy to make! You seriously mix, bake, and fill with frosting.
No special equipment or decorating skills are necessary. You can make these cakes with a bowl, a mixer, and a sheet pan.
Thick vanilla frosting center. No wimpy frosting layers here!
Small hand held treats. The cakes are cut to look just like the ones in the cellophane wrappers.
Sweet nostalgic treat! One bite and it will bring back memories of your childhood.
These homemade banana cakes are just like the Little Debbie snack cakes you know and love, but so much better!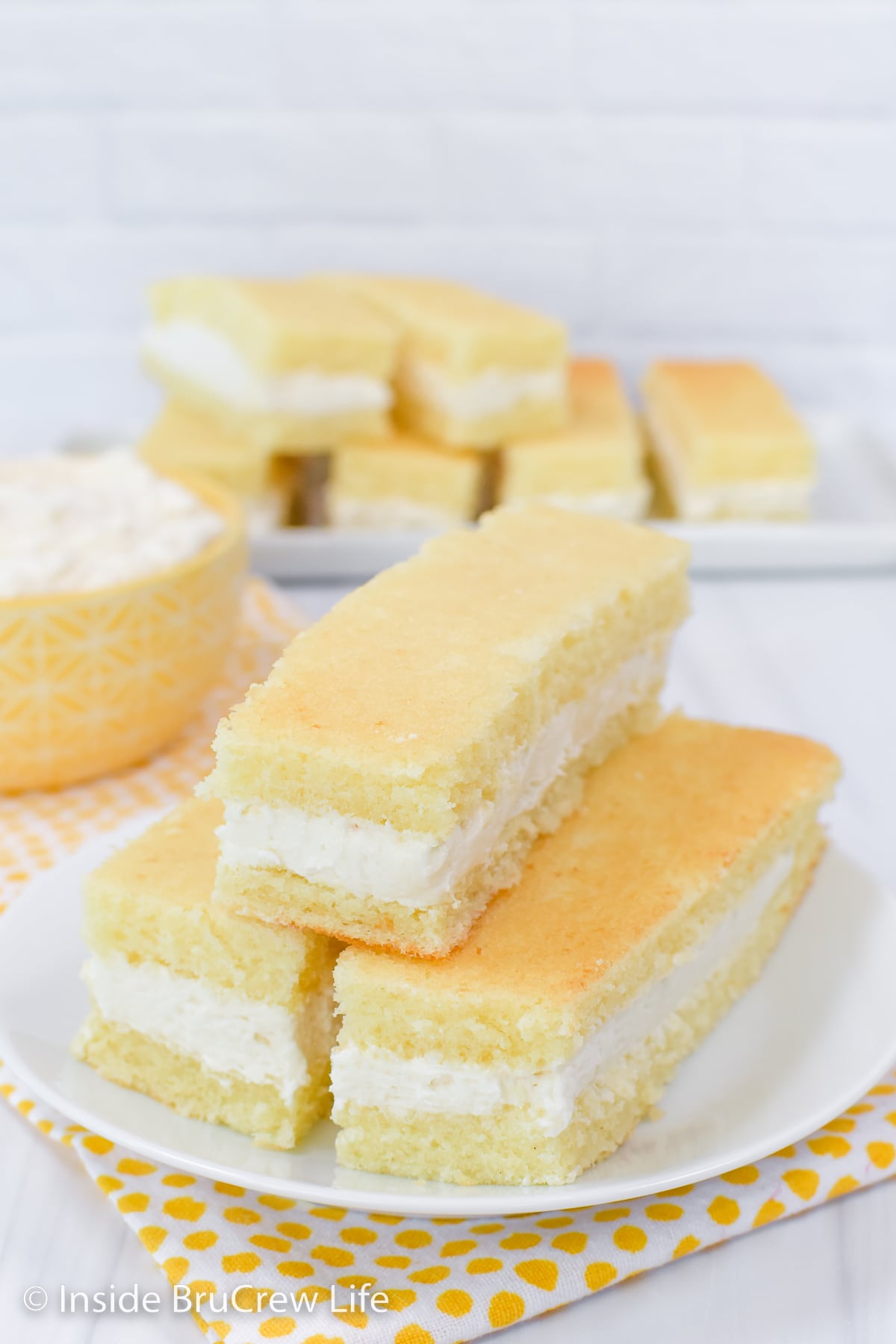 What are Banana Twins?
Banana Twins are one of the Little Debbie Snack cakes that have been around since 1965.
The moist banana flavored cakes were filled with their signature creme filling. The cakes came twin wrapped, so you could share if you wanted to.
They were recently discontinued due to a lack of interest.
Main Ingredients
The best part about this banana twins recipe is that it doesn't require any fancy equipment or ingredients. You can make it with what you have in your pantry.
Butter - Unsalted butter is best because you can adjust the amount of salt you prefer in recipes.
Granulated Sugar - Sweetens the batter and helps to cream the butter into a light and fluffy texture.
Eggs - Helps to bind the ingredients together.
Banana Extract - Gives this homemade cake a banana flavor that is reminiscent of Little Debbie Banana Twins.
Cake Flour - The extra fine powder of this flour gives cakes a spongier and softer texture.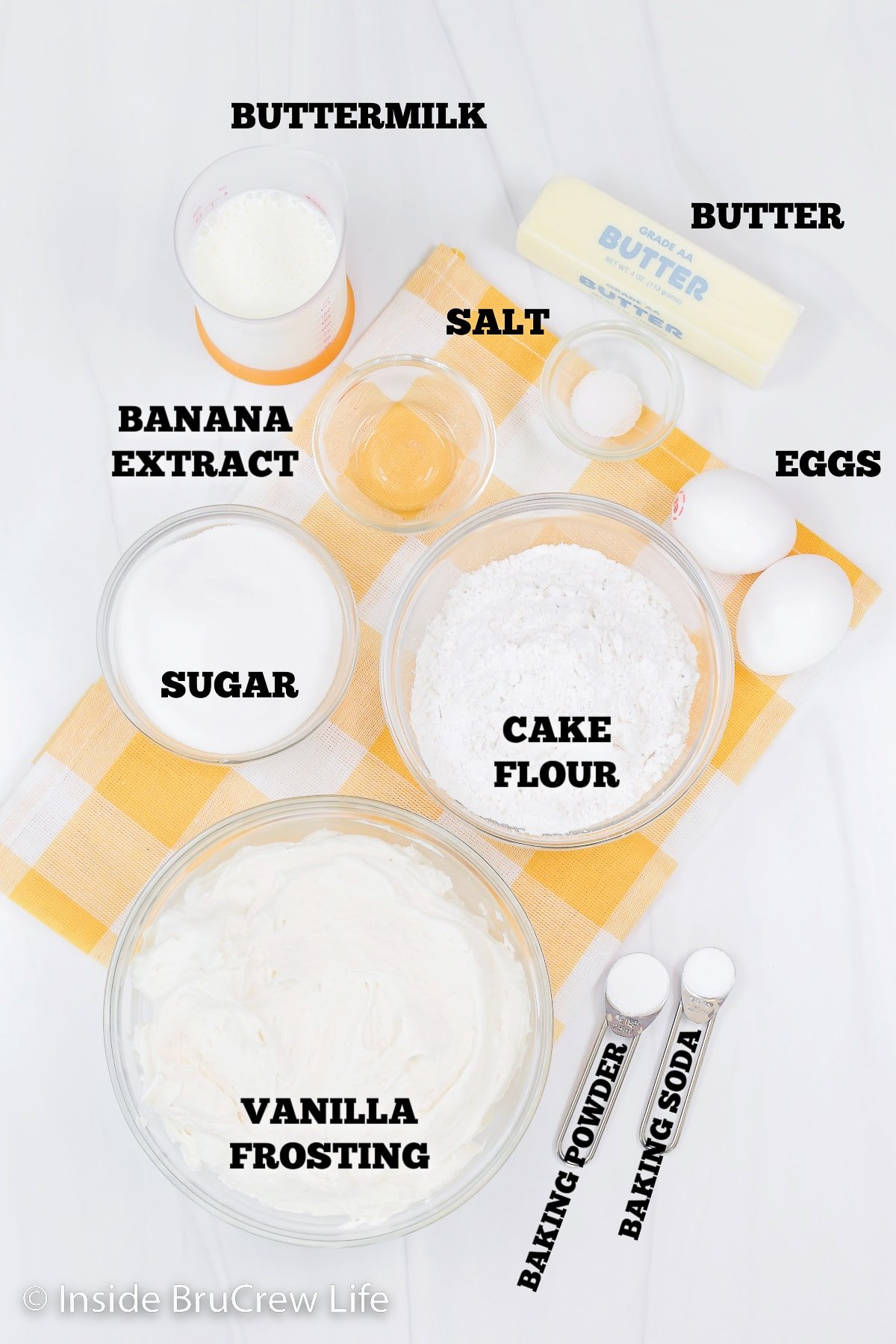 How to Make Banana Twins
With homemade banana twins, you can enjoy the flavor of your favorite childhood treat in the comfort of your own home. They are really easy to make, if you follow our simple recipe.
Prep for the recipe. Preheat oven. Spray a 10x15x1 sheet pan with nonstick baking spray.
Make the cake batter. Beat the softened butter and sugar in a large mixing bowl until creamy. Add the eggs and banana extract and beat again until thick and light yellow.
Sift the dry ingredients into the batter and pour in the buttermilk. Mix just until everything is combined. Evenly spread the batter in the prepared pan.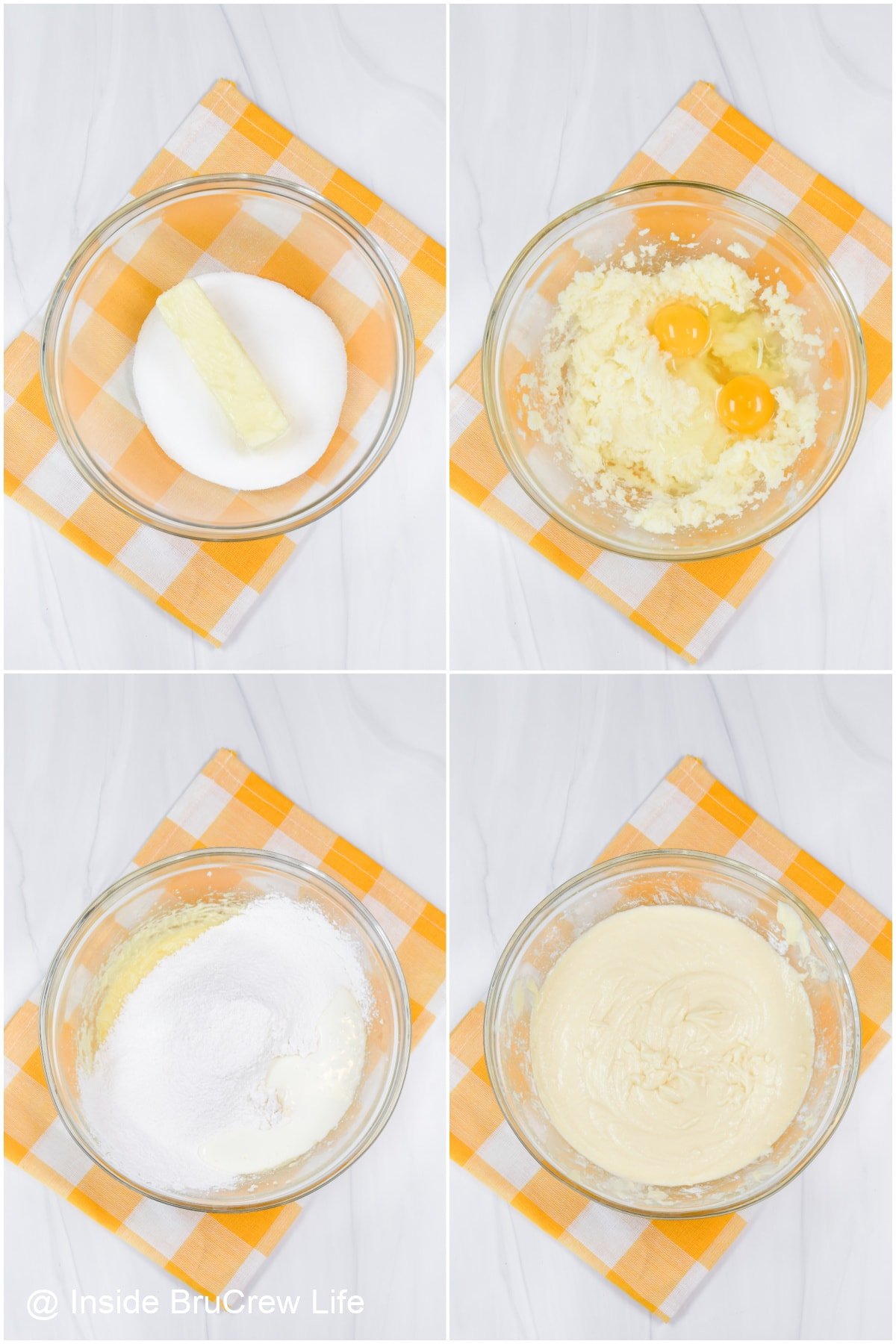 Bake and cool the cake. Once the banana snack cake has finished baking, remove and let cool in the pan for 5 minutes. Place another pan or wire rack with wax paper on top and flip the cake out.
Assemble the cake. Cut the cooled sheet cake in half widthwise. Spread one half of the cake with frosting and place the other half of the cake on top.
Cut the cake in half again widthwise. Then cut each of those into 5 cakes making a total of 10 snack cakes.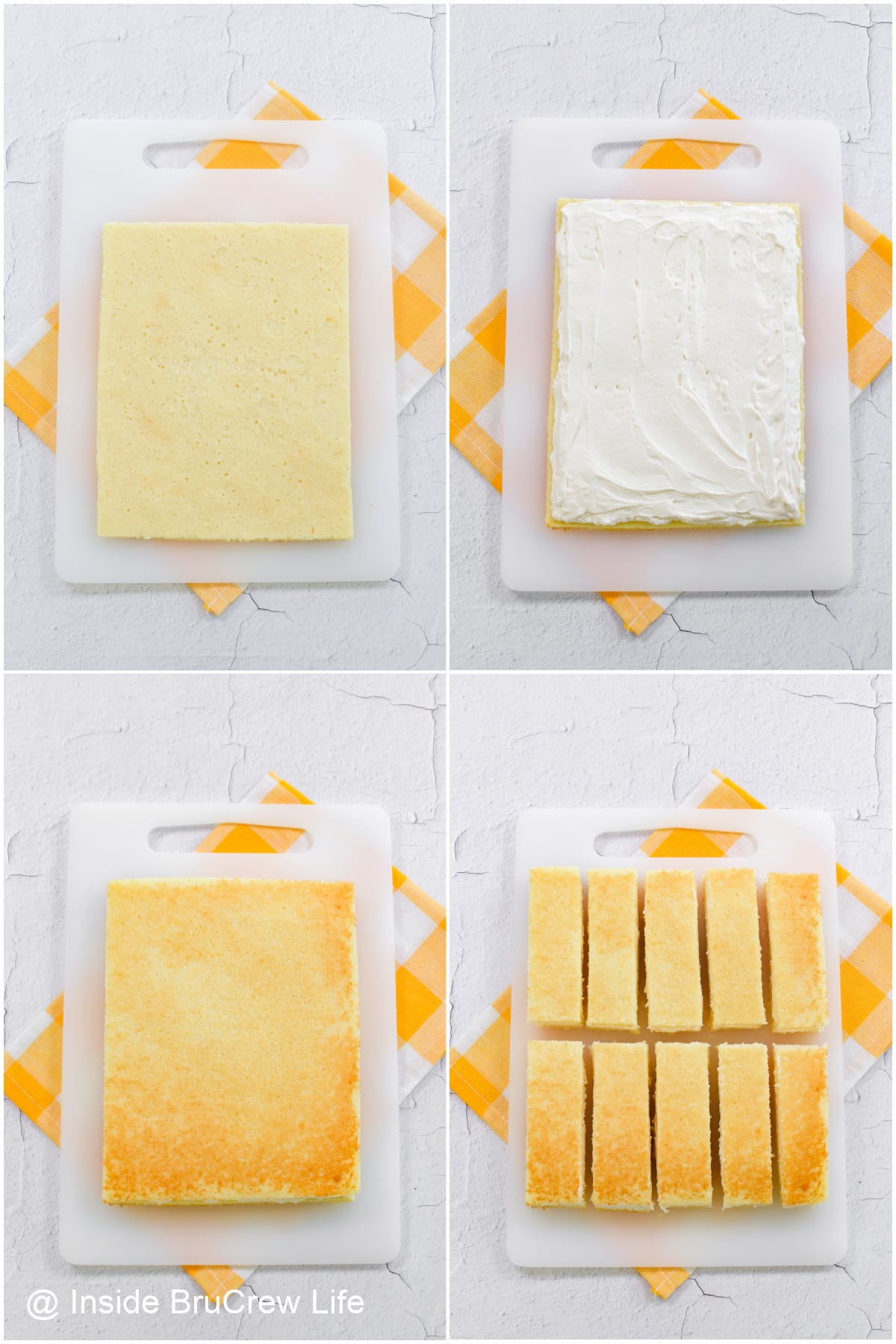 See the Full Recipe
I am sharing the ingredients and full instructions for these copycat banana twins on Dixie Crystals site.
Storage Recommendations
Counter - Place the filled banana cakes in a loosely sealed container and keep on the counter for 2-3 days.
Refrigerator - If keeping the cakes for longer, place in a tightly sealed container and refrigerate for 5-6 days.
Freezer - Wrap the full cake or the individual cakes tightly in two layers of plastic wrap, then in foil. Freeze for 1-2 months. Thaw overnight in the refrigerator before serving.
Tips and Tricks
Spray the sheet pan with nonstick baking spray to keep the cake from sticking. I don't recommend lining the pan with parchment because it tends to make the sides of the cakes bake up unevenly.
Sifting the cake flour and other dry ingredients in a fine mesh strainer is recommended. This type of flour tends to stick and clump together.
Do not let the cake cool in the pan. You want to flip the cake out after about 5 minutes, then let it cool completely on a wire rack.
Make sure the cake is completely cool before spreading frosting on it. Even a slightly warm cake will cause the frosting to melt and the cake layers to slide apart.
Spread vanilla frosting on the cake with an angled spatula. Want to change it up? Try filling the cake with dark chocolate frosting.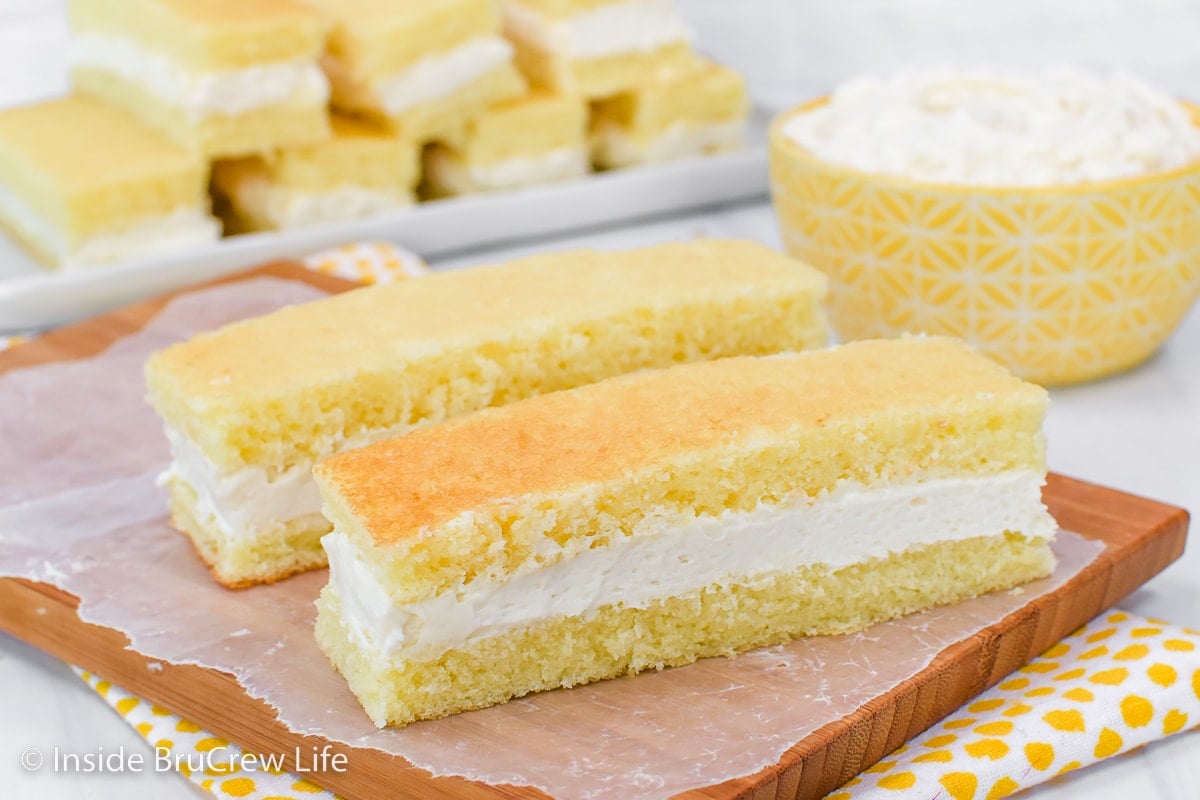 Recipe FAQ'S
Is using cake flour necessary in this recipe?
No, but it is recommended because it makes the texture of this layer cake lighter and fluffier.
Can you make homemade cake flour?
Yes, you can, but it is not recommended. Measure out 1 cup of regular all purpose flour. Remove 2 tablespoons from the measured flour, then add 2 tablespoons cornstarch. Mix it well and use in recipes that call for cake flour.

DIY cake flour not exactly like cake flour that you buy in stores. If you choose to use a homemade flour, your recipe may or may not turn out the same as ours.
Other Copycat Recipes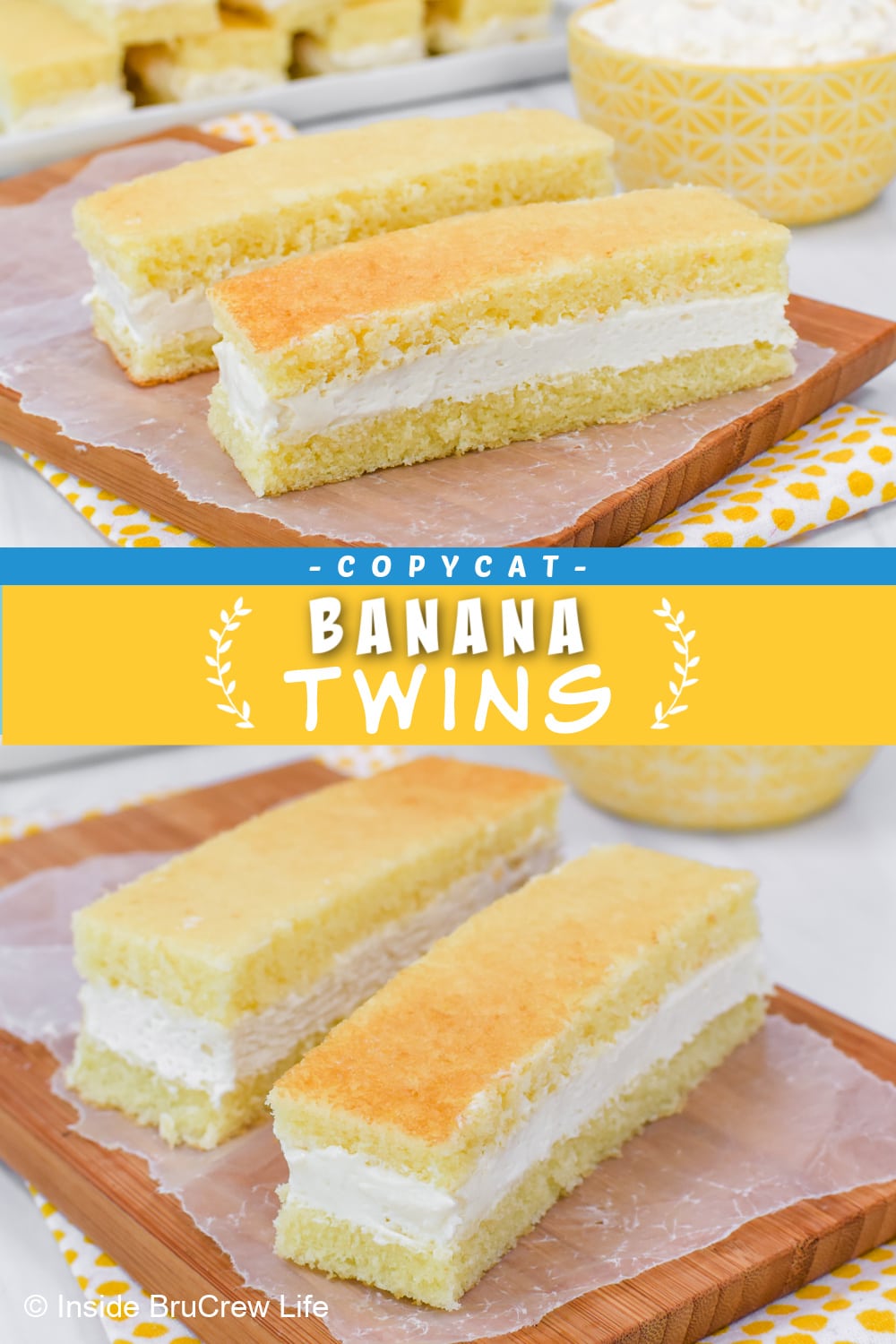 *Dixie Crystals sponsored this recipe and post. All opinions expressed are 100% my own. Thank you for letting me share products and brands that we use and love. See my disclosure policy for more information.*