These soft Chocolate Zucchini Donuts are loaded with three kinds of chocolate. It's a delicious way to eat your "greens" for breakfast.
Then bake this Dark Chocolate Zucchini Cake with the rest of your green veggies. Chocolate covered veggies always get my vote!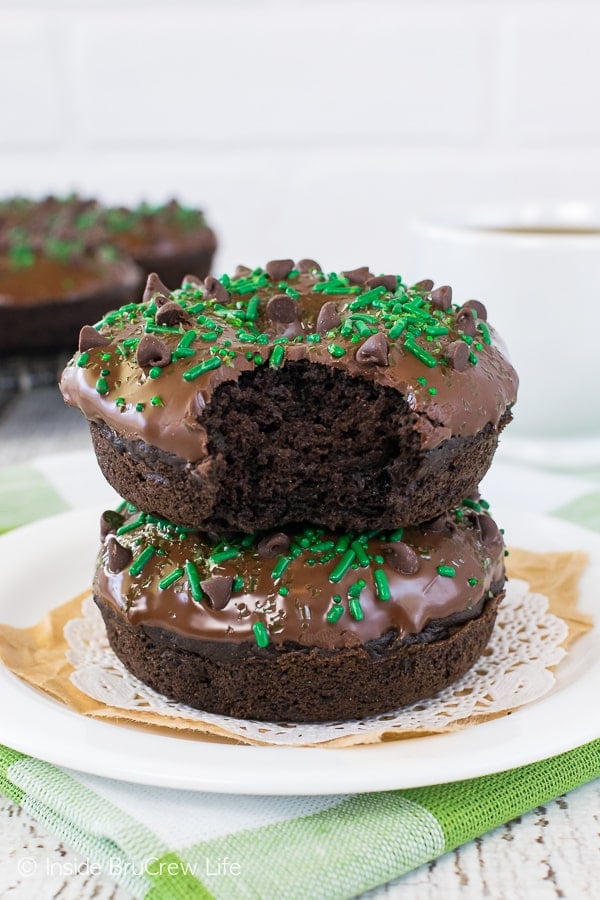 (photos updated July 2017)
I have so many random thoughts going through my head today. Let's try to process them all while we eat homemade chocolate donuts.
Why do I stay up so late every night, and then think I will get up "early" the next day? I have such a bad habit of "burning the midnight oil".
Actually it's way past midnight before I shut it all down and head to bed. This tends to happen every single night.
No wonder my body doesn't function properly the next day, and I need multiple cups of coffee with my favorite Salted Caramel Mocha Creamer in it.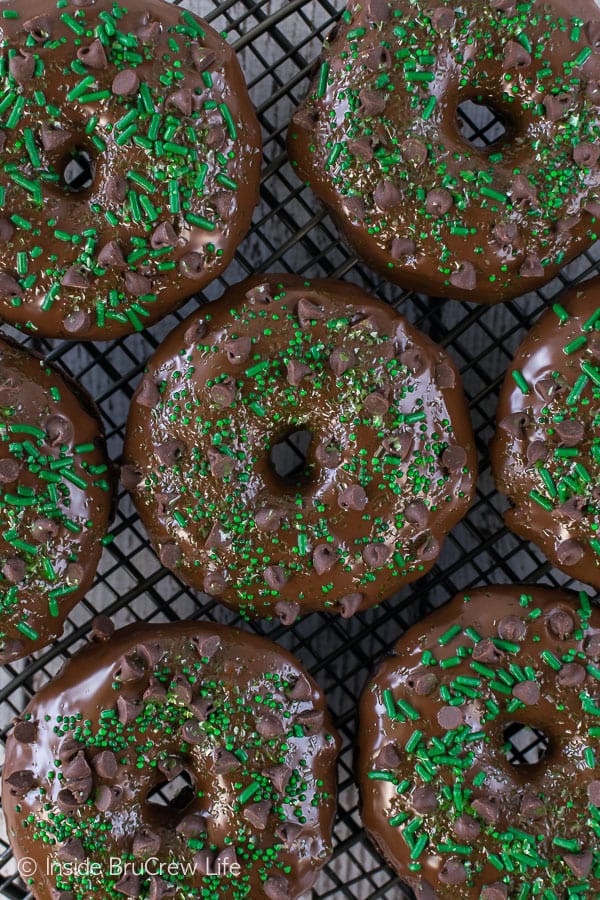 Why can't I ever tear the saran wrap off right??? I think the box is out to get me…every. single. time! It can't be the brand, because I have tried them all, thinking the cheap ones were the problem.
Turns out it has to be a user error because my husband can tear a straight line AND keep it from sticking to itself.
I tend to tear it off at an angle, ripping and shredding it as I go, and then all of a sudden it ends up in one giant lump. Curse you saran wrap!!!! I didn't want to cover those Zebra Brownies anyway.
LOL! It probably has something to do with my current sleep patterns…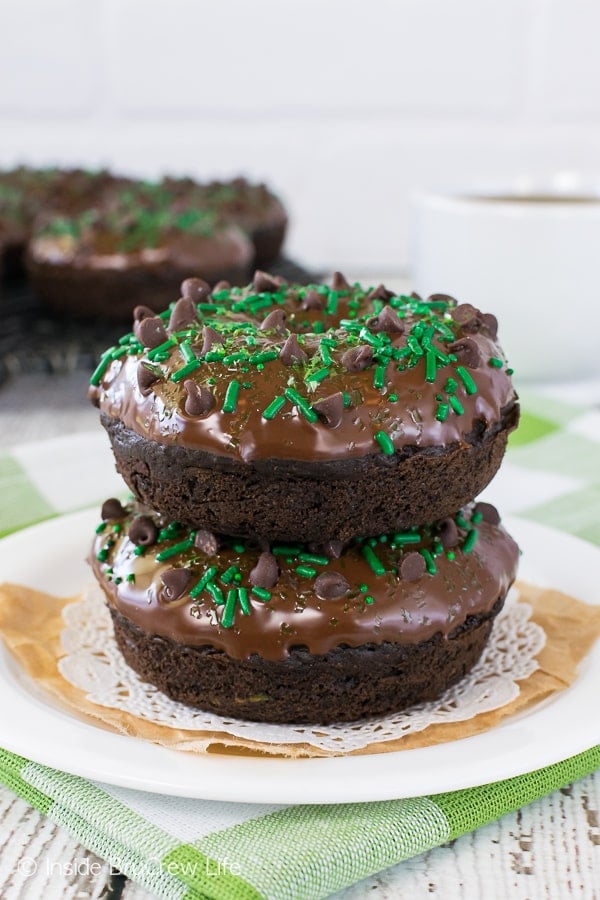 I think I am addicted to using exclamation points and ellipses dots. Lately, I have been conscience of how many times I put them in one sentence. Of course, it doesn't make me want to stop…
I mean when you are sharing delicious things like Coffee Cream Brownies extra exclamation points are necessary!!!!!
Oh, and the over use of colon smiley's 🙂 Yup, I do that too!!!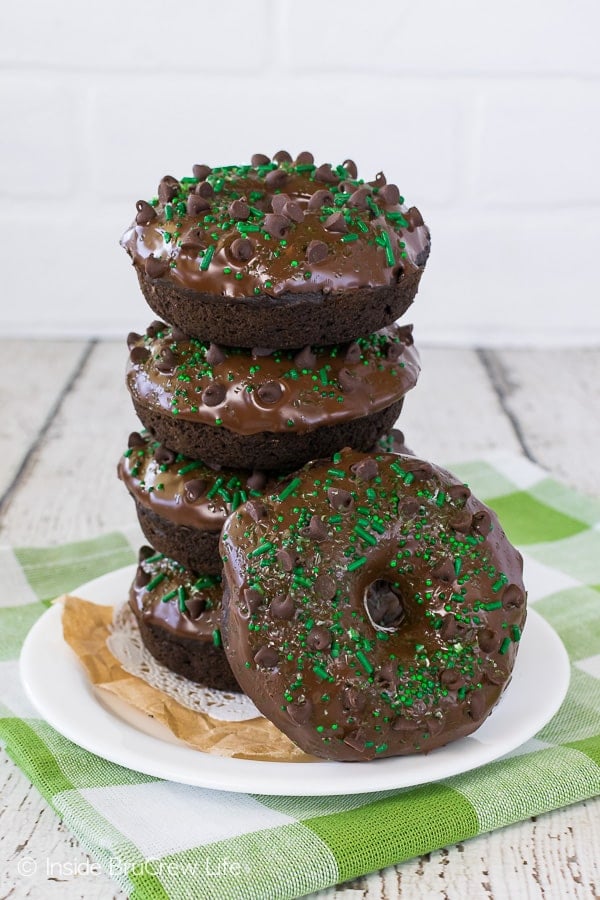 Where have all the donuts gone? Is it doughnut or donut??? I always wonder that when I type it. I can't stop thinking about these yummy Carrot Cake Donuts we made earlier this year. They are so good!!
I am sort of kind of partial to the shorter version of the word. Too lazy to type the extra letters? Yea, probably.
But seriously, I want more donuts. Time to break out the donut pan again…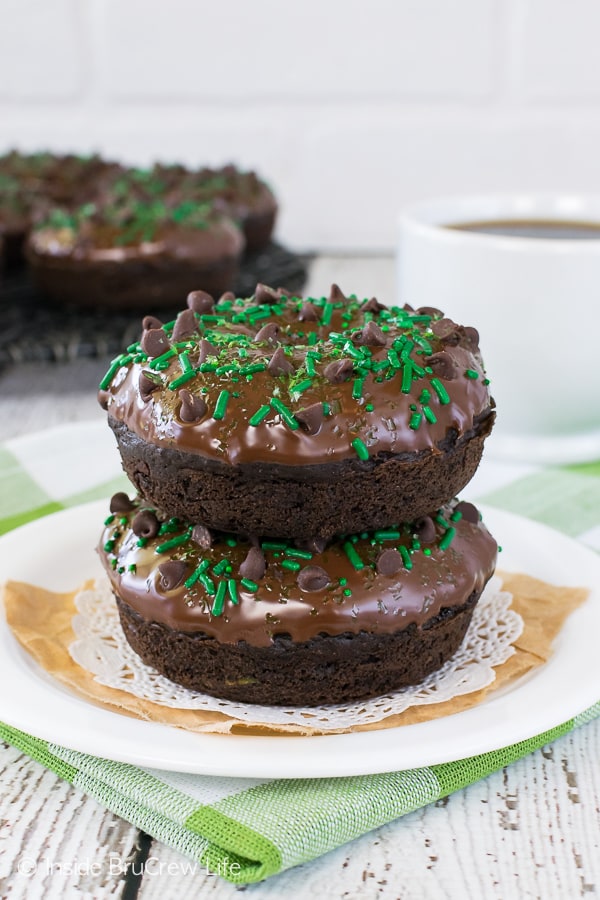 Chocolate Zucchini Donuts
Healthy chocolate donuts for breakfast always gets a "yes, please" from me!!! These chocolate bites of goodness did not last long at all in our house! They were eaten for breakfast and snack time.
I may have even eaten one (or more) for dinner because they have yogurt and zucchini in them. That sounds like a perfectly acceptable dinner to me! Wink, wink.
My biggest tip for you is to spoon the batter into a large ziplock baggie and cut one corner off to "pipe" the batter into the greased pan. It's makes it so much easier to fill the pan. Baker's Joy is a great baking spray to keep your donuts from sticking to the pan.
I am really happy this donut phase in my life is still going strong. Donuts are just kind of fun to make!!! Faster and easier than cupcakes, but with the same delicious satisfaction!
But now I am really sad because these Chocolate Zucchini Donuts were gone way too quickly. They were so delicious dipped into the chocolate! The slight crunch when you bite into each one was out of this world!
Time to make more donuts ASAP! For the children, of course.
If you like this donut recipe, you will love these recipes: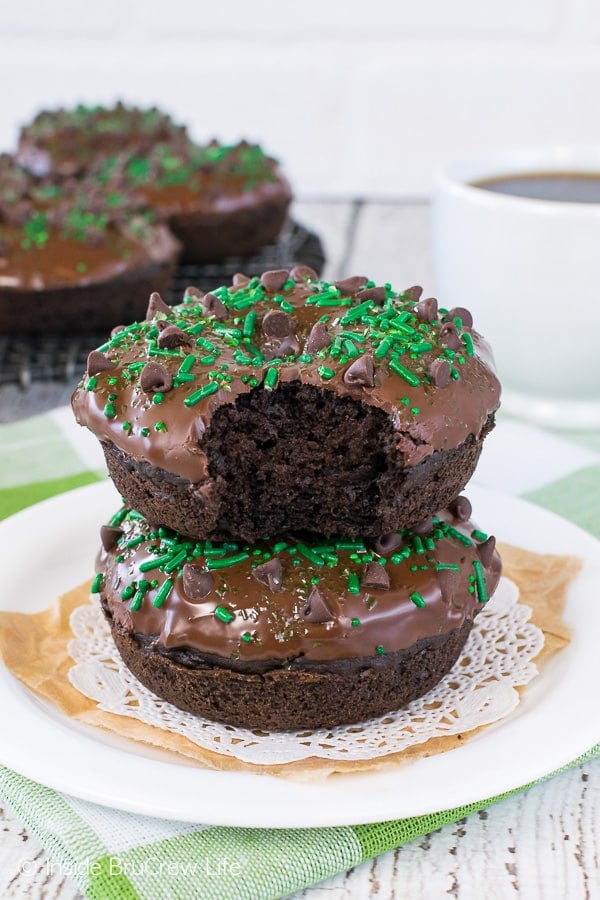 Connect with Inside BruCrew Life! Follow us on social media, so you never miss a post.
Email Subscription | Facebook | Pinterest | Twitter | Instagram | Bloglovin
I also created a fun new Facebook group, and I would love for you to join. It's a group where you can share your favorite recipes, ask questions, share photos, and see what's new with the BruCrew. If you would like to check it out, you can request to join HERE.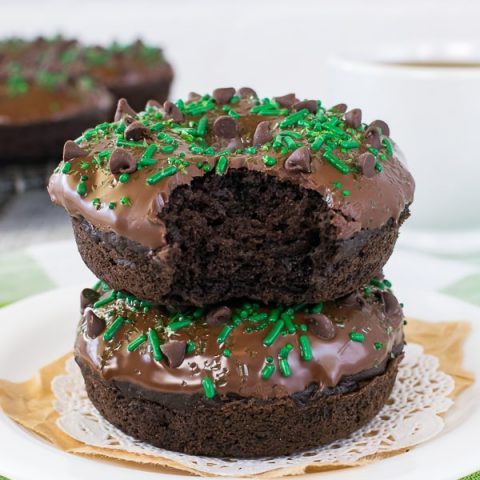 Chocolate Zucchini Donuts
These soft Chocolate Zucchini Donuts are loaded with three kinds of chocolate. It's a delicious way to eat your "greens" for breakfast.
Ingredients
1/2 cup butter, softened
2/3 cup brown sugar
1 egg
2/3 cup Greek yogurt
1 cup finely shredded zucchini
1/2 teaspoon salt
2 teaspoons cinnamon
1/2 teaspoon nutmeg
1 1/2 teaspoon baking powder
1 1/2 teaspoon baking soda
2 cups flour
1/2 cup dark cocoa powder
1/3 cup buttermilk
1 cup miniature chocolate chips, divided
1 1/4 cup semisweet chocolate chips
1 Tablespoon shortening
Green sprinkles
Green edible glitter
Instructions
Preheat the oven to 375 degrees. Spray a regular sized donut pan with nonstick spray.
Cream the butter and sugar until fluffy. Add in the egg, yogurt, and zucchini and continue to cream.
Sift together the salt, flour, cinnamon, nutmeg, baking soda, baking powder, and cocoa powder.
Slowly add to the butter mixture alternately with the buttermilk.
Stir in 1/2 cup mini chocolate chips by hand. Do not over mix.
Spoon the donut butter into a large ziplock bag and cut one tip off. Fill the donut pan cavities no more than 3/4 full.
Bake for 12 minutes. Let cool in the pan for 2-3 minutes before removing to a wire rack to cool completely.
Place the chocolate chips in a microwave safe bowl with the shortening. Heat and stir 30 seconds at a time until melted.
Dip the tops of the donuts in the chocolate. Top with the remaining chocolate chips, sprinkles and edible glitter. Let the chocolate set before serving. Store in a loosely covered container.
Recommended Products
As an Amazon Associate and member of other affiliate programs, I earn from qualifying purchases.
Nutrition Information:
Yield:

16
Serving Size:

1
Amount Per Serving:
Calories:

289
Total Fat:

15g
Saturated Fat:

9g
Trans Fat:

0g
Unsaturated Fat:

5g
Cholesterol:

28mg
Sodium:

298mg
Carbohydrates:

38g
Fiber:

3g
Sugar:

22g
Protein:

5g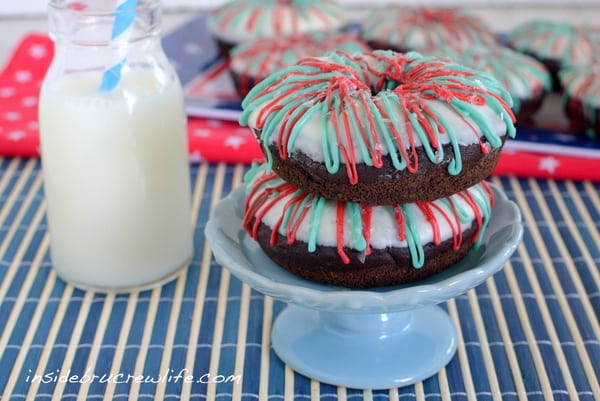 (original photo from June 2012)
*This post for Chocolate Zucchini Donuts was first posted on June 24, 2012.
**This post does contain an affiliate link. Inside BruCrew Life may receive a small percentage from sales made through these free links. As always, there is no extra charge to you. Thank you for letting us share products we use and love.