This Chocolate Chip Zucchini Cake is absolutely delicious. Double the chocolate and frosting make this cake disappear in a hurry.  It is the perfect recipe to help you use up some of that fresh zucchini from your garden.
*Love these recipes?  Be sure to sign up for my free email subscription to have these recipes sent to your inbox.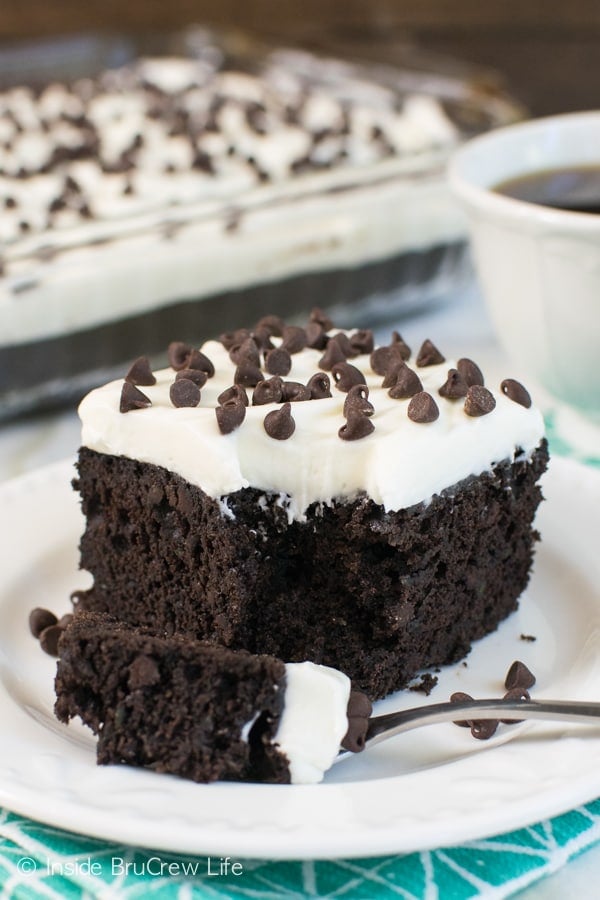 Can you believe that summer is over?  This is our last weekend before school starts.
Usually life slows down in the summer, but not this year.  We had so many things happening this year that before we knew it, it was August and we were at parent-teacher meetings.  It was a divide and conquer kind of night.  I headed to the middle school meeting, and my hubby went to the high school one.
I still don't want to think about the fact that my baby is not a baby any more.  He is pretty excited to be in middle school, but I'm still not believing it.  Seriously!  It seems like just yesterday we were checking into the hospital a month early to deliver him.
After a headache all day that just wouldn't go away, they admitted me for tests.  One showed my blood pressure much higher than it had been the whole time.  That and the headache that wouldn't go away had them watching me closely.  Every other test came back fine, but my blood pressure was even higher after resting, so they told me I wasn't going anywhere.  My husband had to pack my overnight bag and bring it to the hospital.
I guess I should have been more prepared and had that ready sooner.  But this is me we are talking about.  I don't do anything early…or fast.  Although I did devour a big slice of this chocolate chip zucchini cake in a hurry, so maybe things are looking up.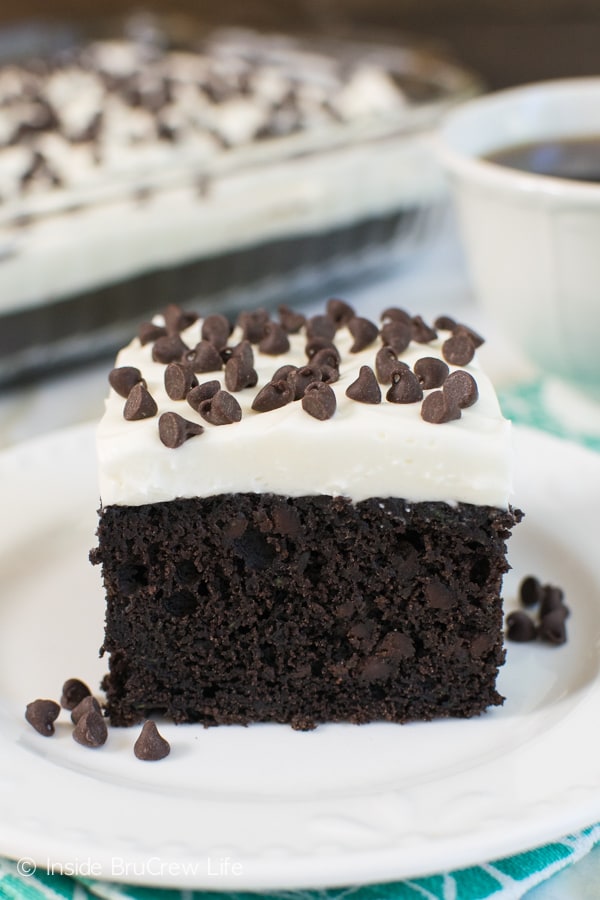 I sure hope you are not tired of seeing chocolate-covered veggies.  For some reason I cannot get over chocolate and zucchini together.  I say it is because I am hiding the veggies from my kiddos, but really I just like the two together. #Ihaveproblems
And I still have a few zucchinis sitting on my counter to use up this weekend.  My plan for those veggies does not involve chocolate though.  I know that probably shocks you because I shared these frosted zucchini brownies and double chocolate zucchini muffins only a week ago.
I wish I could say this time that these recipes were spread out over the summer.  Well, the muffins were made a few weeks ago, but the brownies and the cake pretty much happened back to back.  I guess buying 5 zucchinis was probably going a little overboard.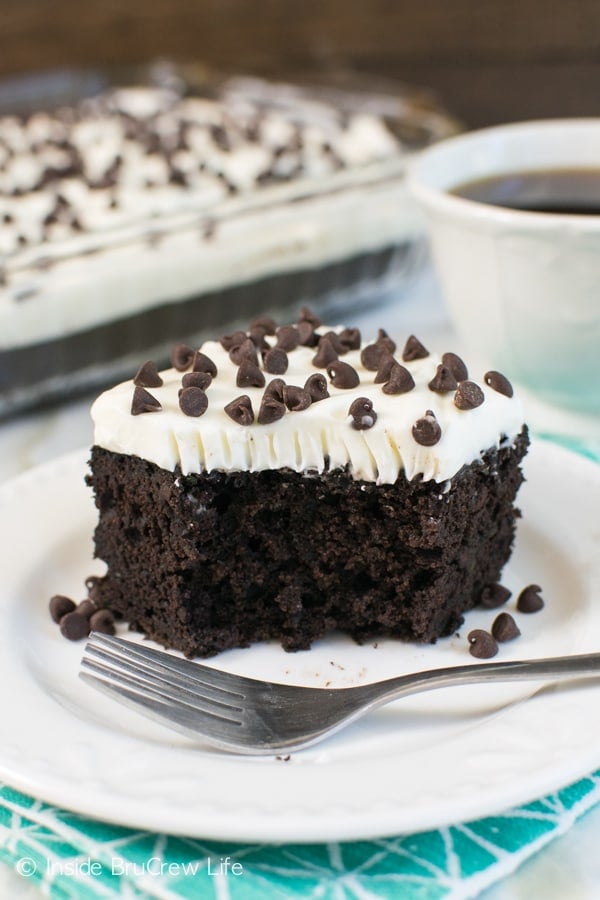 I added a few extra ingredients to the brownie recipe, and this delicious and decadent cake came out of the oven. Then a batch of frosting took it to a whole new level.  Marshmallow and cream cheese made this my new favorite frosting!  Yes, I know I say that about every recipe.  I reserve the right to change my mind…daily.
Because of the cream cheese in the frosting, you need to refrigerate this cake.  Honestly, I preferred this cake cold from the fridge.  If you are not a fan of cold cake, you can let it sit out on the counter for a little bit before serving it.
A big slice of this cake and a cup of coffee will help you forget about your little ones that are really not so little anymore heading off to school soon.  Cake really does help…well, until you eat too much and realize your jeans are getting snug.
Maybe with the kids back in school, we can get back to a better gym routine.  Ok, I have decided right now that going back-to-school is a good thing. Just don't remind me that my baby is in middle school…it might send me back for more cake!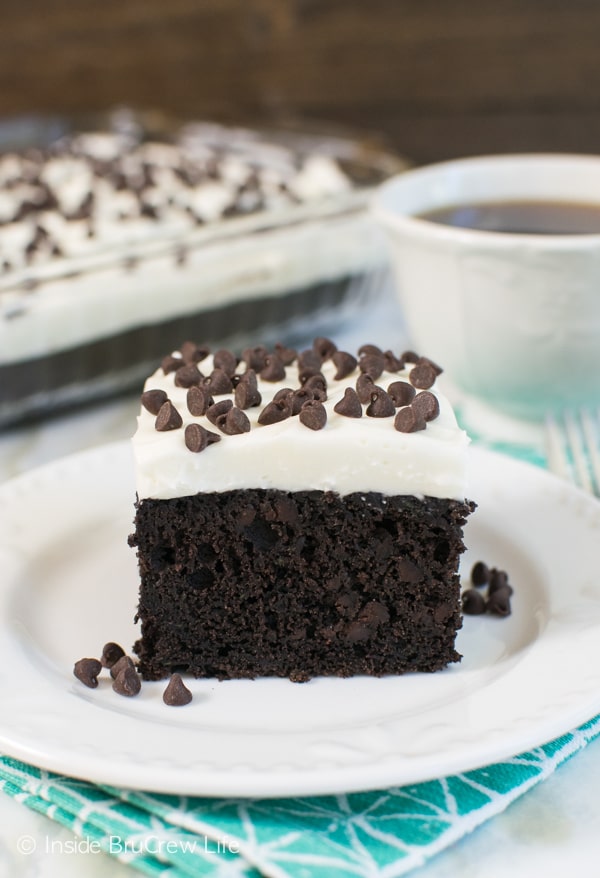 Stay up to date on all the BruCrew baking here:
FACEBOOK | PINTEREST | GOOGLE+ | TWITTER | INSTAGRAM | BLOGLOVIN
 Sign up to receive an email in your inbox for each new recipe:
EMAIL SUBSCRIPTION
Double the chocolate and a creamy marshmallow frosting makes this a decadent way to eat your green veggies. This cake is best served cold with a hot cup of coffee.
Ingredients
1 cup brown sugar
1/2 cup sugar
1/2 cup unsalted butter, melted
1/2 cup sour cream
1 egg
2 teaspoons vanilla extract
2 cups shredded zucchini, packed
2 cups flour
1/2 cup dark cocoa powder
1 teaspoon salt
1 teaspoon baking soda
1 1/2 cups miniature chocolate chips, divided
For the Frosting

4 ounces cream cheese, softened
1/4 cup butter, softened
1/2 teaspoon clear vanilla
1/2 teaspoon salt
1/2 cup marshmallow cream
2 1/2 cups powdered sugar
2 Tablespoons whipping cream
Instructions
Beat the butter, sugars, sour cream, egg, vanilla, and shredded zucchini together.
Stir together the flour, cocoa powder, salt, and baking soda. Slowly add it to the wet ingredients until everything has been mixed together. Stir in 1 cup of the chocolate chips.
Pour into a greased 9x13 glass baking dish. Bake at 350 degrees for 35 minutes. Remove and let cool completely.
Beat the cream cheese, butter, vanilla, and salt until creamy. Add in the marshmallow cream and whipping cream and beat again. Slowly add the powdered sugar until everything has been mixed in. Beat on high for another minute or two. Spread over the top of the cooled cake. Sprinkle with the remaining chocolate chips, if desired. Keep refrigerate until time to serve. Cut into 24 squares.
https://insidebrucrewlife.com/chocolate-chip-zucchini-cake/
Copyright Inside BruCrew Life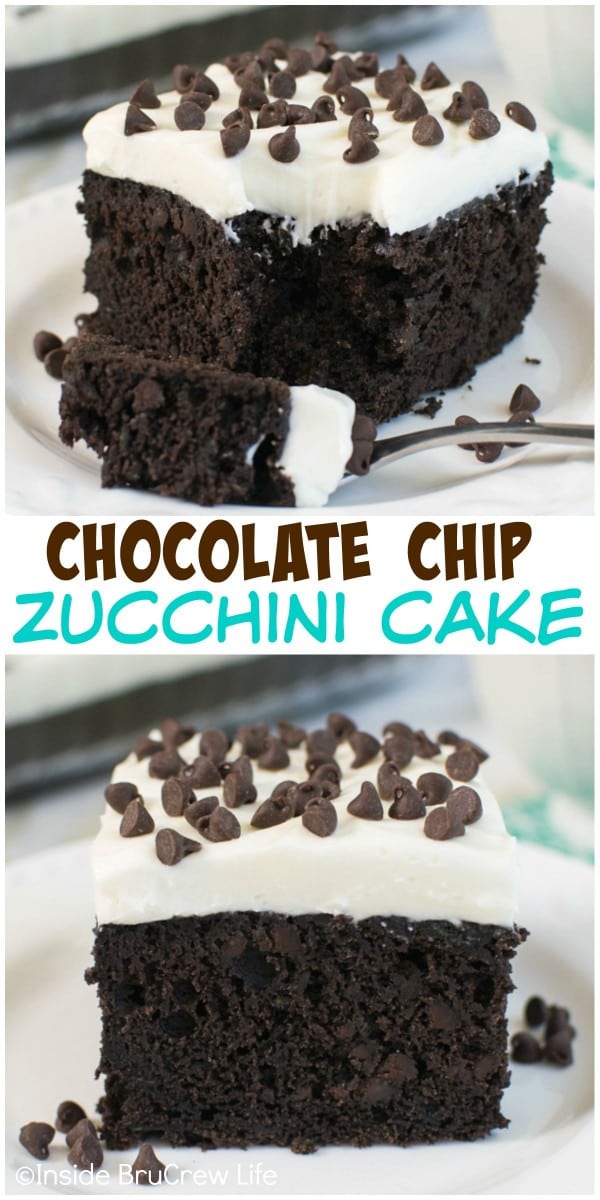 More delicious recipes to help you use up that zucchini: