Need an easy no bake dessert on days that it is too hot to bake?  These
Peanut Butter Buckeye Pretzels
are a perfect no bake goodie for those days.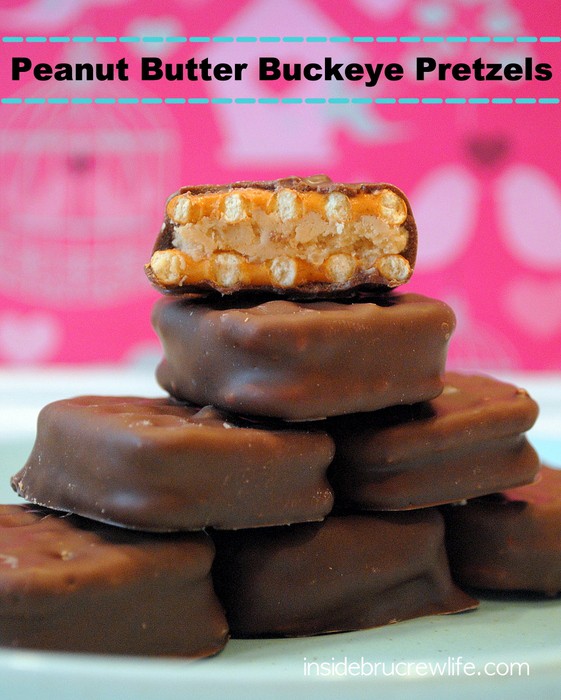 ***********
It sure seemed like spring had come last week…
we were loving the 50*-60* weather.
The kids were loving being outside and jumping on the trampoline.
Candid shots of jumping sure gets you lots of funny pics:-)
But it didn't last too long…today it is 35* and raining.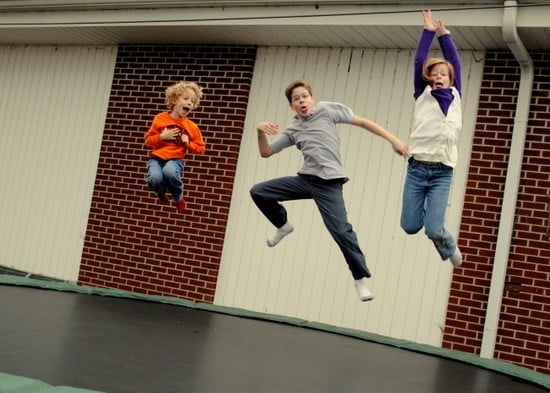 ***********
My friend and I got a taste of girl drama with our girlies:-)
My daughter got her feelings hurt
and her friend didn't even realize she did it.
No biggie…us mama's got them sorted out
and they are still besties.
But we just can't wait until they are teenagers…can you hear the sarcasm dripping off that???
***********
I actually used my craft room for…crafting:-)
I love my new room!
Now if I can only talk my honey into letting
me buy the zebra rug that I found.
The rolling chair is WAY too loud at night on the hard wood floor.
I am just thinking of the kids sleeping;-)
***********
I have a confession…I gave up on the Shred.
Not because it was too hard or anything…
I just don't think that a 20 minute workout
is helping me to lose much weight.
The gym and I have restarted our relationship.
It better work fast.
Summer is coming quicker than I can imagine!
***********
The laundry in my house is out to get me…
or maybe it's my kids.
They must think I enjoy folding
and washing every piece of clothes that they have.
I have been finding clean clothes in there lately.
I think they try stuff on and then when they change to something else,
it just goes in the dirty bin.
Hhhhmmmm…time to have a chat with them;-)
***********
I have discovered that if you smush a buckeye peanut butter ball
between 2 waffle pretzels and dip them in chocolate
it makes an amazing treat!!!!
Must make these again…SOON!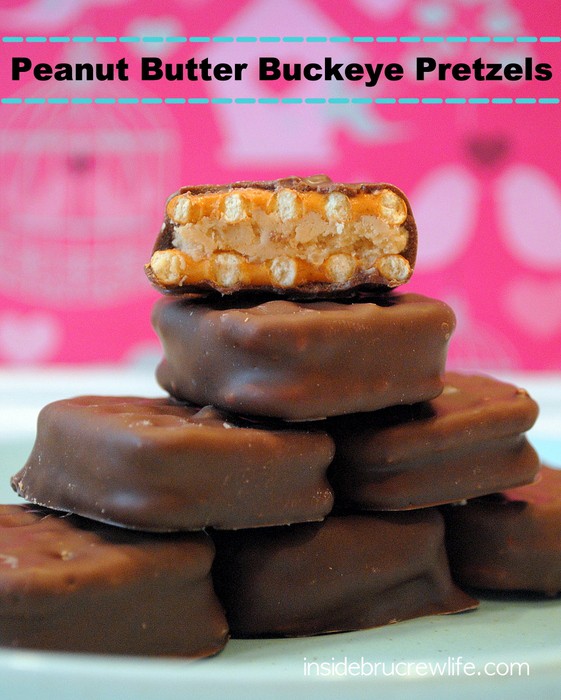 Peanut butter buckeye candies in between pretzels and dipped in chocolate
Ingredients
1 cup peanut butter
2 Tablespoons butter, softened
dash of salt
1/2 teaspoon vanilla
1 1/4 cups powdered sugar
waffle pretzels
12 ounces chocolate CandiQuik
Instructions
Beat the peanut butter, butter, salt, and vanilla until creamy. Slowly add the powdered sugar. Roll into small balls and let set.
Place a peanut butter ball between 2 pretzels and press together.
Heat the CandiQuik up for one minute in the microwave. Stir until melted and creamy. Dip each peanut butter filled pretzel in the melted chocolate. Use a fork to remove from the chocolate. Tap the excess chocolate off and place the pretzels on waxed paper to set. Store in a sealed container.
http://insidebrucrewlife.com/2011/02/weekending-and-a-recipe/
Copyright Inside BruCrew Life