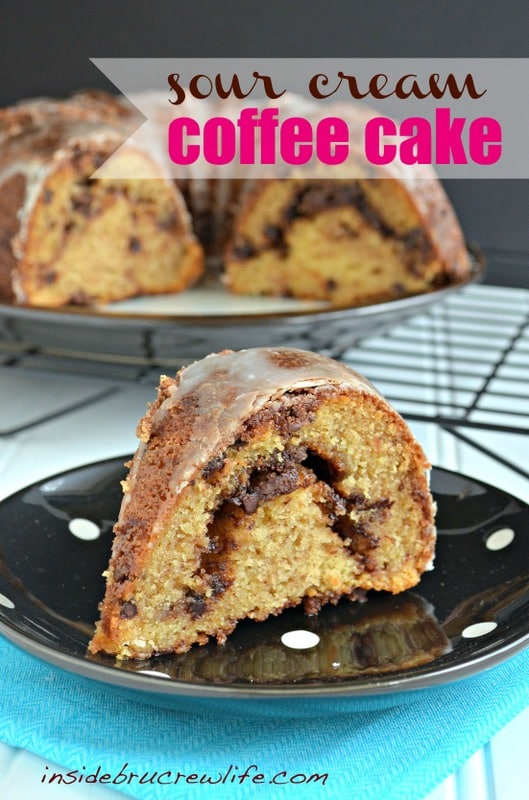 My oldest son chose Home Economics this year for one of his electives at school.  Talk about making this foodie mom proud.  He did say he wishes they cooked more than baked.  Say what?  I won't be much help to him if they do start cooking.  This particular sour cream coffee cake recipe he brought home as "homework".  Man, I wish all homework was this fun to do.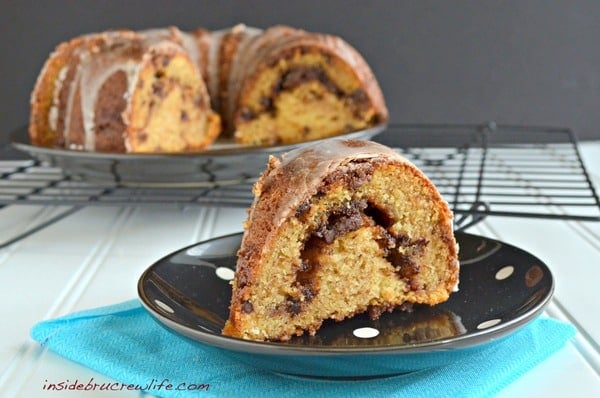 He pretty much did all the work for it, and I just supervised him.  All I had to do was show him how to measure flour the correct way and how to divide your batter evenly.  He did all the mixing and all the pouring.  This cake is super decadent with all the sour cream and chocolate chips…probably why it tastes so good.  We didn't change anything from the recipe since he had to take it to school for a grade.  One of these days I really want to revise it and try it with applesauce and yogurt.  But until then, this version totally rocked our socks off!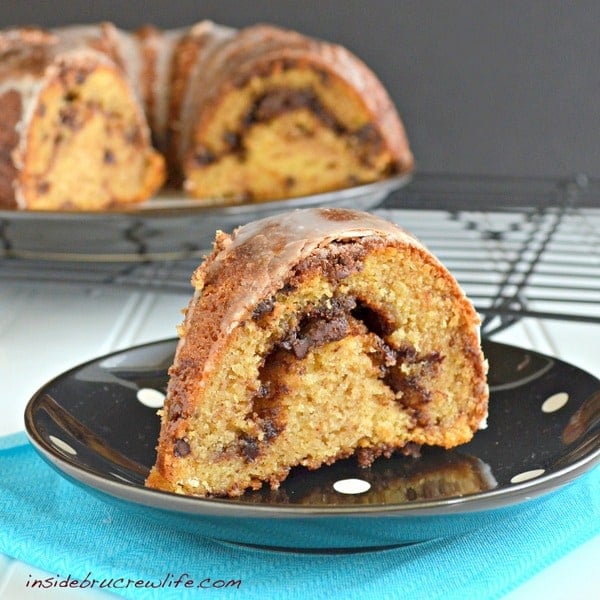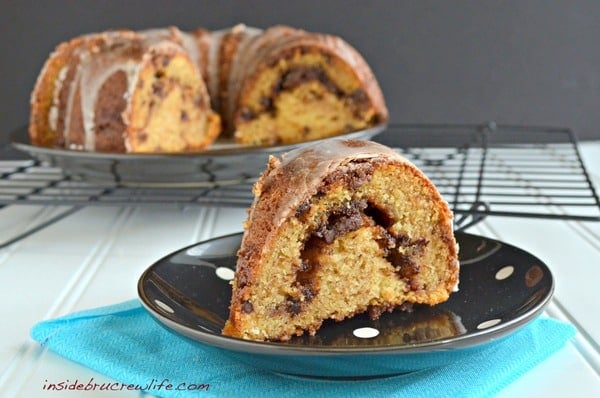 Sour cream coffee cake with a cinnamon sugar & chocolate chip swirl.
Ingredients
For the Cake
3/4 c. butter, softened
1 c. sugar
2 eggs
1 c. sour cream
1 tsp. vanilla
2 c. flour
2 tsp. baking powder
1 tsp. baking soda
1/8 tsp. salt
For the Topping
1 c. brown sugar
1 c. mini chocolate chips
2 Tbsp. cinnamon
For the Glaze
1/2 c. powdered sugar
2 tsp. water
Instructions
Cream the butter and sugar until light and fluffy. Beat in the sour cream, eggs, and vanilla. Sift together the flour, baking powder, baking soda, and salt. Slowly add to the butter mixture.
Mix together the topping ingredients. Spoon 1/2 c. topping into the bottom of a greased bundt pan. Spread 1/2 the batter into the pan. Sprinkle with 1 c. topping. Spread the rest of the batter on top. Sprinkle with the rest of the topping. Bake at 350* for 45-50 minutes. Let cool 10 minutes in the pan. Flip out onto a plate and let cool.
Mix together the powdered sugar and water. Drizzle over the top of the cake. Let set before slicing.
http://insidebrucrewlife.com/2012/11/sour-cream-coffee-cake/
Copyright Inside BruCrew Life
Shared with: Lil Luna, Cast Party, Work It, Whatsits, Show & Share, Treasures, Round Up, Chic & Crafty, Happy Hour, Friday Flair, Weekend Potluck, Sweet Treats, Weekend Wrap Up,