Add a loaf of this Cherry Chocolate Chip Banana Bread to your baking plans. This easy banana bread is loaded with chocolate and cherries. Add a cup of coffee and enjoy a delicious breakfast or afternoon snack.
If you love baking with bananas, be sure to check out this Sour Cream Banana Bread. It's a great base recipe for so many flavors and combos.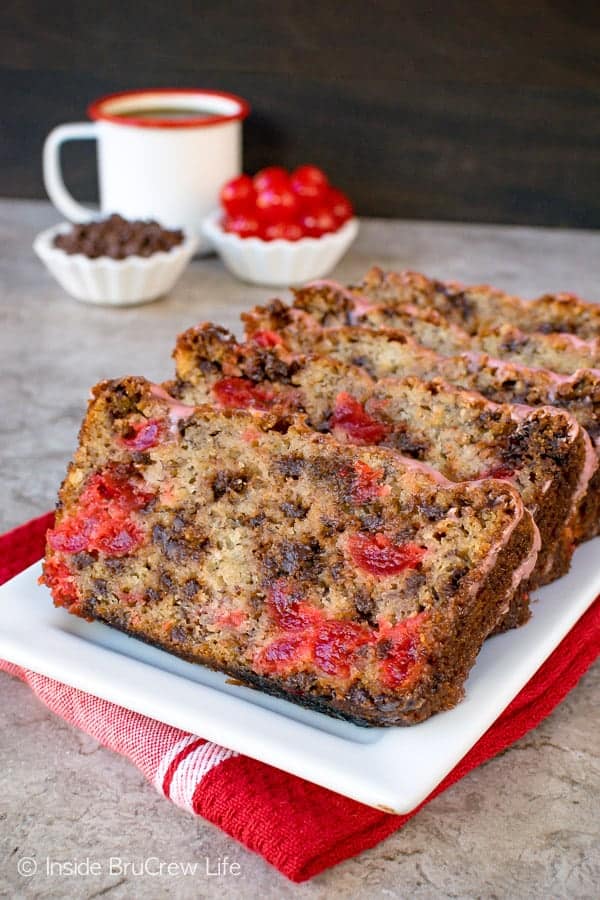 Is it me or do certain items from the grocery store always come home with you? I swear bananas just jump into our cart every time I go shopping. I don't even remember picking them up any more. Of course, now that our oldest is home from college for the summer, I'm sure even more bunches of bananas will be sitting on the counter because he loves them so much.
A few months ago, I decided to let a few of the bananas sit a little longer on the counter. Spotty squishy bananas really do make the best banana bread! I had an extra jar of cherries and chocolate chips that I wanted to throw into my favorite banana bread recipe.
The glaze on top is totally optional. The bread really doesn't need it, but really, why would you pass on a pretty pink glaze like that? And yes, if you are wondering, I actually made this sweet bread back before Valentine's day, but it took me forever to get around to sharing it.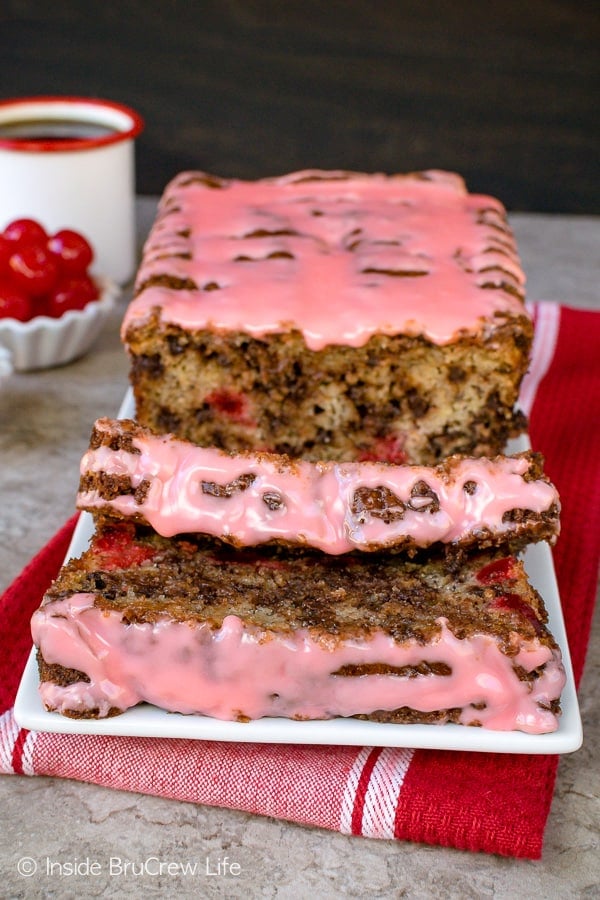 I never get tired of baking with bananas. Honestly, I think it is the most used ingredient in our kitchen. It's just so delicious in smoothies, cake, muffins, and scones.
Thank goodness my family loves banana treats as much as I do. They are always ready to taste test my newest creation and give me feedback. My daughter said that this banana bread with maraschino cherries would have been better without the cherries. She is a little crazy because she prefers chocolate and only chocolate in her banana bread.
I'm the complete opposite. Give me a loaf of classic banana bread loaded with all the fun flavors. This Cinnamon Toffee Pecan Banana Bread is must my style!
How to make Cherry Chocolate Chip Banana Bread:
Drain your jar of maraschino cherries very well. Cut each cherry into quarters and pat them dry. Let them sit on paper towels until you need them.
Cream your butter, sugar, and extract until creamy. I love almond extract with cherries, so that is what I used this time, but feel free to use vanilla if you prefer that more.
Add the eggs, smashed bananas, and Greek yogurt and beat the mixture again. Feel free to substitute sour cream if you do not have any yogurt. Either one works and tastes delicious.
Sift together the dry ingredients and slowly mix them into the banana mixture.
Why do my mix-in's always sink to the bottom of my banana bread? Stir a little bit of flour into the cherries. This will help keep them from sinking to the bottom of the bread as it bakes.
Bake the loaf until a toothpick or knife inserted in the center comes out with just a few sticky crumbs. Remove the pan from the oven and let it cool for 10 minutes, then flip the bread out onto a plate to cool completely.
Drizzle the glaze over the top of the bread and let it set before you slice it. Or go ahead and eat it while the glaze is sticky and gooey. It's pretty delicious that way.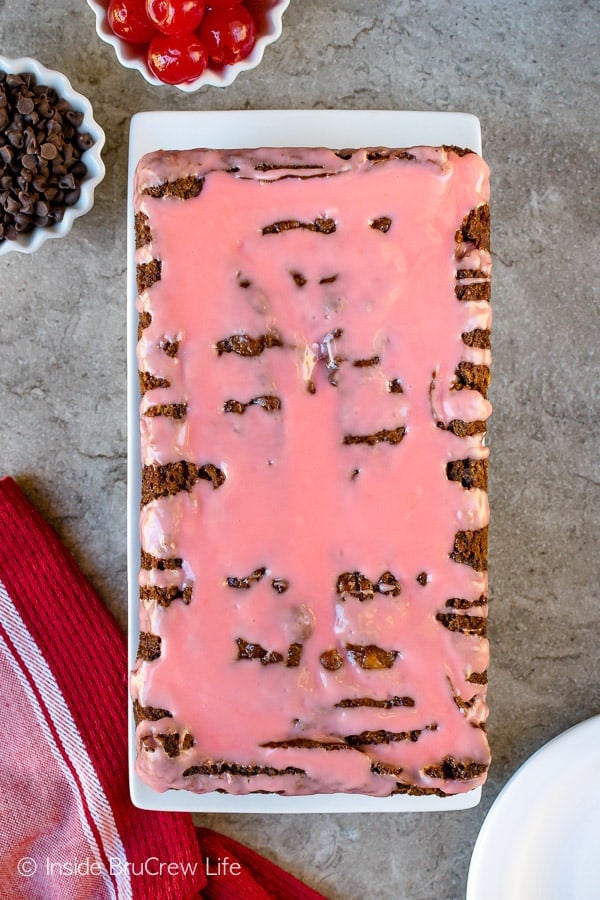 I couldn't get enough of this Cherry Chocolate Chip Banana Bread. It's a good thing that there was only one loaf, and that I had people helping me eat it because I could have easily devoured the entire loaf by myself. Then my shorts and jeans would have been annoyed with me, and I would have had to run more miles.
When you make this delicious bread, make sure you have someone to help you snack on it. I don't want hate mail after you down an entire banana bread and your jeans don't fit. LOL!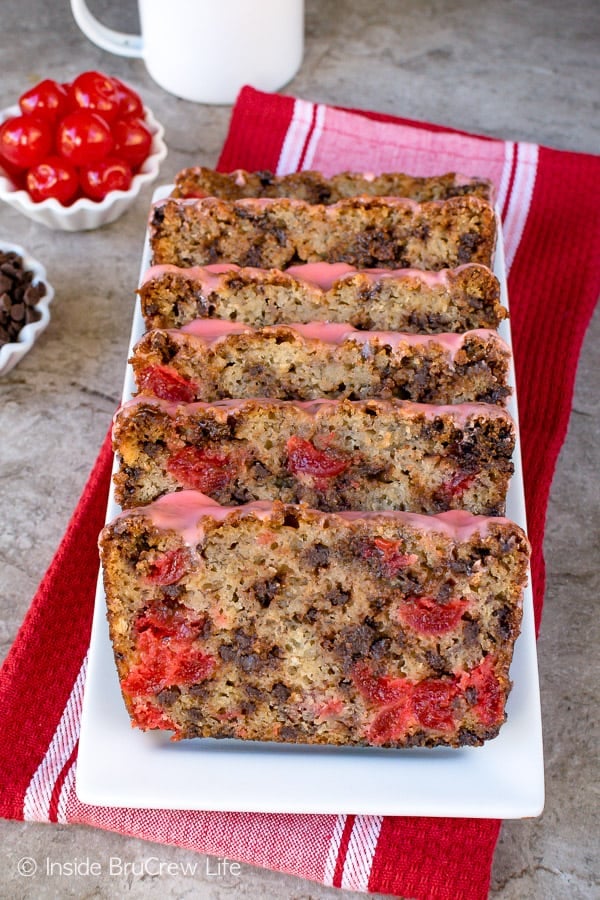 More delicious banana recipes to try for breakfast:
Cherry Chocolate Chip Banana Bread Recipe: