It's official.  Puppy chow is my new snack love!  I made Reese's Peanut Butter Cup Puppy Chow for the Super Bowl party we are headed to this afternoon…and it is amazing!!!
Let's talk puppy chow for a minute.  No, it isn't really for puppies, even though that is what the name suggests.  There have been so many comments all over pinterest about how chocolate isn't good for dogs!  Hello!!!  People read the ingredient list…do you feed that stuff to your dogs?  Because I don't. Well, unless she steals the bag of chow from the counter…which does happen here if we aren't careful.  But I don't GIVE it to her.  I have also seen it called Muddy Buddies, and to me that name isn't much better, because who eats mud.  Right?
Whatever you call it, just call it good!!!   I mean it's cereal coated in melty chocolate goodness and doused in a whole lot of powdered sugar.  How could you not love the stuff?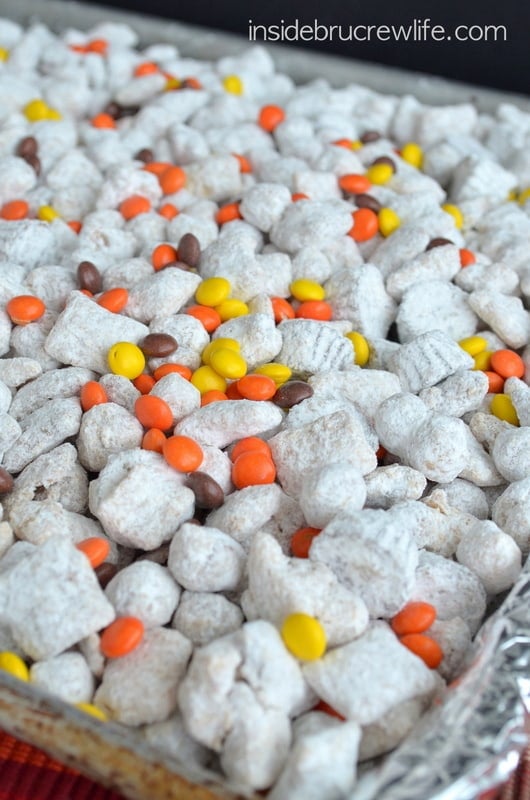 Now I know that I just posted the Mocha Cappuccino puppy chow recipe on Thursday, and here I am with another puppy chow for you today.  But in my defense, this Peanut Butter Cup Puppy Chow was way too good to wait any longer.  I just had to share it with you right away.  I mean it has 4 different kinds of Reese's loving going on in it.  You can see why I couldn't wait another day!
Ok, ok!  Fine, I had to share it right away for two reasons.  1.  It was amazing!!!!  You needed it.  2.  I didn't want to wait…because I just knew one of my amazing blog friends might have this chow version up their sleeves…so I didn't want to be disappointed when I googled it a week from now, and someone else had already made it.  :-)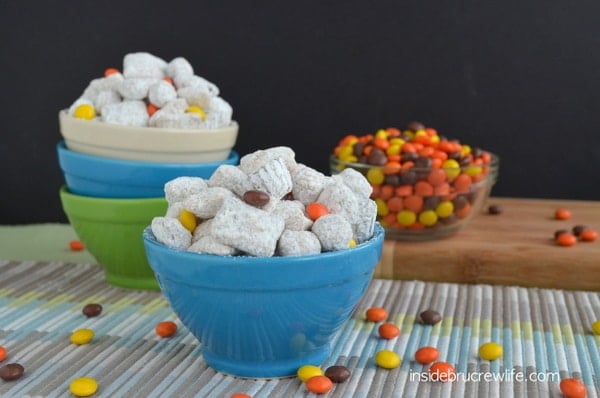 For this batch of Reese's Peanut Butter Cup Puppy Chow, I used more chocolate so the powdered sugar would stick a little bit heavier.  If you do not want so much powder, feel free to use a little less.  Have you used the CandiQuik melting chocolate before?  I love that it comes with it's own melting tray.   I just opened the outer package and put the tray in the microwave.  Once the chocolate was melted, I added the peanut butter right to the tray and stirred it in.  It saves me one dish to clean later.  Gotta love that!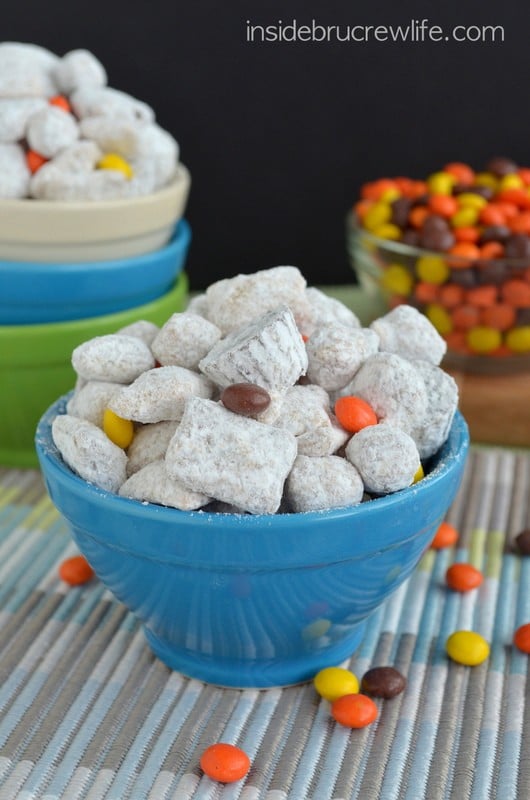 A yummy Reese's snack that takes less than 10 minutes to make?  That's my kind of treat!
Did I say I was taking this to a party today???
I think I feel a cold coming on…I better stay home and make it feel better with Peanut Butter Cup Puppy Chow

Make sure you don't miss any of the crazy baking
by following the BruCrew here:
FACEBOOK | PINTEREST | GOOGLE+ | TWITTER | INSTAGRAM
If you ever have extra Reese's just lying around, I suggest one of these recipes.
Hahaha!   That made me laugh…I never have extra Reese's just for no reason!!!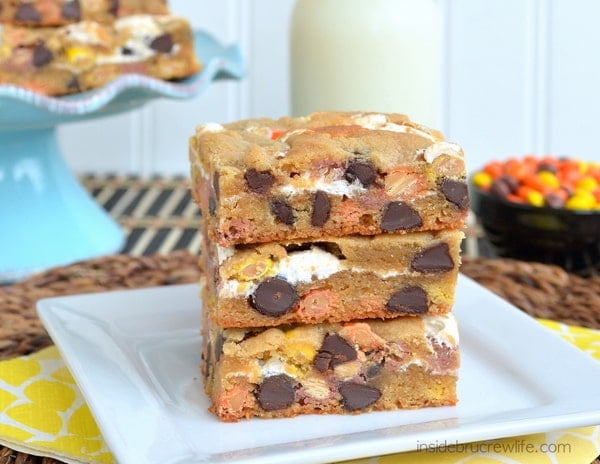 Marshmallow Reese's Blonde Brownies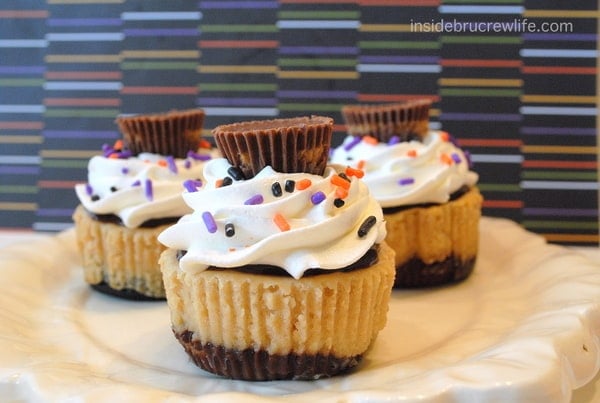 Peanut Butter Threat Mini Cheesecakes
Shared with: Mix it Up, Sugar & Slice, Show Me Your Plaid, Melt in Your Mouth, Craftomaniac, Funday, Mealtime, Saltree Social, Tasteful Tuesday, Talent Show, Totally Tasty, Lil Luna, What's In Your Kitchen, Wow Me, Round Up, What's Cookin, Treasures, Time Out, Chic and Crafty, Weekend Wrap Up,