Pecans and cheesecake were meant to be together. Make this Pecan Cheesecake Pie this holiday season and watch it disappear in no time at all.
*Be sure to sign up for the BruCrew email to get these delicious recipes in your inbox each day.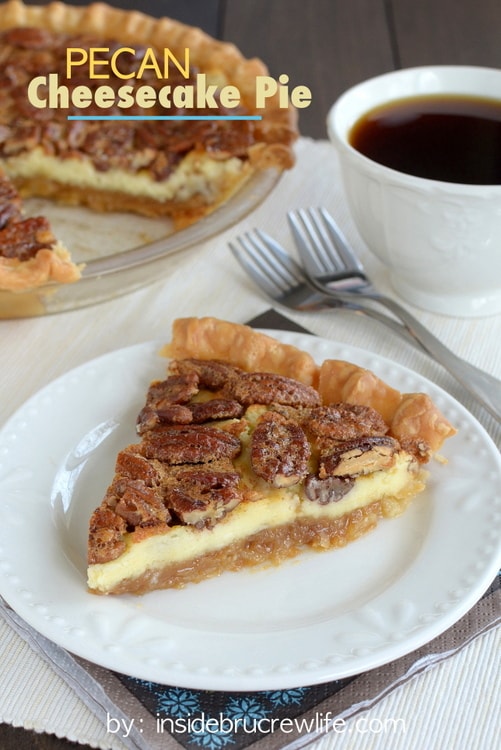 Do you like cheesecake? What about pecan pie? Do I have the pie for you then!!!
The other day I asked the question on Facebook about whether you would eat Apple Pie or pumpkin pie first on Thanksgiving. The response seemed to be split between the two pies, but it turns out a whole lot of people actually prefer pecan pie instead.
The amount of pecan pie lovers was news to me. I have to admit that is one of my favorites too, but I have actually never made one before. Time for that to change.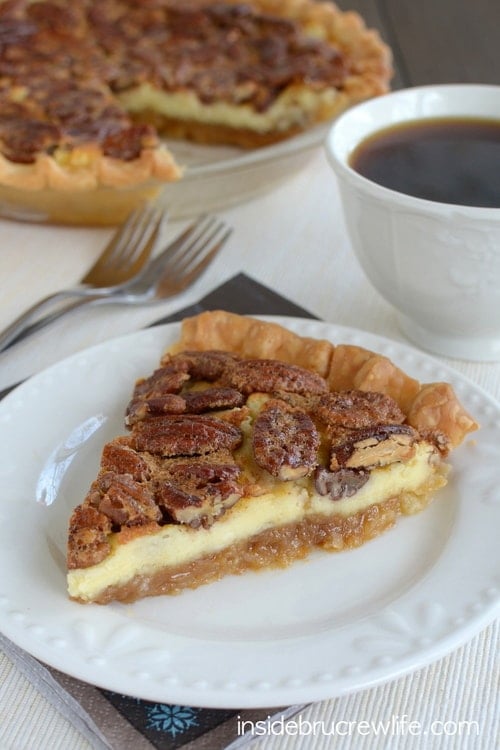 So, my hubby and I got talking about pecan pie, and how I should really make one to share at Thanksgiving dinner.
But I didn't just want to make the classic pecan pie, so here is the fun BruCrew twist to it. We added a cheesecake layer that magically bakes up through the gooey caramel pecan layer.
Talk about simply amazing!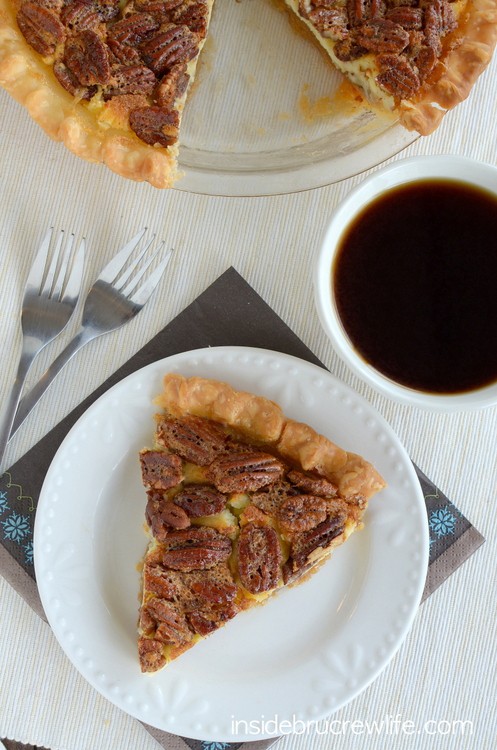 I'm really glad this pie had to go to a church meeting with my husband this week, because I'm not so sure my diet resolve would have lasted if it was still in my fridge.
Seriously, it's so good that you won't want to stop!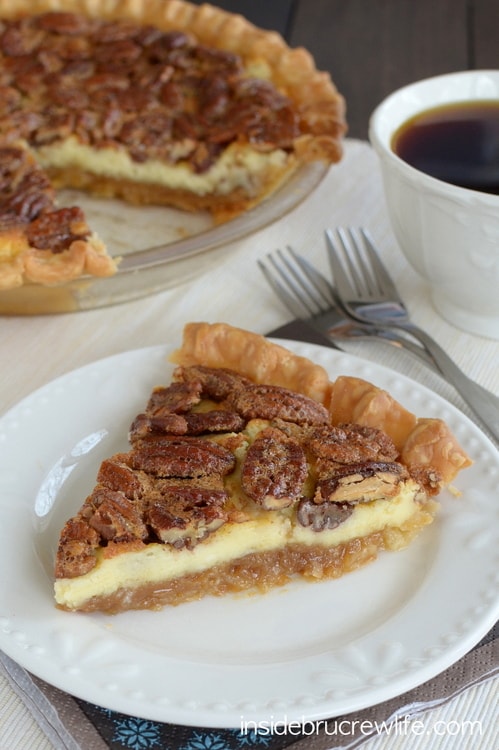 Tips for making a Pecan Cheesecake Pie:
This pie starts with my favorite way to make crust. It is called buy a pre-made Pillsbury crust at the store. Sure, I could make my own, but most days I don't want to mess with another thing. Pillsbury has always been my go to crust, so why change now.
Big tip to know…make sure you spray your pie plate with nonstick spray for this pie. Mine stuck just a little, but it didn't stop the guys from devouring it at my husband's meeting. He said he couldn't believe how fast it went. I also like to use a pie shield to keep the crust from getting too dark.
A small cheesecake layer gets spread on the bottom of the crust, then the pecan pie layer is poured on top of it. Then amazing and magical things happen while it is in the oven.
When you pull it out of the oven, the cheesecake has baked through and become the middle layer. Just be patient! It needs to cool completely before you can cut into it and see all the layers.
I seriously can't even wait to make another pecan cheesecake pie! It will be the first thing I eat for Thanksgiving dinner. Then I'm going for a slice of Pumpkin Pecan Cheesecake Pie next. They are both cheese and nuts, so I'm calling them appetizers. Wink, wink!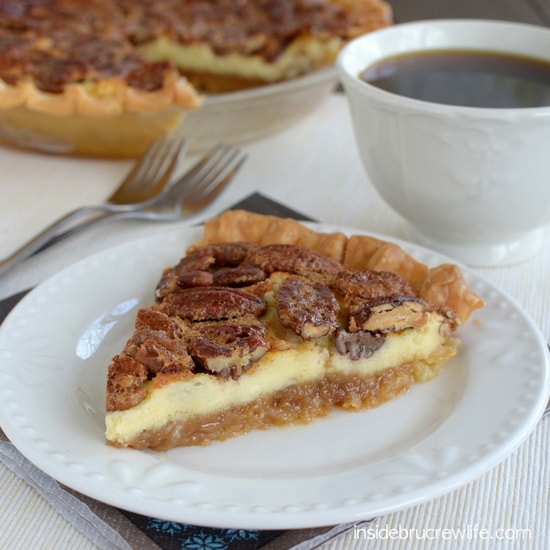 Stay up to date on all the BruCrew baking here:
FACEBOOK | PINTEREST | GOOGLE+ | TWITTER | INSTAGRAM | BLOGLOVIN
Yield: 8 slices of pie
Pecan Cheesecake Pie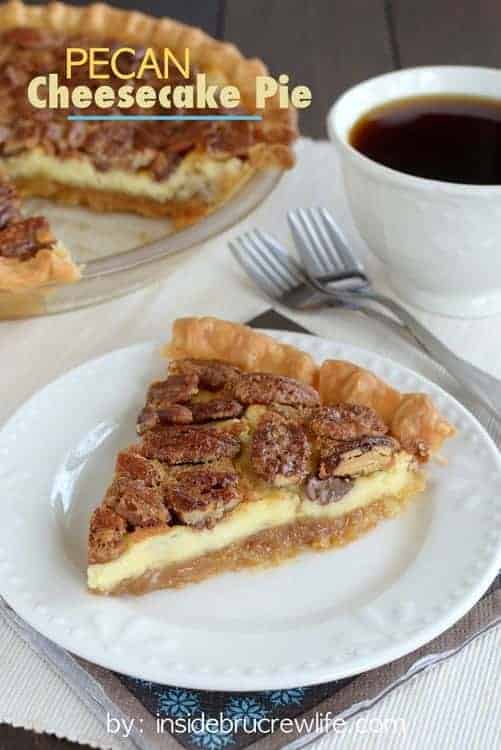 Layers of cheesecake and pecan pie join together to make one amazing dessert. Grab a cup of coffee and enjoy a slice of this Pecan Cheesecake Pie during the holidays.

Prep Time 30 minutes

Cook Time 50 minutes

Total Time 1 hour 20 minutes
Ingredients
For the Cheesecake Layer
1 refrigerated pie crust (I use Pillsbury)
1 package cream cheese (8 oz.)
1/4 cup sugar
1 egg
For the Pecan Layer
2/3 cup dark corn syrup
2 eggs
2/3 cup sugar
1 1/2 Tablespoons butter, melted
1/2 teaspoon vanilla
1 cup pecans
Instructions
Preheat oven to 350 degrees. Spray a 9.5 inch pie plate with nonstick baking spray. Press the pie crust into the pie plate and crimp the edges. Refrigerate while you make the fillings.
Beat the cream cheese and sugar until creamy. Add the egg and beat again. Spread in the bottom of the unbaked pie crust.
Whisk together the dark corn syrup, eggs, sugar, butter, and vanilla.
Stir in the pecans. Gently spoon the mixture over the cheesecake layer.
Cover the edges of the pie crust with a pie shield or strips of foil, so it doesn't burn. Bake for 50 minutes. Remove from the oven and let cool 1-2 hours. It will be puffy when it comes out, but it will sink as it cools.
Refrigerate until chilled all the way through. Cut into 8 slices.
Recommended Products
As an Amazon Associate and member of other affiliate programs, I earn from qualifying purchases.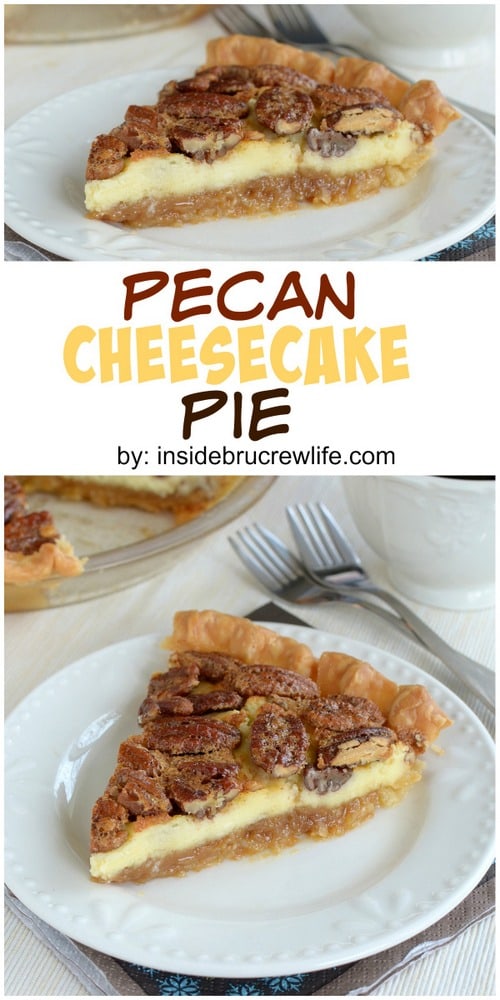 *This post contains affiliate links. Inside BruCrew Life may receive a small percentage from sales made through these links. Thank you for letting us share products we love this way.