Our loaded Apple Nachos are the perfect snack for any time! These slices are generously loaded with peanut butter, marshmallows, caramel, and other delicious toppings. The combination of sweet and crunchy will have everyone asking for more.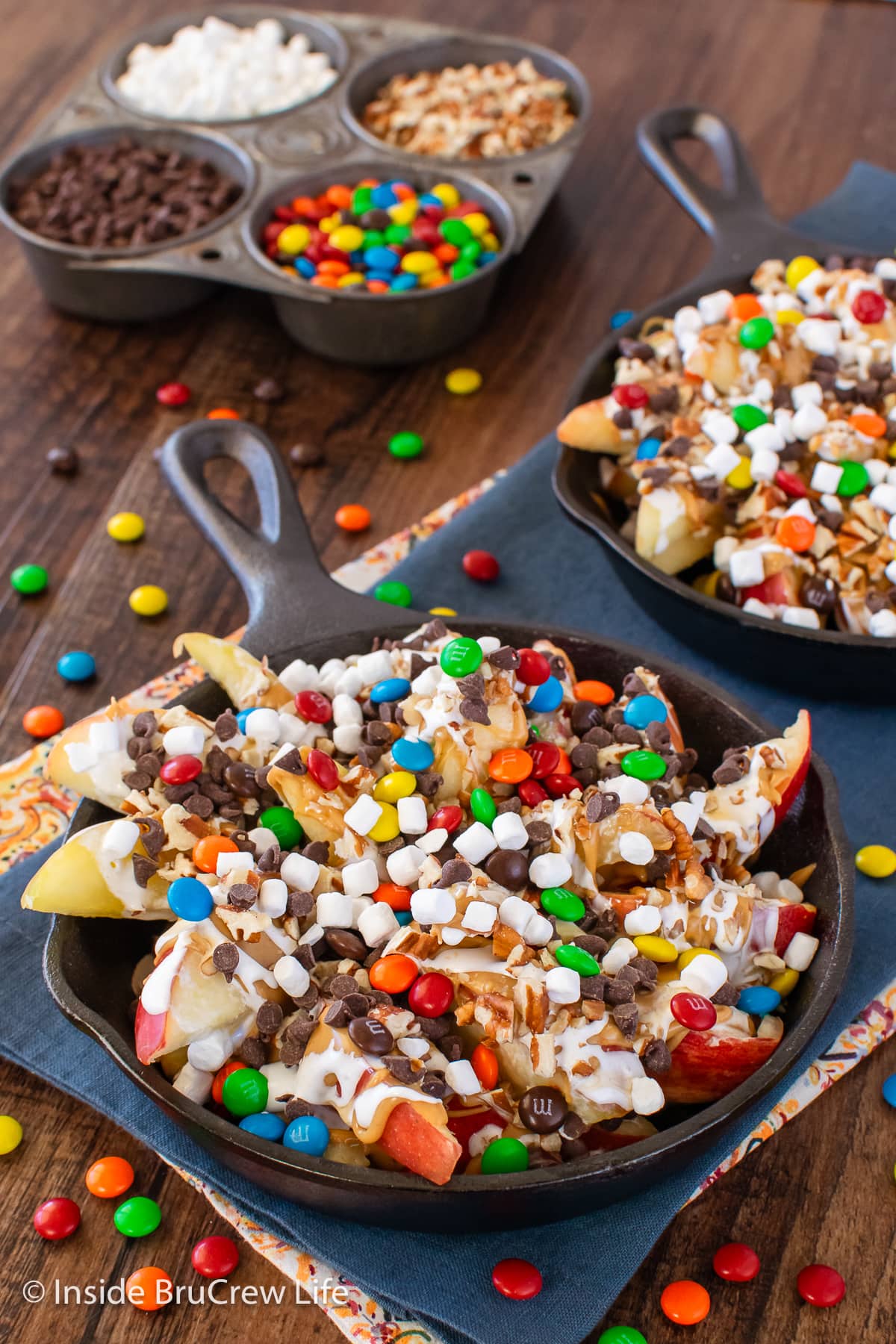 Jump to:
Have you heard about these delicious apple slices? My youngest sister couldn't stop raving about them! If you love traditional caramel apples, you will enjoy this easy variation.
I had extra apples after making apple butter, so I made a plate of dessert nachos for our kids. The delicious snack was a hit because it was gobbled up in minutes!
What are Apple Nachos?
This delicious fruit dessert puts a sweet spin on regular nachos by using apple "chips" and gooey toppings.
Why Make This Easy Apple Nachos Recipe
If you're looking for a tasty fall treat, you can never go wrong with apple nachos. Kids of all ages will enjoy adding their favorite toppings to their fruit plates.
Easy to Make. Quick and simple to prepare, they're an ideal snack or dessert for parties, movie nights, or family gatherings.
Colorful Treat. The vibrant toppings on the apple slices will catch your eye and make you want to dig in!
Kid-Friendly. This snack is easy to eat with your fingers and can be personalized with your child's favorite toppings.
Key Ingredients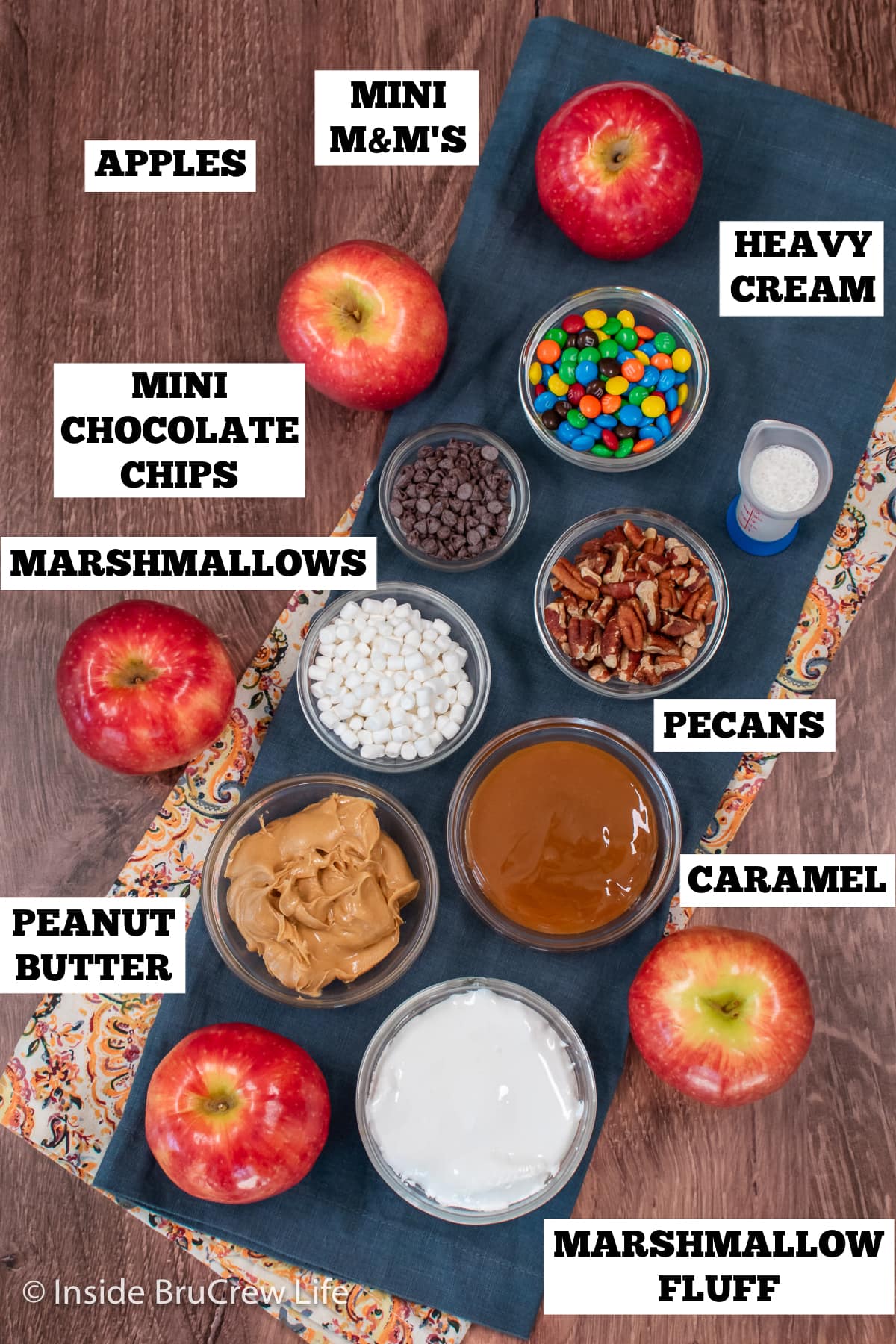 This delicious snack is made with fresh apples and various toppings. Set up a caramel apple nacho bar so everyone can customize their sweet treat.
Apples - Feel free to use your favorite variety of apples for this easy treat. We like using tart apples like Pink Lady or Granny Smith to balance out the sweetness of the toppings.
Caramel - A store-bought or homemade caramel sauce will work. Just make sure it is thick so the toppings will stick.
Peanut Butter - Use your favorite brand of nut or seed butter.
Marshmallow Fluff - This sweet spread can be found in the same aisle as peanut butter and jelly.
Miniature M&M's - The smaller candies are better for garnishing desserts.
Marshmallow Bits - These little dehydrated marshmallows are what they use in hot chocolate packets. Jet Puff Marshmallow sells an entire container of just marshmallows. I usually find them at Target.
Miniature Chocolate Chips - The smaller size of these chips makes them better for toppings.
Nuts - Use any chopped nuts.
How to Make Apple Nachos
Simple ingredients make these apple nachos a delicious and fun way to enjoy a healthy snack! This easy dessert comes together in minutes.
Fill a bowl with water and some kosher salt. Cut the apples into thin slices and place them in the salt water for ten minutes.
Pat the slices dry with paper towels and place them on a large platter or two small cast iron skillets.
Place the peanut butter and caramel in separate bowls. Heat in the microwave for a few seconds until it is warm and easily stirred. Drizzle the melted peanut butter and caramel topping over the top of the apples.
Sprinkle with candies, mini chocolate chips, nuts, and/or marshmallow bits.
Apple Nachos Toppings
Toppings are a fun way to customize and enjoy apple slices. There are so many ways to create this fun snack. The best part of this dessert is using what you like or have on hand.
Hot Fudge
Nutella
Chocolate Sauce
Almond Butter
Dried Fruit - Raisins, cranberries, cherries, and blueberries.
Candy Bars like Snickers, Reese's, Milky Way, or Butterfingers.
Toffee Bits
Nuts - Walnuts, pecans, pistachios, almonds, and pepitas are great options.
Storage Recommendations
These loaded apple slices are best if served right away because they can turn brown and get watery.
You can prepare all the ingredients in advance and store them in containers in the refrigerator and on the counter. Keep the slices in an airtight container in the fridge until ready to assemble.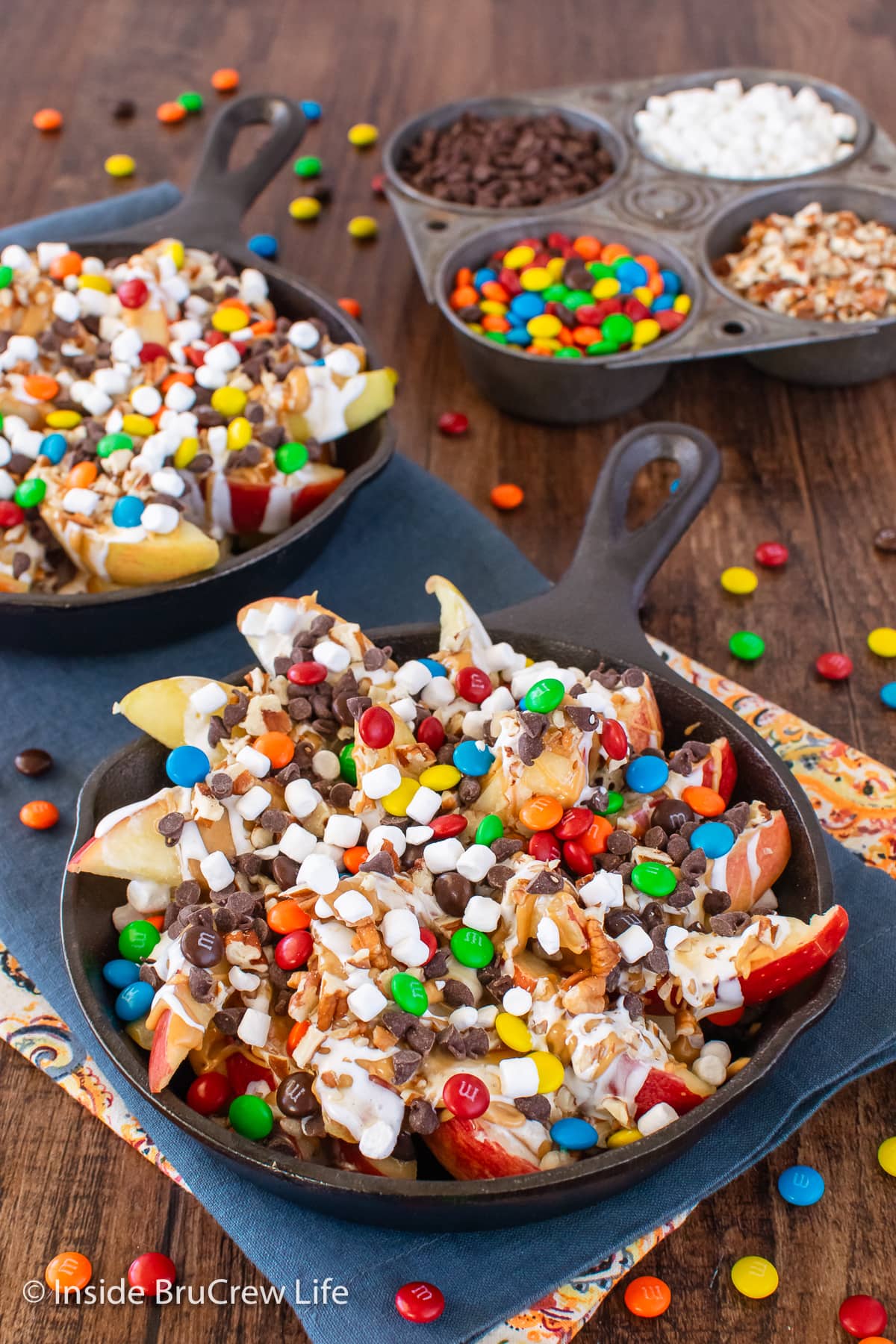 Tips and Tricks
Choose crisp apples. Apple slices that are firm and crunchy will hold up to the weight of toppings without getting mushy.
Use an apple slicer. This handy little kitchen tool is a great way to slice apples quickly.
Keep the apples from turning brown. Quickly dip the slices in lemon juice. Another option is to dissolve one teaspoon of kosher salt in two cups of water. Soak the slices for ten minutes, then pat dry.
Variations
Cookies and Cream Apple Nachos - Add melted white chocolate drizzles, then top with Oreo cookie chunks.
Reese's Apple Nachos - Drizzle the apples with melted marshmallows and peanut butter, then top with chopped Reese's peanut butter cups.
Caramel Apple Nachos - Drizzle the apples with warm caramel and top with diced Rolos or chopped Snickers bars.
Healthy Apple Nachos Recipe - Stir Greek yogurt and peanut butter in a small bowl, then drizzle over the apples. Top with honey nut granola, cacao nibs, or dried cranberries.
FAQs
What type of apples should I use for apple nachos?
Crisp apples are the best ones for dessert nachos. Whether you use sweet or tart comes down to a personal preference.

Honey Crisp, Gala, and Fuji apples are good sweet options. Pink Lady, Granny Smith apples, and SweeTangelo are delicious tart apples.
How do I keep the apples from turning brown?
Apples oxidize and turn brown when exposed to air. Dip the slices in lemon juice or soak them in salt water for 10 minutes to keep the apples from browning. Pat dry with paper towels and keep in a sealed container in the refrigerator.
Can I make this fun snack ahead of time?
I do not recommend making apple slices with toppings ahead of time because the apples will turn brown, and the toppings will get watery and messy. Prep all the ingredients beforehand, so they can be assembled quickly when ready to eat them.
More Kid-Friendly Apple Treats
Do you love a recipe you tried from Inside BruCrew Life?
Please leave a 5-star ⭐️ rating and a review in the comments section below.
*This post was originally posted in October 2010. The photos were updated in September 2018, and it was republished in September 2023.
**We participate in the Amazon Services LLC Program, an affiliate program designed to provide a means for us to earn fees by linking to Amazon.com .