This Banana Nutella Snack Cake is so easy to make. Adding swirls of Nutella and a drizzle of glaze to this soft banana cake recipe makes it the perfect treat to enjoy with your morning cup of coffee.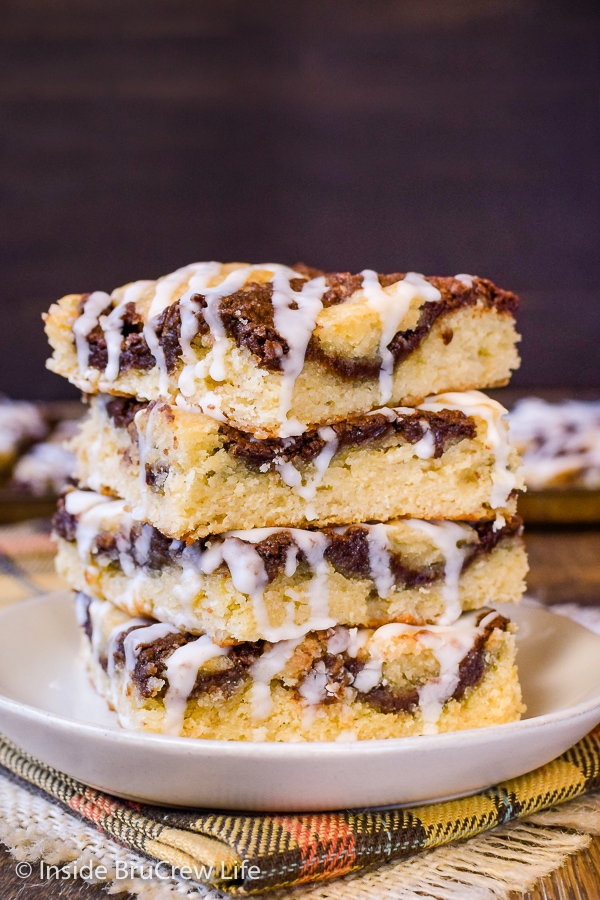 Whenever I have to bring a baked item for a breakfast or brunch, I usually make this Lemon Strawberry Snack Cake. It is such an easy cake to change up the filling on.
This week we had a bunch of over ripe bananas sitting on our counter that needed used and a jar of Nutella in the pantry that was calling my name.
I love tweaking and changing recipes, so this week I decided to make a banana cake using my favorite snack cake recipe as the base.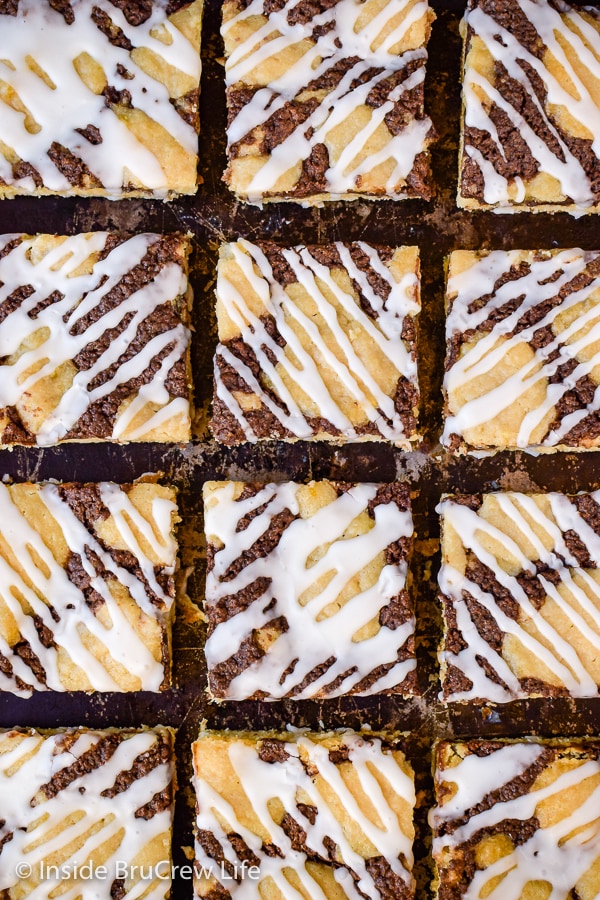 The rest of the bananas are still sitting here waiting for me to make another batch of these Double Chocolate Banana Muffins.
Although, they may just sit here until I get tired of seeing them, and then I will freeze them for smoothies or Blueberry Banana Frozen Yogurt.
Baking without Eggs
Did you know that you can substitute banana puree for eggs in MOST recipes? You can use Greek yogurt or applesauce in place of eggs too. Just a random baking tip in case you or someone you know needs an eggless recipe.
The original snack cake recipe calls for four eggs, but I substituted ripe bananas and yogurt instead because I wanted this cake to be more like a Danish.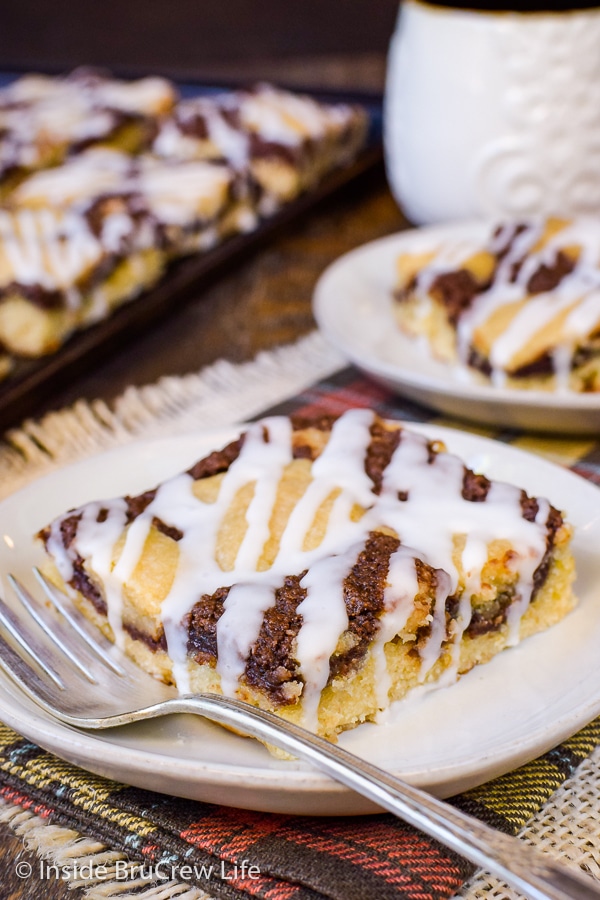 In my mind using fruit and yogurt makes this cake acceptable for breakfast. I was so excited when I pulled the baking sheet out of the oven and saw that this banana cake recipe had baked up perfectly.
This breakfast cake is my new favorite thing to make with over ripe bananas because it is absolutely amazing! Our family couldn't stop grabbing bites of this delicious banana cake.
Hhhmmm…maybe I should use those extra ripe bananas to make another one of these snack cakes instead of banana muffins...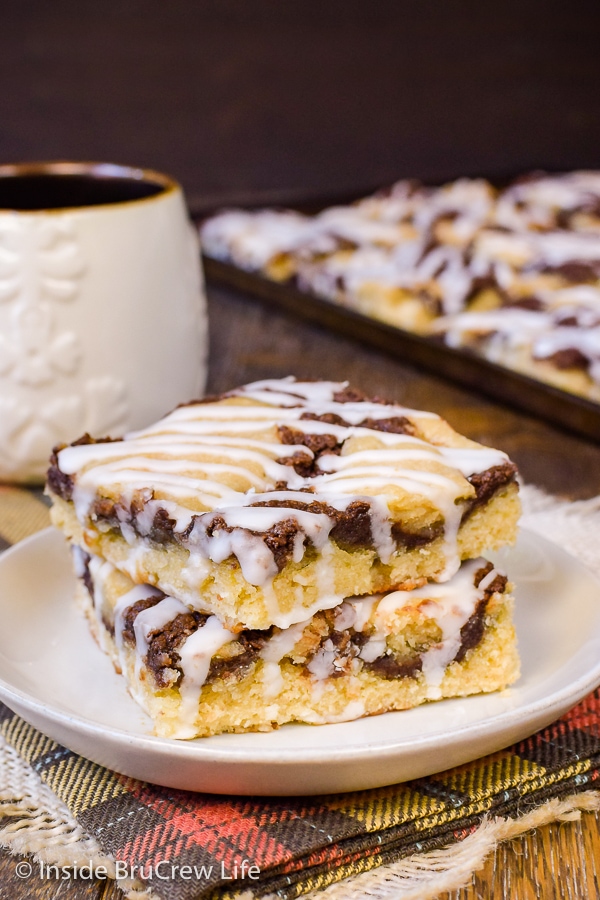 How to Make a Banana Nutella Snack Cake
Line a 15x10 sheet pan with foil and spray it with nonstick spray. This keeps your cake from sticking to the pan and helps you lift it out easily. (full recipe at bottom of post)
Beat the butter and sugars until light and fluffy. Add the yogurt and banana and mix again.
Slowly beat in the dry ingredients until a sticky dough comes together. Reserve 1 cup of the batter for the top of the cake.
Drop the remaining dough on the prepared pan. PRO TIP: Use an angled spatula to spread the dough out evenly on the pan.
Mix the Nutella and softened cream cheese together. Drop by spoonfuls on top of the dough.
Gently spread the cheesecake mixture out using a spatula or the back of a spoon. Make sure to leave a 1-inch border all around the outside edge of the cake.
Drop the reserved dough on top of the Nutella cheesecake layer and bake.
Remove and let the banana cake cool completely before cutting into squares.
Mix together the powdered sugar and milk and drizzle over the tops.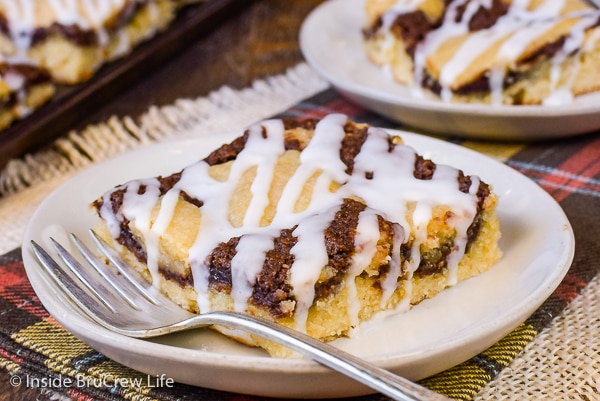 More Banana Nutella Recipes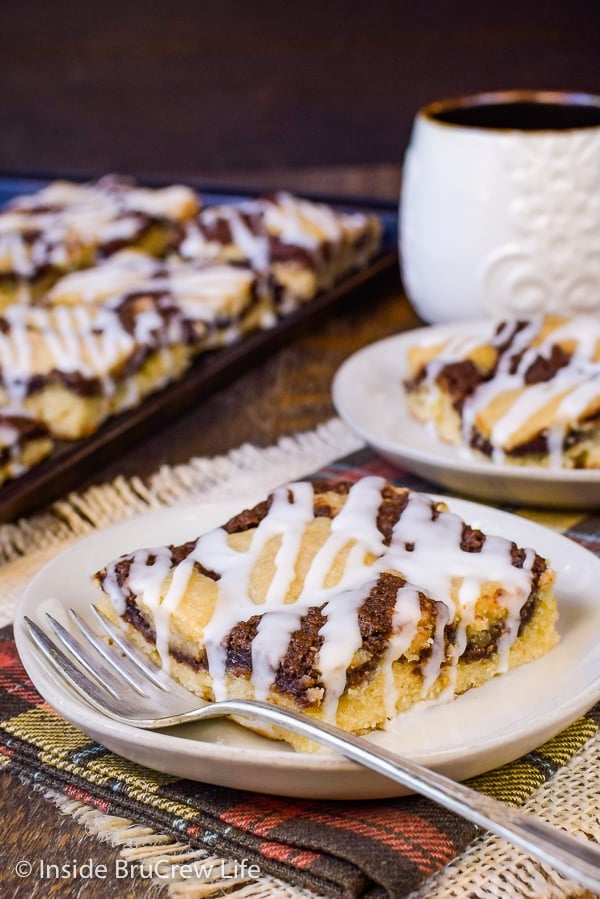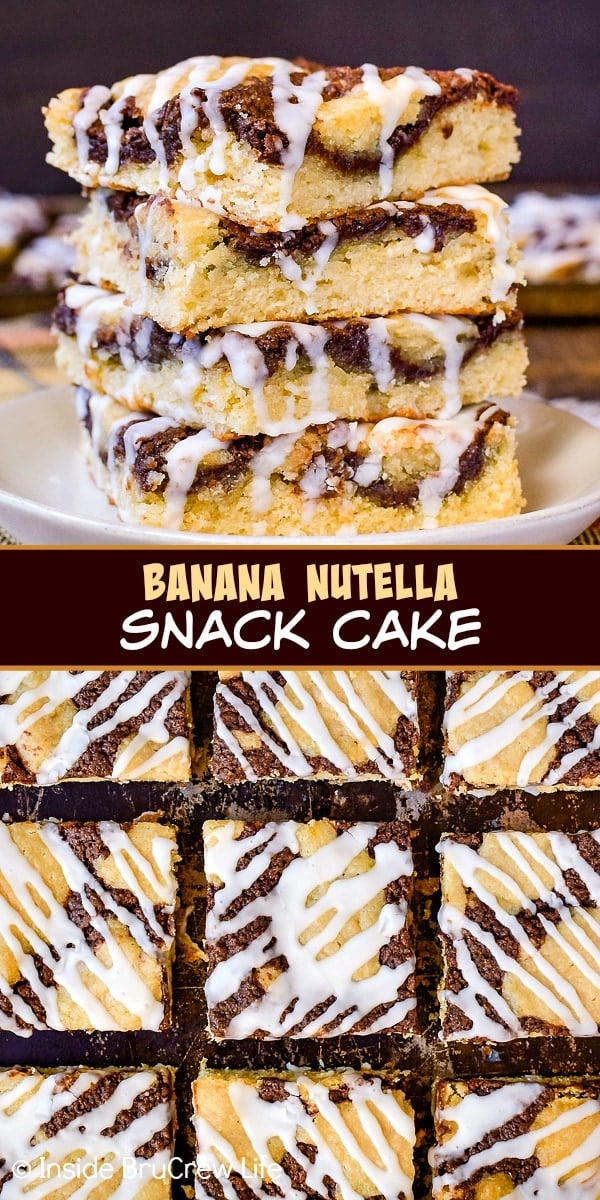 *The post for Banana Nutella Snack Cake was first published March 5, 2019. The photos and post have been updated and republished July 28, 2020.