The gooey chocolate center in these Mini Lava Cakes will have you licking your plate clean. Add a scoop of ice cream and toppings to the top of the lava cupcakes for an extra special dessert.
Love lava cakes? Give our Reese's lava cake and this healthy lava cake a try.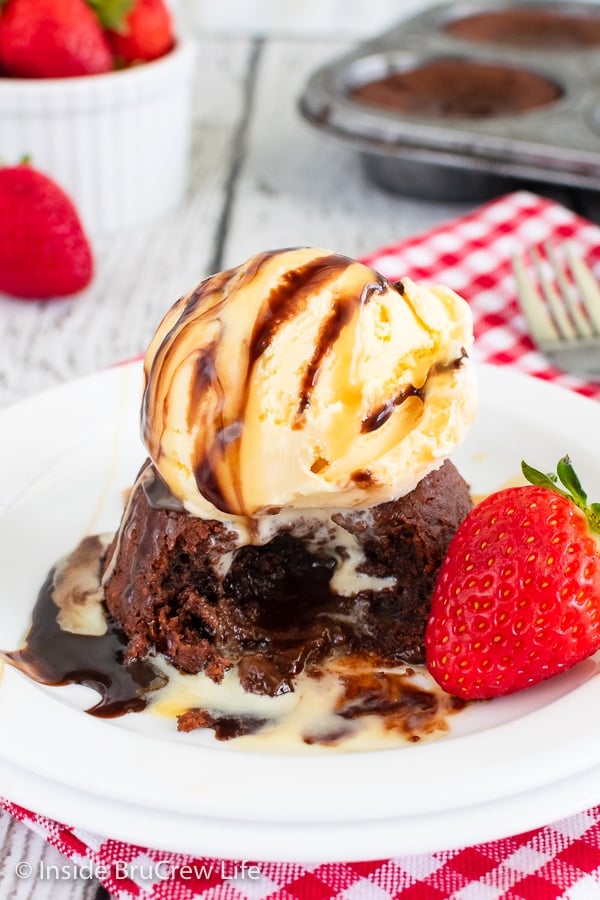 Jump to:
One of our youngest son's favorite dessert is chocolate melting cake. He fell in love with this gooey chocolate dessert on his very first Carnival cruise. Now he asks for them all the time.
Since we can't go on a cruise every single week, I knew I had to find a way to make them at home for him. I began trying different recipes trying to find the right texture and taste for the gooey cake. Not every recipe turned out like I wanted, until I got to this one.
The gooey chocolate center was a perfect match for the soft cake that surrounded it. I love that these little lava cakes look plain and innocent at first. Then you dig in with a spoon and the chocolate runs out and mixes with the melting ice cream. It's pure perfection!
Plus, small single serve desserts are so nice to have. You can eat the entire thing and not feel too bad about it. Try out this vanilla mug cake and see what I mean!
Why You Will Love This Recipe
Easy to make in under 30 minutes.
No complicated steps or special tools.
Cakey on the outside and gooey on the inside.
No cooling time needed! Serve hot from the oven!
Ultimate Valentine's dessert for your sweetheart.
Ingredients Needed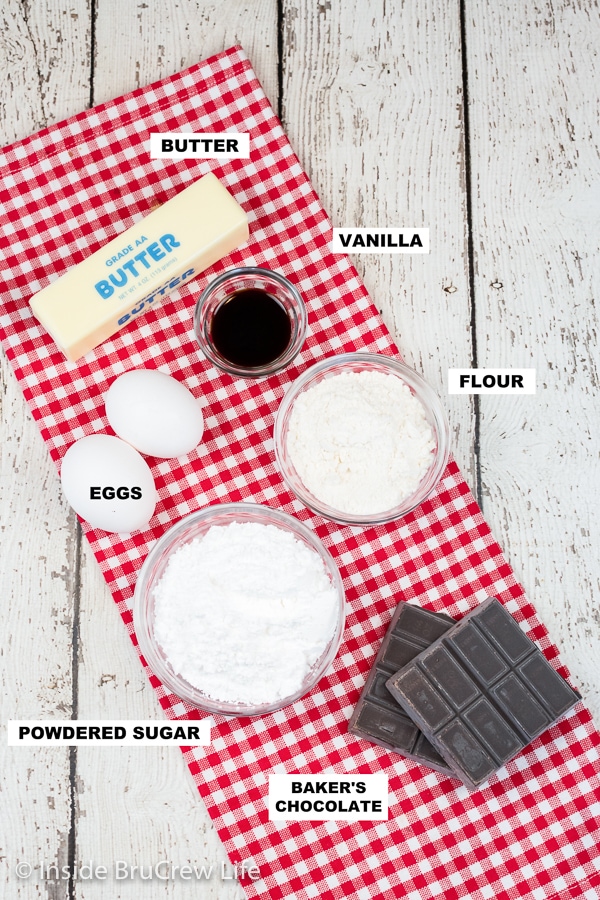 This easy lava cake recipe comes together in minutes with just a few simple ingredients that you probably already have in your kitchen right now.
Unsalted Butter - No need to soften the butter because you will be melting it.
Chocolate - For the best flavor and taste use a high quality chocolate bar. I prefer to use semi-sweet chocolate or dark chocolate. You can also use ⅔ cup chocolate chips if you happen to have those on hand instead of baking chocolate.
Confectioners Sugar - The fine ground sugar will dissolve quicker into the batter.
Flour - You will only use a small amount of all purpose flour in these cakes. Make sure you correctly measure the flour, so the centers stay gooey.
Eggs - This recipe just calls for 2 large eggs.
Vanilla & Salt - Adds flavor.
How to Make Chocolate Lava Cake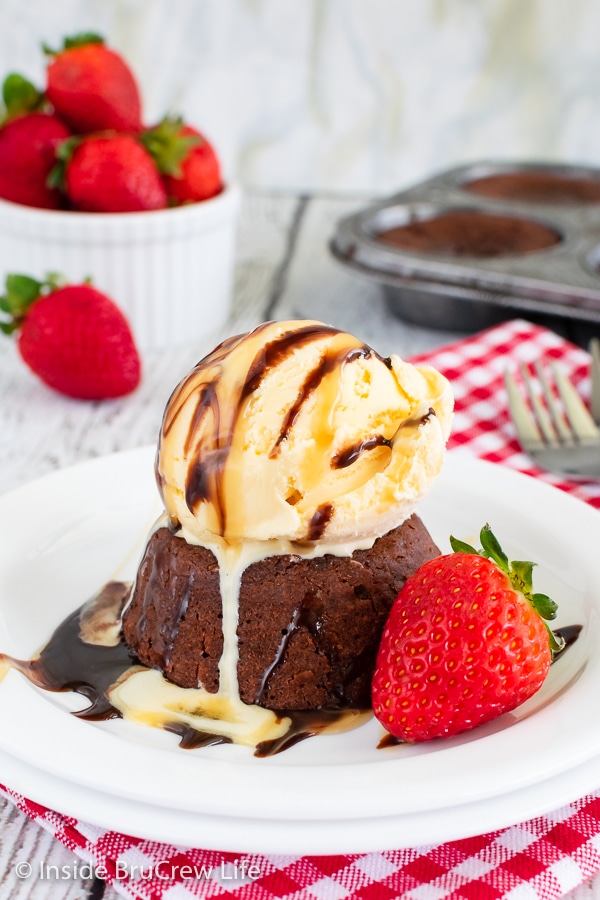 Gooey lava cakes are the ultimate dessert for chocolate lovers. They are so easy to make with just a few simple steps.
Prep the oven and pan. Preheat oven to 425°. Spray the muffin tin with a baking spray that has flour in it. Dust each one with cocoa powder to keep the chocolate lava cakes from sticking.
Make the batter. Melt the butter and chocolate in a small saucepan. Stir in the sugar and flour. Whisk the eggs and vanilla and slowly start mixing in the chocolate mixture until everything is mixed together.
Fill pans and bake. Spoon the chocolate batter evenly into the cavities of the prepared pan and bake for 7-8 minutes. Do not over bake! Over cooking the lava cakes will result in a solid center.
Remove from the pan. Let the lava cakes rest in the muffin tin for a few minutes to finish baking. Place a baking sheet firmly on top of the muffin tin and flip it over. Let the cakes fall out onto the pan.
Serve while warm and gooey. Gently place each one on a plate and add toppings, if desired.
Serving Suggestions
These muffin tin lava cakes taste amazing as soon as they come out of the oven. If you want to take them up a notch, add one or more of these toppings.
Powdered Sugar - A little sugar dust makes them pretty and adds a sweet taste.
Fresh Berries - Strawberries, raspberries, blueberries, and blackberries are great choices.
Whipped Cream - You can serve them with Cool Whip or a swirl of this easy homemade whipped cream topping.
Ice Cream - Vanilla ice cream is always a match for chocolate cake. You can also try chocolate ice cream, strawberry ice cream, or the cookies and cream ice cream. The combo of hot cake and cold ice cream is phenomenal!
Syrups - A drizzle of chocolate, caramel, or strawberry sauce really takes these gooey cakes over the top.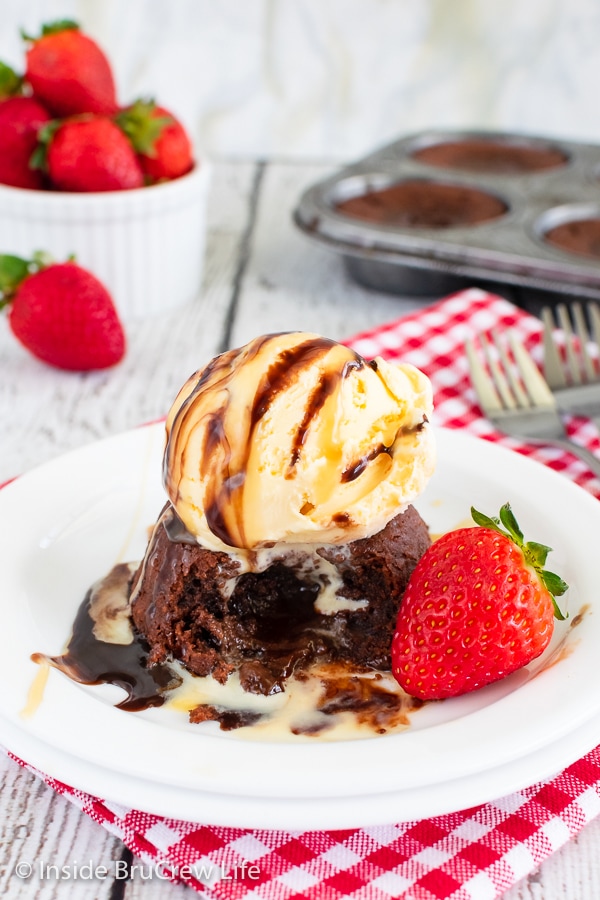 Storage Recommendations
If you happen to have any leftovers, place them in an air tight container in the fridge for 1-2 days.
To reheat, uncover and place in the microwave for 15-30 seconds. The center may not be as gooey when you do this.
Recipe FAQs
Why are the centers in lava cakes gooey?
These molten cakes are baked just long enough for the outside cake to set up creating a shell for the hot gooey center.
Is it safe to eat lava cake?
Gooey lava cakes are safe to eat. Even though the cakes are undercooked, the internal temperature of the centers reach 160° making them ok to eat.
Can you reheat mini lava cakes?
Yes, you can reheat them in the microwave for 15-30 seconds. It will cook the center more, so the center may not be as molten chocolate as when they were first baked though.
Can you make lava cake ahead of time?
Yes, you can make the batter ahead of time; cover and refrigerate it until you want to make the cakes. Let the batter sit out for 20 minutes, then fill the muffin tin and bake as directed.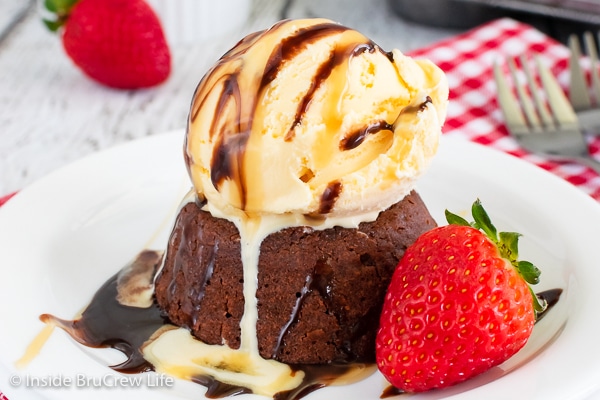 More Chocolate Cake Recipes
Do you love a recipe you tried from Inside BruCrew Life?
Please leave a 5-star ⭐️ rating and a review in the comments section below.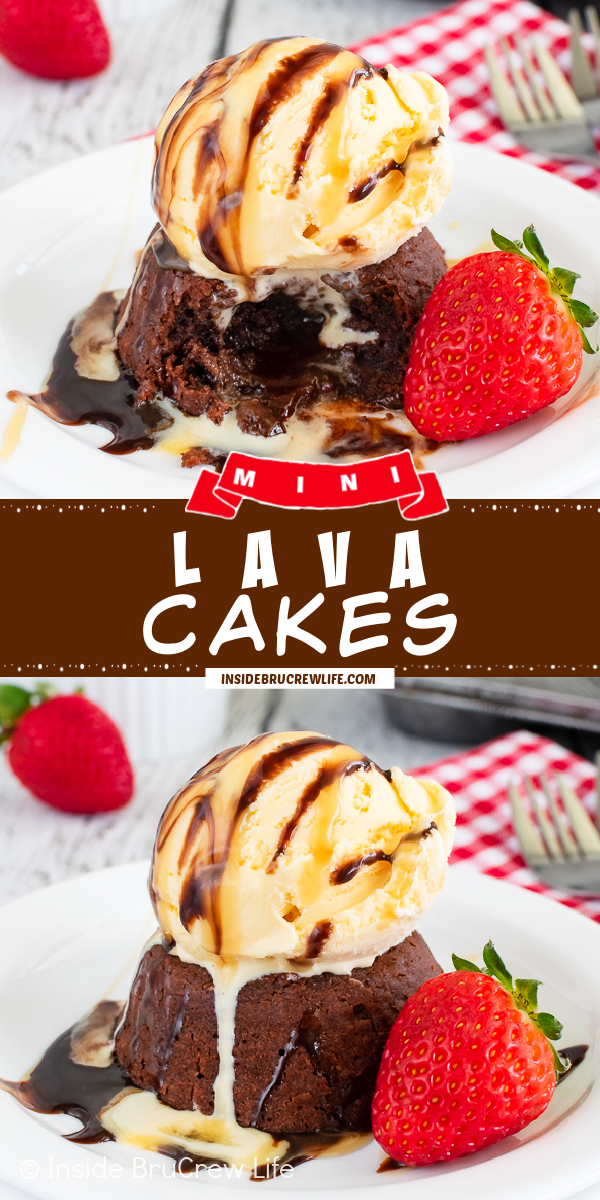 *The post for these Chocolate Lava Cakes was first published October 2016. The post was updated and republished January 2022.