You can't beat the taste of these Fudge Brownies. This chocolate brownie recipe is rich, moist, and so fudgy. You won't be able to resist them!
Looking for more brownies? These coffee brownies and these chocolate chip brownies are a few of our favorites.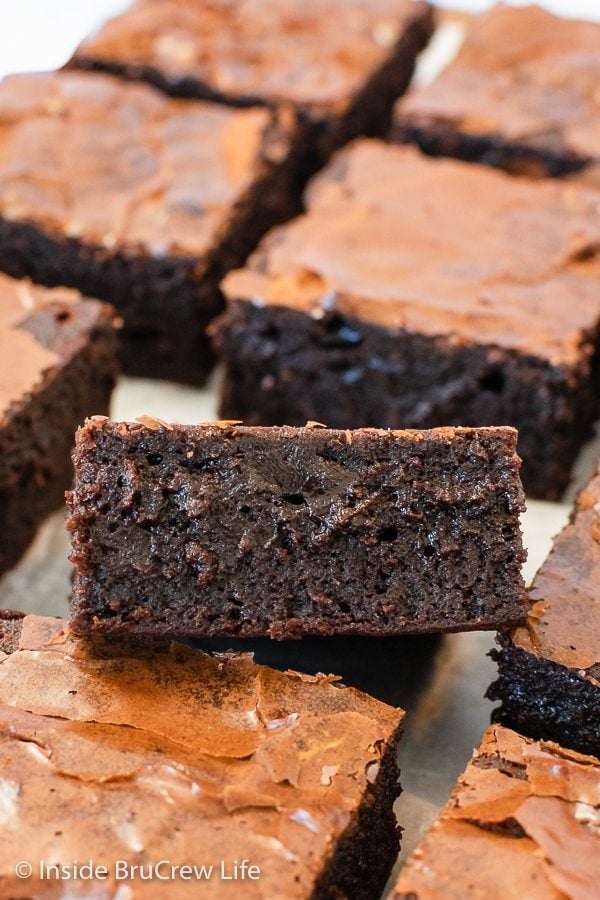 Gooey fudge brownies are one of my favorite things. The dark chocolate and soft chewy texture always makes me smile when I eat them!
There is nothing better than a fresh, homemade brownie. These babies have been made from scratch, and you won't be able to stop at just one when you discover how great they taste.
This recipe will give you brownies that are so much better your favorite box brownie mix. They are dense and gooey and have the perfect crinkly top.
Why This Recipe Works
Craving something sweet? We have you covered with our easy fudge brownies. With just a few simple ingredients, you can have a batch of rich and chocolatey brownies ready in no time.
These brownies take just minutes to prepare and only require one bowl. Making brownies from scratch may take a few extra minutes, but they taste 100 times better. One bite, and you will never buy a box mix again!
My only concern is that you might eat the entire pan of brownies without sharing after tasting how amazing they are.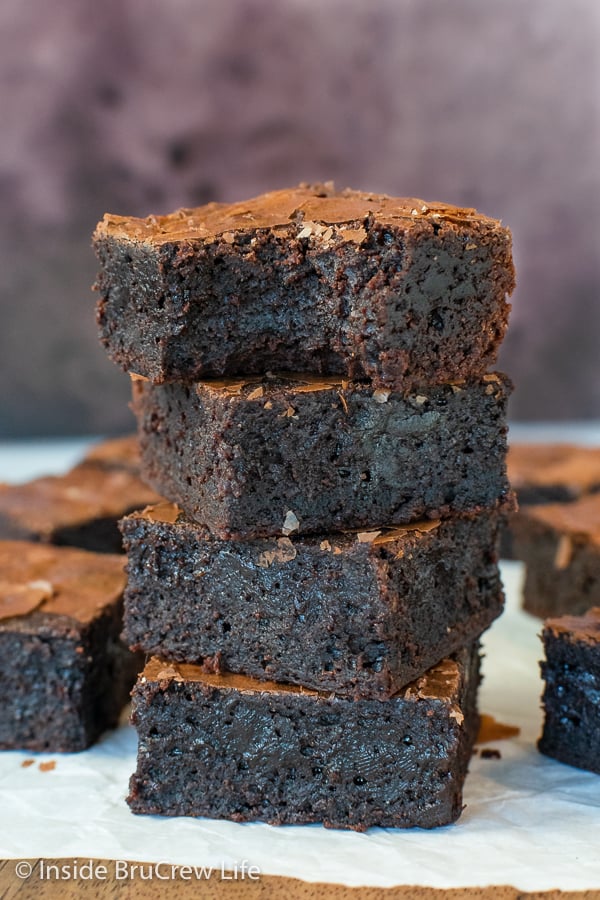 What You Need
You only need a few simple ingredients that you probably already have in your pantry. Our recipe is so simple that anyone can make them, even if you've never made homemade brownies before.
Butter - Adds so much flavor and keeps the brownies rich and fudgy. Use unsalted butter to control the saltiness in your recipes.
Semisweet Chocolate Bar - Use a good quality baking chocolate like Ghirardelli for best flavor and taste. You can mix different types of chocolates - dark, semisweet, milk.
Granulated Sugar - Sweetens the chocolate brownies.
Eggs - Adds a rich flavor and binds the ingredients. Mixing the eggs and sugar really well also creates that crackly top on your baked brownies.
All Purpose Flour - Adding too much flour will give you cakey brownies and can also ruin your baked goods. Make sure you know how to measure flour correctly, so every recipe turns out every time.
Cocoa Powder - I like to use Hershey's Dark Cocoa in all my brownie recipes. Feel free to use any type of cocoa powder that you have on hand.
Vanilla & Salt - Adds flavor and balances out the sweetness.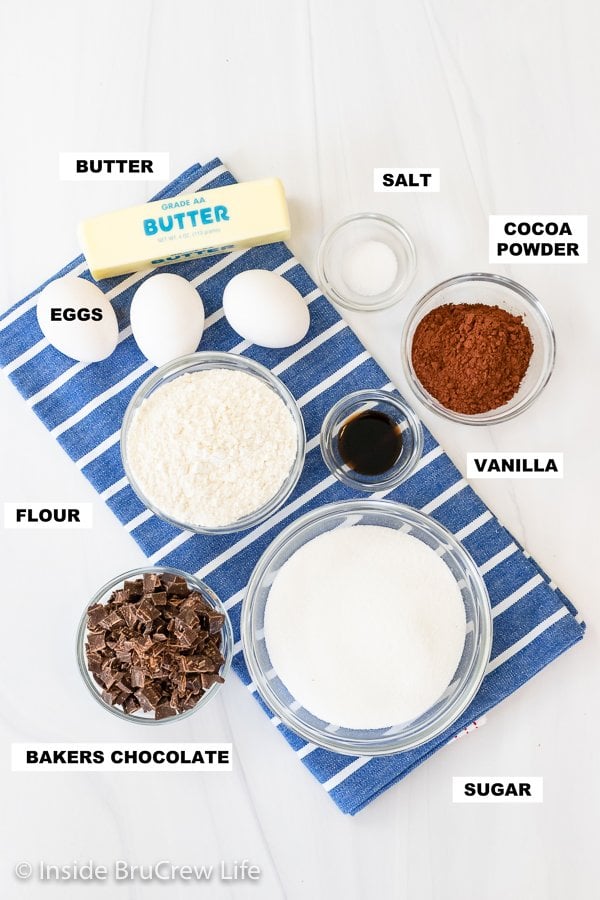 How to make Fudge Brownies
This fudgy brownie recipe is so simple to make. All you need is a bowl and a mixer to make a pan of the best brownies.
Melt the butter and chocolate. Place a stick of butter and the chopped bakers chocolate in a small saucepan over low heat. Stir until completely melted. Remove from the heat and let cool slightly.
Beat the eggs and sugar in a mixing bowl. Make sure to mix until they are light and foamy. This will give you a paper thin top after baking. Add the salt, vanilla, and cooled chocolate and beat together.
Add the flour and cocoa powder. Slowly stir until a stiff batter forms. Spread it in a parchment lined pan.
Bake and enjoy. Place the pan in the oven and bake until a toothpick inserted in the middle comes out with moist crumbs still on it. Remove and let cool 1-2 hours before cutting.
Storage
Counter - Keep the cooled brownies in an air tight container on the counter for 3-4 days.
Freezer - Wrap the whole brownie or brownie square in plastic wrap and place in a freezer safe bag. Freeze for 1-2 months. Thaw before serving.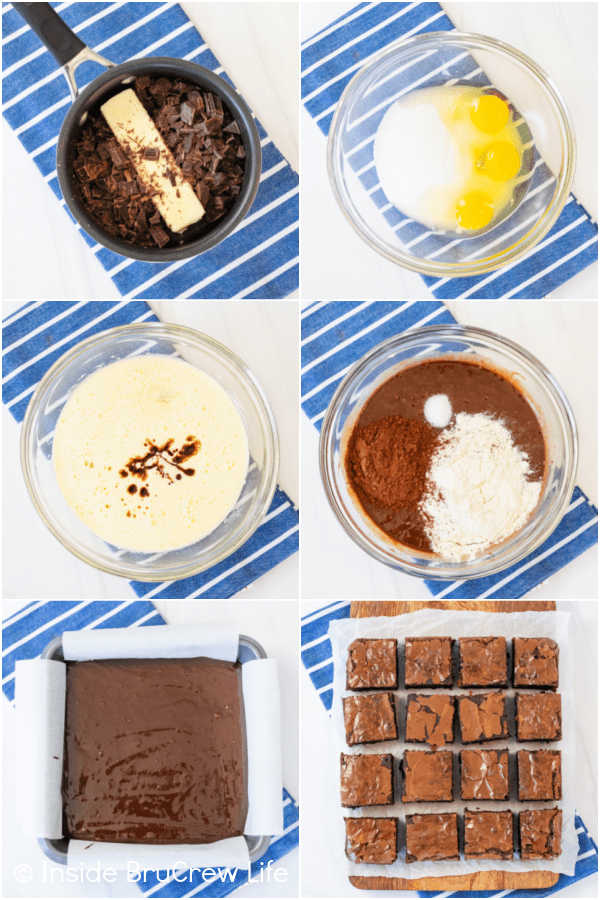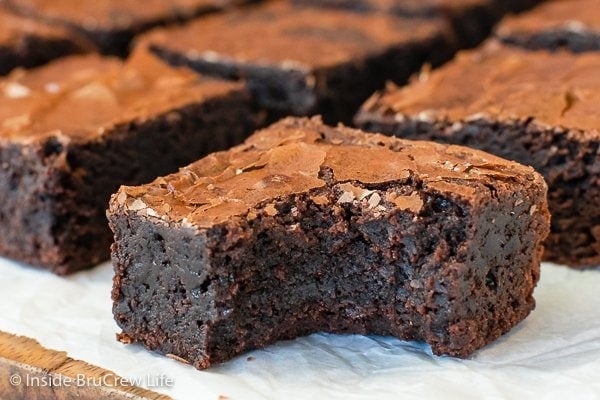 Recipe Tips
Let the chocolate cool before adding it to the egg mixture. If you add hot melted chocolate, you can end up with scrambled egg pieces in your batter.
Do not over mix your brownie batter. Too much stirring and beating can result in flat dense brownies.
Use the size pan that is specified in the recipe for best results. If you use a smaller pan, add more baking time. Using a large pan will result in a shorter bake time.
Line the baking pan with parchment paper. This allows you to remove the brownies easily once they are cool. It also keeps the edges from getting too hard.
Test the brownies a few minutes before the timer goes off. For fudge brownies there should be moist crumbs on a toothpick when inserted 2 inches from the side of the pan. We prefer to always slightly under baker our brownies.
Do not cut too early! Let them cool for a few hours before cutting into squares.
Use a plastic knife to make clean cuts. Trust me! This really does work.
Serve fudge brownies with powdered sugar, a pinch of sea salt, or a scoop of the best cookies and cream ice cream.
FAQ'S
Why are my brownies dry?
Most likely you over baked them. Use a toothpick to test the brownies 1-2 minutes before the timer goes off. You should see moist crumbs on it.
What is the difference between fudgy brownies and chewy brownies?
Fudge brownies have a moist, dense, and slightly gooey texture. Chewy brownies have oil added to the batter, and they are dense with a chewier texture. Recipes for both types are very similar.
What makes brownies fudgy?
Fudge brownies have a higher ratio of butter and chocolate than flour in the batter. Cakey brownies have more flour and rely on baking powder.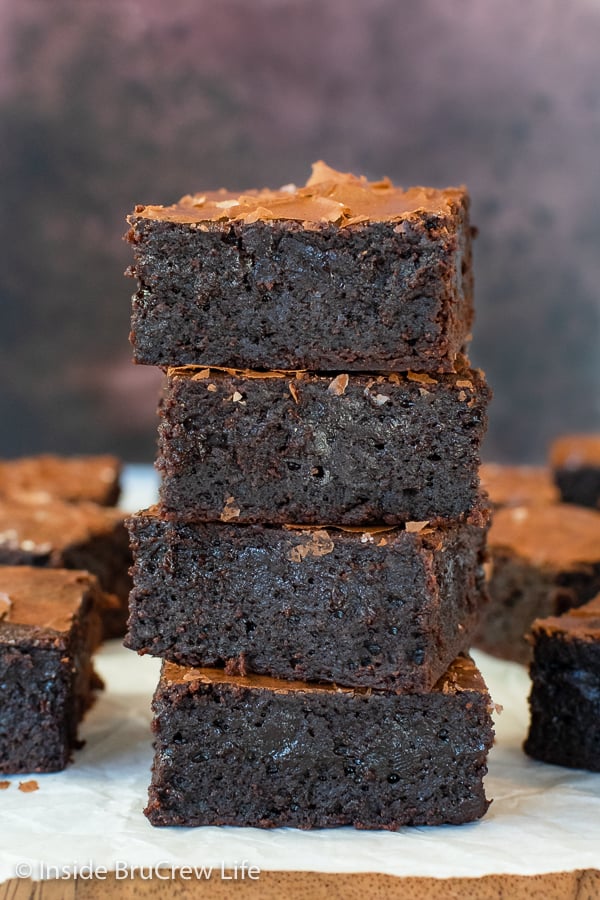 More Brownie Recipes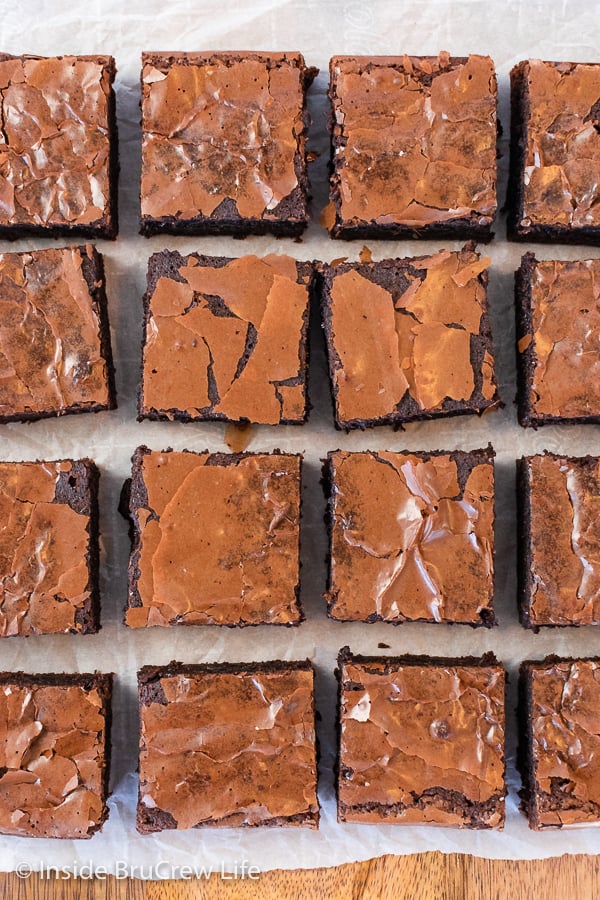 Do you love a recipe you tried from Inside BruCrew Life?
Please leave a 5-star ⭐️ rating and a review in the comments section below.