***I have to confess that when I am vacuuming in my daughter's room and I see that she spilled beads on the floor, I don't stop and pick them up by hand...I just let the vacuum do its job.
***I have to confess to always picking up food magazines when I am in line at any store. Then at least one "jumps" into my cart right before paying. Please tell me I am not the only one this happens to:-)
***I have to confess that almost every single food picture on this blog has been taken in the bathroom...yes, you read that right, the Bathroom. Haha! Who wants to come over for a treat now???
***I have to confess that I made chocolate donuts "for the kids after school snack" but really I was craving a yummy chocolate donuts...so they were really for my thighs and butt:-)
***I have to confess that I ate some of these cookies as my lunch last week. Then I had an apple to try to balance out my nutrition. Probably not the best way to start out a new diet! LOL!
***I have to confess that my love of caramel and pretzel may be taking over all my baking lately. Stinking sweet and salty yumminess!!!! I promise this will be the last of it...for a while anyway:-)
Any little confessions you just need to get off your chest???
I promise not to judge you, as long as you don't judge me
for eating cookies for lunch:-)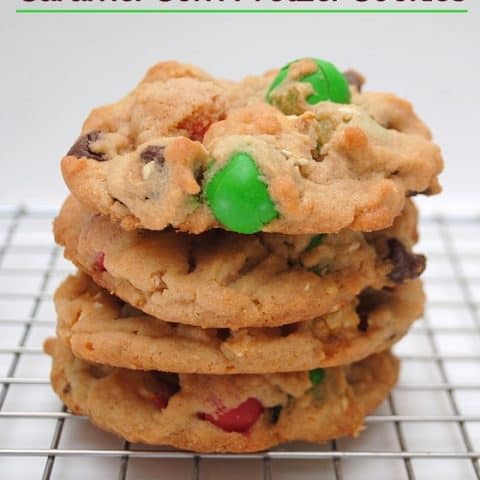 Caramel Pretzel Cookies Recipe
Peanut butter cookies filled with pretzel M&M's, caramel corn, and chocolate chips
Ingredients
1 cup unsalted butter, softened
¾ cup granulated sugar
¾ cup packed brown sugar
2 teaspoons vanilla extract
2 large eggs
1 cup creamy peanut butter
¼ teaspoon table salt
½ teaspoon baking soda
2 cups all purpose flour
1 cup chopped caramel corn
1 cup pretzel M&M's
½ cup chocolate chips
½ cup caramel chips
Instructions
Preheat oven to 350 degrees.
Lightly beat butter, sugars, and vanilla until light and fluffy. Add peanut butter and eggs and mix again.
Stir in the salt, baking soda, and flour until a soft dough forms.
Gently stir in the caramel corn, pretzel M&M's and baking chips by hand.
Scoop 36 dough balls. Bake on a nonstick baking sheet for 10-12 minutes or until set.
Let the cookies cool on the hot baking sheet a few minutes, then remove to a wire rack to cool completely.
Store in a tightly sealed container.
Nutrition Information:
Yield:

36
Serving Size:

1
Amount Per Serving:
Calories:

198
Total Fat:

11g
Saturated Fat:

5g
Trans Fat:

0g
Unsaturated Fat:

5g
Cholesterol:

24mg
Sodium:

116mg
Carbohydrates:

24g
Fiber:

1g
Sugar:

15g
Protein:

3g
Nutrition facts are an estimate and are not guaranteed to be accurate. If you need special diet advice, please see a registered dietician.