These Popcorn Cookies are loaded with chocolate chips, M&M's, pretzels, and caramel popcorn. Each cookie is soft and chewy and so delicious. It's everything you want in a cookie, plus so much more.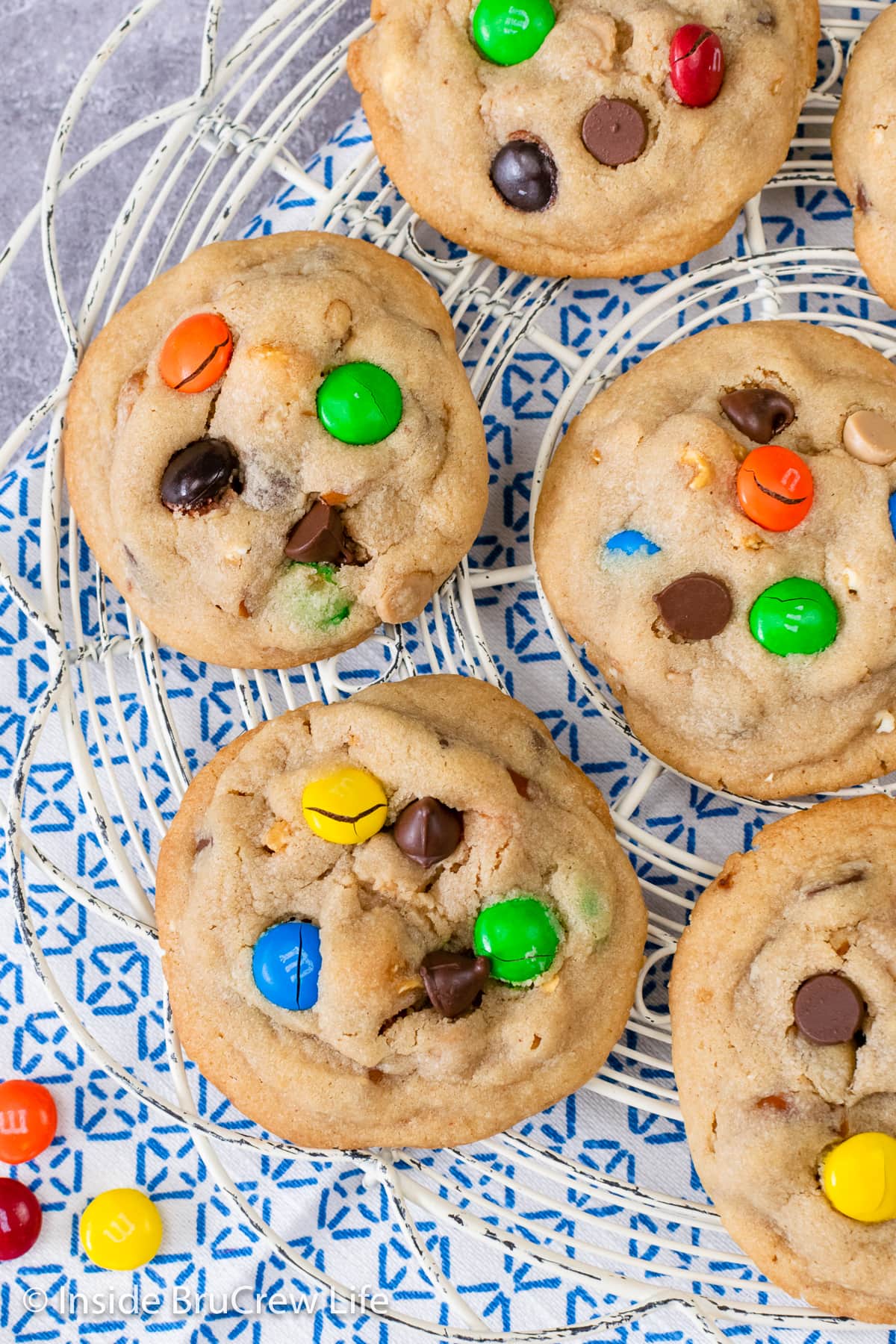 Jump to:
I don't know about you, but I love a good cookie! It is estimated that Americans eat over 2 billion cookies a year. I won't tell you how many I consume each year, but let's just say I contribute to that number.
What I love most about cookies is that you can make them so many ways. You can use different baking chips to make salted caramel chocolate chip cookies.
You can also stuff them with candy like these cinnamon Rolo cookies, or you can use a cake mix and Oreos to make our popular cookies and cream cookies.
Why Make These
Sometimes you just have to clean out the pantry and use everything you find to make cookies. Popcorn and M&M's are the perfect movie night snack, so why not add them to cookies.
You're in for a treat with these soft and chewy popcorn cookies. Packed with pretzels, M&Ms, and caramel popcorn, these cookies take a classic recipe to a whole new level of deliciousness.
Great texture! Each peanut butter cookie is soft and chewy, while the popcorn, pretzels, and candy add a sweet, crunchy texture.
Easy to customize! This recipe is so easy to change up with whatever mix-ins you have on hand.
No chilling needed. You can bake this cookie dough as soon as you make it!
Ingredients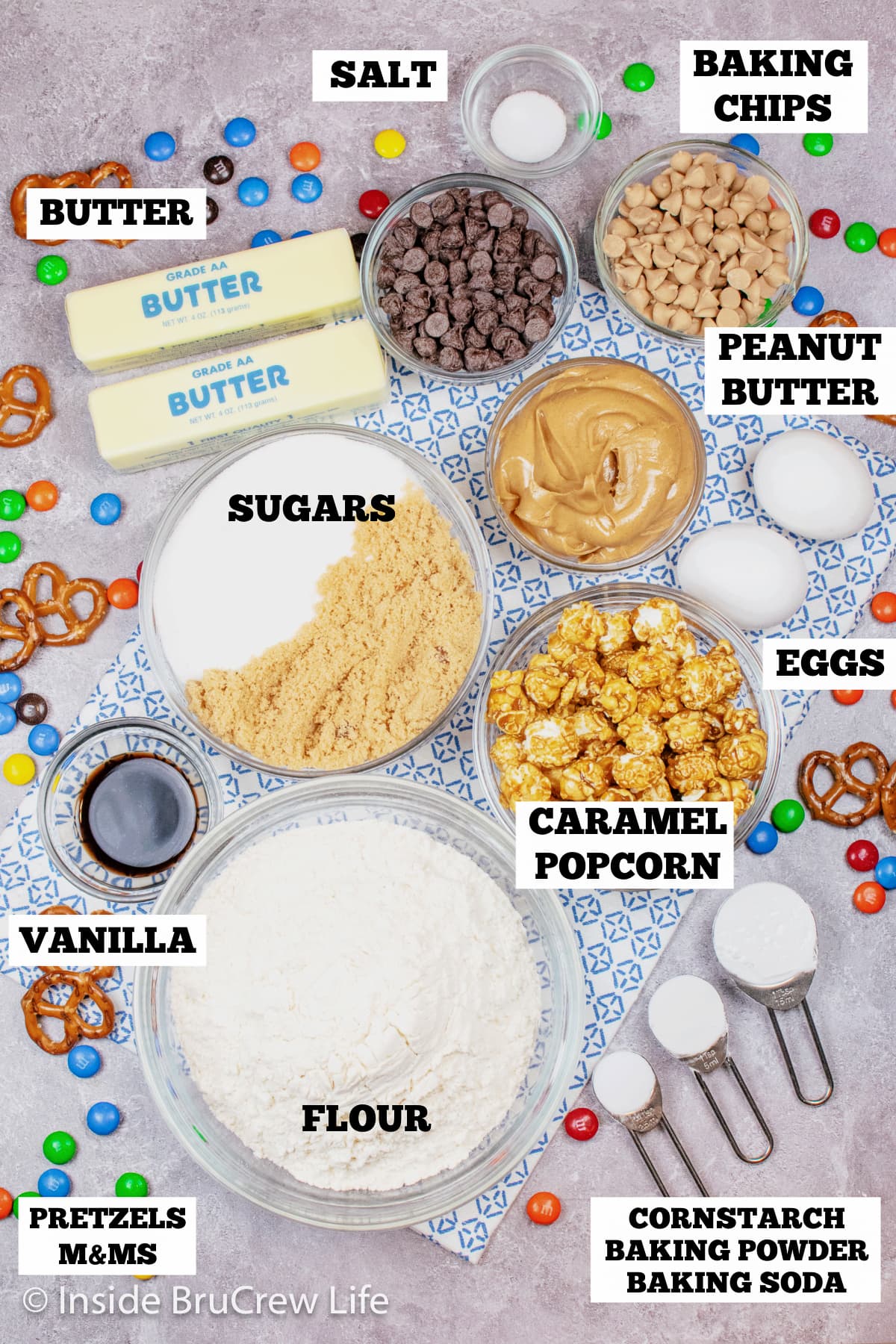 These caramel corn cookies could also be called kitchen sink cookies. You can throw just about everything but the kitchen sink into them, and they will still be tasty!
Peanut Butter - The base of this is a peanut butter cookie. You can use creamy or crunchy depending on your preference.
Cornstarch - Helps to give baked goods a soft and tender texture.
Caramel Popcorn - Feel free to use store bought caramel corn or homemade caramel corn in this recipe. It adds a chewy, sweet and salty flavor to the cookies.
M&M's - I used regular M&M's in these, but you can use any variety. Try the pretzel ones for some additional crunch to this cookie.
Baking Chips - Semi-sweet chocolate chips and caramel chips are a great combo, but you can use milk chocolate, dark chocolate, or peanut butter chips.
Basic Kitchen Ingredients - You will also need eggs, flour, baking soda, baking powder, vanilla, and salt.
Have extra M&M candies? Make a pan of M&M blonde brownies or a batch of M&M cookies.
How to Make Popcorn Cookies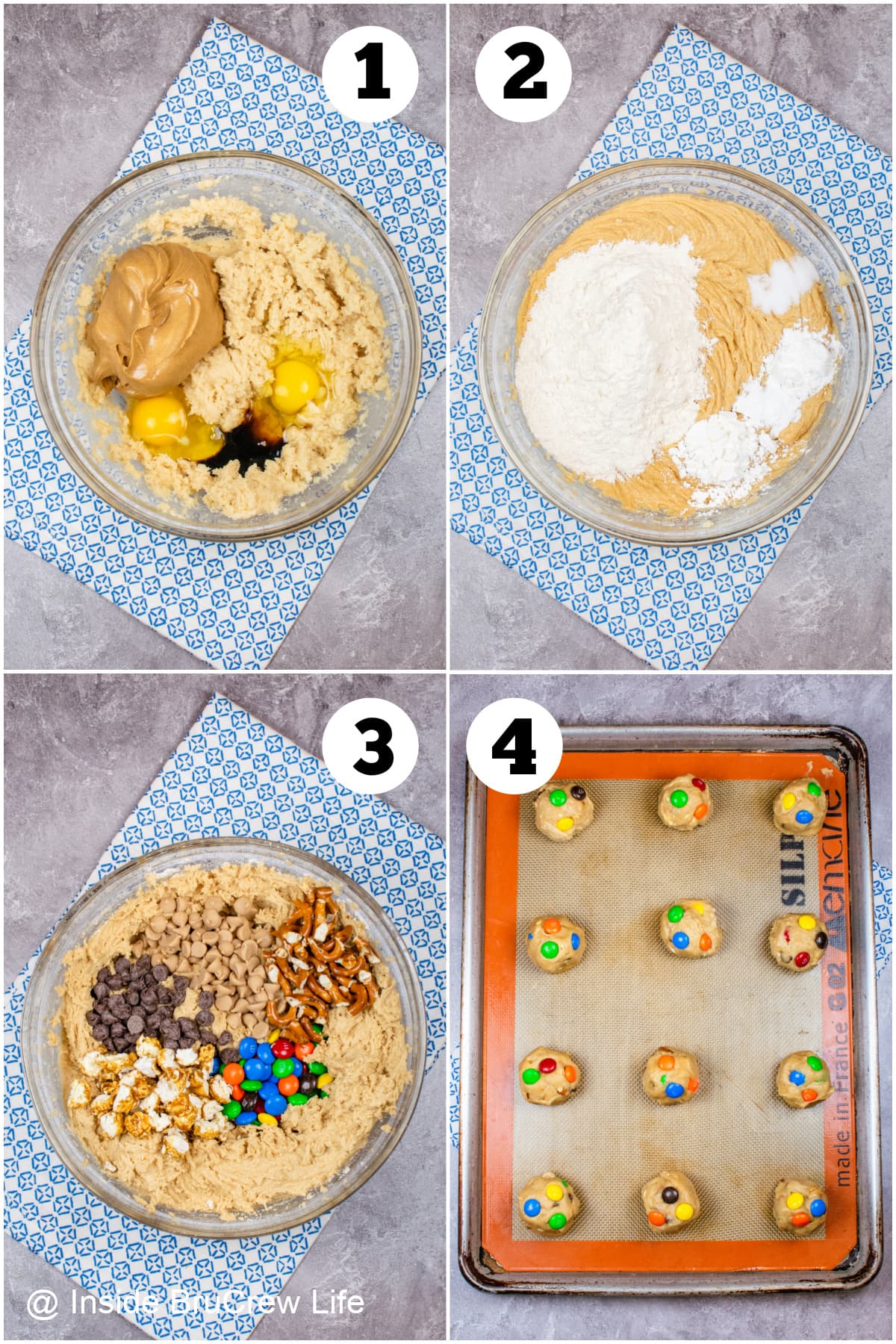 Caramel corn cookies are so easy to make without having to have any special tools other than a mixer. A cookie scoop will make the portion sizes of the cookies equal, but it is not necessary.
Mix the wet ingredients. Beat the butter, granulated sugar, and brown sugar in a large bowl until light and fluffy. Add peanut butter, vanilla extract, and eggs and mix again.
Add the dry ingredients. Slowly beat in the salt, baking soda, baking powder, and flour until a soft dough forms.
Stir in the mix-ins. Gently stir in the caramel popcorn, chocolate chips, and colorful candies by hand.
Scoop and bake. Use a cookie scoop to make 36 even dough balls. Press a few extra M&M candies on the top of each one. Bake until set.
BruCrew Tip: Press extra chocolate chips into the tops of the hot cookies and sprinkle them with a little bit of sea salt to make them look like they came from a bakery.
Storage
On the Counter - You can store the cooled cookies in a cookie jar or in an airtight container at room temperature for up to 5 days.
In the Freezer - These popcorn cookies can be frozen. Simply place them in a freezer safe container and freeze them for up to 2 months. Set out on the counter to thaw them out.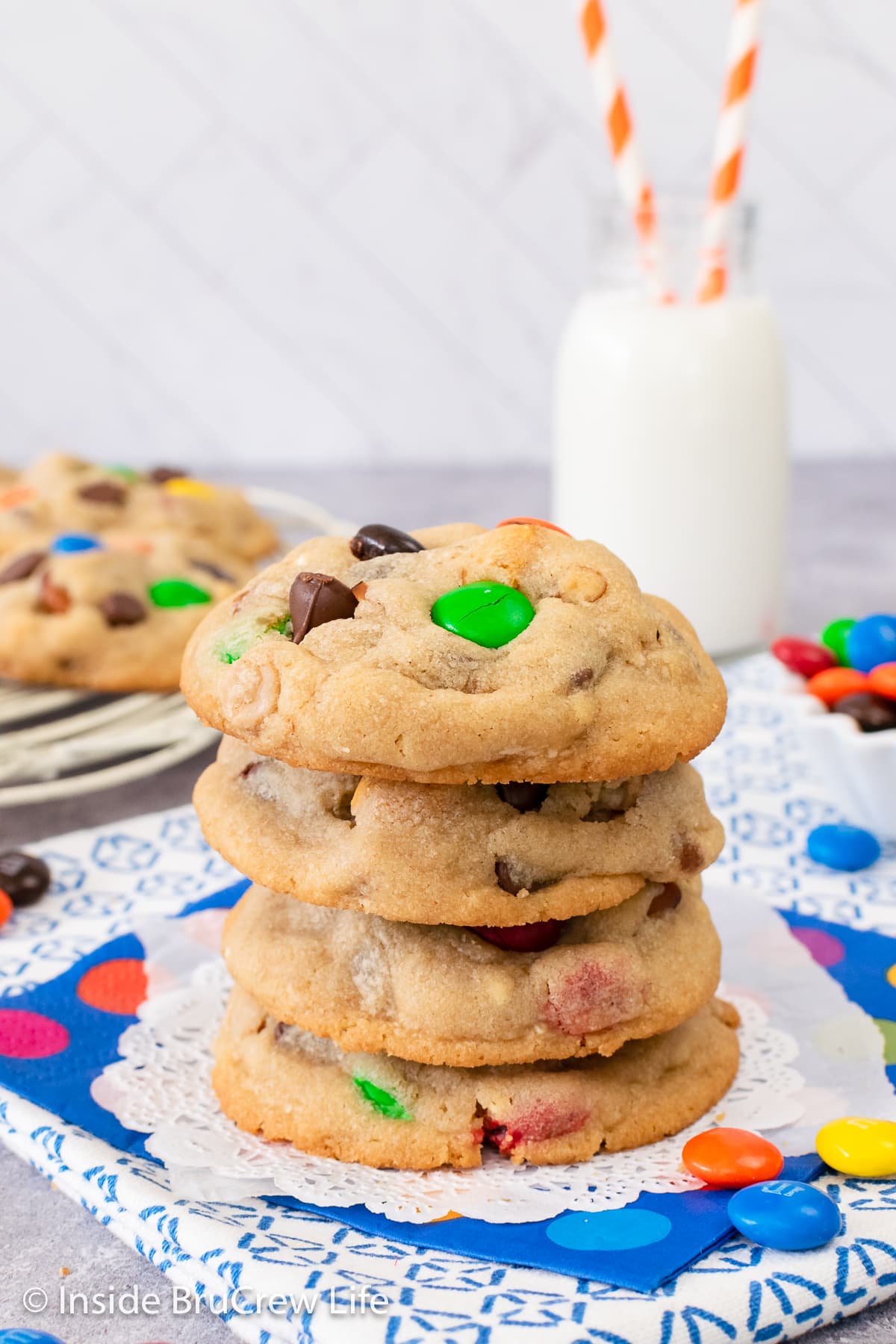 Tips and Tricks
Here are some of our favorite cookie making tricks. Use them when making these caramel corn cookies, so they turn out right every time.
Soften your butter properly. Make sure that your butter is softened properly before mixing it with the sugar. This will ensure that the dough is smooth and easy to work with.
Use fresh popcorn. If you're making your own caramel popcorn, make sure that it's fresh and not stale. Stale popcorn can affect the texture of the cookies and make them less enjoyable.
Chop the popcorn into small pieces. Chop the popcorn into small pieces so that it's evenly distributed throughout the cookie dough. This will also make it easier to shape the cookies.
Use a cookie scoop. Using a cookie scoop will help you create uniform-sized cookies and ensure that they bake evenly.
Don't over bake. Over baking the cookies can make them dry and hard. Bake them until the edges are golden brown and the centers are set.
Let them cool completely. Allow the cookies to cool for a few minutes on the baking sheet before transferring them to a wire rack. This will help them finish baking and also prevent them from breaking apart.
FAQ
What type of popcorn should I use for caramel popcorn cookies?
You can use any type of popcorn for this recipe, but it's best to use plain or lightly salted popcorn. Avoid using heavily buttered popcorn as it may affect the flavor of the cookies.
Can I use store-bought caramel popcorn for this recipe?
Yes, store-bought caramel popcorn makes it easier to make this recipe. Just make sure to chop the popcorn into smaller pieces, so that it is evenly distributed throughout the cookie dough.
How long do caramel popcorn cookies last?
Caramel popcorn cookies can last up to a week when stored in an airtight container at room temperature. If you want to extend their shelf life, you can store them in the fridge or freezer.
Can I freeze caramel popcorn cookies?
Yes, you can freeze caramel popcorn cookies for up to 3 months. Just make sure to store them in an airtight container or freezer bag.
Can I substitute the caramel popcorn with another ingredient?
Yes, you can substitute the caramel popcorn with other ingredients such as chocolate chips, raisins, or chopped nuts. Just make sure to adjust the recipe accordingly.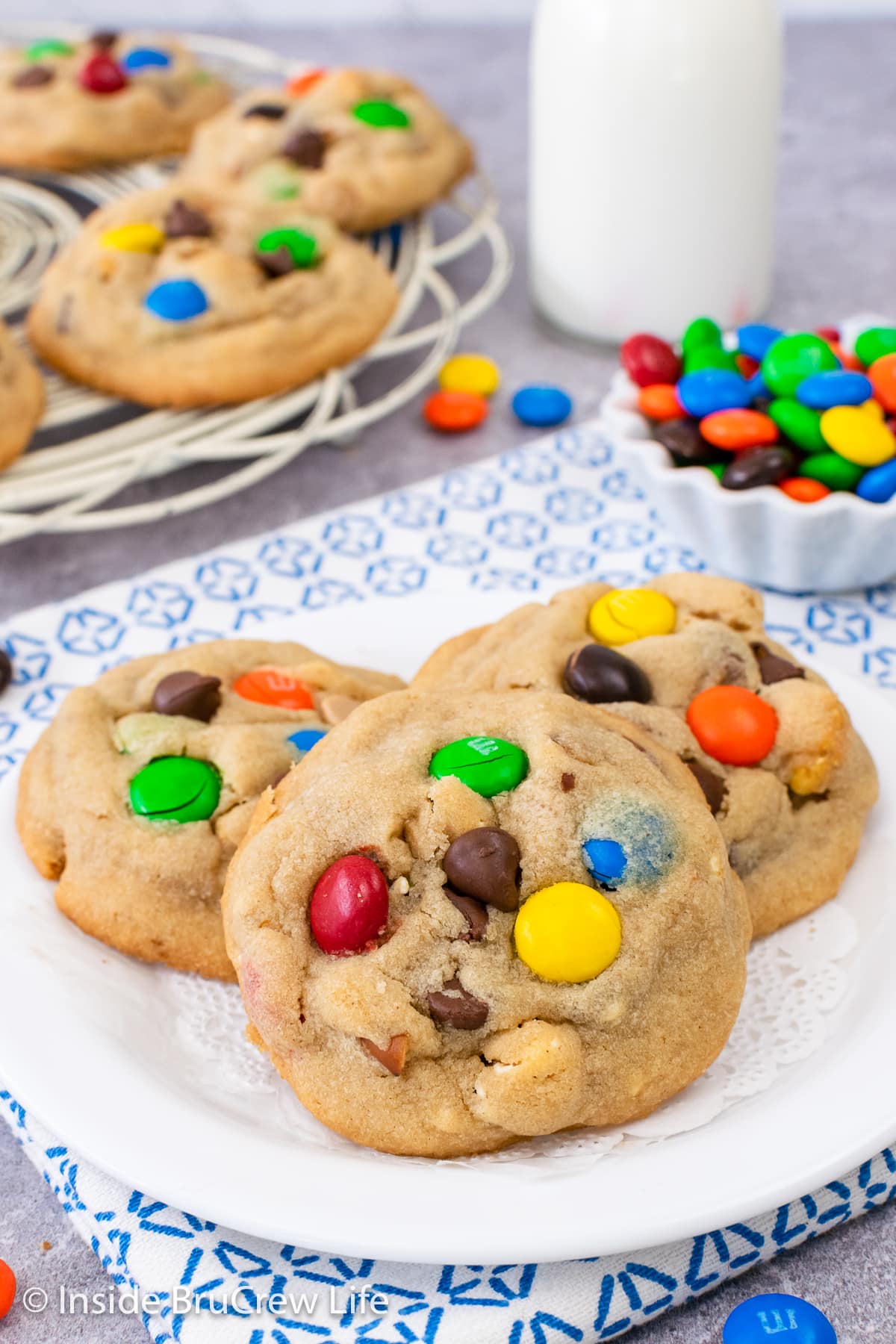 More Cookie Recipes
Do you love a recipe you tried from Inside BruCrew Life?
Please leave a 5-star ⭐️ rating and a review in the comments section below.
*The post for caramel corn pretzel cookies was first published November 2011. It was updated March 2023.