Lots of candy and pretzels makes a pan of these Caramel Pretzel Peanut Butter M&M Bars disappear in a hurry. Great sweet and salty dessert that everyone will go crazy for.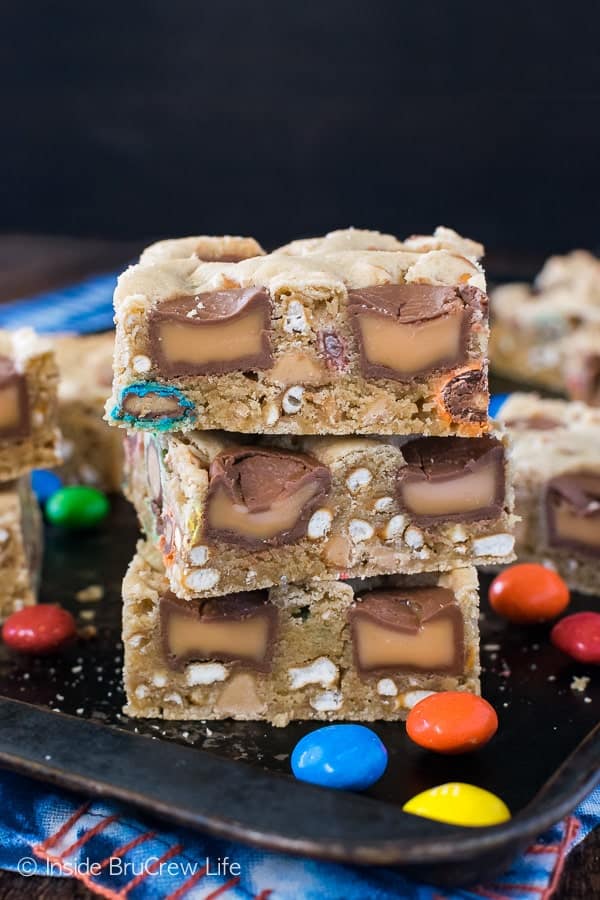 Haha! I should have known the bag of Rolos that I bought at the beginning of October wasn't going to last until Halloween.
Sorry trick or treaters, I decided to go on a baking binge. So, no Rolos for you!
The Rolos were yelling (more like screaming) out from the cupboard to be used in some sort of "just because" treat. (you know you hear candy talking to you too, so don't think I'm strange)
I want to introduce you to my newest best (cookie) friend. To say it was delicious is an understatement. I mean when cookies are full of candy, it has to be yummy!
Oh, and it had pretzels too. We can't forget the pretzels. Sweet and salty desserts are my newest vice.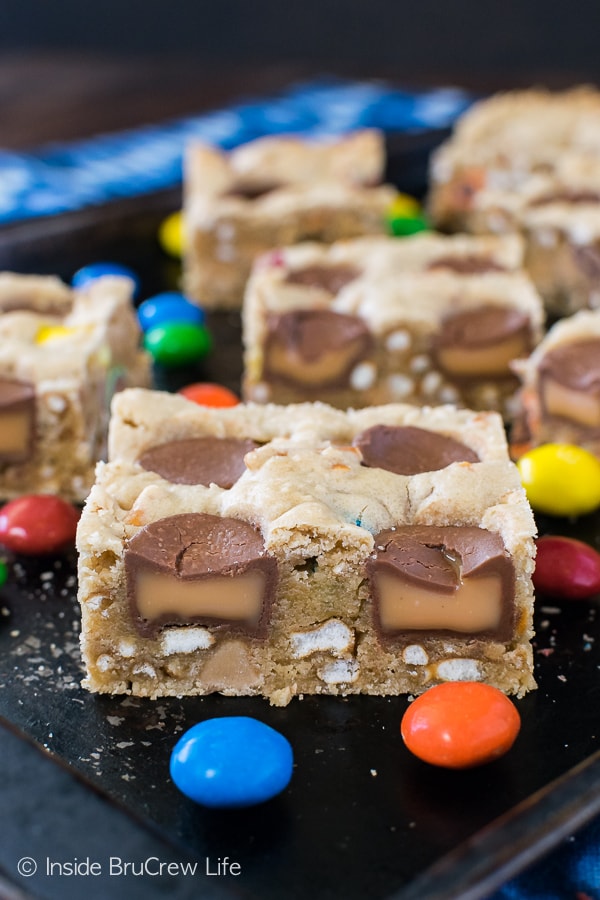 I find myself combining these flavors in all sorts of things.Then I realize that they all sound and taste the same. Remember these Take 5 bars and these Salted Caramel Shortbread Squares?
Yup, basically the same ingredients. But not.
Then I made Caramel Corn Pretzel Cookies the other day. One of these days, I will break away and try something new. Or not because here is another blonde brownie with the same flavor combo.
What is a blonde brownie?
A blonde brownie is a brownie made with vanilla and brown sugar. The brown sugar and butter combination creates a dense butterscotch like bar.
Please do not substitute margarine in place of the butter. It doesn't work well.
A basic blonde brownie recipe is perfect for adding a variety of different of mix-ins. There is no wrong answer here. Well, unless you suggest something strange like anchovies or beets. Then we might have to unfriend you.
Other mix-ins that are good in blonde brownies:
nuts
chocolate chips, white chips, butterscotch chips
craisins
toffee bits
candy bars
Reese's pieces
peanut butter cups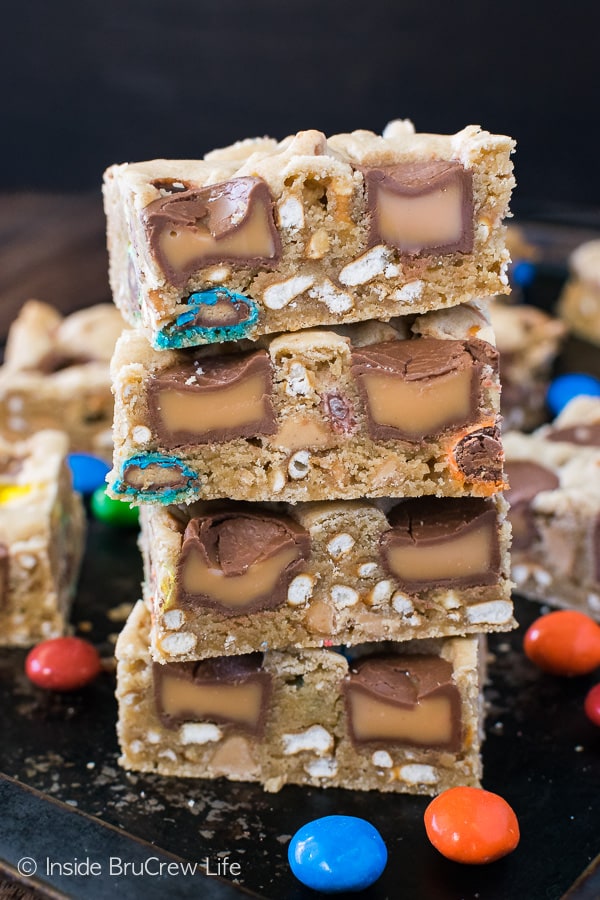 Tips for making Caramel Pretzel Peanut Butter M&M Bars:
Beat the butter and brown sugar until light and creamy. The longer you beat this mixture will affect the texture of the bars after baking. A shorter beating will leave the top soft and chewy. A longer beating will result in a crisp crackly texture after baking. Either one is delicious!
Add the eggs, salt, and vanilla and mix again.
Slowly add in the flour and baking powder until a dough forms.
Stir in the peanut butter chips, pretzels and peanut butter M&M's gently and press the dough into a greased 9x13 pan.
Press unwrapped Rolos into the top of the dough. Bake for 22-24 minutes. Under baking blonde brownies is always better in my opinion. Remove the pan and let cool before cutting into the bars. This gives the bars time to set up.
Store the loaded blonde brownies in a sealed container to keep them soft and chewy.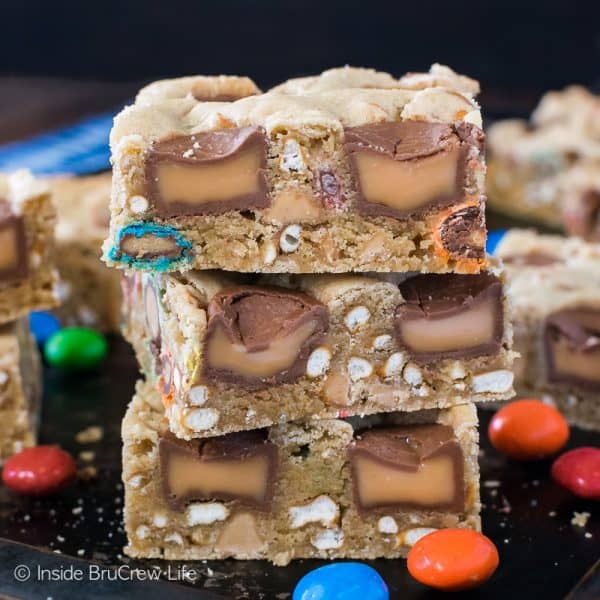 More bar cookies loaded with candy that you may like:
Caramel Pretzel Peanut Butter M&M Bars recipe and video: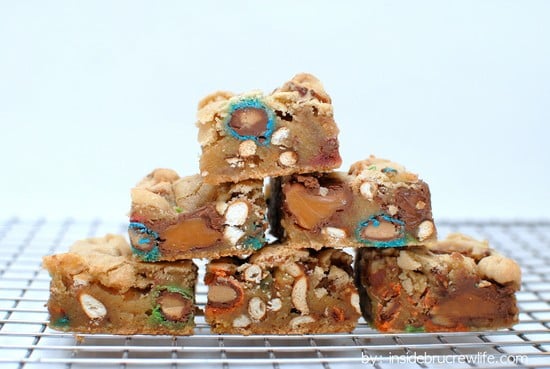 (Original photo from November 2011)
*The post and recipe for these Caramel Pretzel Peanut Butter M&M Bars was originally published November 10, 2011. The photos and text has been updated and republished October 22, 2018.