Make a big batch of this easy Caramel Pumpkin Spice Popcorn to snack on during your next movie night. The sweet flavor of caramel and pumpkin spice goes together so well.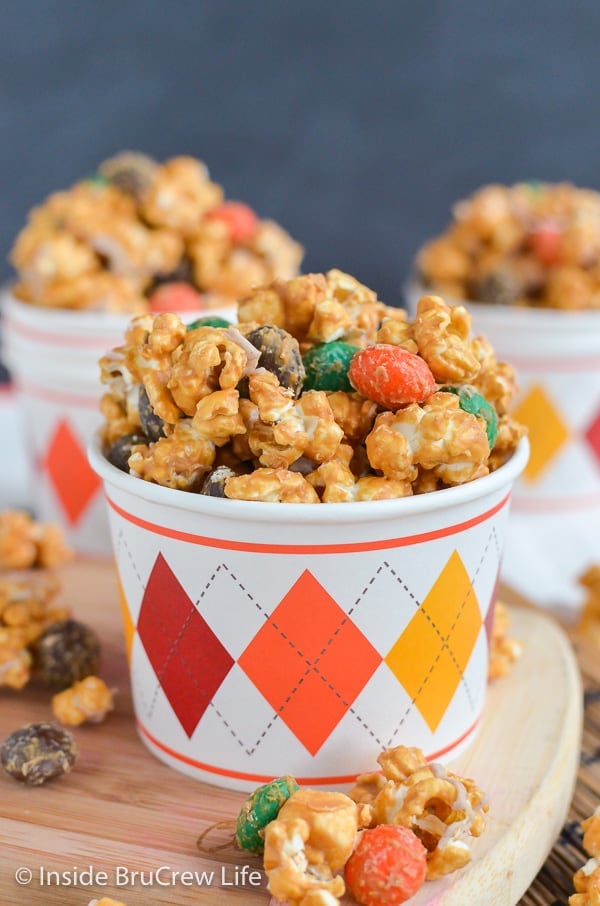 A few years ago I had the opportunity to visit the Duncan Hines test kitchen in New Jersey. During one of our discussions, we talked about the different foods that were trending at the time.
Flavored popcorn was one of the top food items on their list. Can I tell you just how happy that makes me?
I have been making different kinds of chocolate covered popcorn ever since I made this Reese's Popcorn, and I haven't stopped since then. I like to think I was ahead of this rising popcorn trend. Or maybe even inspired it.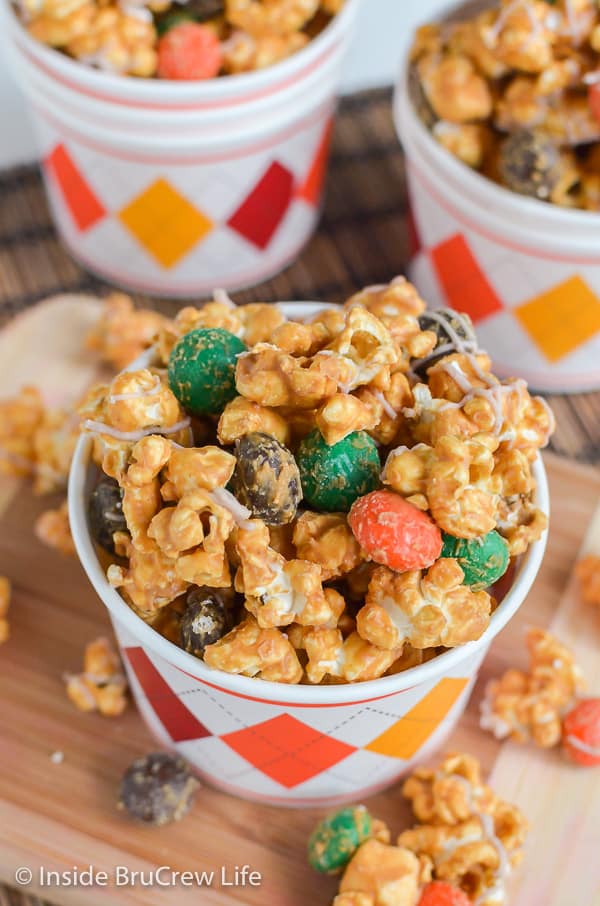 So, of course my mind started thinking of all kinds of new popcorn snacks to share with you.
I had some leftover Pumpkin Spice M&M's after making these Chocolate Pumpkin Spice Cookies, so I decided to start with those.
I pulled everything out of our baking cupboard hoping to be inspired by something else I already had in there. A treat that doesn't require an extra trip to the grocery store is the best.
Since I had a few bags of caramel baking chips, I decided to combine that with the pumpkin spice chocolates. Pumpkin and caramel makes the perfect fall snack mix.

I didn't want to add too many different flavors or mix-ins with this particular popcorn. Usually I have quite a few extras in my popcorn mixes because I love to jazz things up to the max.
Today I decided to go simple and just add marshmallows and the pumpkin M&M's to the caramel covered popcorn. To give it more pumpkin flavor, I also added a white chocolate pumpkin spice drizzle over the top of the popcorn.
How to make Caramel Pumpkin Spice Popcorn:
Stir together the popcorn and marshmallows in a large bowl.
Place the caramel chips and shortening in a bowl and heat in the microwave for 30 seconds. Stir and heat again until melted.
Add more shortening if needed to thin the caramel out. Pour it over the popcorn and marshmallows and stir quickly.
Toss the popcorn with the candies and pour out onto a large baking sheet to set.
Melt the white chocolate melts according to the package directions and stir in the pumpkin pie spice.
Spoon the melted white chocolate into a plastic baggie and cut one tip off. Drizzle over the tray of caramel popcorn.
Making this popcorn was just the boost I needed to think up a few more fun flavors. I hope you are ready for more chocolate covered popcorn recipes.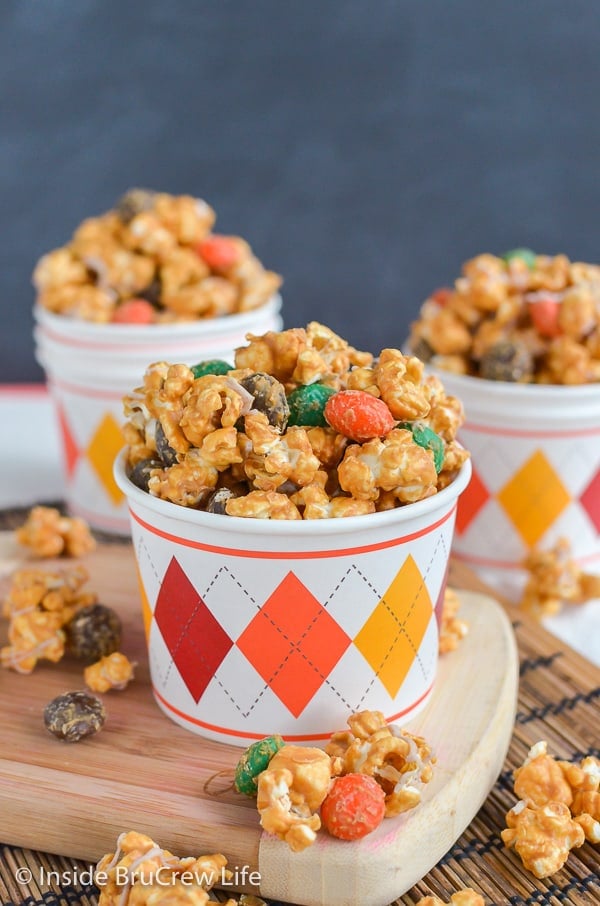 More chocolate covered popcorn recipes you may enjoy: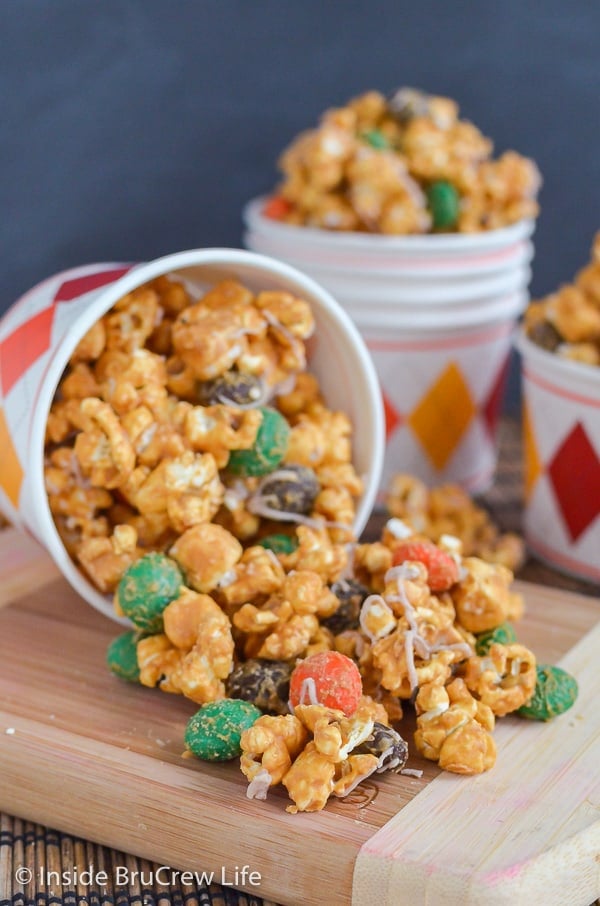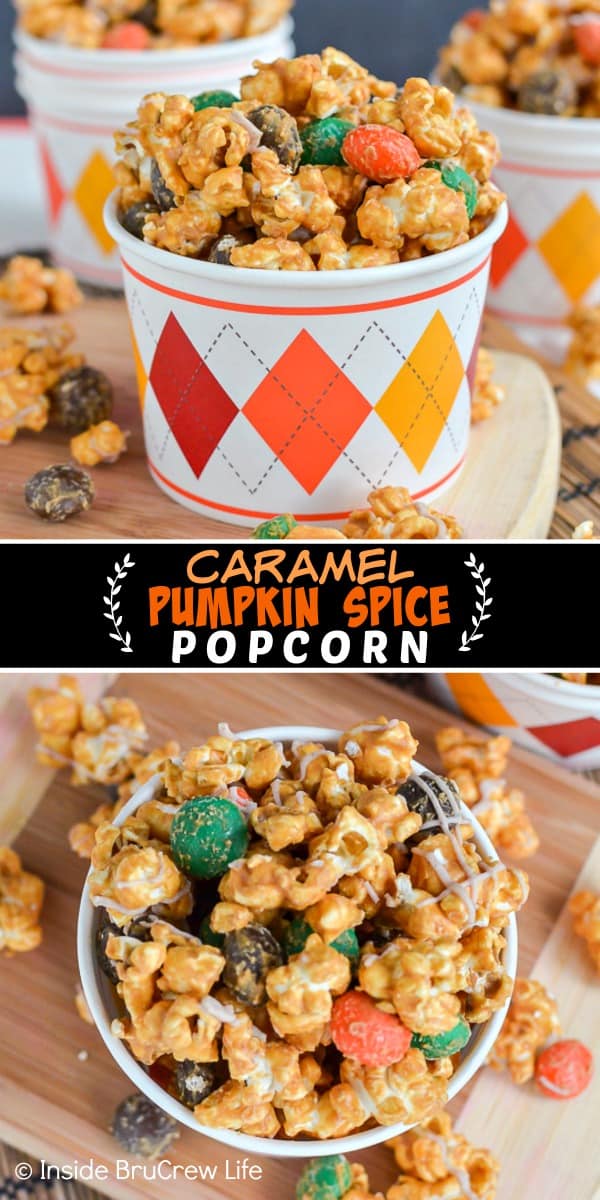 *The post for Caramel Pumpkin Spice Popcorn was first published on October 8, 2013. The photos were updated, and it was republished on October 14, 2019.