This sweet homemade coffee ice cream is sure to satisfy your caffeine cravings! With only a few simple ingredients, you can make a batch of this creamy frozen dessert in no time. The amazing flavor and creamy texture are guaranteed to please everyone.
*I am partnering with Dixie Crystals to bring you this coffee ice cream recipe.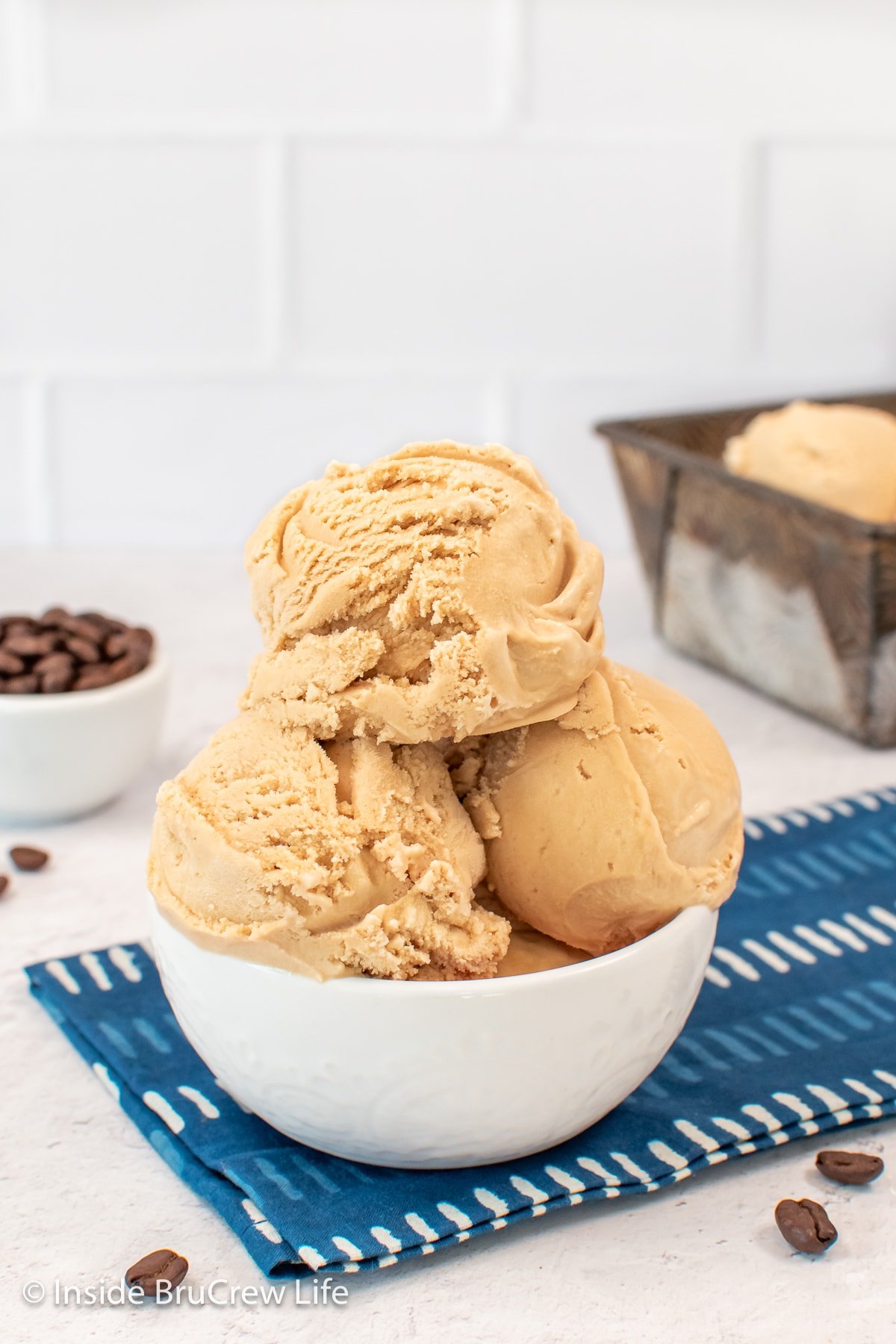 Jump to:
Do you start your day off with brewed coffee? I've been a coffee lover ever since my college days, and it's become a cherished part of my morning routine.
I'm on a homemade ice cream kick right now. So, it was only a matter of time before I added my favorite cup of joe to ice milk.
We've kept this coffee ice cream and cookies and cream ice cream in our freezer all summer.
Why This Coffee Ice Cream Recipe Works
Coffee ice cream is the best of both worlds for dessert and coffee lovers. It combines your favorite brew into a smooth frozen treat that will cool you off.
Great coffee flavor. Trust me, you will know this is coffee ice cream. Feel free to adjust the amount of instant coffee if you want a less mild flavor.
Soft creamy texture. You can easily make a container of this rich smooth ice cream with only 5 ingredients.
A little pick-me-up. There is some caffeine in coffee, so this ice cream will give you a small energy boost. Use decaf instant coffee if caffeine affects you.
So many ways to enjoy it. You can eat coffee ice cream by itself, with toppings, with dark chocolate cake, or as an ice cream cake.
Main Ingredients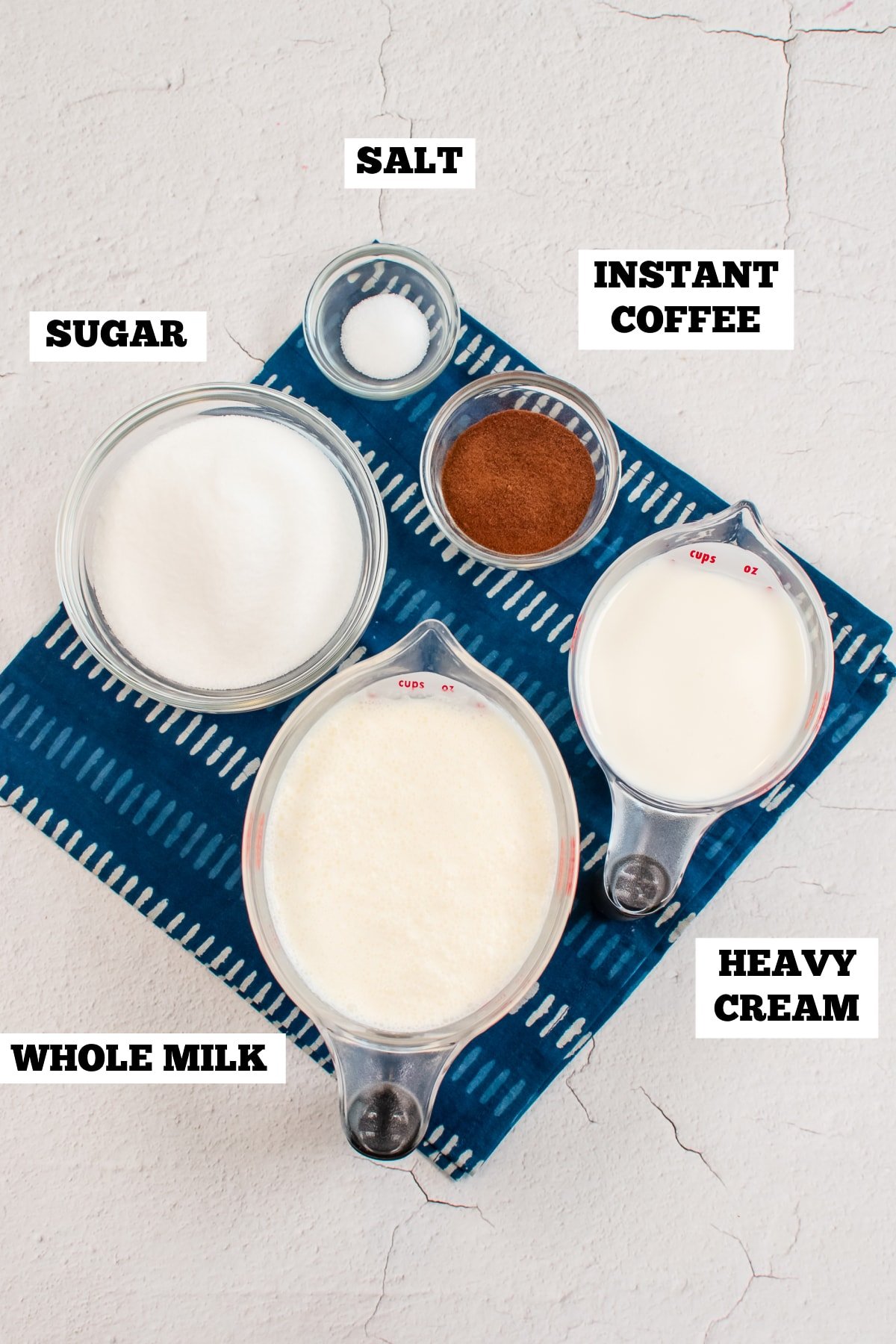 Use these simple ingredients to make this coffee ice cream recipe.
Milk - A combination of heavy whipping cream and whole milk gives it the creamiest and best tasting texture. You can use other milks, but it may freeze icier.
Granulated Sugar - Sweetens the ice cream base.
Instant Coffee Granules - Instant is best because it quickly dissolves into the milk mixture.
Salt - Just a pinch of coarse ground sea salt helps to balance the sweetness.
How to Make Coffee Ice Cream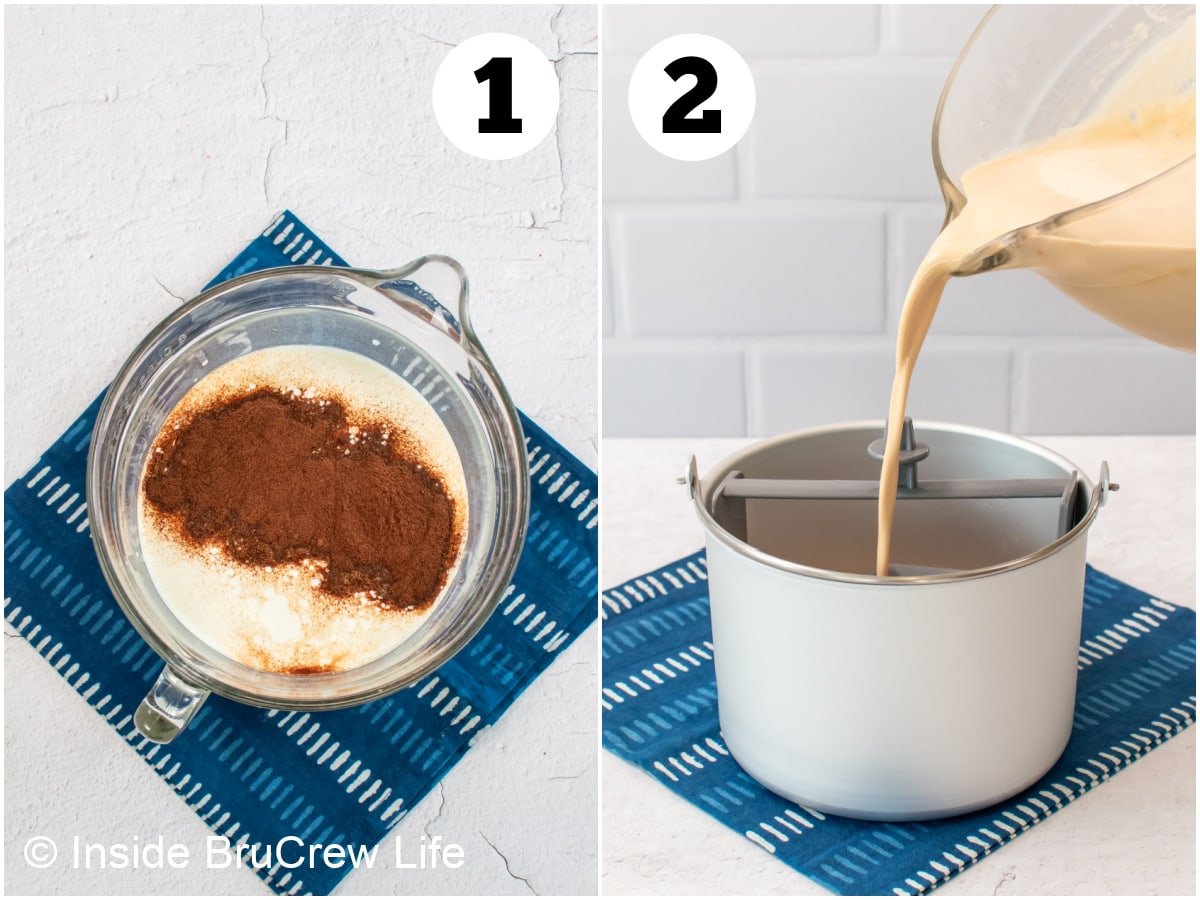 This homemade coffee ice cream is rich and creamy and has the best coffee flavor. It is easy to make in minutes with just 5 ingredients. The hardest part is waiting for it to freeze.
Whisk together the ingredients. Pour the milk, cream, sugar, and instant coffee in a large bowl and whisk until dissolved. Refrigerate the mixture for at least 30 minutes.
Churn and freeze the ice cream. Pour the mixture into your ice cream maker and churn for 30-40 minutes or until it looks like soft serve. Spoon into a chilled container and freeze for at least 3-4 hours.
See the Full Recipe
I am sharing the ingredients and full instructions for this coffee ice cream recipe over on Dixie Crystals site.
Serving Ideas
This creamy coffee ice cream is perfectly delicious served in a bowl by itself. But sometimes you want a fancy and jazzed up dessert to satisfy that sweet tooth.
Add toppings. Drizzle it with hot fudge, caramel, marshmallow, or peanut butter.
Stir in small mix-ins. Chocolate chips, crushed chocolate covered coffee beans, chopped nuts, or toffee bits would all be delicious additions.
Add large mix-ins. Stir in crumbled chocolate chip cookies, chunks of chocolate chip brownies, Oreo cookies, or edible cookie dough.
Make ice cream sandwiches. Add a scoop between these brownie cookies.
Create a sundae. Place a scoop of ice cream on top of an espresso brownie. Top it with whipped cream and a maraschino cherry.
BruCrew Tip: If you are adding mix-ins make sure you add them to the soft ice cream before freezing.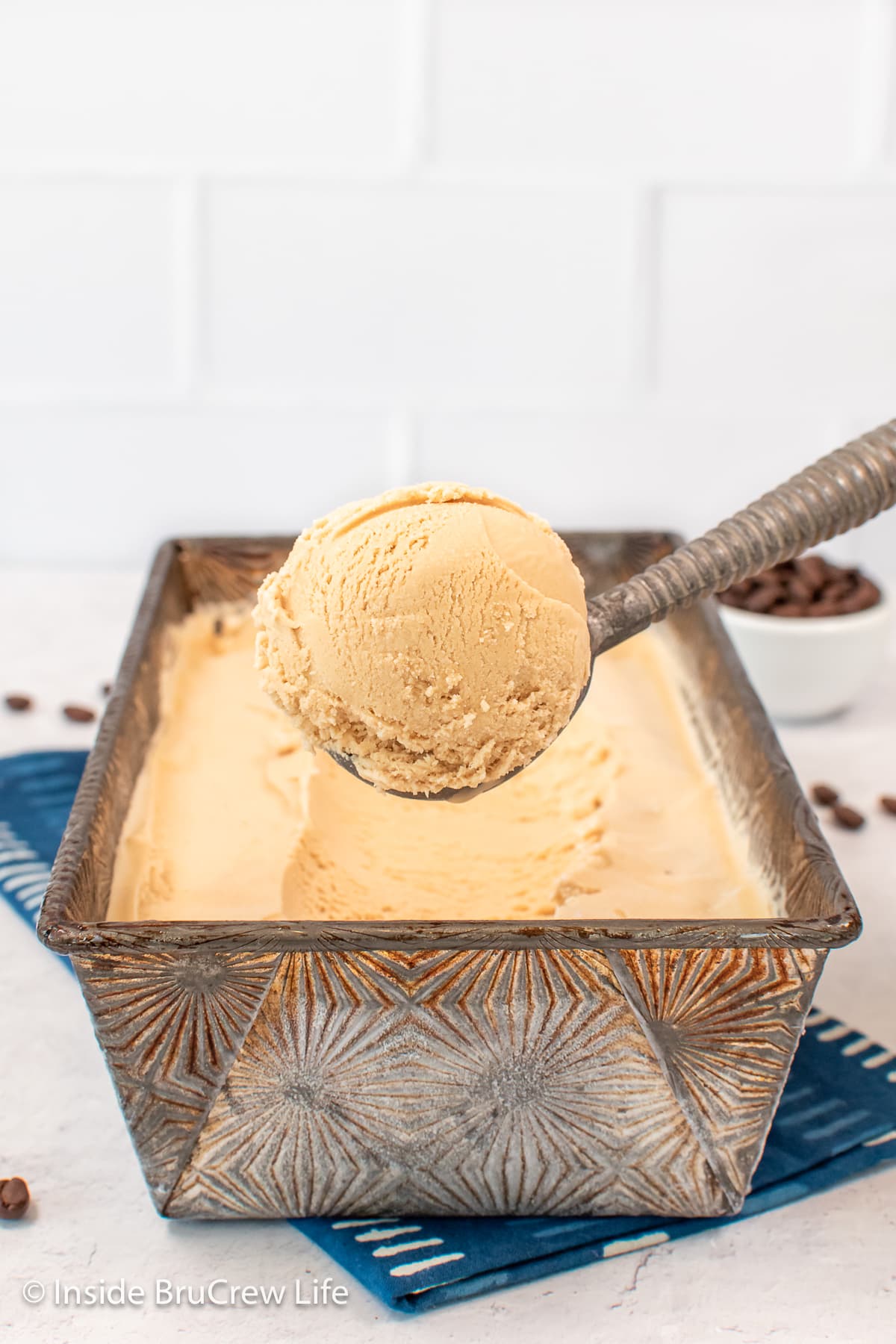 Storage Recommendations
Keep homemade ice cream in a tightly sealed container in the freezer at all times. A metal loaf pan works great too. Place 2-3 layers of plastic wrap around the pan to keep it from getting freezer burned
It will keep for 1-2 months if properly sealed. Although, we have never had it last longer than 3 days in our house.
Tips and Tricks
Prep your ice cream machine. To use an ice cream maker with a freezer bowl, freeze the bowl for at least 24 hours before using it. If you are using a compressor ice cream maker, refrigerate the bowl 15 minutes prior to churning.
Use cold ingredients. Cold ingredients will help the mixture to freeze faster when placed in a machine.
Try other milks. You can use whatever milk you have on hand. Whole milk and heavy cream will give you the creamiest and richest texture.
Make it decaf. Use decaffeinated coffee if you can't have caffeine, or if you are making it for kids.
Want more coffee flavor? Use instant espresso powder. DeLallo is my favorite brand of instant powder because it dissolves easily into liquids and batters. You could use regular espresso powder but the ice cream will have a grittier texture.
Freeze to harden. You can serve the ice cream right out of the ice cream maker. Although, it will be very soft and melt very quickly. If you want the ice cream to have a store-bought texture, freeze it for a few hours.
FAQs
Does coffee ice cream have caffeine in it?
Yes, coffee ice cream does have caffeine in it. Although a scoop of this ice cream has less caffeine than a cup of coffee.
Can I use coffee grounds instead of instant coffee?
Coffee grounds will not dissolve in milk leaving your ice cream with a gritty crunchy texture. I recommend using instant coffee because it dissolves easily when mixing the ingredients together.
How do I keep my ice cream from getting icy?
Covering homemade ice cream with parchment or wax paper prevents ice crystals from forming on top while it freezes.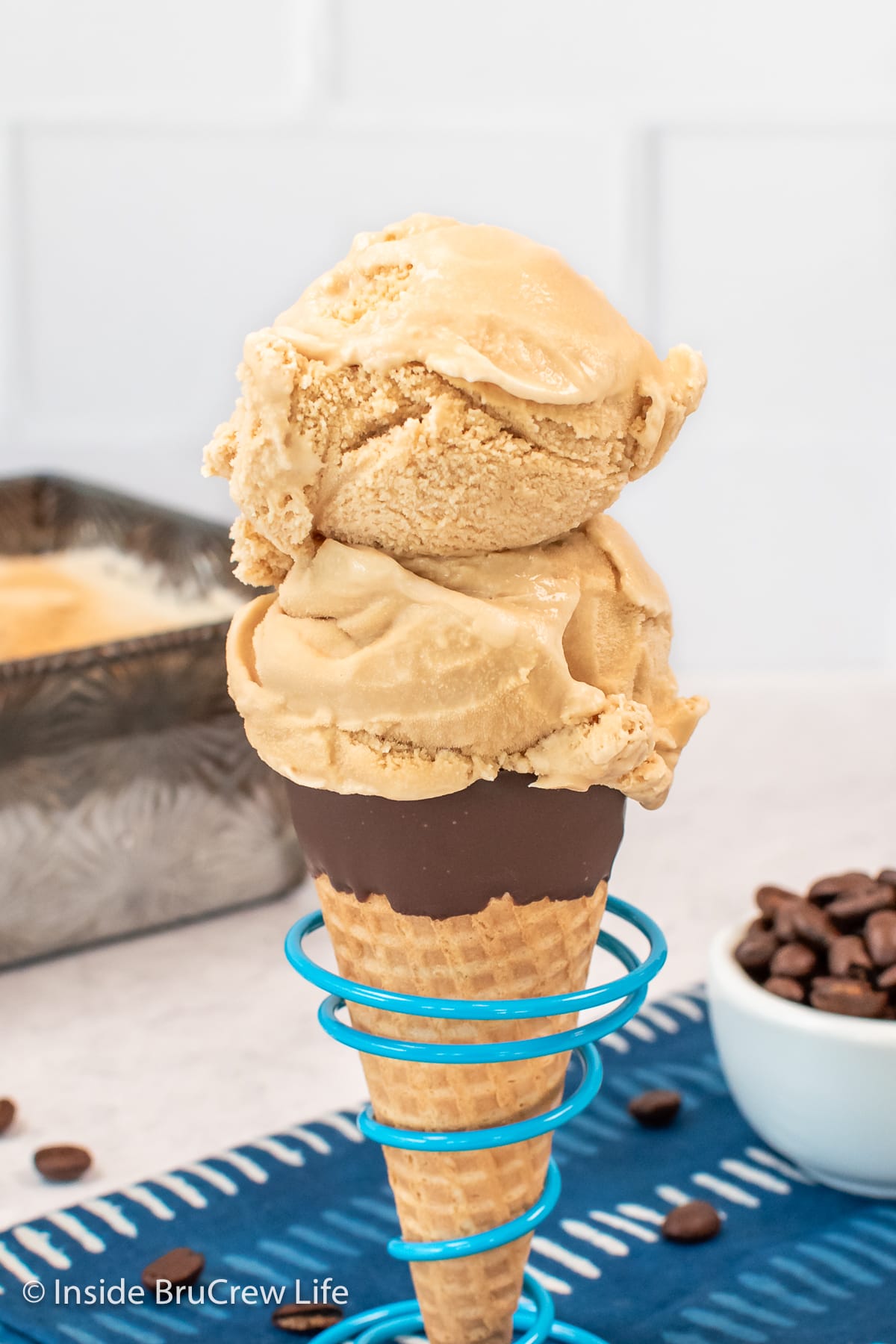 Do you love a recipe you tried from Inside BruCrew Life?
Please leave a 5-star ⭐️ rating and a review in the comments section below.
More Coffee Desserts
*Dixie Crystals sponsored this recipe and post. All opinions expressed are 100% my own. Thank you for letting me share products and brands we use and love. See my disclosure policy for more information.*