Layers of chicken, cheese, and tortillas make this
Chicken Ole Casserole
a definite comfort food meal.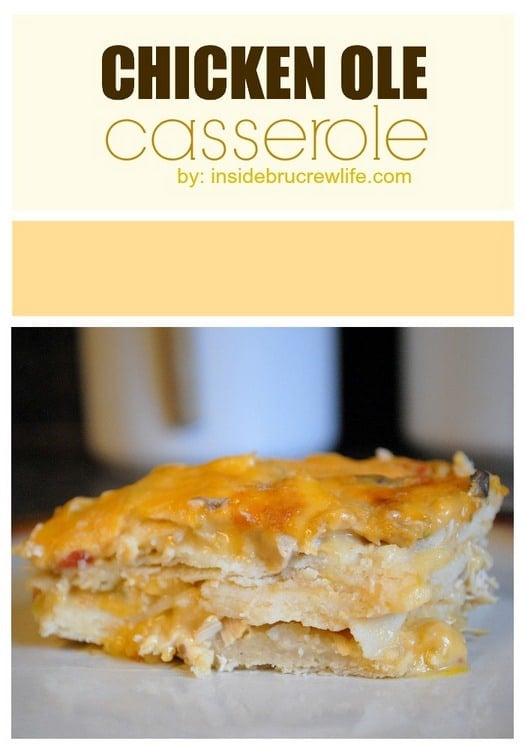 Just in case you wonder if we eat real food in my house…
I wanted to share one of our favorite dinner recipes.
Chicken Ole Casserole.  Cheese, chicken, tomatoes, did I mention the cheese?
Now mind you, this is most definitely NOT a diet friendly meal…
but it is so tasty you don't even mind all the calories.
And there are ways to cut down the fat…
we just don't believe in doing that around these parts 🙂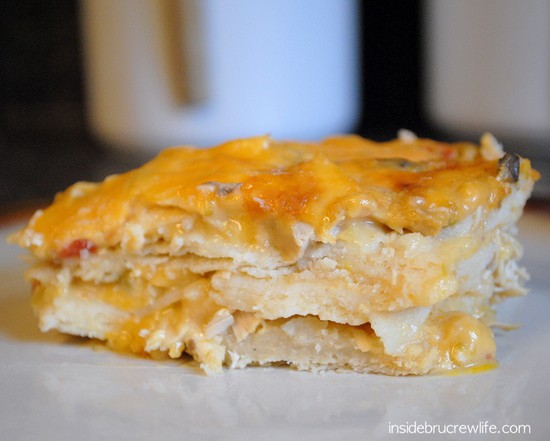 Layers of chicken, cheese, and tortillas for a delicious Mexican lasagna.
Ingredients
3 cups shredded, cooked chicken
1 can (4 oz.) chopped green chilies
1 can (10 oz.) diced tomatoes with green chilies
2 cups chicken broth
1 can (10 3/4 oz.) condensed cream of mushroom soup
1 can (10 3/4 oz.) condensed cream of chicken soup
1 small onion, finely chopped
1 package corn tortillas
2 cups shredded cheddar cheese
Instructions
In a bowl, combine the chicken, chilies, tomatoes, 1 cup broth, soups, and onion; set aside.
Warm the tortillas in the microwave. Cut the tortillas into wedges. Place a layer of tortillas on the bottom of a greased 9×13 pan. Spoon some of the extra broth onto the tortillas. You don't want to soak them, just a little to soften them up. Top with 1/2 the chicken mixture and sprinkle with half the cheese. Repeat layers. Make sure you spoon more broth over the tortilla layer. Bake uncovered at 350 degrees for 45 minutes. Serve warm.
https://insidebrucrewlife.com/chicken-ole/
Copyright Inside BruCrew Life