These Chocolate Banana Powdered Sugar Donut Holes are an easy and delicious breakfast treat that can be ready in 30 minutes.
The powdered sugar coating and soft chocolate center will have you reaching for a few more in a hurry. Trust me!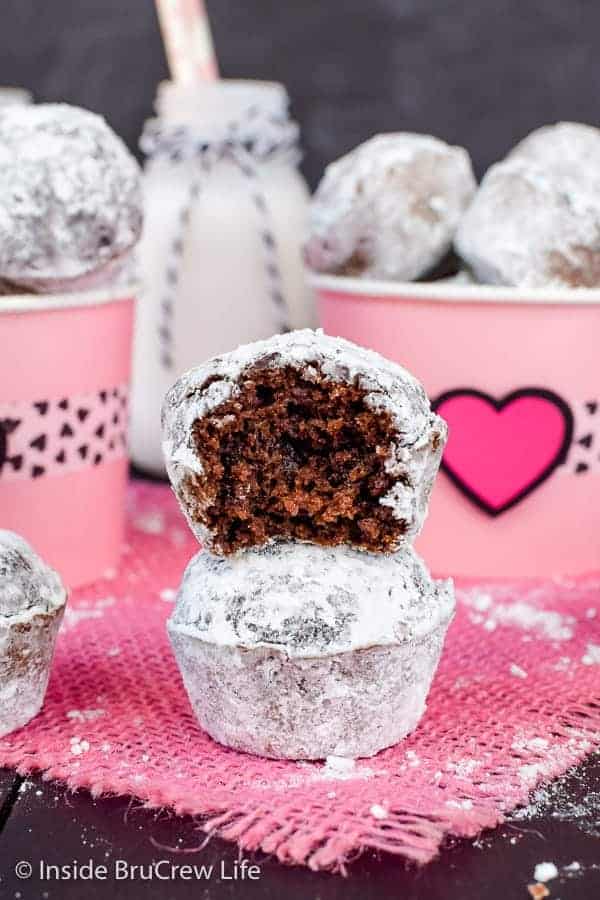 Want to know something sad? Our kids have become desensitized to sweet treats. Oh, they still eat some occasionally. But after years and years of having sweets and and treats readily available, our kids really could care less about them.
Now quite honestly that's kind of a good thing. I'm really glad that all the sweets in our kitchen hasn't turned them into crazed dessert lunatics. There is only room in our house for one of those, and I've already claimed that title.
But the one thing that can convince them to down an entire batch in a day are mini donut holes. That's exactly what happened when I made these little Cinnamon Sugar Apple Donut Holes a few years ago. The kids walked in the door from school, and in 12.984756 seconds the donuts were gone. True story.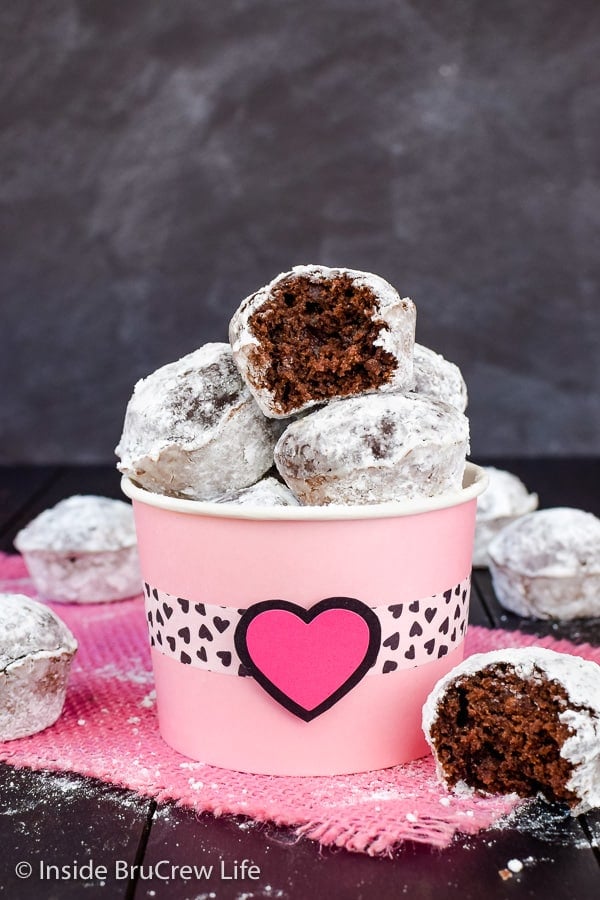 I really do not know why I buy bananas while our oldest is in college. No one here eats them. Ok, so that's partly a lie. I end up freezing them, and our daughter makes Peanut Butter Banana Ice Cream occasionally.
What I mean is that bananas don't get eaten when they sit on the counter. They just sit there until A. I freeze them or B. I bake Sour Cream Banana Bread or Banana Nut Cinnamon Rolls.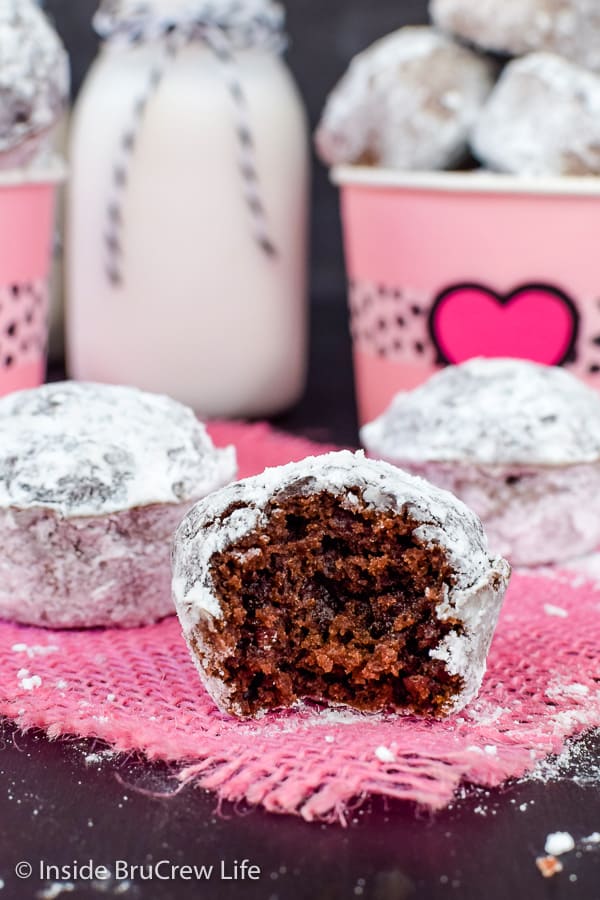 Powdered Sugar Donut Holes
A few weeks ago I had a few of those said ripe bananas sitting on the counter staring me down. I decided to make these Chocolate Pumpkin Spice Donut Holes with a few changes.
Obviously, I used banana instead of pumpkin, and then I rolled them in powdered sugar instead of regular sugar.
Quite honestly, these little baked chocolate donuts may very well be my new all time favorite donut hole. Well, for now anyway. That's subject to change at any given moment.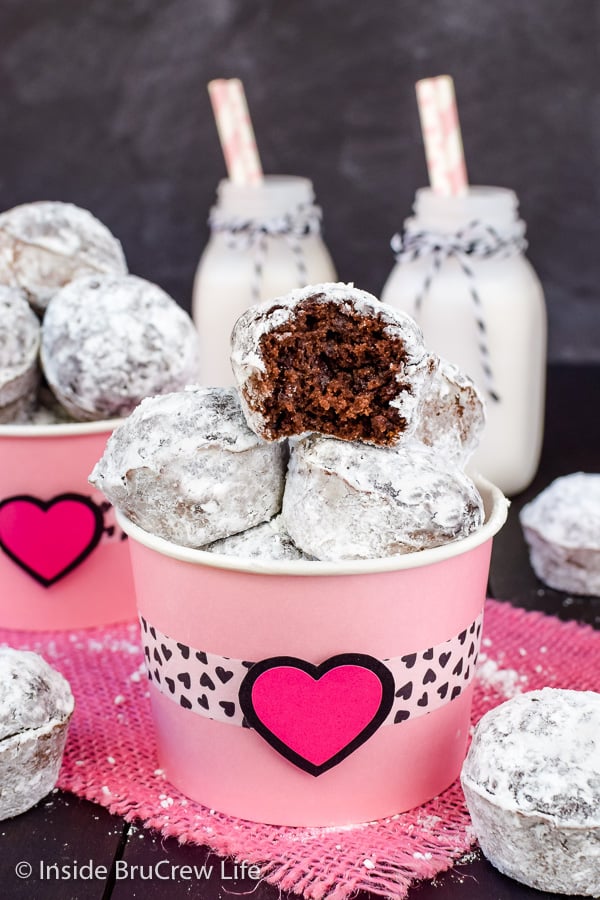 How to make Chocolate Banana Powdered Sugar Donut Holes:
Preheat your oven to 350 degrees. You want it to be nice and toasty when your donut batter is ready to go.
Spray a large mini muffin tin with nonstick baking spray. Yes, technically these are mini donut muffins, but when you roll them in sugar they kind of look like donut holes. Just go with it.
Mix together some melted coconut oil and brown sugar. Add the egg, vanilla, and smashed banana and mix it again.
Stir together all the dry ingredients. Slowly add the dry mixture alternately with the unsweetened coconut milk. Almond milk or regular milk works too, if that's what you have on hand or prefer.
Add some mini chocolate chips and stir gently.
Spoon the batter evenly into 24 mini muffin tin cavities and bake for 11-12 minutes. Remove the pans from the oven and let the donuts cool for 2 minutes. Gently remove them from the pan using a butter knife and place on a wire cooling rack.
Immediately roll each warm chocolate donut in powdered sugar and place back on the cooling rack. Once the donuts have cooled, give them another roll in powdered sugar.
Sit back and watch these chocolate powdered sugar donut holes disappear right in front of you.
More easy Donut Recipes:
Lemonade and cherries add a sweet and refreshing flavor to these baked Cherry Lemonade Donuts. Make a batch and pretend it is warm and sunny outside!
Enjoy cake for breakfast with these easy Carrot Cake Donuts. Complete with cream cheese frosting and walnuts!
Blueberry preserves and cinnamon sugar make these little Blueberry Jelly Donut Holes disappear every time!
Pieces of apples and the sweet glaze on these Mini Apple Fritter Waffle Donuts will have you reaching for a few more in a hurry.
These soft Chocolate Zucchini Donuts are loaded with three kinds of chocolate. It's a delicious way to eat your "greens" for breakfast.
Extra chocolate is always a good thing. Especially when it is in these Triple Chocolate Donuts!