A sweet and salty caramel pecan topping makes these easy Mini Turtle Cheesecakes a dreamy dessert. Add a swirl of homemade caramel whipped cream, chocolate & caramel drizzles, and pecan chunks and watch everyone smile.
*I am partnering with Dixie Crystals to bring you this turtle cheesecake recipe. Click HERE to see the full recipe.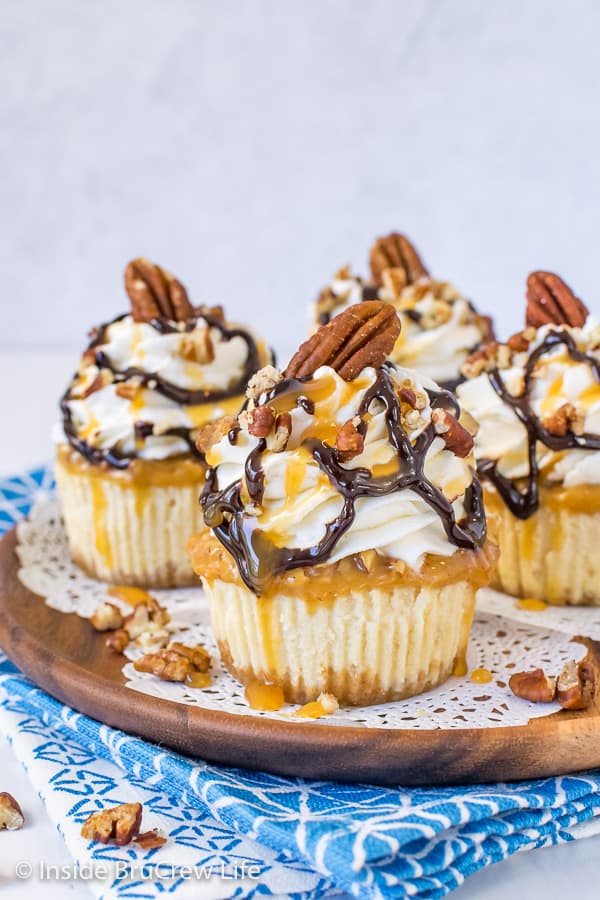 Cheesecake is one of our favorite desserts around here. Well, for four of the five in our family anyway. Our youngest son is our pickiest eater and prefers brownies over any other kind of dessert.
Some days I do question if he is ok. But then I make him these Homemade Chocolate Chip Brownies, and I realize that he has good dessert sense.
Now I do love me some cheesecake, but there are just days where I don't want to mess with all the time that is required to make this Banana Split Cheesecake.
Plus, mini cheesecakes are so much cuter and perfect for parties.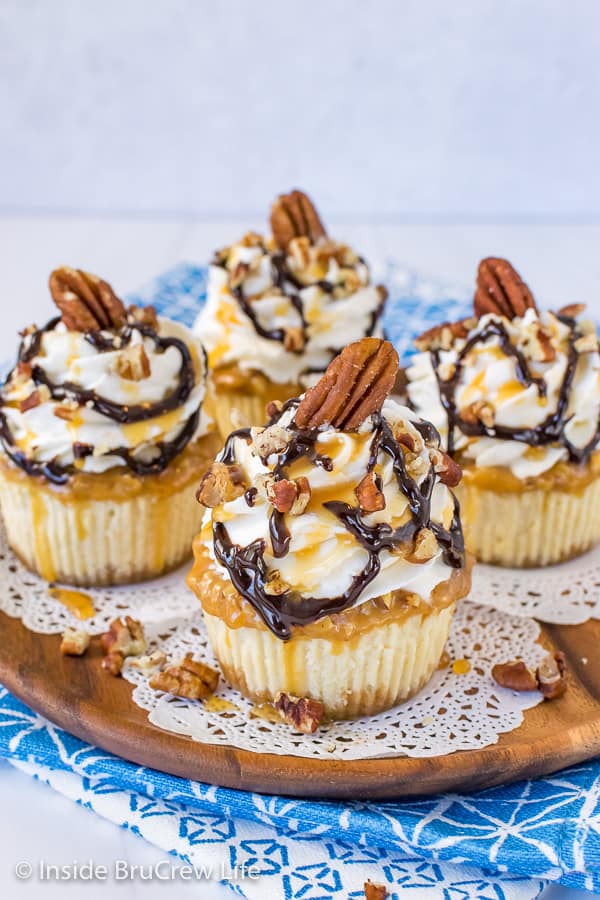 What flavor is turtle?
A turtle dessert recipe includes vanilla, chocolate, caramel, and pecans.
Are these easy to make?
Mini cheesecakes are much easier to make and take less time than a full sized cheesecake.
How many does this recipe make?
This will make 12 cupcake sized cheesecakes.
Enter in cheesecake cupcakes!!! They are so much easier to make, take less time to bake, and less time to chill. And that means we can be chowing down on cheesecake in no time at all. Well, relatively speaking. They do still need time to chill too.
There is a little bit of work involved, but I promise that mini cheesecakes are really quite easy to make.
As I started thinking about what flavor to make this time, my mind went straight to a turtle flavor. I am a fan of sweet and salty, and I remembered how good the combo of caramel, chocolate, and pecans were in these Chocolate Caramel Cheesecake Tart.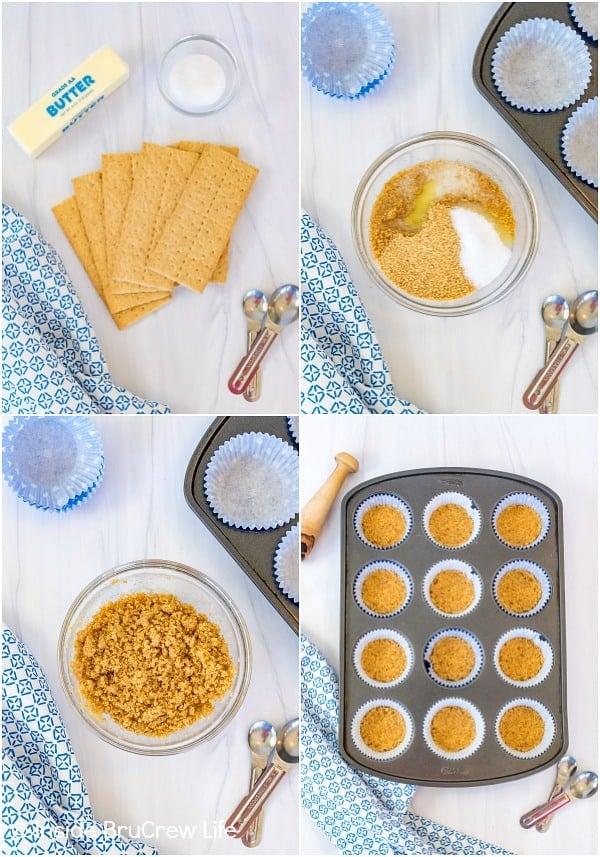 How to make Mini Turtle Cheesecakes:
Crush graham crackers and mix with butter and sugar.
Press the crumbs into 12 muffin liners.
Beat cream cheese and sugar until creamy. Add flour and sour cream and beat again.
Beat in the eggs. Spoon onto the prepared crusts and bake.
Remove from oven and let cool on wire rack for 15 minutes, then gently remove from pan and cool on counter one hour.
Refrigerate cheesecakes 3-4 hours or until completely chilled through.
FYI: I am sharing this recipe over at Dixie Crystals today. Click on Mini Turtle Cheesecakes to see the full recipe.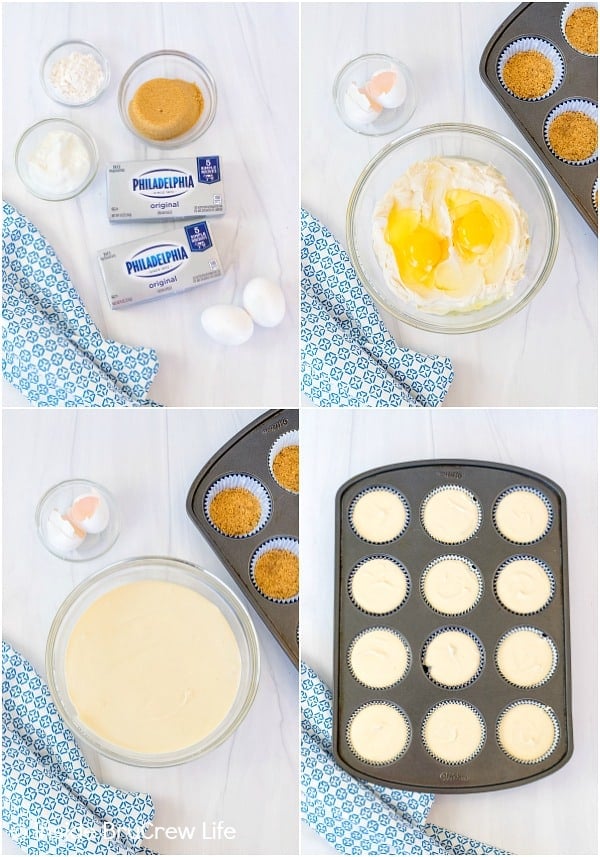 For these turtle cheesecakes, I decided to use three different toppings. A caramel pecan topping, homemade caramel whipped cream, and drizzles of chocolate and caramel on each one made this easy cheesecake cupcake look like it came from a gourmet bakery.
The texture and flavor of all these toppings made these turtle cheesecakes absolutely amazing!
How to make Caramel Pecan Topping:
Unwrap caramel candies. Heat over low-medium heat, stirring until melted and creamy.
Stir in chopped pecans and let cool a few minutes.
Spoon on top of chilled cheesecakes.
Add a swirl of homemade whipped cream to each cheesecake. Drizzle with chocolate and caramel syrup and add a pecan half to the top.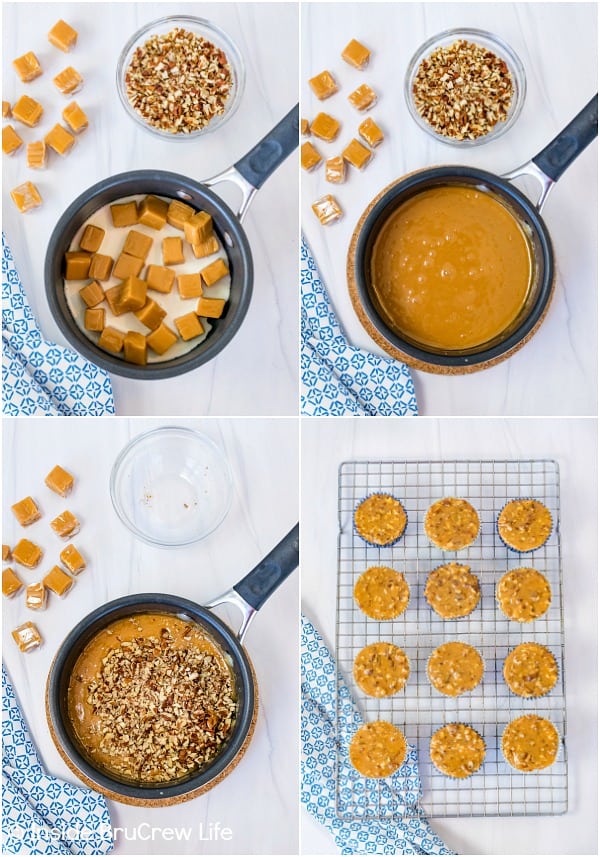 Mini Turtle Cheesecake Tips:
Make sure to set out cream cheese earlier. Room temperature cream cheese is so much easier to beat into the sugar.
Use tinfoil cupcake liners. The cheesecake and caramel topping will peel off easier. Paper liners will work if that is all you have.
Spoon the batter evenly onto the prepared crusts. The liners will be very full.
Place a metal sheet pan full of water on the bottom rack of the oven. Bake the cheesecakes on the rack right above for a steam bath effect. This creates the creamiest texture.
Set the cheesecakes out 10 minutes before serving, so that the caramel topping has time to warm up. If you eat them straight from the fridge, the caramel may pull off as you bite it.
These cheesecakes can be frozen without the toppings for later. Thaw and add the toppings right before serving.
Other mini cheesecake cupcakes you may like: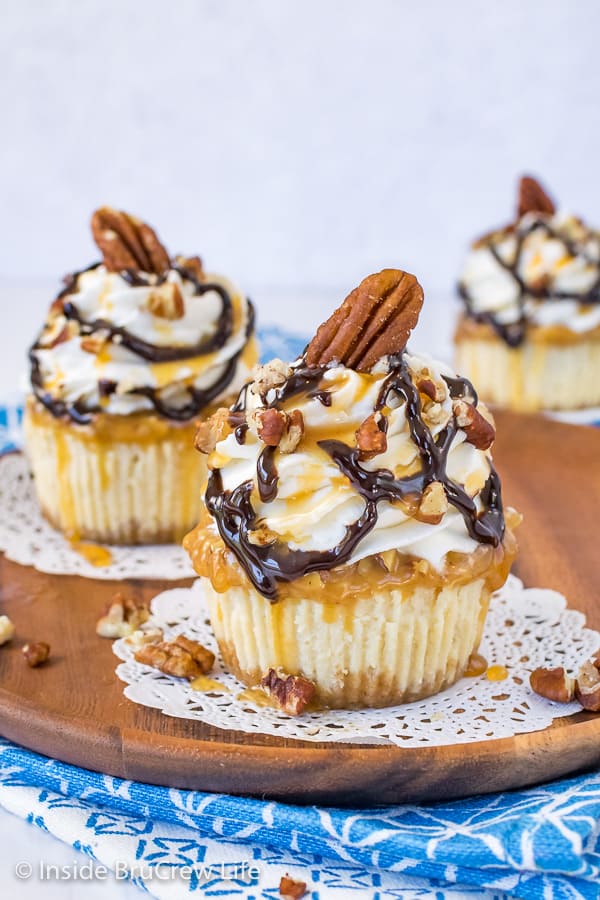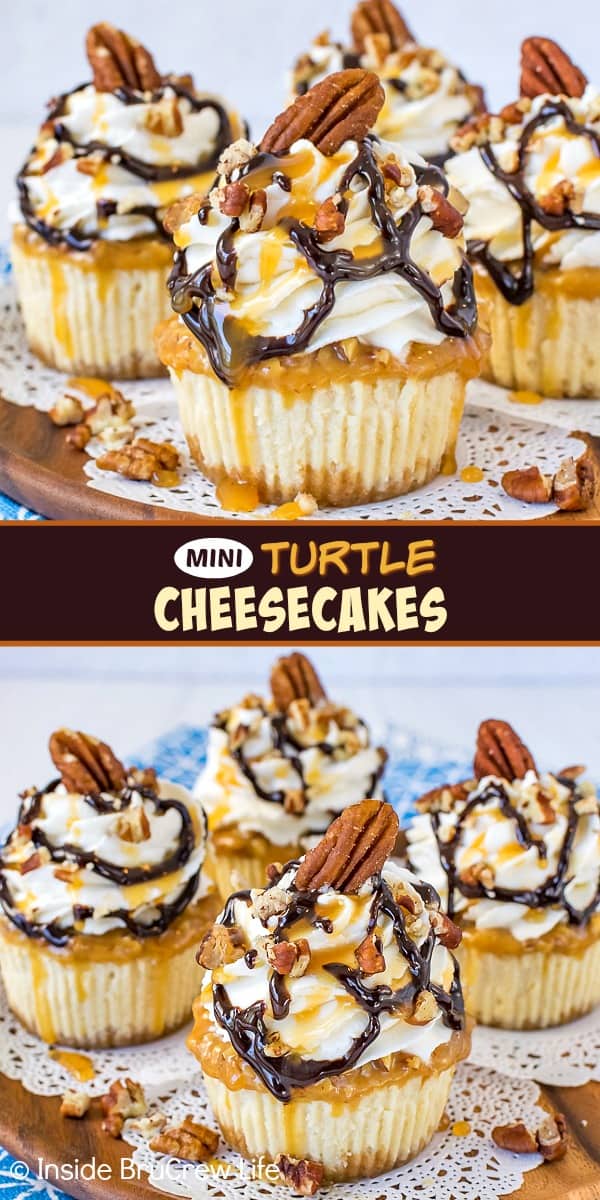 *Dixie Crystals has sponsored this recipe and post. All opinions expressed are 100% my own. Thank you for letting me share products and brands we use and love. See my disclosure policy for more information.*