Indulge in the BEST homemade Tres Leches Cake. This ultra-light and fluffy cake is soaked in a sweet milk mixture, topped with freshly whipped cream, and garnished with cinnamon. It's a simple Mexican dessert that never fails to amaze!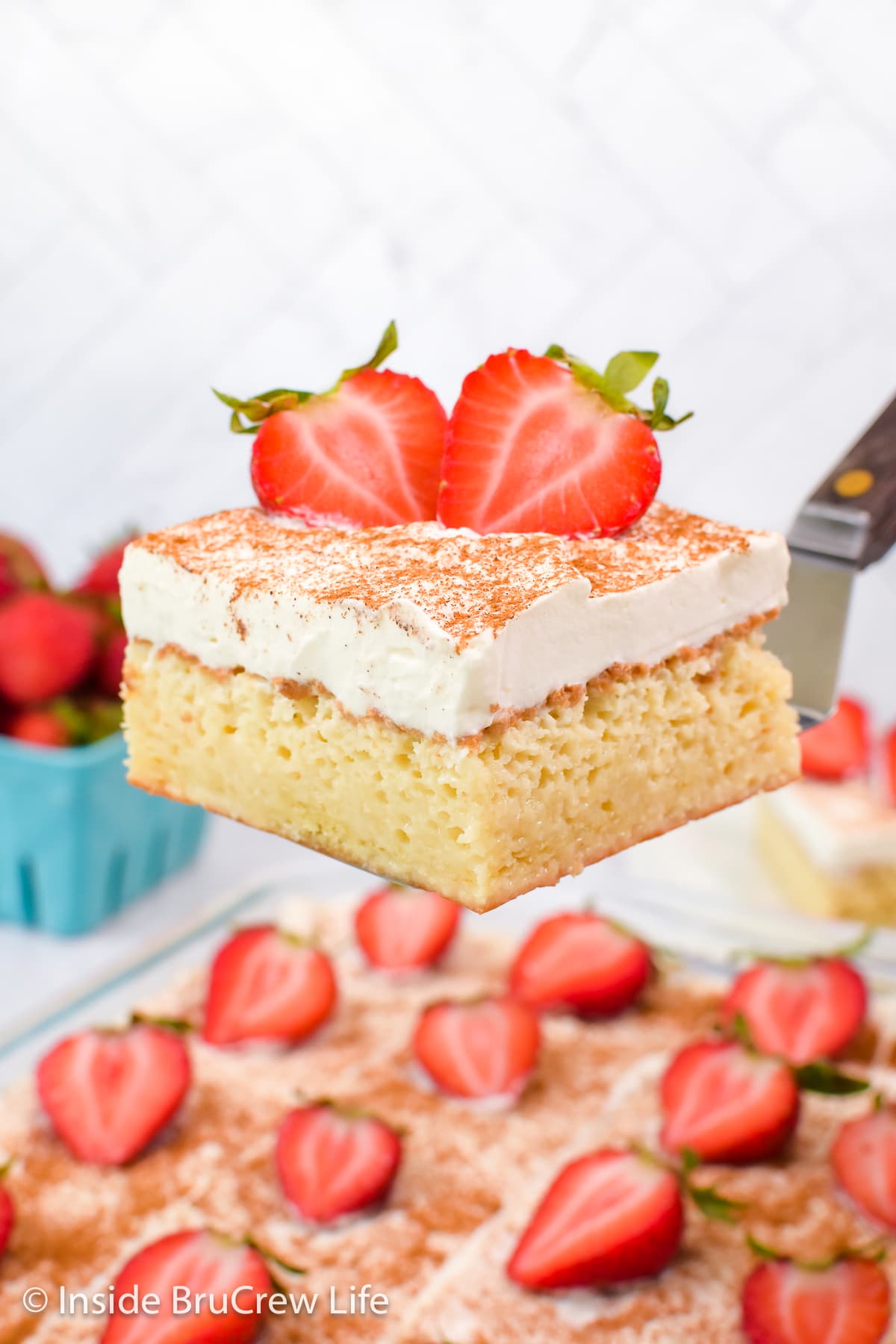 Jump to:
We've got the perfect cake for you. Our tres leches cake is a light and fluffy dessert that melts in your mouth. It's soaked in three milks, resulting in a unique flavor and texture that will have everyone coming back for seconds – and thirds!
To top it all off, we serve it with homemade whipped cream and fresh berries for an extra sweet finish that is muy delicioso.
The first time I had tres leches cake we were on vacation in Mexico years ago. It reminded me of my favorite chocolate coconut cake, so I couldn't wait to make it at home.
What is Tres Leche Cake
Tres leches cake literally means three milk cake. It is a popular South American dessert made with sponge cake and a mixture of evaporated milk, condensed milk, and whole milk. It has a moist, creamy texture that is sweet and amazing.
Typically, the butter free cake is served with whipped cream, cinnamon, and/or fruit.
Why You Will Love this Cake
If you're looking for a dessert that will impress your guests, look no further than this authentic tres leches cake. Not only is it a showstopper, but it's also incredibly delicious and will melt in your mouth.
Simple to Prepare - While it may seem like a complicated dessert, the sponge cake is actually quite easy to make. With a few simple ingredients, you can bake a delicious cake that everyone will love.
Extra Moist - The cake is soaked in a mixture of three different types of milk, giving it a unique and deliciously moist texture that melts in your mouth.
Great for Any Occasion - It's perfect for birthdays, weddings, or special celebrations such as Cinco de Mayo where you want to serve a special dessert. It's also a great dessert for potlucks or dinner parties because it can be made ahead of time and is easy to transport.
Key Ingredients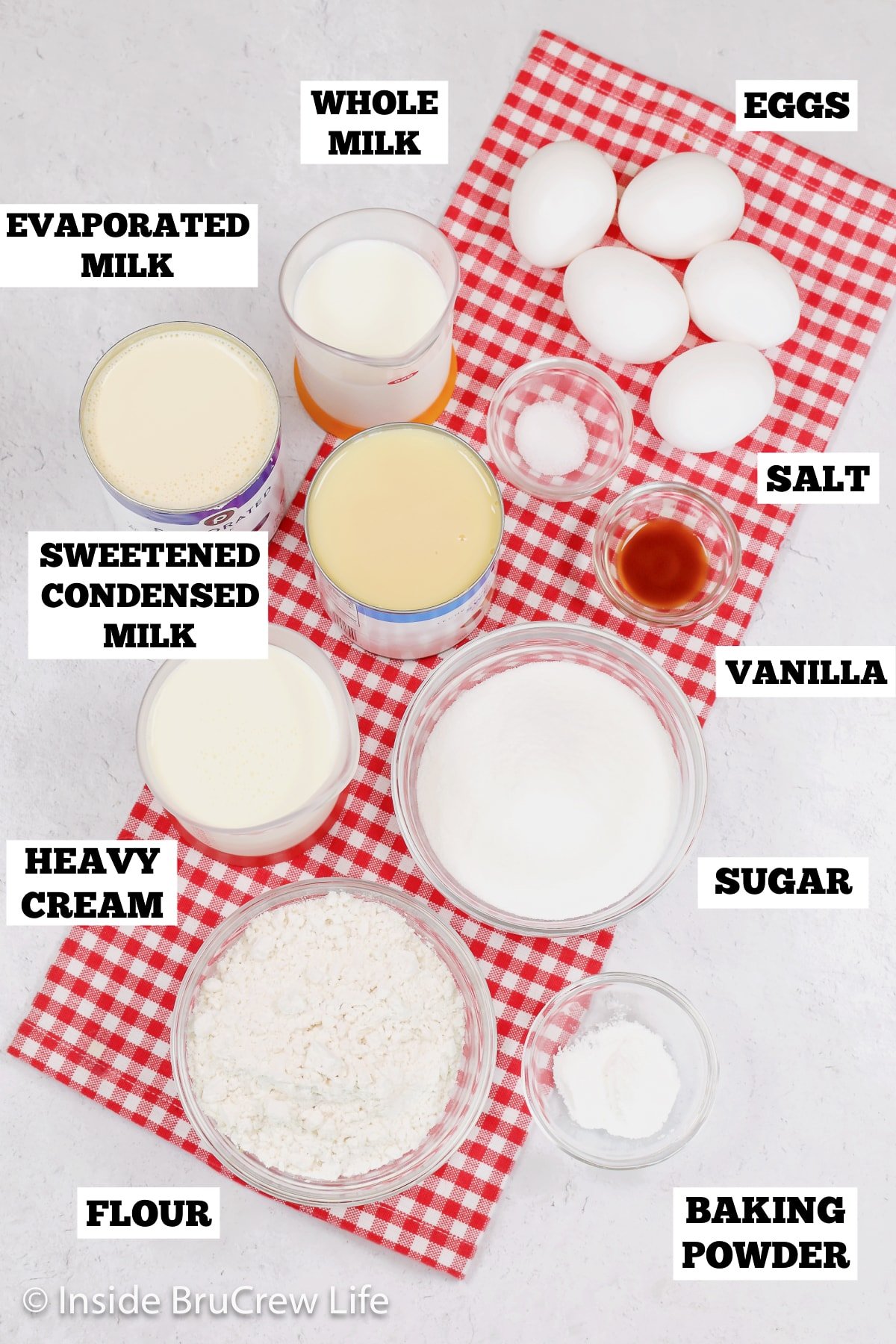 Despite its fancy appearance and rich flavor, this tres leches cake recipe is quite simple and requires only a few ingredients.
Flour - We used all purpose flour. Make sure you are measuring the flour properly.
Baking Powder - Lifts the cake and makes it fluffier.
Eggs - You will need to separate the white and yolks for this cake recipe.
Sugar - Used to sweeten the batter and to help the egg white whip up.
Milk - A combination of whole milk, evaporated milk, and sweetened condensed milk are uses in the cake.
Vanilla - Adds a great flavor to the milk mixture and topping.
Whipped Cream - Beating heavy cream and powdered sugar give you a light aid airy topping that can be spread on before serving.
How to Make Tres Leches Cake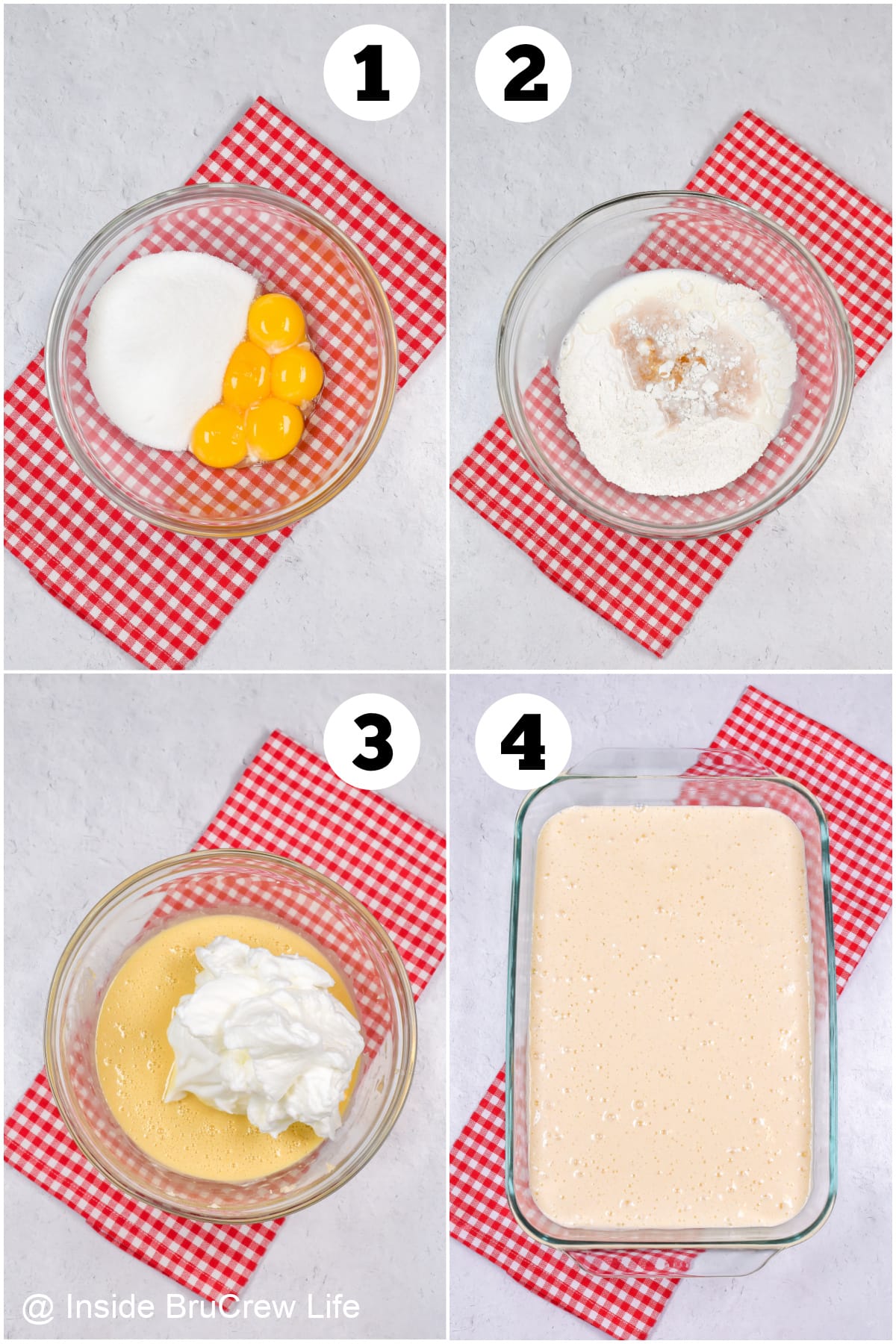 This Mexican three milk cake comes together in a few easy steps. Just make sure you allow enough time for the milk cake to chill completely.
Step 1: Beat the yolks. In a large bowl, beat the egg yolks with sugar until it is thick and looks pale yellow. Add the milk and vanilla and stir together.
Step 2: Stir together the dry ingredients. Whisk together the flour, baking powder, and salt in a bowl. Slowly mix into the egg yolk mixture.
Step 3: Beat the whites. In a clean bowl beat the egg whites until they are slightly thickened. Add sugar and continue beating until glossy stiff peaks form. Fold the stiff egg whites into the cake batter gently.
Step 4: Bake the cake. Spread the batter into a prepared pan and bake until a toothpick comes out mostly clean when inserted in the center.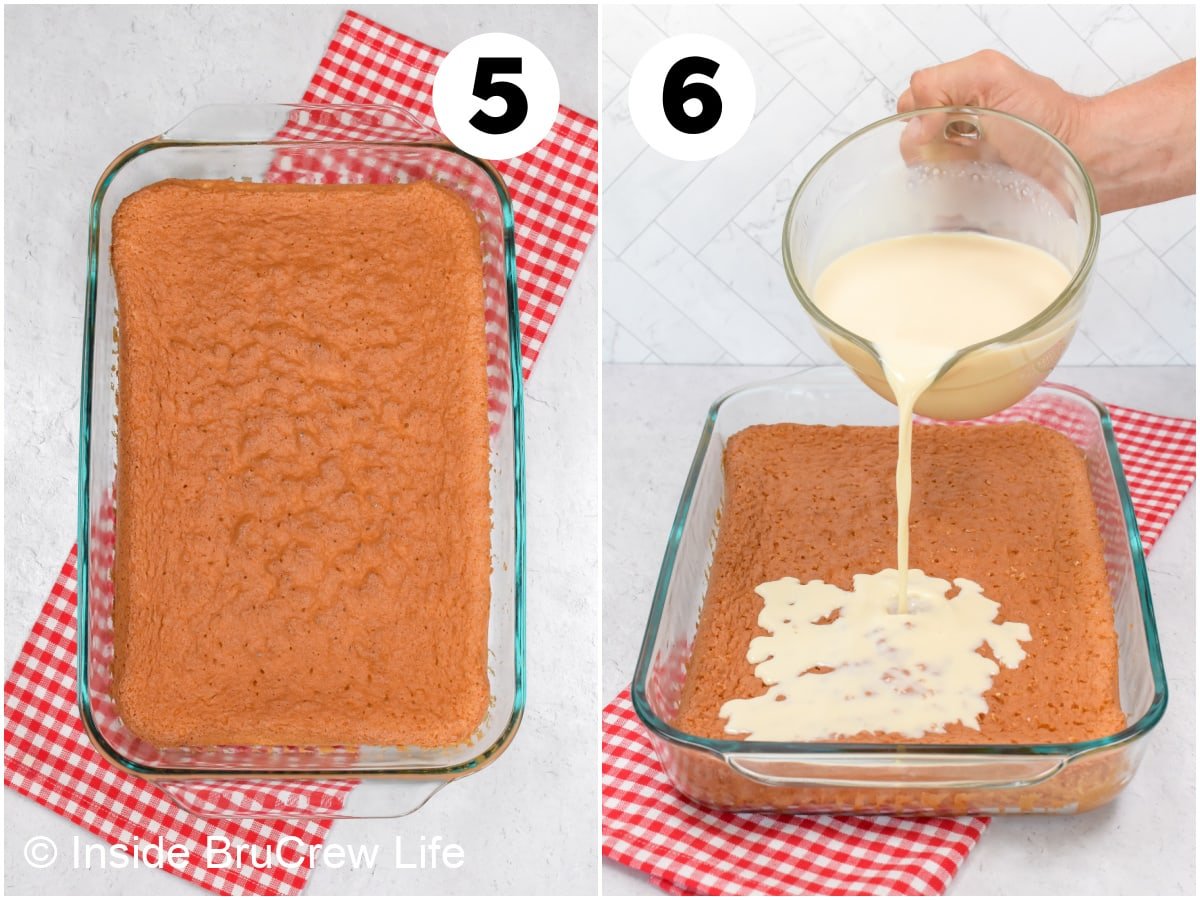 Step 5: Poke the cake. Once the cake has cooled slightly, poke holes all over with a skewer or large fork.
Step 6: Pour on the milk. Whisk together the remaining milks and pour over the top very slowly. Refrigerate it for 1 hour or overnight.
What to Serve With It
How to Store
Tres leches cake is best served cold. Make sure to cover the cake with a tight fitting lid and refrigerate for 4-5 days. This is a great cake to make ahead of time because it needs time to chill and it actually tastes better the longer it sits.
We do not recommend freezing this cake because the texture does not thaw out the same.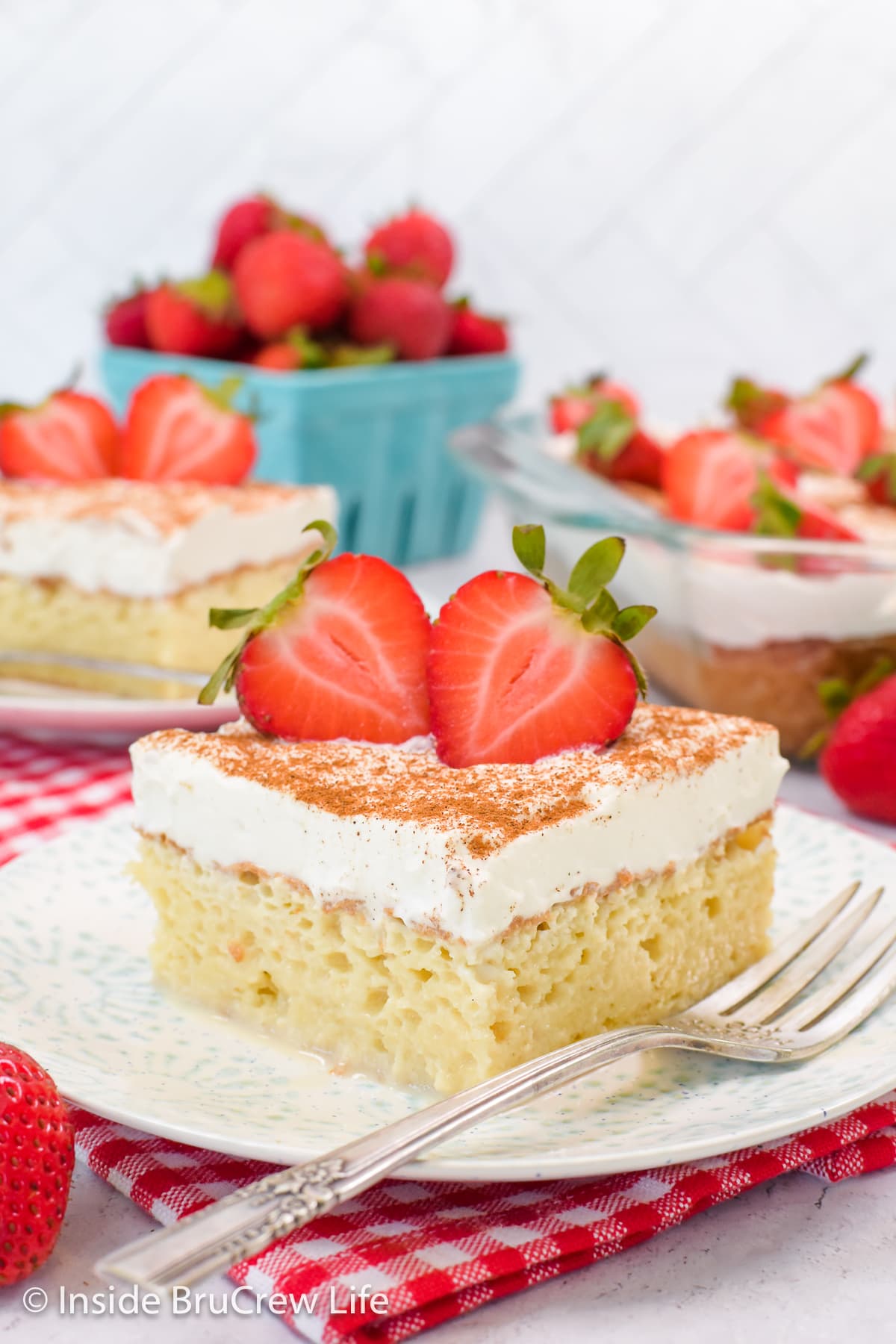 Tips and Tricks
Use a clean bowl and beater. Any fat or grease in the bowl can affect how much volume the egg whites have when whipped.
Beat the egg white until stiff. They peaks should stand tall when you lift the mixer blade out.
Let it soak. Refrigerate the soaked cake for a few hours before serving. You want it to have enough time to soak up the milk.
Serve with cinnamon or fruit. Adding the extra toppings really does add an extra delicious flavor.
FAQ
What are the three milks in tres leches cake?
Traditionally, tres leches cake is made with evaporated milk, condensed milk, and heavy cream. However, some recipes may call for variations on this, such as using whole milk instead of heavy cream.
How long should I let the cake soak?
This can vary depending on the recipe, but typically the cake should be soaked for at least an hour in the milk mixture. Some recipes may call for soaking overnight.
Does this cake need to be refrigerated?
Yes, since the cake is soaked in milk, it should be refrigerated until ready to serve. This will also help the flavors to meld together.
Is this cake soggy?
Tres leches cake should not be soggy. The milk should soak into the sponge cake creating a decadent custard-like texture.
More Cake Recipes
Do you love a recipe you tried from Inside BruCrew Life?
Please leave a 5-star ⭐️ rating and a review in the comments section below.