Adding toasted marshmallows to donuts is a fun way to change up the traditional s'mores. These Chocolate Donut S'mores can be made over a campfire or in your kitchen oven. They are fun little treats to share any time of day.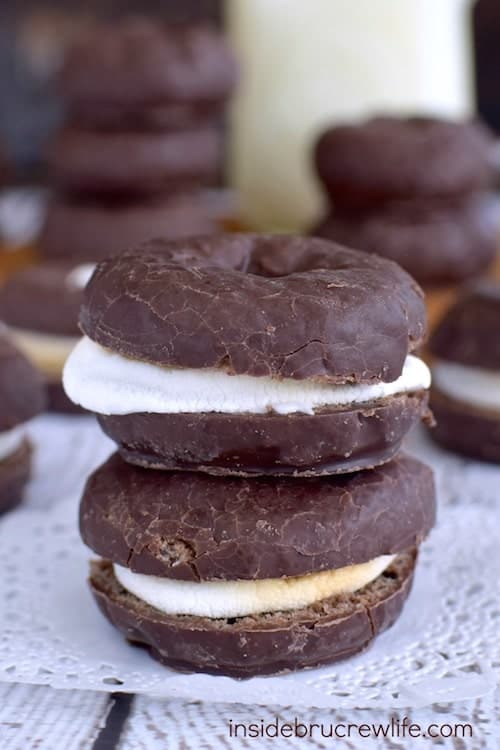 Have you noticed donuts creeping up all over the place? There are so many different little shops selling crazy, over the top, and completely amazing donuts now.
In our town, we have a small mom and pop donut place. They don't do the crazy donuts, but they have some of the best chocolate cake donuts and apple fritters I have ever had.
I love making homemade donuts every once in a while too. If we have ripe bananas, I love to put them into these Sour Cream Banana Donuts. The fun part is choosing a topping. We usually do chocolate with sprinkles, but I'm thinking Oreo crumbs would be pretty awesome too.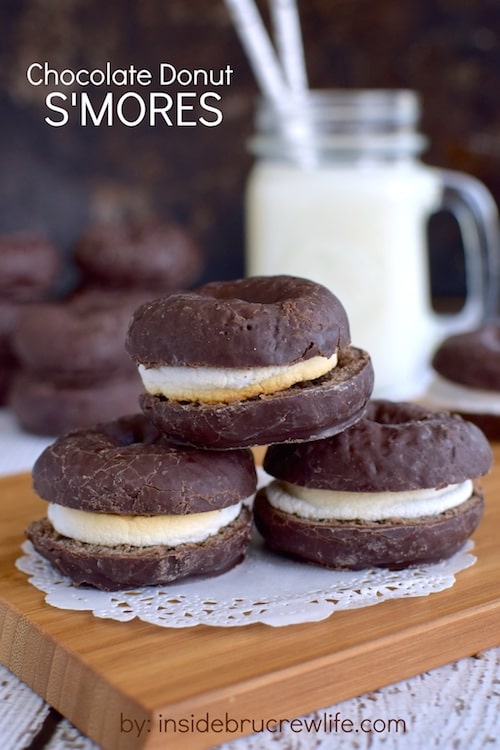 Did you know that today is National Donut Day?
That's right. An entire day dedicated to all things donut! How fun is that?!?!?! And yes, I'm a nerdy foodie who likes to keep up with these crazy off the wall food "holidays". I don't know who came up with these days, but I'm totally down with celebrating them. Bring on the donuts!!!
I heard about another donut shop close to us, so I'm thinking today is the day to check it out! I mean it's a holiday, right? I heard they have a peanut butter filled donut that is to die for. Any donut that gets that kind of review is a definite must try.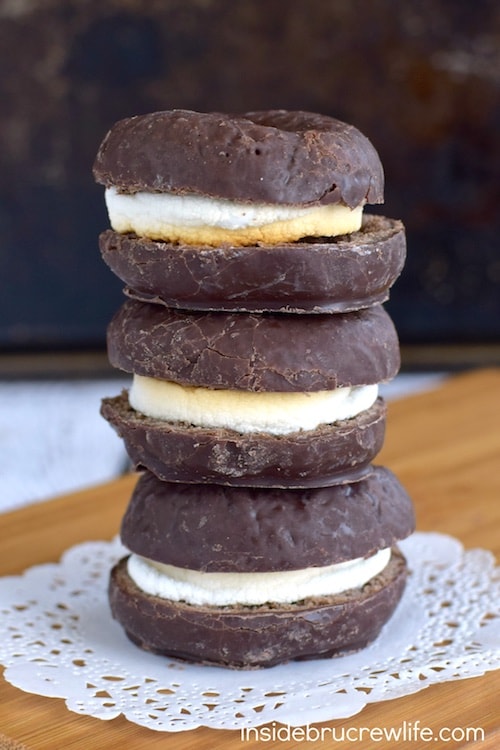 So, today's recipe is seriously not even a recipe. I'm kind of embarrassed to even call it a recipe. But you know what? It's my little space on the world wide web, so recipe it is.
You know how crazy I am for s'mores right? I mean this S'mores Oreo Icebox Cake and Chocolate S'mores Pudding Cake are just a few of my favorite crazy s'mores treats. About a month ago I had this crazy idea to toast marshmallows and put them between a donut. I thought about baking donuts. I mean these Chocolate Donuts would totally work as mini donuts, but, then I thought why not buy a bag of mini frosted chocolate donuts instead. Laziness at its best, peeps.
You could toast an entire marshmallow and fill the donuts with those…think of the gooiness coming out of those donuts! Yum! But since the donuts were small, I cut the large marshmallows in half and placed them on a tray lined with parchment paper. (You can also toast them over a campfire too.) Put the pan in the oven under the broiler. Make sure you watch them very carefully. Marshmallows go from melty to burnt in like a second. (I held the door open a crack and watched, as mine got toasty.) Then pull out the pan and use a butter knife to transfer the marshmallows to the donut halves. One more tip…cut your donuts in half before toasting the marshmallows. Cold toasty marshmallows still taste good, but they don't squish in between donuts as well. Just a little FYI I learned in my kitchen. You are welcome!
Now what are you waiting for? Get yourself to a donut shop or grocery store for lots of donut goodness. It's not every day we have a donut holiday to celebrate.
Here are a few more fun ways to change up the traditional s'mores: