These mini Chocolate Pumpkin Cheesecakes are a fun and delicious dessert for Thanksgiving dinner parties. A chocolate cookie crust and two layers of cheesecake taste so good together.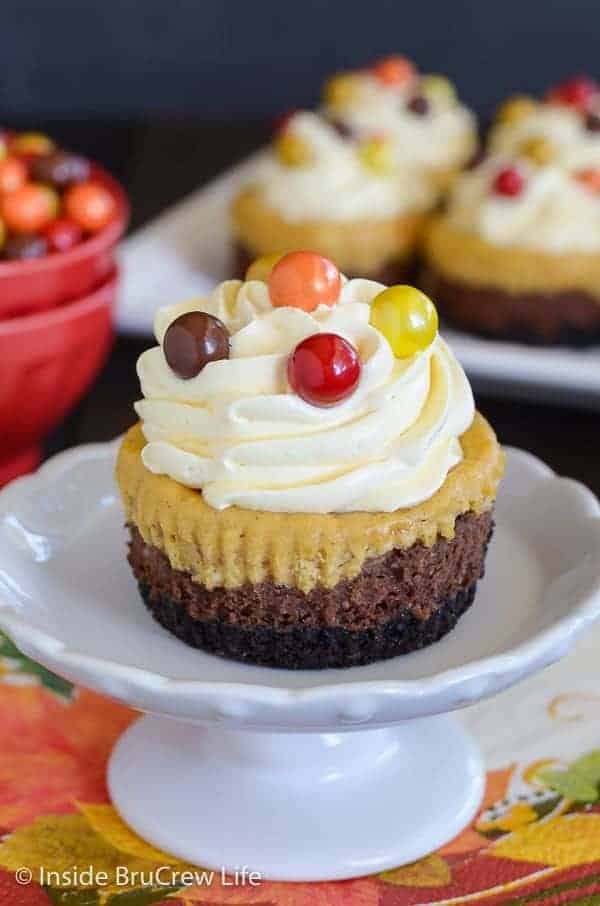 As we head into one of the busiest seasons of the year, I want to stop and to be thankful for all the things that God has allowed in our lives. Sometimes it is easy to only see the negative things around us. It's easy to loose sight of all the good that we actually have.
I want to remember to be content with everything in my life. I want to be thankful for the good AND the bad.
Does that mean I am full of joy and a delight to be around all the time? No way. I have my bad moments/days/weeks too. It's a daily choice to be joyful in the things God allows me to walk through.
I want to remember to enjoy life just how it is. It is ok to slow down and relax even when life gets busy. It is ok to celebrate the little things that happen day to day.
Yes, even those terrible, no good, rotten days. Celebrate that you made it through in one piece. Celebrate that you handled it with grace and patience. Celebrate that everyone is still alive.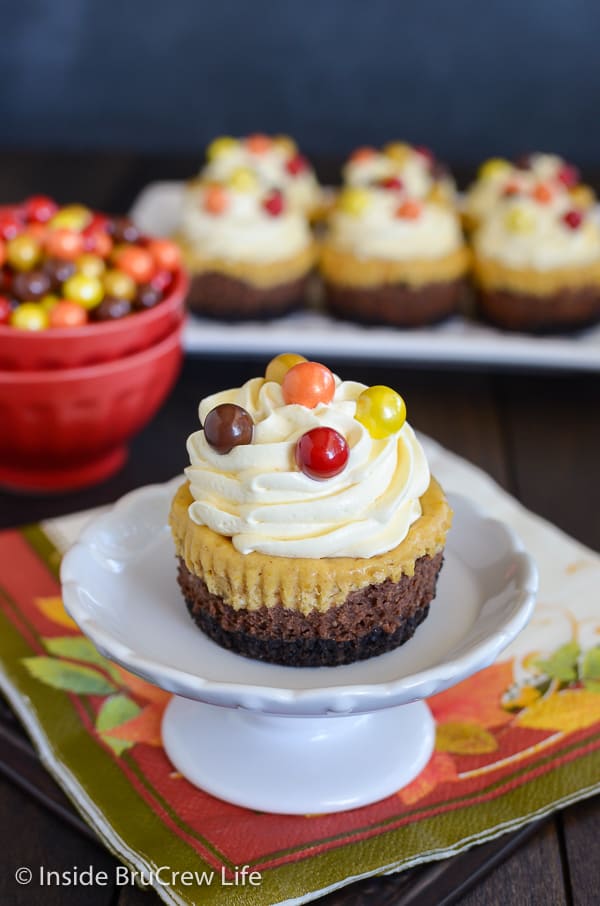 Now I do realize that we all have "junk" in our lives, but I believe that we can choose how to handle situations. Do we choose joy over irritation in the situations we encounter?
Most of what I share on the blog are happy stories and moments. I want this to be a happy place where you can come and get a smile. Just remember that I am choosing to not share all my ugly personal struggles online.
Occasionally, I may share those because I do want you to know that I am a real person, with a real temper and a real bad attitude too. My family could definitely tell you stories I'm sure.
This week (and all year really) let's remember to be thankful no matter what. Things can always be worse than what they actually are. We have so much to be grateful for, and I hope that we can join each other in sharing those things that make us better. Yes, even those bad things make us stronger.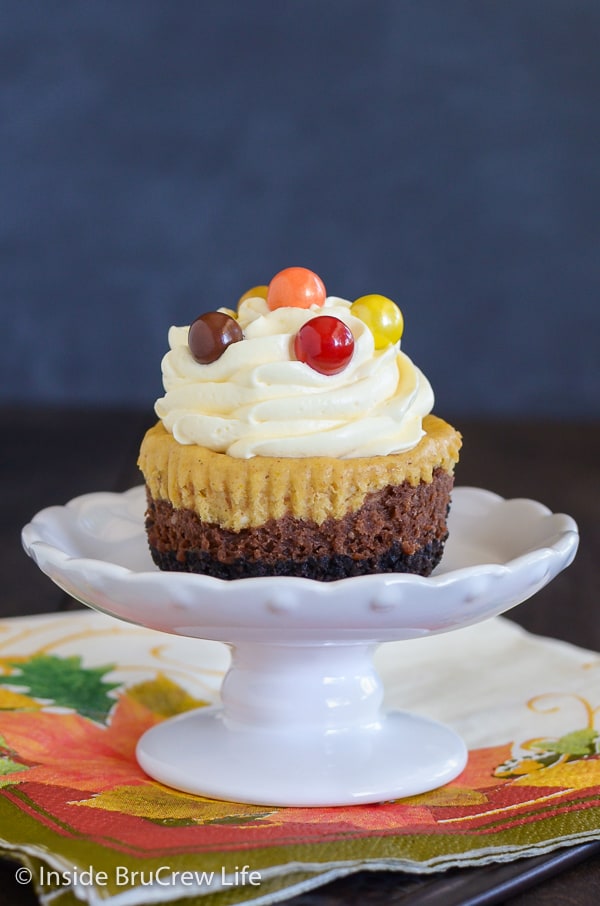 Now on to the cheesecake cupcakes! That's a sure way to make you smile, huh?
I got all the pumpkin baking out of my system early this year. Now that I haven't had pumpkin treats in my house for a while, I am so excited for Thanksgiving week.
I will definitely be hitting that dessert table first thing. Give me a plate of mini Chocolate Pumpkin Cheesecakes, Traditional Pumpkin Pie, and Pumpkin Crunch Cobbler.
How to make Chocolate Pumpkin Cheesecakes:
Crust: Crush the Oreo cookies (cream included) and mix the crumbs with melted butter. Spoon the mixture evenly into 18 cupcake liners and press it down firmly.
Chocolate Cheesecake: Beat cream cheese and sugar until creamy. Add sour cream, vanilla, and melted chocolate and mix again. Beat in the egg last. Spoon evenly into the cupcake liners.
Pumpkin Cheesecake: Beat cream cheese and sugar until creamy. Add sour cream, pumpkin puree, flour, and spices and mix again. Beat the egg in last. Spoon the pumpkin cheesecake on top of the chocolate cheesecake layer.
Bake: Place a large sheet pan on the very bottom rack in the oven and fill it halfway with hot water. Preheat the oven, then place the pan of cheesecake on the rack above the water and bake for about 24 minutes. Remove and let cool in the pan for 10-15 minutes, then gently remove and place on a wire rack to cool for an hour. Refrigerate 4-6 hours or until completely chilled.
Decorate: Whisk together a box of instant vanilla pudding and milk. Fold in a container of Cool Whip. Fill a piping bag fitted with decorating tip 1M with the pudding frosting. Swirl on top of the chilled cheesecakes and top with colored candies. (Sixlets or M&M's) This Chai Whipped Cream would also be delicious on top of these mini cheesecakes.
More easy Thanksgiving desserts you may like: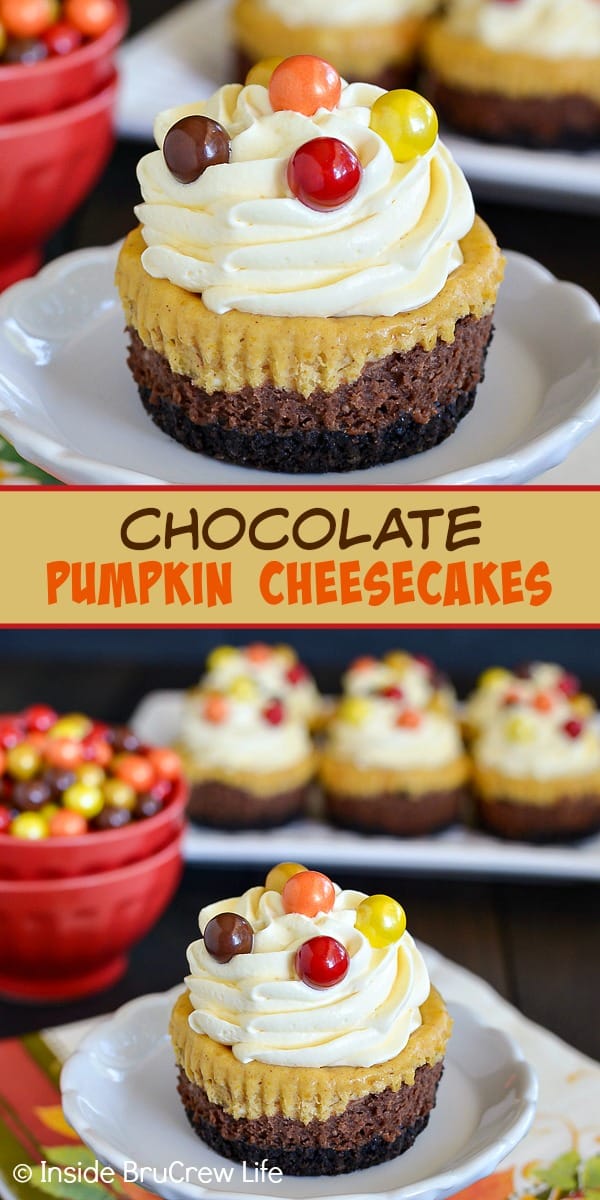 *The post for Chocolate Pumpkin Cheesecakes was first published on November 24, 2013. The post and photos have been updated and republished on November 21, 2019.