Chocolate and pumpkin join forces in mini cheesecakes.  Try these Chocolate Pumpkin Cheesecakes this year for a change of pace at your Thanksgiving dessert table.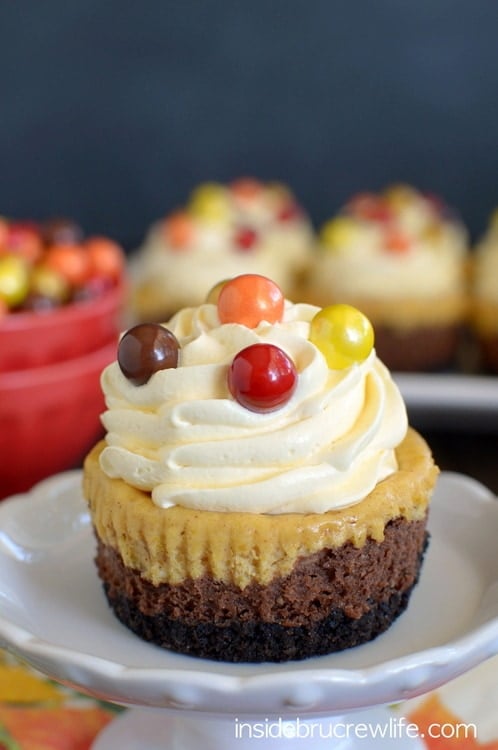 As we head into one of the busiest seasons of the year, I wanted to just remind us to stop and be thankful for all the things that God has allowed in our lives.  Sometimes it is easy to focus on all the negative and bad that we see happening and not to see all the good that we actually have.
I want to remember to be content with the things that are in my life.  I want to be thankful for the good and the bad.  Does that mean I am joyful and a delight to be around all the time?  No way.  I have my bad moments/days/weeks too.  I have to make it a point daily to be happy in the things God has placed me through.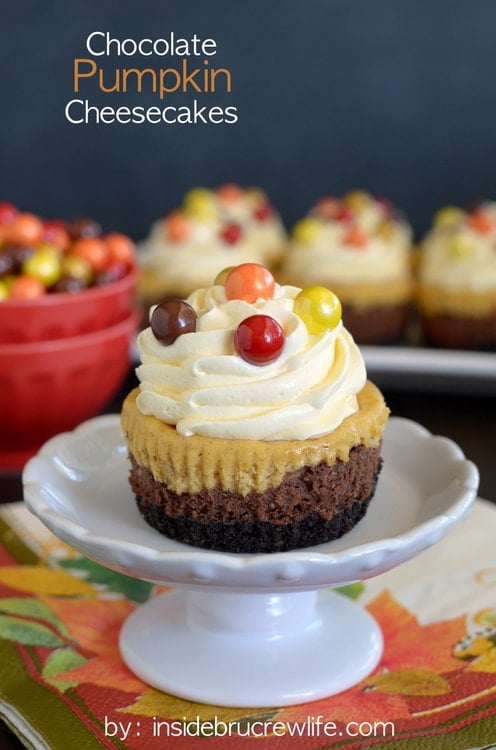 I want us to remember to enjoy our lives just how they are.  It is ok to slow down and relax even when life gets busy.  It is ok to celebrate even the littlest things that happen from day to day.  Yes, even those terrible, no good, rotten days.  Celebrate that you made it through in one piece.  Celebrate that you handled it all with grace and patience.
Now I do realize that we all have "junk" in our lives, but I believe that it is all in how we choose to handle those things.  Do we choose joy over irritation in every situation we encounter?  Most of what I share on here is happy little stories that happen from day to day.   I want this to be a happy place where you can come and get a smile.  Just remember that I am choosing to not share all those personal struggles online.  Occasionally I may share those because I do want you to know that I am a real person, with a real temper and a real bad attitude too.  My family could definitely tell you some stories I'm sure.
This week (and all year really) let's remember to be thankful no matter what.  Things can always be worse than what they actually are.  We have so much to be grateful for, and I hope that we can join each other in sharing those things that make us better.  Yes, even those bad things make us stronger.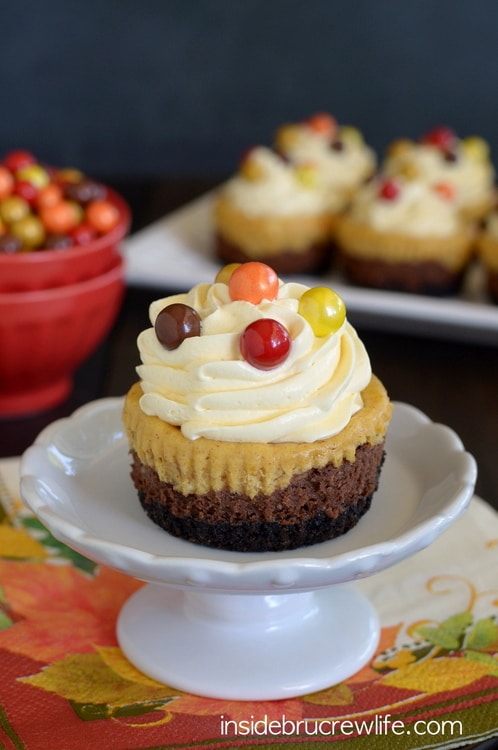 Now on to the sweet treats!  That's a sure way to make you smile huh?
I told you I wasn't done with pumpkin goodies just yet.  I got all the pumpkin baking out of my system early, and had to pace myself at sharing them here.  Now that I haven't had pumpkin treats in my house for a while, I am so excited for Thanksgiving this week.
I will definitely be hitting that dessert table first thing.   Pumpkin pie, Pumpkin Chocolate Chip Bread, Pumpkin Cheesecake Brownie Pie…here I come!!!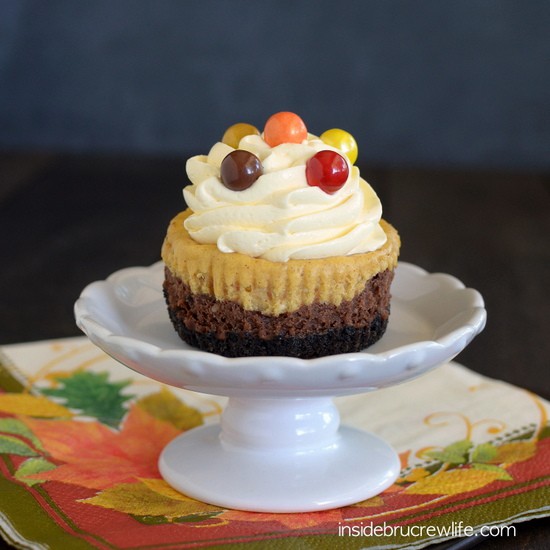 Have you noticed that I have a real thing for cheesecake?  I will take a cheesecake treat in any form possible.  These little cheesecake cups are so easy to make, and I love that they bake much faster than a large full size cheesecake.
These little guys start with a chocolate cookie crust.  Then a chocolate cheesecake layer and a pumpkin layer get baked on top of that.  Yes, I'm sure you have started to notice I have a thing for baking in layers too.
Then to give it some fall flair, I piped cream cheese Cool Whip frosting on each one and topped them with fall colored Sixlets.   I have always loved these fun colored chocolate balls…especially now that you can get them in all the holiday colors.
All I can say is thank goodness for treadmills and weights…I think I'm going to need them more than ever after this week.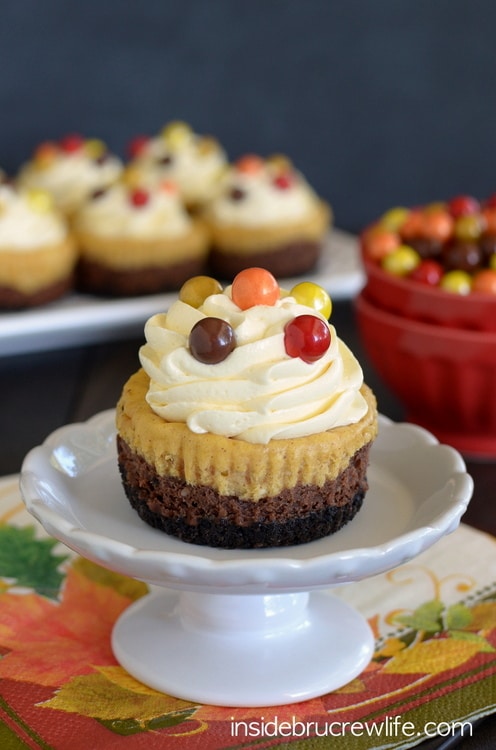 Stay up to date on all the BruCrew baking by following here:
FACEBOOK | PINTEREST | GOOGLE+ | TWITTER | INSTAGRAM | BLOGLOVIN
Yield: 18 mini cheesecakes
Chocolate Pumpkin Cheesecakes
Chocolate and pumpkin cheesecake layered on a chocolate cookie crust for a fun new holiday dessert.
Ingredients
For the crust
1 3/4 Oreo cookie crumbs
2 1/2 Tablespoons butter, melted
For the Chocolate layer
1 - 8 ounce package cream cheese, softened
1/4 cup sugar
1 egg
1 Tablespoon sour cream
1/2 teaspoon vanilla extract
2/3 cup dark chocolate chips
1/2 teaspoon shortening
For the Pumpkin layer
1 - 8 ounce package cream cheese, softened
1/4 cup sugar
1 egg
1/2 cup pumpkin puree
1 Tablespoon sour cream
1 teaspoon pumpkin pie spice
1 Tablespoon flour
For the topping
Instructions
Preheat oven to 350 degrees. Place 18 cupcake liners in muffin tins.
Combine the cookie crumbs and melted butter. Use a food processor to pulse the entire cookie (cookie and cream) to get your crumbs, or crush them in a ziplock bag.
Divide the cookie mixture into 18 regular cupcake liners. Press down evenly. Set aside.
Combine 1 package cream cheese and 1/4 sugar in a mixing bowl. Beat until creamy.
Add the egg, sour cream, and vanilla and beat again.
Place the chocolate chips and shortening in a microwave safe bowl. Heat for 30 seconds. Stir and repeat. Stir again and add to the cheesecake batter in the bowl. Beat until thoroughly combined.
Divide the chocolate batter into the cupcake liners. Set aside.
Place 1 package cream cheese and 1/4 cup sugar in another mixing bowl. Beat until creamy.
Add the egg, sour cream, pumpkin puree, pumpkin pie spice, and flour. Beat again.
Carefully spoon the pumpkin cheesecake batter over the top of the chocolate batter.
Bake for 24-25 minutes. Remove from the oven and let cool in the pan for about 20 minutes.
Carefully remove from the cupcake tin and cool on a wire rack for an hour. Refrigerate until chilled.
Top with Cool Whip and Sixlets before serving. Keep refrigerated in a sealed container.
Recommended Products
As an Amazon Associate and member of other affiliate programs, I earn from qualifying purchases.
Nutrition Information:
Yield:
18
Serving Size:
1
Amount Per Serving:
Calories:

215
Total Fat:

15g
Saturated Fat:

8g
Trans Fat:

0g
Unsaturated Fat:

5g
Cholesterol:

52mg
Sodium:

135mg
Carbohydrates:

18g
Fiber:

1g
Sugar:

13g
Protein:

3g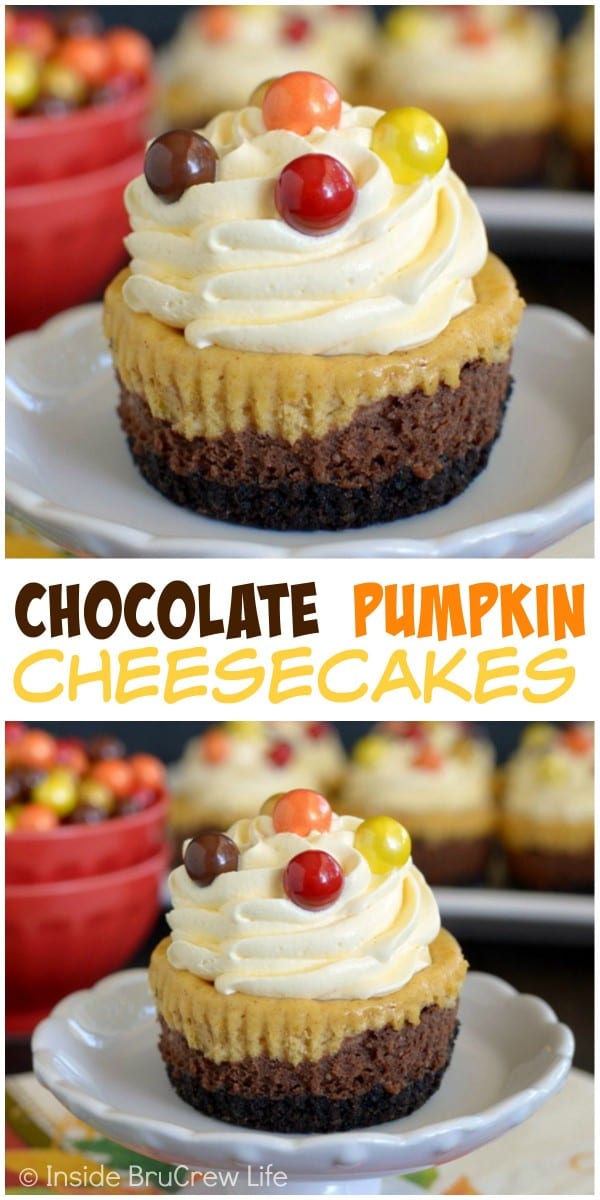 Other delicious pumpkin treats that would be perfect for Thanksgiving day dessert tables: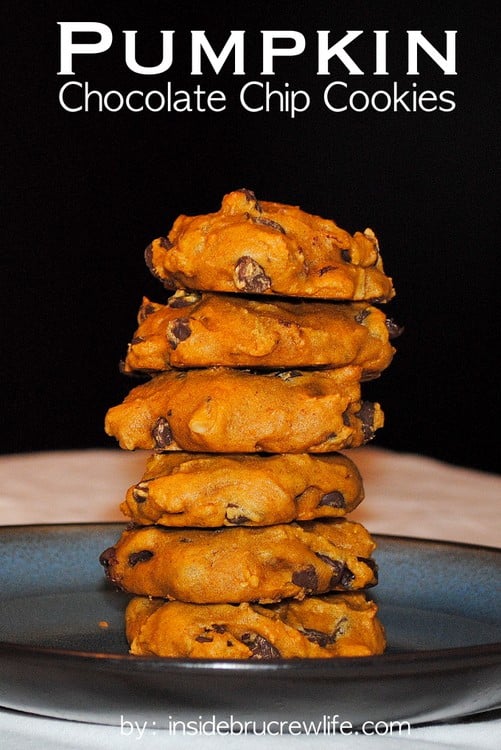 Pumpkin Chocolate Chip Cookies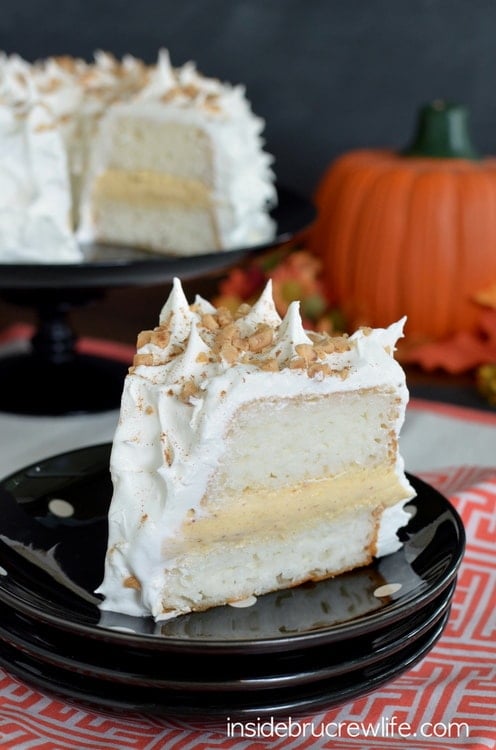 Pumpkin Toffee Angel Food Cake