Fill your Easter baskets with these easy Coconut Cream Eggs recipe this year. Anyone that loves chocolate and coconut will enjoy finding this homemade Easter candy.
CLICK HERE TO PIN THIS RECIPE FOR LATER!
Coconut is definitely one of those ingredients that everyone either loves or hates. Personally, I'm on team love all things coconut. Something about the taste of coconut sends me to my tropical happy place.
I can almost believe I'm sitting on the beach when I'm enjoying a good coconut dessert. Of course, then I open my eyes, and I'm still in my home.
Usually January and April are the two months I go crazy for coconut. In the winter it is because the weather is chilly, and I need that blast of tropical in my life. In the spring it is because Easter is coming, and coconut is just such a fun Easter flavor.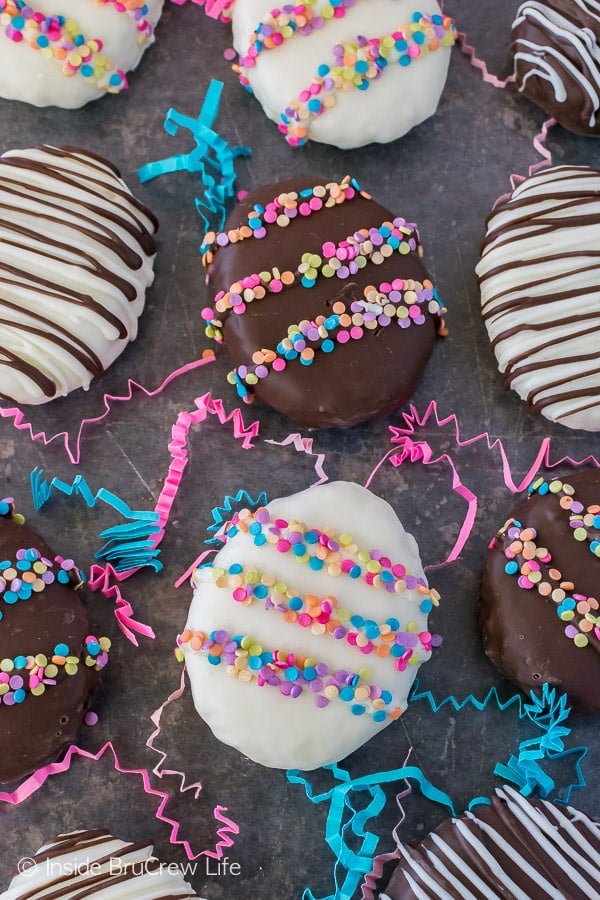 Of course, not everyone thinks that way. These fun eggs and some Coconut Fudge Pie got mixed reviews at church this week. The coconut lovers couldn't get in line fast enough to snag one of each.
Then there were the haters who pointed out that coconut should never be allowed in the building. Yeah, I'm not listening to them because this Chocolate Coconut Cake is happening very soon and headed right back to church. LOL! Take that haters!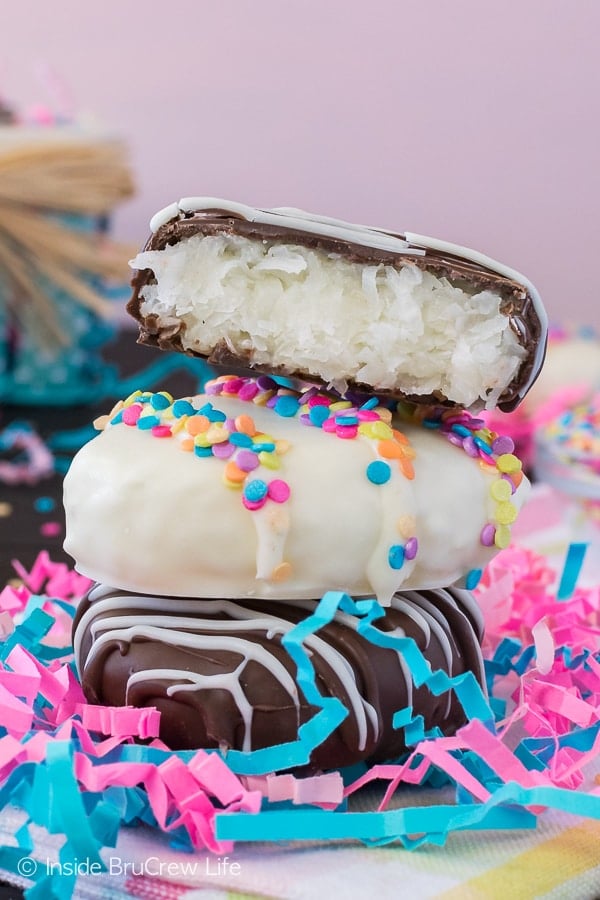 Over the past few years I have made a few different versions of homemade Easter candies. There have been Biscoff Cream Eggs, Nutella Cream Eggs, and Reese's Cream Eggs to name a few. It was time to add coconut cream eggs to that list.
How to make Coconut Cream Eggs:
Mix together the coconut, marshmallow fluff, cream of coconut, butter, and powdered sugar until it creates a soft and delicious filling. (full recipe is at the bottom of the post)
Refrigerate the mixture for at least 30 minutes, so that you can roll it into balls without it sticking to your hands.
Scoop out 12 even spoonfuls and roll them into round balls.
Flatten each ball with the palms of your hands and shape the edges with your fingers to make them look like eggs.
Place the eggs back on the wax paper and chill them in the fridge again.
I like to chill the coconut eggs again because the heat from your hands warms the mixture up as you are rolling and flattening. We want the eggs to be cold and firm when we drop them into the warm chocolate.

How to dip Coconut Cream Eggs in chocolate:
Melt the white chocolate according to the package directions.
Place one egg at a time into the chocolate. Use a fork to flip it over, so both sides get coated.
Lift the egg out and gently tap the side of the bowl to remove the excess chocolate. Do not tap too hard or the egg will fall off.
Place on a wax paper lined tray and repeat with 5 more eggs.
Melt the dark chocolate and dip the other 6 eggs the same way.
Let the chocolate on the coconut eggs set before decorating them.
Reheat the extra chocolate that is left in each bowl and spoon it into two small ziplock baggies. Cut one corner off each bag and drizzle the chocolate over the tops of the eggs. Add sprinkles while the chocolate is still wet.
After the chocolate sets, wrap them in individual cellophane bags or store them in a sealed container. Be prepared for the coconut Easter eggs to disappear in a hurry when you share them with your coconut loving friends.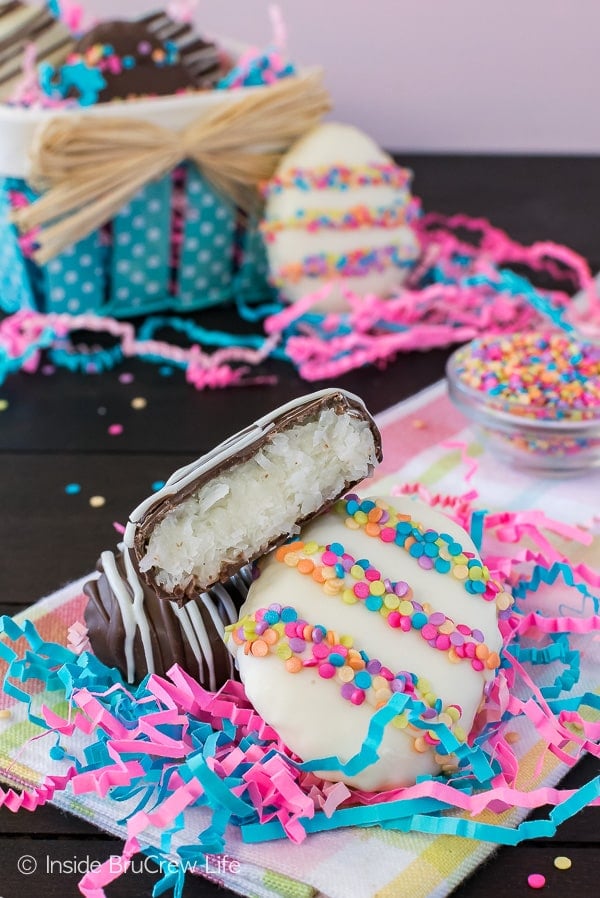 More easy Easter recipes you may like:
Other coconut recipes: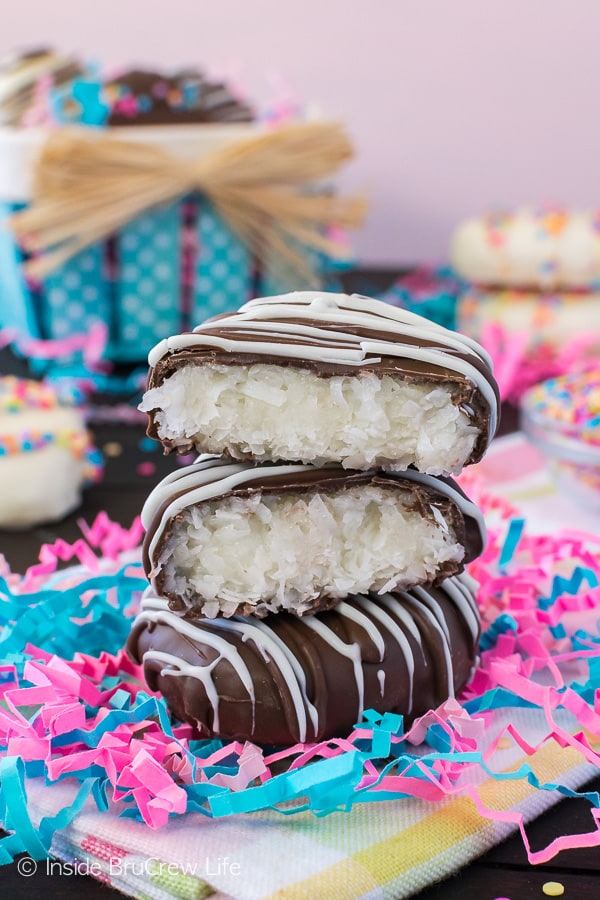 Connect with Inside BruCrew Life! Follow us on social media, so you never miss a post.
Email Subscription | Facebook | Pinterest | Twitter | Instagram | Bloglovin
I also have a Facebook group, and I would love for you to join. It's a group where you can share your favorite recipes, ask questions, share photos, and see what's new with the BruCrew. If you would like to check it out, you can request to join HERE.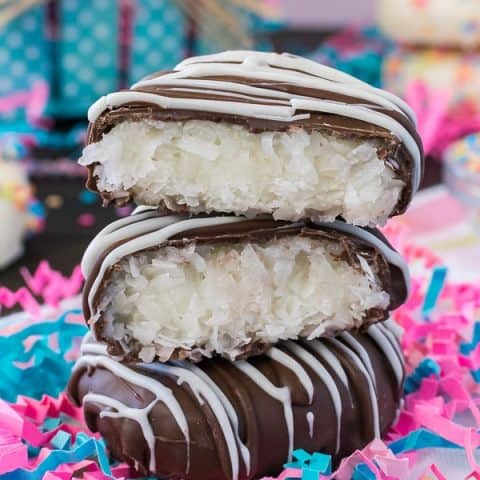 Coconut Cream Eggs
Total Time:
1 hour
15 minutes
Fill your Easter baskets with these easy Coconut Cream Eggs this year. Anyone that loves coconut will enjoy this homemade Easter candy.
Ingredients
1 - 14 ounce bag sweetened shredded coconut
4 Tablespoons butter, softened
1/4 cup marshmallow cream
1/4 cup cream of coconut
1/2 cup powdered sugar
1 - 10 ounce bag white melts
1 - 10 ounce bag dark chocolate melts
sprinkles
Instructions
Place the coconut, butter, marshmallow cream, cream of coconut, and powdered sugar in a large mixing bowl. Beat until completely mixed together. Refrigerate for 30 minutes.
Roll the mixture into 12 even balls. Press each ball flat using the palm of your hand and shape into an egg shape. Refrigerate for another 30 minutes.
Place 1 cup white melts in a microwave safe bowl. Heat for 30 seconds and stir. Heat again for 15-20 seconds, stirring each time until melted and creamy.
Place 1 egg into the bowl and cover with chocolate. Use a fork to gently lift the egg out. Tap the fork on the side of the bowl to remove some of the excess chocolate. Place on a wax paper lined tray. Repeat with 5 more eggs.
Melt 1 cup dark chocolate melts the same way and dip the remaining 6 eggs.
Reheat any leftover chocolate and place in 2 separate ziplock baggies. Cut one corner off and drizzle over the tops of the eggs.
Add sprinkles while the chocolate is wet, if desired. Let set. Store in a tightly sealed container.
Recommended Products
As an Amazon Associate and member of other affiliate programs, I earn from qualifying purchases.
Nutrition Information:
Yield:

12
Serving Size:

1
Amount Per Serving:
Calories:

389
Total Fat:

24g
Saturated Fat:

19g
Trans Fat:

0g
Unsaturated Fat:

5g
Cholesterol:

18mg
Sodium:

154mg
Carbohydrates:

42g
Fiber:

6g
Sugar:

32g
Protein:

3g